There is nothing better than freshly made salad dressing. You can make Old Spaghetti Factory Creamy Pesto Dressing quickly with a few simple ingredients. If you have any leftover you may want to use this as a chicken marinade or dipping sauce.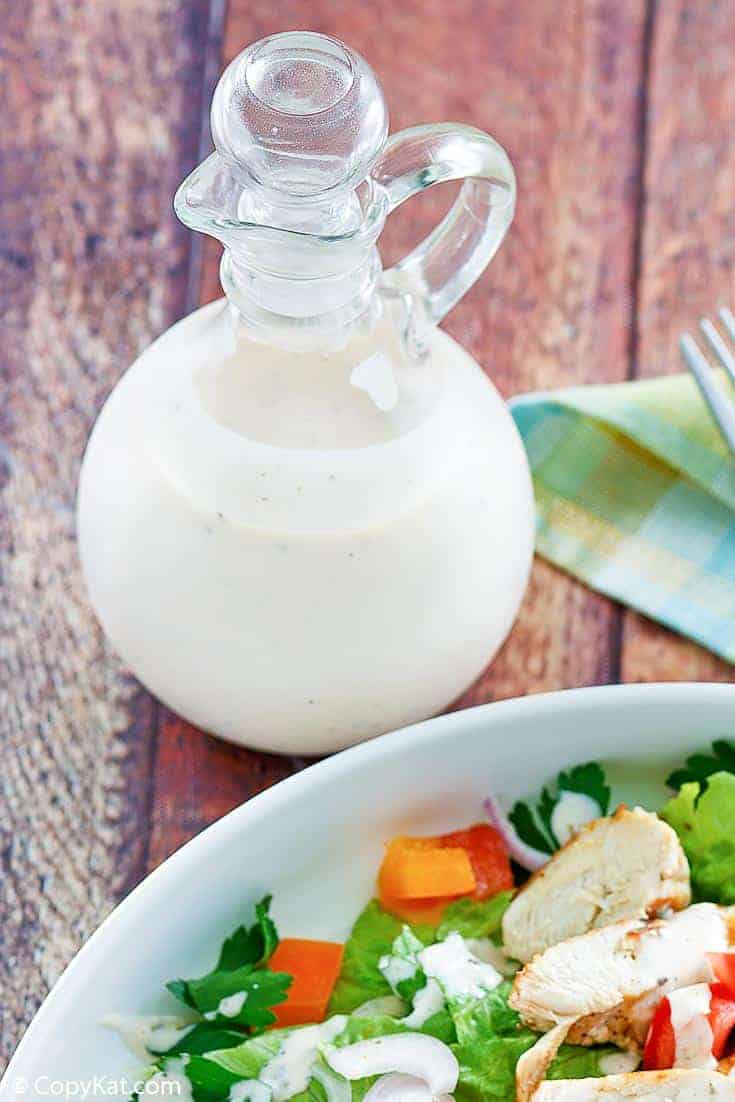 Creamy Pesto Salad Dressing
This creamy salad dressing will make you crave a big plate of greens. Now, you can make this terrific creamy pesto dressing quickly and easily. And, if you have any leftover, you may want to use it as a chicken marinade.
Tip: It's best to make this pesto dressing and let it meld in your refrigerator overnight. This will really bring out the flavors.
I adore The Old Spaghetti Factory – it's a restaurant with great food and amazing recipes. If you just look at the ingredients, you can tell that this copycat Old Spaghetti Factory Creamy Pesto Dressing is really and truly creamy! You've got a creamy salad dressing containing mayo and buttermilk combined with Romano cheese. Add in vegetable oil, garlic, a touch of hot pepper sauce, and, of course, basil, and what's not to love!
Can I use fresh basil? This pesto salad dressing recipe uses dried basil, which gives it a distinctive signature flavor. I actually wouldn't recommend substituting fresh basil here.
6 Pro Tips for Making a Good Salad
Season your greens. Don't just rely on the seasoning in your dressing; chefs make a point of also seasoning their greens. Fresh produce shines with just a touch of salt and pepper.
Use a mix of greens. Keep flavor and texture in mind when you mix. Iceberg and romaine have more of a crunch than arugula and spinach. Arugula or watercress will add a peppery bite.
Don't overlook fresh herbs. Go beyond lettuce and include some fresh herbs. Leafier herbs such as parsley and cilantro can count as greens in their own right. Cilantro is also good in a taco salad. Use fresh basil in a tomato-mozzarella salad, and toss in some mint with a feta-olive salad.
Think beyond greens. While most people think of greens when it comes to salads, greens don't necessarily need to be the stars. Think about other vegetables, nuts, dried or fresh fruits, croutons, and grains.
Don't be afraid of fat. Chefs don't do away with fat, and neither should you. Fat equals flavor – it makes salads taste better and be more filling. Include some fat in your dressing (olive, avocado, or peanut oil) or add ingredients like bacon, smoked salmon, cheese, avocado, and toasted nuts.
Dress it before you plate it. Dressing your salad this way allows the dressing to coat all the ingredients evenly. Leaving the dressing on the side encourages people to pour on too much and overwhelm the flavors. Add the dressing just before you eat and go slowly – a salad can go from great to overdressed very quickly!
Creamy Pesto Salad Dressing Ingredients
This is what you need to make the salad dressing:
Vegetable Oil
Mayonnaise
Buttermilk
Romano Cheese
Dried Basil
Salt
Garlic
Hot Pepper Sauce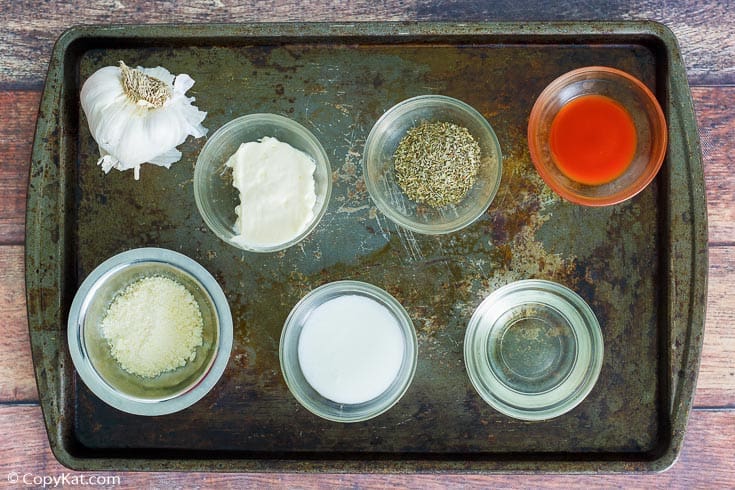 How to Make Creamy Pesto Dressing
Whisk together oil and mayonnaise.
Add remaining ingredients and stir or whisk to combine.
Cover and refrigerate overnight.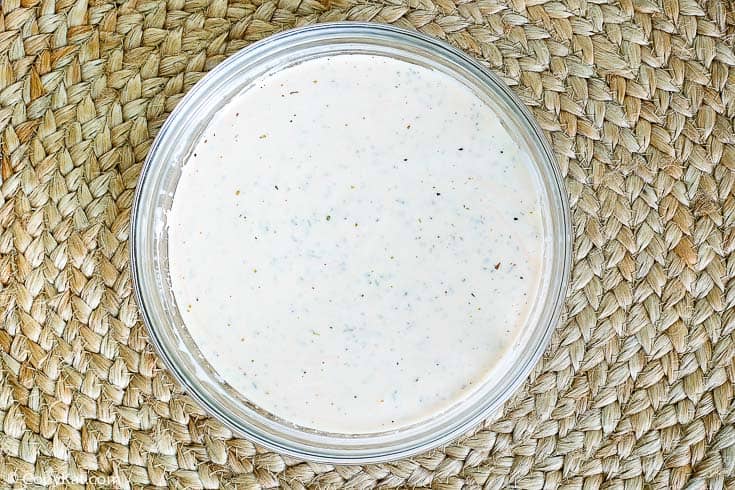 Serve Old Factory Creamy Pesto Dressing with your favorite salad. It goes wonderfully on a grilled chicken salad.
You can also use it as a pasta sauce or dipping sauce. Creamy pesto dressing would be awesome with hot wings as a change from ranch or blue cheese dressing.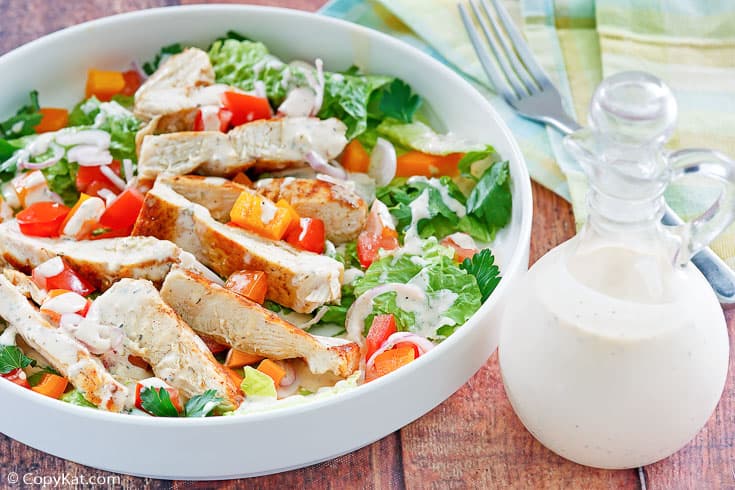 Love homemade salad dressings? Try these recipes
Popular Dinner Salads with Chicken
Be sure to look at my restaurant salads and copycat salad dressing recipes.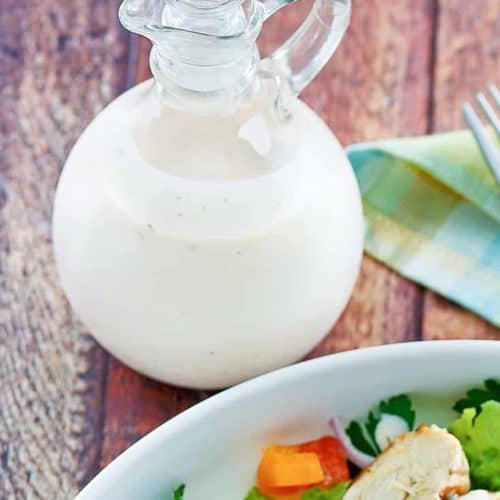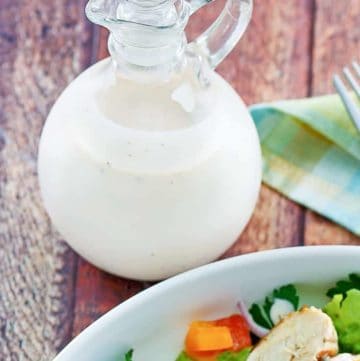 Ingredients
3/4

cup

vegetable oil

1

cup

mayonnaise

3/4

cup

buttermilk

2

tablespoons

grated Romano cheese

2

tablespoons

crushed dried basil

1/2

teaspoon

salt

1

teaspoon

minced garlic

Hot

pepper

sauce
Instructions
Whisk together the mayonnaise and oil. 

Add the cheese, buttermilk, basil, garlic, salt,and hot pepper sauce to your liking. Mix well. 

Cover and allow flavors to blend and mature overnight in your refrigerator. 
Nutrition
Calories:
310
kcal
|
Carbohydrates:
1
g
|
Protein:
1
g
|
Fat:
34
g
|
Saturated Fat:
16
g
|
Cholesterol:
12
mg
|
Sodium:
290
mg
|
Potassium:
49
mg
|
Fiber:
0
g
|
Sugar:
1
g
|
Vitamin A:
50
IU
|
Vitamin C:
0.1
mg
|
Calcium:
51
mg
|
Iron:
0.8
mg