Benihana Ginger Salad dressing is one of the best-known recipes from Benihana. Going to Benihana is a special treat.  You literally watch your dinner being prepared in front of you. While you can't go there every night, you can recreate their salad dressing with our copycat recipe.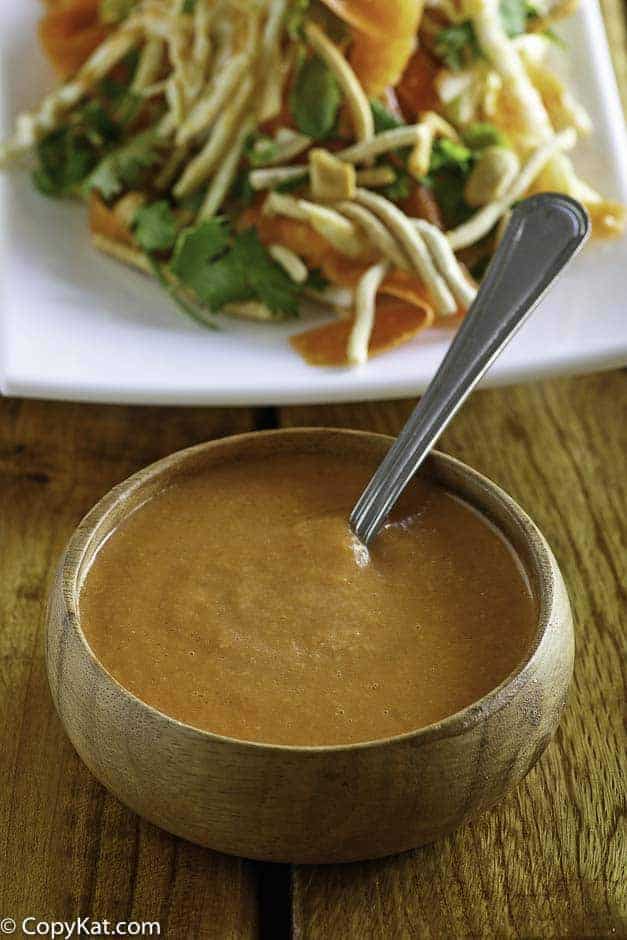 This post contains affiliate links. As an Amazon Associate, I earn from qualifying purchases.
Benihana Japanese Hibachi Dining
Who doesn't look forward to an evening at a Benihana restaurant? Those talented chefs amaze us when they flip their knives or toss a boiled egg and slice it in two, in mid-air!
When you head out to a Benihana restaurant, you know to expect a fun and exciting evening with good food prepared right in front of you. But one thing they prepare in the back kitchen is their super salad dressing.
Benihana's House Dressing
Benihana Ginger Salad Dressing is their signature, house dressing that they pour over all their salads. Its delicate balance of sweet, tangy, and salt makes it the perfect accompaniment to any dish on the menu.
Now you don't have to head out to enjoy their unique salad dressing. You can make my copycat version of Benihana's Salad Dressing using authentic ingredients.
Ginger Dressing Ingredients
Here's a list of what you need:
Onion
Vegetable oil
Rice wine vinegar
Water
Fresh ginger root
Celery
Soy sauce
Tomato paste
Sugar
Lemon juice
Salt
About Rice Wine Vinegar
This recipe calls for rice wine vinegar. If you are concerned about a vinegar taste, know that Chinese rice vinegars are stronger than Japanese ones so choose wisely. Make sure you buy clear or almost clear rice wine vinegar as some shops may carry red and brown versions, which will change the taste of the salad dressing.
Western vinegars are more acidic than their Asian counterparts, and would not make an ideal substitute. If you have to substitute, then use a mixture of white wine vinegar and water. Though, I urge you to buy an Asian rice wine vinegar because you'll be making this salad dressing often!
How to Make Benihana Ginger Salad Dressing at Home
The easy way to make ginger dressing is to use a blender. Just put all the ingredients in the blender and blend until almost smooth.
For best results, make the dressing at least an hour or the day before you plan to use it. This allows the flavors to combine nicely.
Keep the dressing stored in an airtight container in the refrigerator.
How to Chop Vegetables for Ginger Dressing
The best way to chop the onion, ginger, and celery for this dressing is to use a mezzaluna as Nigella Lawson does. A mezzaluna is a curved knife with two handles. Chefs use this tool to quickly and easily mince herbs and spices like ginger root or turmeric as they rock it left and right over the foods.
Another way to achieve this effect is to use a manual, hand chopper. There are many on the market at a variety of prices to fit your budget. Of course, you can use a regular knife too, just make sure it is sharpened.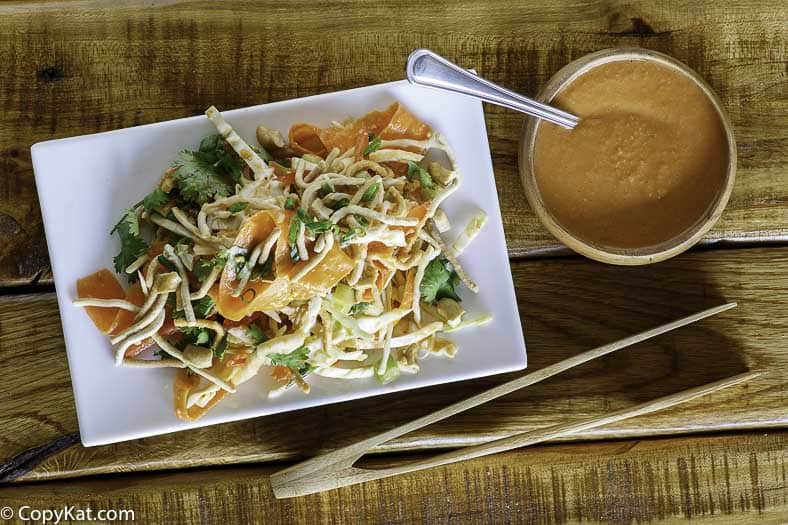 Love Japanese Steakhouses? Check out these copycat recipes
Best Homemade Salad Dressing Recipes
Be sure to check out more of the most favorite copycat recipes and easy salad dressing recipes.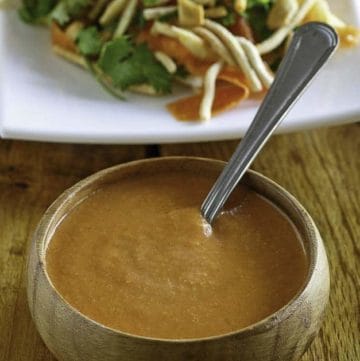 Ingredients
1/4

cup

chopped onion

1/4

cup

vegetable oil

2

tablespoons

rice wine vinegar

1

tablespoon

water

1

tablespoon

chopped ginger root

1

tablespoon

chopped celery

1

tablespoon

soy sauce

1 1/2

teaspoons

tomato paste

1 1/2

teaspoons

sugar

1

teaspoon

lemon juice

1/2

teaspoon

salt
Instructions
Combine all ingredients in a

blender

. Process until almost smooth. Any unused portions may be stored in a covered container in the refrigerator.
Nutrition
Calories:
68
kcal
|
Carbohydrates:
1
g
|
Protein:
0
g
|
Fat:
6
g
|
Saturated Fat:
5
g
|
Cholesterol:
0
mg
|
Sodium:
281
mg
|
Potassium:
23
mg
|
Fiber:
0
g
|
Sugar:
1
g
|
Vitamin A:
15
IU
|
Vitamin C:
0.8
mg
|
Iron:
0.1
mg