The Cheesecake Factory Santa Fe Salad dressing is a cilantro based salad dressing used in the Santa Fe Chicken Salad, you can recreate this famous salad dressing at home.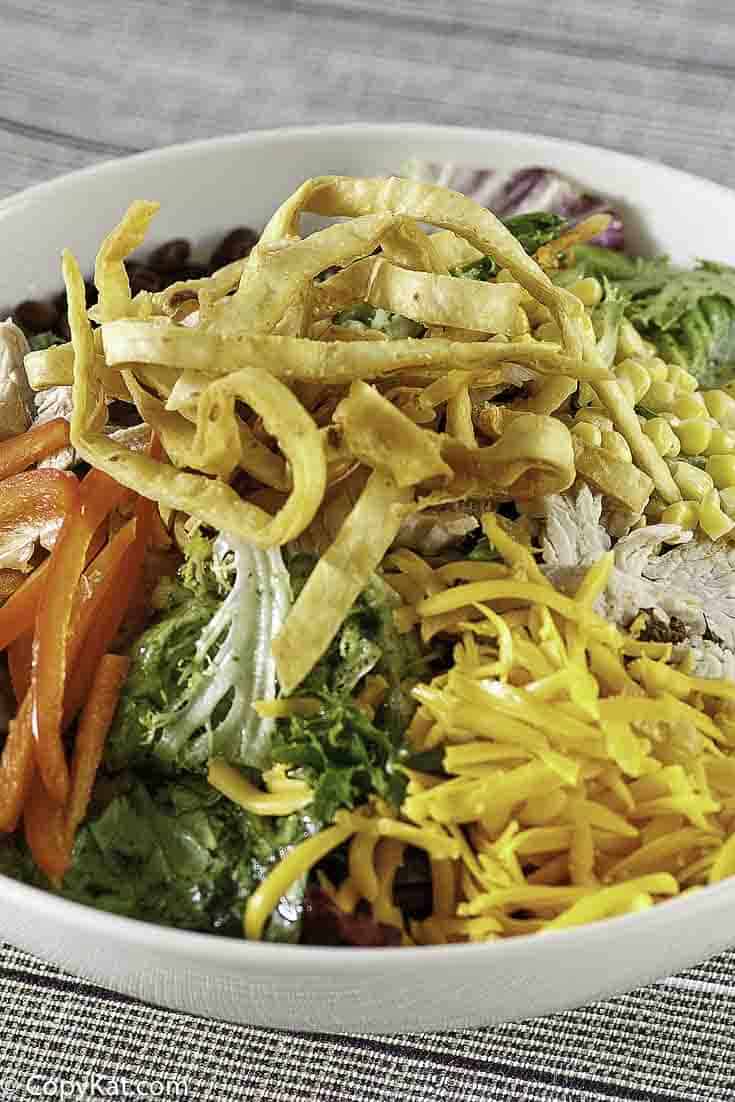 One of my favorite things to get at the Cheesecake Factory is the Santa Fe Salad. I just love the cilantro-lime dressing that adds a perfect refreshing zest to this Tex-Mex inspired dish. So, if you've had the Santa Fe Salad at the Cheesecake Factory and wished you could make the dressing at home, this copycat salad dressing recipe is for you.
This is another homemade, fresh-tasting, salad dressing to add to your salad dressing repertoire. Ginger, lots of cilantro, lime juice, and a hint of cumin makes for a zesty dressing for southwest-style salads.
Garlic gives the dressing an extra bite, which is mellowed by the sweetness of the honey. This dressing will definitely be a new favorite of yours.
How to Peel and Mince Fresh Ginger
Fresh ginger has a wonderful taste and can enhance many savory and sweet dishes. Its versatility means that it can be found in a variety of recipes. Ginger is also widely believed to have many health benefits, so a cup of hot ginger tea with lemon and honey might be the perfect pick-me-up if you're under the weather.
There are several methods for peeling and mincing fresh ginger – click on this link to read about them.
Did you love the Cheesecake Factory Santa Fe Salad dressing or maybe you only go to the Cheesecake Factory for their irresistible cheesecake? Or, maybe you are hungry for more copykat Cheesecake Factory chicken recipes? If so, try these. And, I would love to hear what your favorite Cheesecake Factory recipe is – drop me a line in the comments section.
Can't get enough of the Cheesecake Factory? Try these copycat Cheesecake Factory recipes.
Cheesecake Factory Red Velvet Cheesecake
Cheesecake Factory Chicken Madeira
Cheesecake Factory Louisiana Chicken Pasta (Copycat)
Cheesecake Factory Madeira Chicken
Thanks to dsign4you for sharing this salad recipe.
Ingredients
3

tablespoons

garlic

1

tablespoon

packed minced fresh ginger (see instructions)

2

bunches

cilantro

, (rinsed well, most of stalk ends trimmed off) finely chopped (see Instructions) (about 1 cup loosely packed)

1/2

cup

fresh lime juice

1-1/2

teaspoons

wine vinegar

1/2

teaspoon

ground cumin

3/4

teaspoon

salt

1/2

teaspoon

freshly ground pepper

1

tablespoon

honey

1/2

cup

freshly grated parmesan cheese

1/2

cup

canola oil

1/4

cup

olive oil
Instructions
I use a food processor. If you do not have one you will need to mince the garlic, ginger and cilantro before adding in the spices, lemon juice, honey, vinegar and cheese. Whisk in the oil so it is emulsified into the dressing. Food processor instructions: Drop garlic cloves and ginger through the feed tube while motor is on. Mince well. Add the cilantro and process until finely chopped. Add spices, lime juice, vinegar, honey, and parmesan cheese. Process until well mixed. With motor running slowly pour the oil through the feed tube. Let process one more minute. Enjoy!   To make the salad you will need slivered mixed greens, shredded grilled chicken breast, corn kernels, rinsed black beans, bell pepper, chopped tomato, shredded cheese and toasted tortilla strips.
Nutrition
Calories:
300
kcal
|
Carbohydrates:
6
g
|
Protein:
3
g
|
Fat:
29
g
|
Saturated Fat:
3
g
|
Cholesterol:
5
mg
|
Sodium:
427
mg
|
Potassium:
61
mg
|
Fiber:
0
g
|
Sugar:
3
g
|
Vitamin A:
255
IU
|
Vitamin C:
8
mg
|
Calcium:
110
mg
|
Iron:
0.3
mg