Whether you can find McDonald's hot mustard at the restaurant or not, this make-at-home recipe will let you enjoy it all the time! It's easy to prepare and it's vegan too. You'll love this spicy-sweet sauce.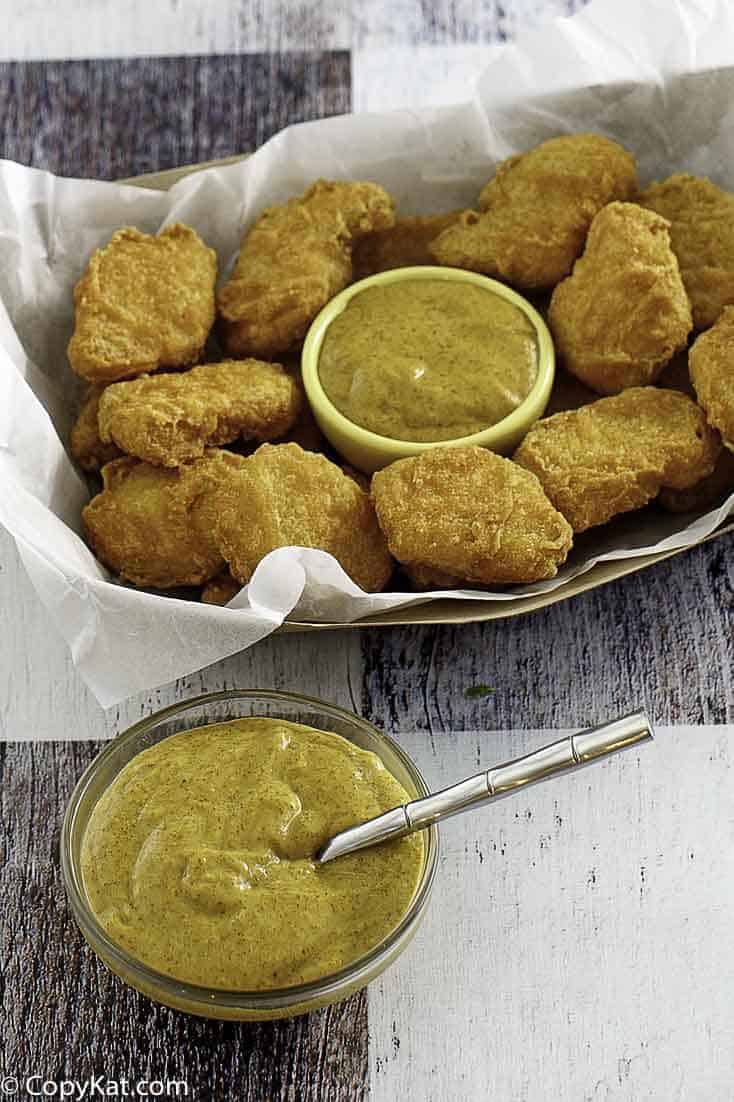 This post contains affiliate links. As an Amazon Associate, I earn from qualifying purchases.
This is one of the most popular dipping sauces at McDonald's, but sadly it keeps getting removed from the menu. Well, I just recreated it at home so now you can enjoy it anytime you want!
What Is McDonald's Hot Mustard?
For a brief time, this famous chicken nuggets sauce was removed from McDonald's menu because it just wasn't as popular as their other sauces. That made no sense to me because it was one of my favorites. That's why I wanted to make it at home. The recipe I created is such a close copycat I can't tell a difference.
It has the tang of brown mustard with the kick of cayenne pepper and underneath it all us an aftertaste of sweet corn syrup. This is divine!
Just in case this sauce goes the way of the McRib, returning, and disappearing, I wanted to recreate this sauce when I heard rumors of it showing up again.
I know, the name of the sauce is McDonald's Hot Mustard, but if you haven't tried this sauce before, it isn't blistering hot like Chinese mustard.
McDonald's Hot Mustard is a pleasant sauce that has some heat, and some sweet. I think this would be a great sauce to serve up with some beef cutlets or to smear onto your favorite sandwich.
How to Make Hot Mustard
I'm going to show you how to make hot mustard at home. First, let's look at the basic ingredients. You might have everything you need at home already.
Ingredients
This recipe has very common ingredients. We are going to use:
Prepared mustard
Corn syrup
Cayenne pepper
Soy sauce
Sugar
Mustard powder
Spicy brown mustard
Ingredient Notes
You can add a little additional turmeric in there if you desire. While it doesn't impact the flavor too much, it can make your sauce more colorful.
For this recipe, I started with brown mustard. There are many brands of brown mustard available, I find Gulden's a great choice. The yellow mustard that we all love doesn't have the right flavor to carry the delicious dipping sauce on its own.
Whenever you use cayenne pepper you can always add a little more if you like more heat. I like the tang and the mild heat of the mustard, so I am going to err on the side of being more conservative. As always, when cooking you have the opportunity to make the recipe your own. So feel free to use more cayenne pepper if you like. You can also use some mustard powders that are hotter than others.
I know a lot of people don't like to use corn syrup. If you do not want to use it, there is a product in the stores called golden syrup, it made with cane sugar and functions like corn syrup. Corn syrup in this recipe serves two purposes; it adds some sweetness, but mostly it adds texture.
Recipe Steps
Gather and measure all the ingredients.
Place all the ingredients in a bowl.
Stir or whisk to thoroughly combine.
Let the hot mustard rest overnight
This sauce is best when you make it a few hours before you want to serve it; it is best when allowed to rest overnight. I hope you enjoy this recipe, and if you haven't tried this hot mustard, I think it is great on its own.
How Many calories are in McDonald's hot mustard sauce?
There are about 53 calories in one packet of hot mustard sauce. But if you follow my recipe, it only has about 29 calories in one teaspoon. Not bad!
Is hot mustard vegan?
Yes, this is a vegan dipping sauce. It only has mustard, vinegar, spices, and sweetener in it. You can modify this recipe to suit your exact diet and tastebuds.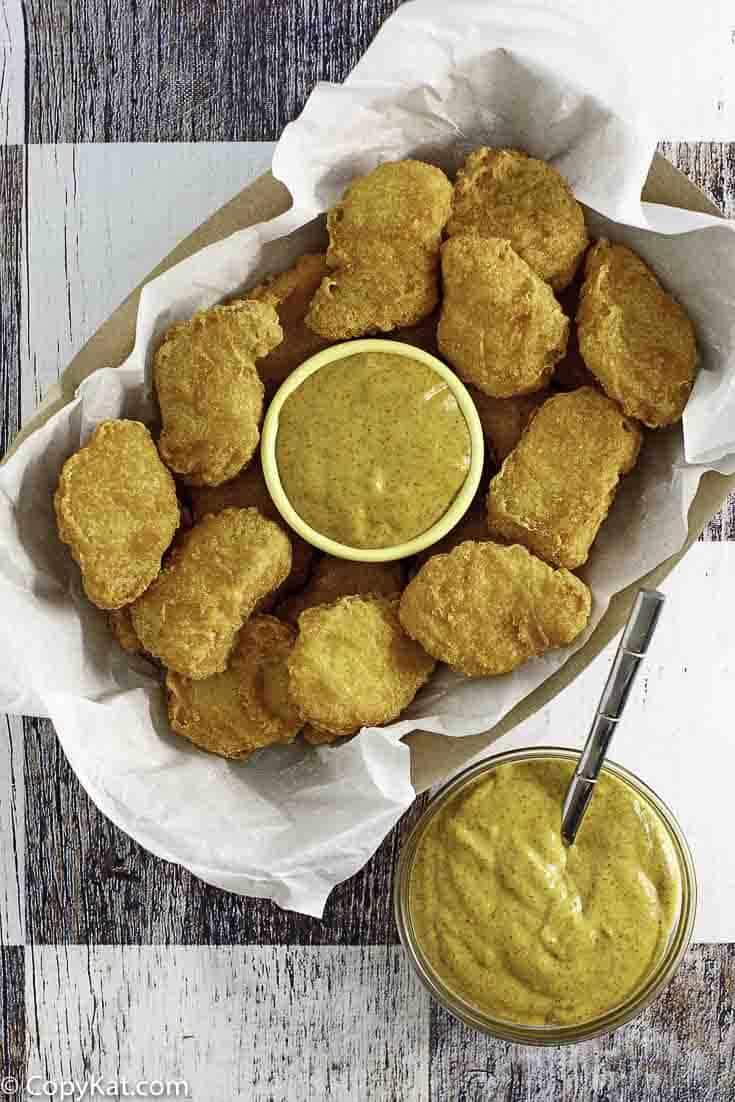 Love McDonald's? Check out these McDonald's Copycat Recipes
More Copycat Dipping Sauce Recipes
Check out even more popular sauces and dips along with the best copycat recipes ever.
McDonald's Hot Mustard Recipe
Here's the recipe for you. I know you are going to love it!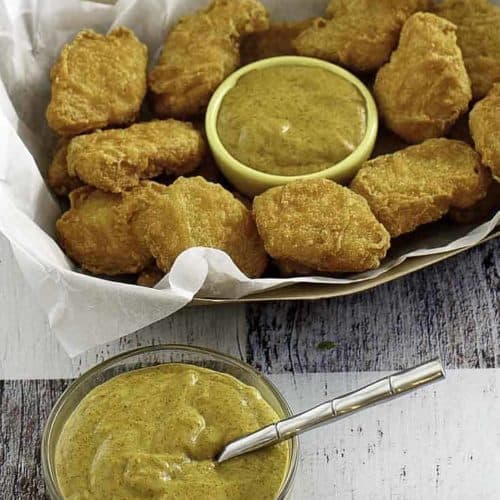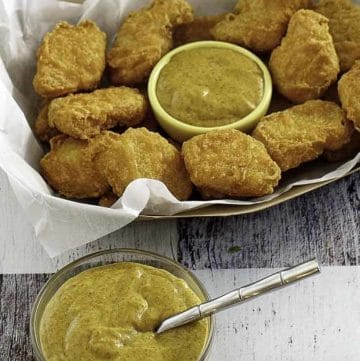 Ingredients
1/2

cup

brown mustard

2

tablespoons

corn syrup

or golden syrup

4

teaspoons

mustard powder

1 1/2

teaspoons

white vinegar

1

teaspoon

soy sauce

1 1/2

teaspoons

sugar

1/4

teaspoon

cayenne pepper
Instructions
In a small bowl combine all ingredients.

Store in an airtight container for at least 4 hours before serving. It is best to allow this to rest overnight before serving.
Nutrition
Serving:
1
teaspoon
|
Calories:
29
kcal
|
Carbohydrates:
5
g
|
Protein:
0
g
|
Fat:
0
g
|
Saturated Fat:
0
g
|
Cholesterol:
0
mg
|
Sodium:
221
mg
|
Potassium:
21
mg
|
Fiber:
0
g
|
Sugar:
5
g
|
Vitamin A:
35
IU
|
Vitamin C:
0.2
mg
|
Calcium:
9
mg
|
Iron:
0.2
mg