The McDonald's Hamburger is one of the most-loved burgers you can enjoy. You can recreate one of these classic burgers at home, which will taste close to the real thing. Enjoy the iconic McDonald's taste at home when you make this delicious burger.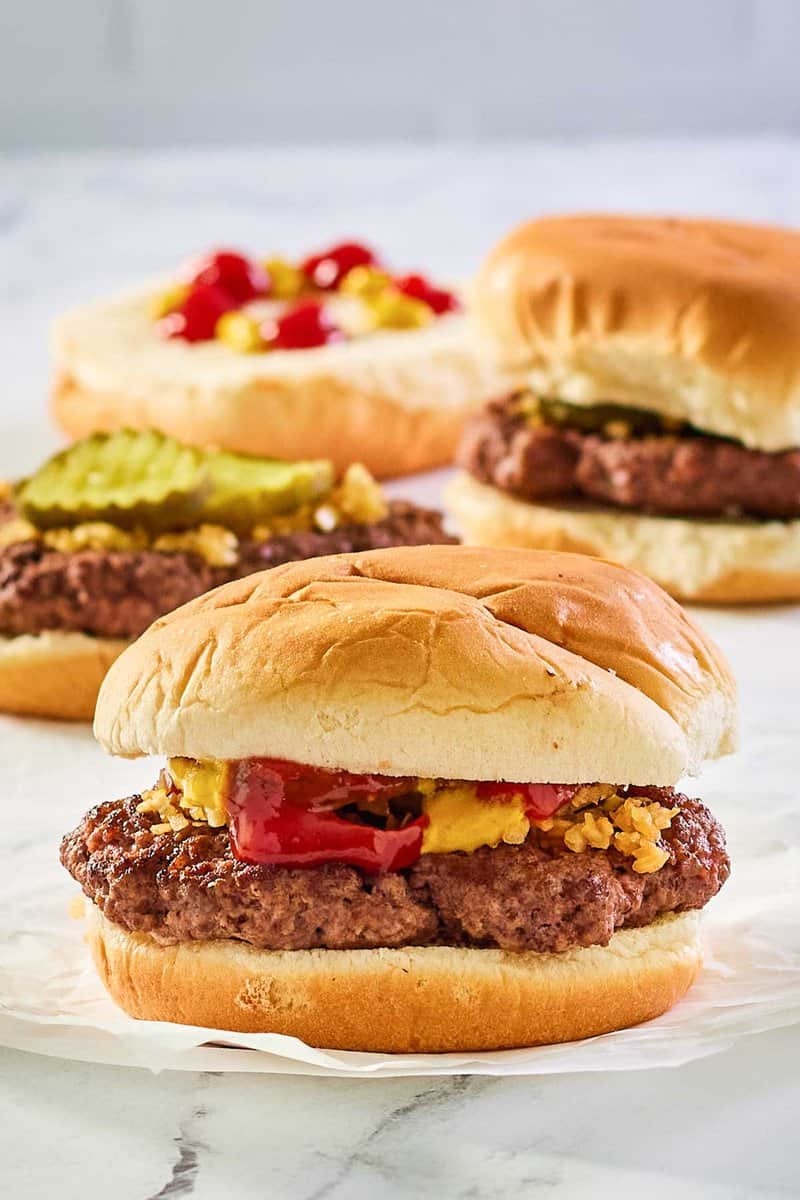 This post contains affiliate links. As an Amazon Associate, I earn from qualifying purchases.
McDonald's Burger
With billions of McDonald's burgers served worldwide yearly, it is hard to imagine anyone without the opportunity to try one. While it is easy to pick up a Happy Meal at your local Mickey D's, recreating the signature taste of a McDonald's burger at home is not as easy as you might think.
Luckily, this burger recipe has finally cracked the code for cooking one of the most iconic burgers in your kitchen!
What Makes This the Iconic Hamburger You Should Make at Home?
There is nothing better than the classics. Today, you can find a joint selling gourmet hamburgers loaded with exotic toppings in almost any town. But do you need to spend $20 on a burger? Not!
After all, there's a reason why the McDonald's hamburger is one of the most popular menu items ever: it just tastes good. Try this McDonald's burger recipe, it will delight your taste buds.
What Makes This the Perfect Copycat Recipe – We Went for the Version When They Were Tasty Pre 1980s.
Simplicity is the name of the game. This recipe recreates McDonald's burgers as they were before the company started messing with the ingredients.
This version has no preservatives, artificial colors, or additives, so you can feel better about serving them to your family. Although McDonald's has changed to a primarily all-natural and preservative-free menu, cooking your food at home guarantees you know exactly what you are eating.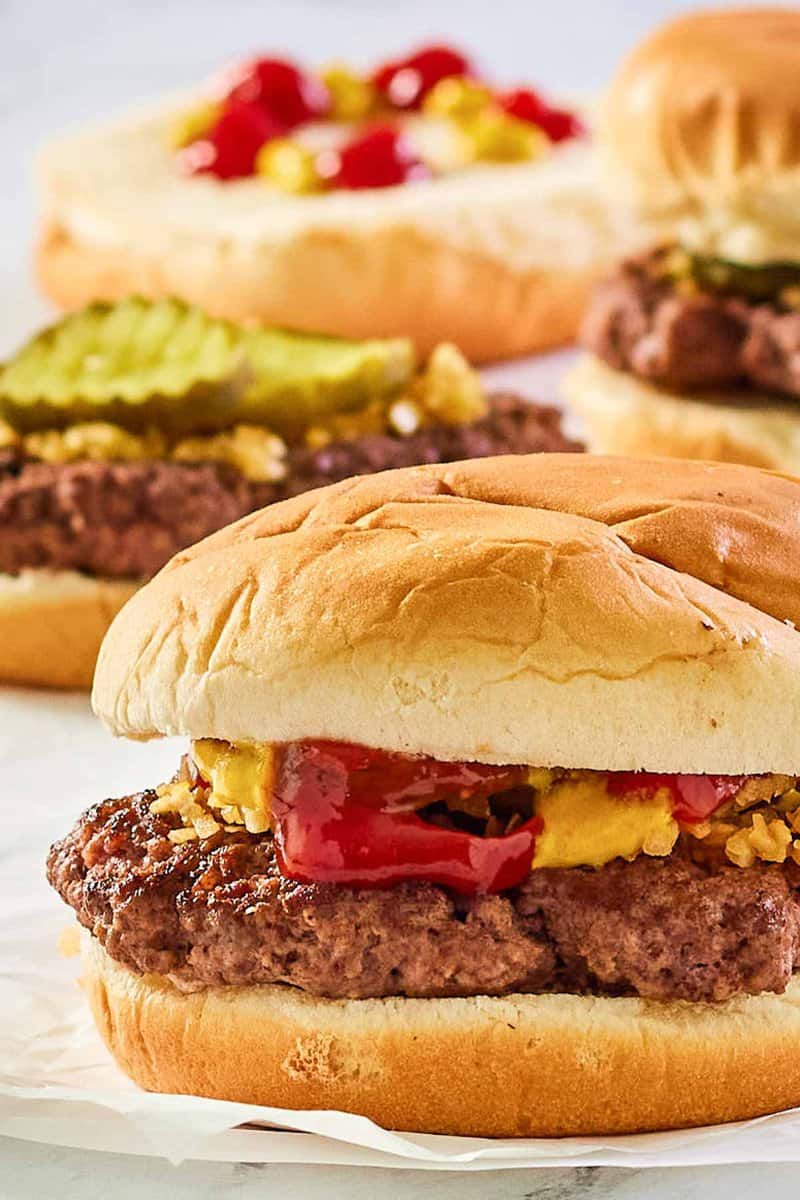 Ingredients For the Classic McDonald's Hamburger
To make McDonald's beef patties, you'll need:
Ground beef
Salt
Ground black pepper
Accent seasoning
So, is McDonald's meat the real deal? Yes, it is. Although many internet rumors are swirling around about what is in McDonald's meat, according to the company's website, the chain uses 100 percent beef with no fillers or fillers. Mashed.com says McDonald's combines sirloin, chuck, and round cuts in their hamburgers.
But there is no need to worry about buying three different cuts for your copycat burger. Just go with 80/20 ground chuck from your local store. You won't have the same great taste if you use lean ground beef.
As for the grind of the meat, finely ground beef will be closer to the texture of a McDonald's hamburger, but you may have difficulty finding it prepackaged. If where you buy your meat has a butcher, ask for it; otherwise, a slightly coarser ground is acceptable.
Accent is an all-natural flavor enhancer. Although MSG has a bad reputation in the US, it probably does not deserve it. Accent adds a deep umami flavor to the burger, but if using this ingredient makes you a little nervous, go ahead and leave it out.
Ingredients to assemble the burger:
Hamburger buns
Dehydrated / dried minced onions
Dill pickles
Ketchup
Mustard
Choose a bun without sesame seeds for the authentic taste of the classic Micky D's burger. Of course, use a sesame seed bun if you prefer it.
McDonald's onions on the real-deal burgers are tiny and have a unique flavor. That's because they come into the restaurant dehydrated, and the employees rehydrate them overnight. You can rehydrate yours in warm water for about 15 or 20 minutes before using.
You can find dehydrated onions in the spice aisle at supermarkets.
Stick to simple yellow mustard and basic ketchup for the most authentic flavor.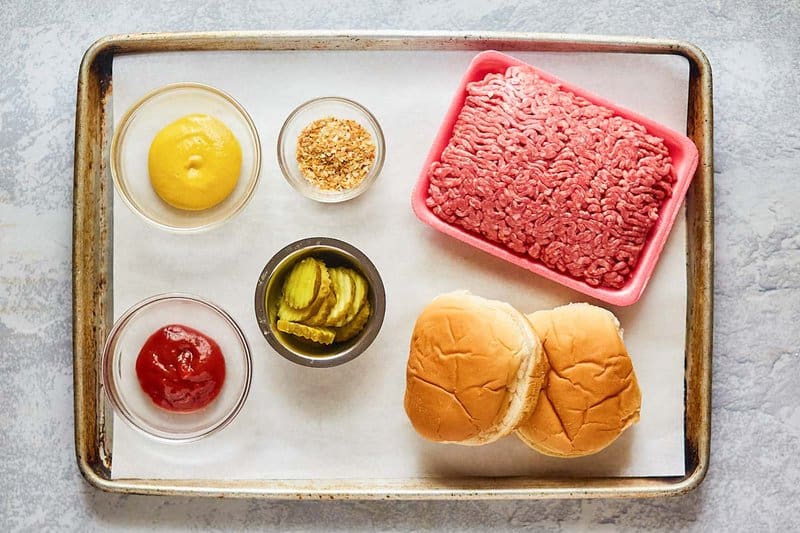 How To Make an Old Fashioned McDonald's Hamburger
Make McDonald's hamburger seasoning:
Combine the salt, black pepper, and Accent, if using. Transfer the seasoning blend to a shaker.
You'll use only a small amount of the seasoning for this recipe and can save the rest for later.
To form the beef patties:
Divide the meat into eight equal portions. Form them into loose balls.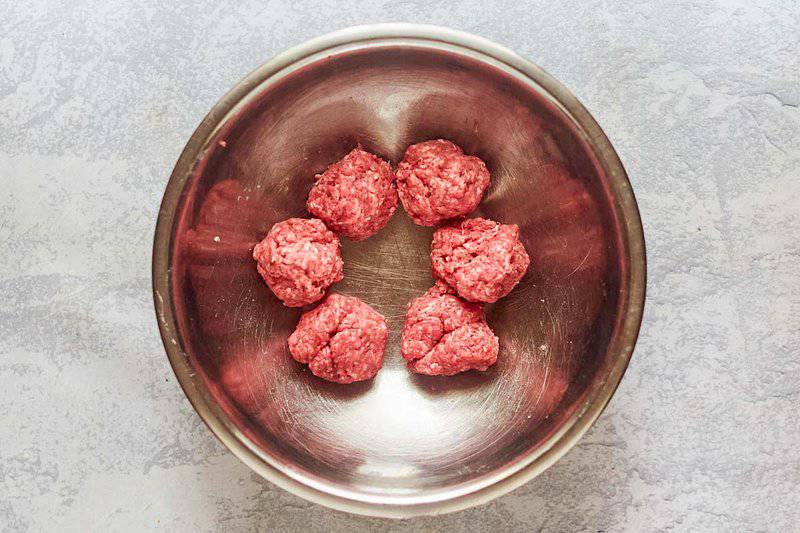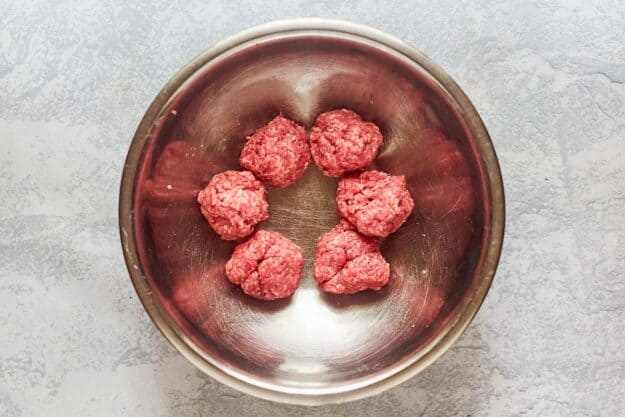 Lay a sheet of wax paper on your work surface with the shiny side facing up. Place a ball of ground beef on the wax paper and another sheet with the shiny side facing down on top. Gently press each ball down into a thin hamburger patty.
A good trick for helping the patties to stay together while cooking is to partially freeze them on a baking tray before cooking.
To cook McDonald's beef patties:
Heat a griddle or a large heavy-bottom pan over medium-high heat.
While the griddle is hot, place the buns cut-side down on the cooking surface. Toast for about 45 seconds to warm the buns. Set aside.
Place the patties onto the griddle. If using a pan, you should cook in batches to prevent the burgers from steaming.
Add a few shakes of the burger seasoning on top.
After about twenty seconds, press lightly on the patties to sear the surface evenly.
When the first drops of juice appear on the surface of the patties, flip the burgers.
Repeat the same steps for the other side. Depending on your stove, the burgers should cook for about two to three minutes.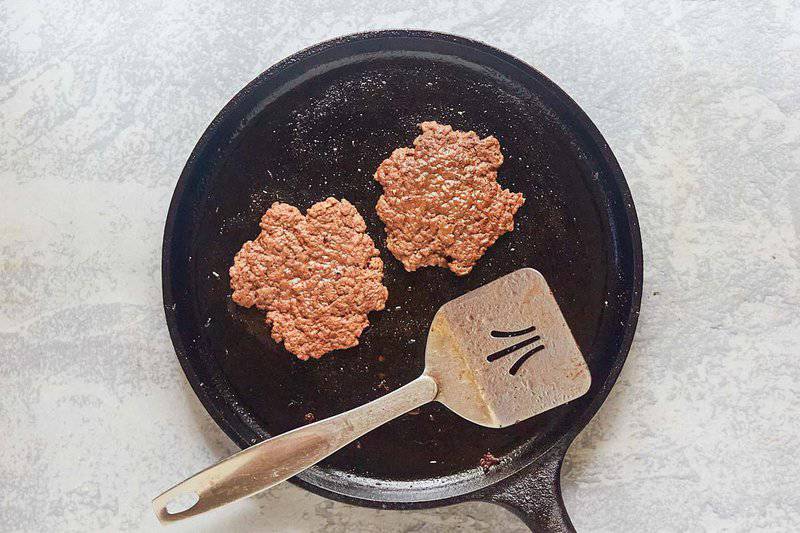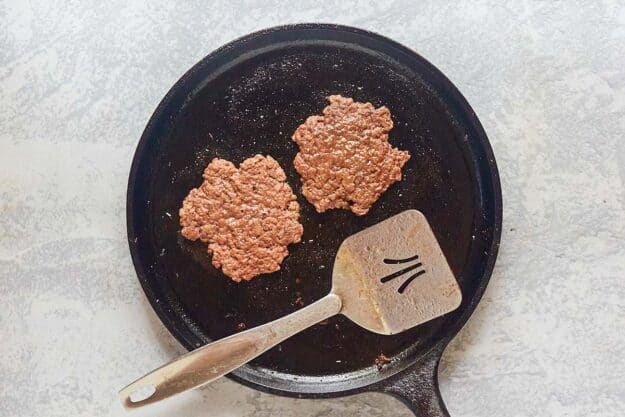 To finish the McDonald's burger recipe:
Add a few squirts of ketchup (less than 1 tablespoon ketchup) and a little yellow mustard to the toasted bottom bun.
Add some minced onion and two dill pickle slices. Make sure they don't overlap.
Top with the patty.
Cover with the toasted top bun.
Nutritional information for this copycat recipe can be found in the recipe card below.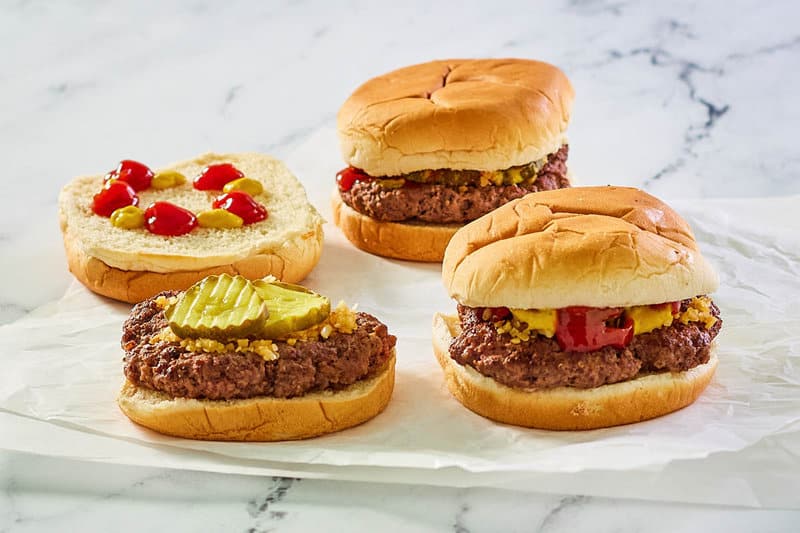 Do you love Mcdonald's cheeseburgers and want to make one? After flipping, add a slice of American cheese to the patty and finish cooking as usual. The residual heat of the patty will melt the cheese perfectly. For something different, use a slice of cheddar cheese.
Tips For Making and Serving a McDonald's Burger or Cheeseburger
Cook on a griddle or large, shallow cast iron pan. To get the best sear, you need to allow your cooking surface to heat up thoroughly before starting to cook. Make sure to space your burgers far enough apart to let any liquids evaporate immediately instead of collecting and winding up stewing your burgers.
Yes, use dehydrated onion pieces. Whatever you do, don't try to improve on the classic by substituting fresh white onion for the dehydrated ones from the spice jar. Rehydrating the onions in warm water helps to remove the familiar onion bite while bringing out a milder flavor.
Griddle the buns. Please don't skip this step, you will regret it. A nicely browned interior of the buns adds a satisfying crunch and helps to keep the bun from getting soggy.
Don't go overboard on the condiments. It is best to stick a few squirts of ketchup and mustard and a couple of dill pickle slices — that is it! There's no need for mayo or iceberg lettuce.
What To Serve With a McDonald's Hamburger
You can't go wrong with French fries, but they're not your only option. Try Loaded Baked Potato Tots or Air Fryer Carrots for something different. Don't miss out on our copycat Big Mac Sauce.
How To Store the Leftovers
Wrap formed uncooked patties in plastic and refrigerate them for up to three days. You can keep cooked patties the same way but try to reheat them the next day.
Since a lot of ground beef has been frozen somewhere along the way, refreezing the meat once it has thawed is not a good idea.
How To Best Reheat a McDonald's Hamburger
The best way to reheat a thin burger patty is with steam. You can easily do this on the stove.
Heat a pan with a tight-fitting lid over medium-high heat.
Once the pan is hot, pour a few tablespoons of water around the edge of the pan.
Quickly place the patty in the middle of the pan, not touching the water, and cover.
Heat for about two minutes, and carefully open the lid
Drain the patty before assembling your burger.
You can also reheat it in the microwave using the reheat setting or 30% power. Place the patty on a microwave-safe plate and microwave it for 20-second intervals until heated.
Did you love McDonald's? Why not try out more Mickey D's recipes:
More Popular Burger Recipes
Be sure to check out more of my copycat McDonald's recipes and easy beef recipes.
Do you want to stay up-to-date with all of our new recipes? You can follow us on Instagram or friend us on Facebook to make sure you stay in the loop!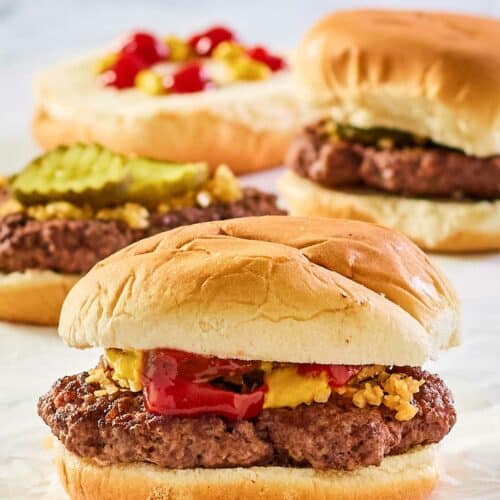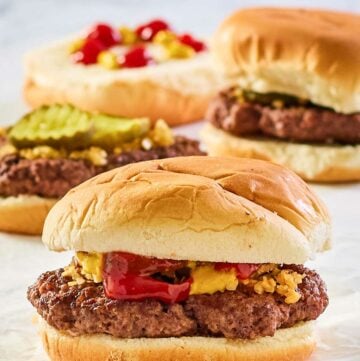 Ingredients
1

tablespoon

salt

2

teaspoon

ground black pepper

1/4

teaspoon

Accent seasoning

(optional)

2

tablespoons

dehydrated onions

1

pound

ground chuck

8

hamburger buns

4

tablespoons

ketchup

3

tablespoons

mustard

16

dill pickle slices
Instructions
Combine the salt, pepper, and Accent seasoning in a small bowl. You will use this spice mixture to season the ground chuck in Step 4. You will not use all of it, and you can store the remainder for later use.

Place the dehydrated onions into a small bowl and add 2 tablespoons of warm water. The onions will hydrate and be ready by the time you finish cooking the burgers.

Preheat the griddle to 375°F. For this recipe I like to use a griddle because it allows the juices to drain away from the burger while cooking. If you do not have a griddle, you can use a very large skillet.

Form 8 small round patties with the ground chuck. Place the patties onto the hot griddle. Use a spatula to press the patties into the griddle for 4 to 5 seconds. You know you have pressed the patties down hard enough when you have to scrape them from the griddle. Season the patties liberally. Then flip, season the other side, and cook for another minute or so until the burgers have cooked through. Remove them from the griddle.

Place the buns on the griddle, cut side down, and toast them until they begin to brown. Remove them from the griddle.

To assemble the burgers, place 5 small squirts (like dots) of mustard on the top bun. Follow the mustard with 5 larger squirts of ketchup. Place a patty on the bottom bun along with some onions and one or two dill pickle slices. Place the top bun on top.
Cheeseburger
If you would like to make a McDonald's Cheeseburger, simply add a slice of American cheese to the burger patty once you have flipped it over, and proceed with the recipe as written.
Nutrition
Calories:
280
kcal
|
Carbohydrates:
25
g
|
Protein:
14
g
|
Fat:
13
g
|
Saturated Fat:
5
g
|
Cholesterol:
40
mg
|
Sodium:
1380
mg
|
Potassium:
259
mg
|
Fiber:
1
g
|
Sugar:
5
g
|
Vitamin A:
64
IU
|
Vitamin C:
1
mg
|
Calcium:
96
mg
|
Iron:
3
mg