The McDonald's Hamburger is one of the most-loved burgers you can enjoy. Make one at home with your own wholesome ingredients, quickly and easily in no time at all.
With billions of McDonald's burgers served worldwide every single year, it is hard to imagine anyone on the planet who hasn't had the opportunity to try one. While it is easy to pick up a Happy Meal at your local Mickey D's, recreating the signature taste of a McDonald's burger at home is not as easy as you might think. Luckily this burger recipe has finally cracked the code when it comes to cooking one of the most iconic burgers in your kitchen!
What's the Beef?
Cooking up an authentic tasting McDonald's hamburger at home means having the correct ingredients on hand, and it all starts with getting the ground beef right. There are two different variables you need to keep in mind when you are selecting which type of ground beef to use: the fat content and the size of the grind.
To recreate a McDonald's burger, you will want to use around an 80 percent lean cut of beef. Ground chuck is perfect. Eighty percent lean is a slightly fatter burger mixture than you may like, so if you prefer, you can go a little leaner. Just don't try to cut out all the fat! Anything more than 85 percent lean beef tends to make a burger that tastes dry and a bit mealy.
As for the grind of the meat, a finely ground beef will be closer to the texture of a McDonald's hamburger, but you may have a hard time finding it prepackaged. If where you buy your meat has a butcher, ask for it; otherwise, a slightly coarser ground is acceptable.
Make Mine a Cheeseburger!
Do you prefer a McDonald's cheeseburger? No problem, just place a slice of American cheese on top of the burger after flipping it over. A minute or so is plenty of time to melt American cheese, any longer and you risk liquefying it completely. For a more authentic cheeseburger, opt for yellow American cheese.
Tips For Making and Serving a McDonald's Burger or Cheeseburger
Cook on a griddle or large, shallow cast iron pan. To get the best sear, you need to allow your cooking surface to heat up thoroughly before starting to cook. Make sure to space your burgers far enough apart to let any liquids evaporate immediately instead of collecting and winding up stewing your burgers.
Yes, use dehydrated onion pieces. Whatever you do, don't try to improve on the classic by substituting fresh onion for the dehydrated ones from the spice jar. Rehydrating the onions in warm water helps to remove the familiar onion bite while bringing out a milder flavor.
Griddle the buns. Please don't skip this step, you will regret it. A nicely browned interior of the buns adds a satisfying crunch and helps to keep the bun from getting soggy.
Don't go overboard on the condiments. It is best to stick a few squirts of ketchup and mustard and a couple of dill pickle slices — that is it!
Did you love McDonald's? Why not try out more Mickey D's recipes:
More Popular Burger Recipes
Be sure to check out more of my copycat McDonald's recipes and easy beef recipes.
Do you want to stay up-to-date with all of our new recipes? You can follow us on Instagram or friend us on Facebook to make sure you stay in the loop!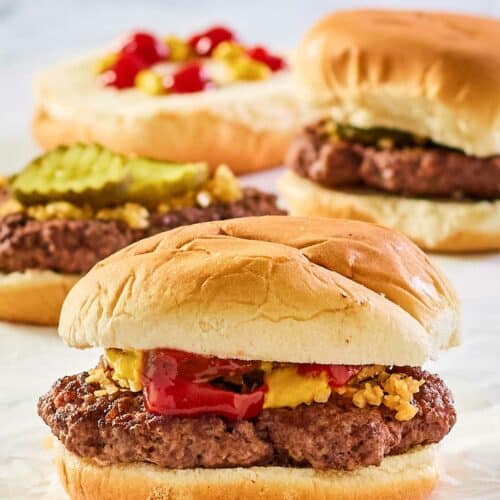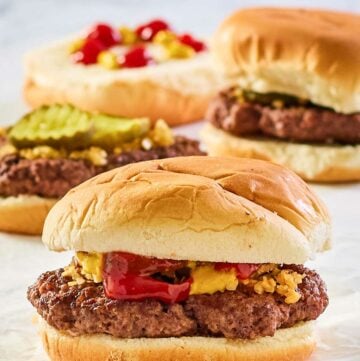 Ingredients
1

tablespoon

salt

2

teaspoon

ground black pepper

1/4

teaspoon

Accent seasoning

(optional)

2

tablespoons

dehydrated onions

1

pound

ground chuck

8

hamburger buns

4

tablespoons

ketchup

3

tablespoons

mustard

16

dill pickle slices
Instructions
Combine the salt, pepper, and Accent seasoning in a small bowl. You will use this spice mixture to season the ground chuck in Step 4. You will not use all of it, and you can store the remainder for later use.

Place the dehydrated onions into a small bowl and add 2 tablespoons of warm water. The onions will hydrate and be ready by the time you finish cooking the burgers.

Preheat the

griddle

to 375°F. For this recipe I like to use a griddle because it allows the juices to drain away from the burger while cooking. If you do not have a griddle, you can use a very large skillet.

Form 8 small round patties with the ground chuck. Place the patties onto the hot griddle. Use a spatula to press the patties into the griddle for 4 to 5 seconds. You know you have pressed the patties down hard enough when you have to scrape them from the griddle. Season the patties liberally. Then flip, season the other side, and cook for another minute or so until the burgers have cooked through. Remove them from the griddle.

Place the buns on the griddle, cut side down, and toast them until they begin to brown. Remove them from the griddle.

To assemble the burgers, place 5 small squirts (like dots) of mustard on the top bun. Follow the mustard with 5 larger squirts of ketchup. Place a patty on the bottom bun along with some onions and one or two dill pickle slices. Place the top bun on top.
Cheeseburger
If you would like to make a McDonald's Cheeseburger, simply add a slice of American cheese to the burger patty once you have flipped it over, and proceed with the recipe as written.
Nutrition
Calories:
280
kcal
|
Carbohydrates:
25
g
|
Protein:
14
g
|
Fat:
13
g
|
Saturated Fat:
5
g
|
Cholesterol:
40
mg
|
Sodium:
1380
mg
|
Potassium:
259
mg
|
Fiber:
1
g
|
Sugar:
5
g
|
Vitamin A:
64
IU
|
Vitamin C:
1
mg
|
Calcium:
96
mg
|
Iron:
3
mg