Air Fryer Carrots are great for a snack or side dish. These delicious carrot fries have a wonderful oven-roasted flavor. There's no need to turn on the oven when you can air fry carrots in a fraction of the time.
This post contains affiliate links. As an Amazon Associate, I earn from qualifying purchases.
Air Fryer Roasted Carrots
Few side dishes are as hands-off and delicious as these air fryer roasted carrots. Sweet, with a bit of oomph from the black pepper and garlic powder, these air roasted carrots are delicious alongside any roast or even on their own as a healthy snack. Even veggie-fearing kids are sure to gobble these carrots up.
Ingredients
Here's a list of what you need for making air fryer carrot fries:
Carrots
Olive oil
Maple syrup
Salt
Ground black pepper
Garlic powder
Other Seasoning Options
Once you master the method of making air fryer roasted carrots, there are many flavoring options. Experiment on your own with coming up with new flavor combinations, or try one of these:
Oriental Roasted Carrots in Air Fryer Dissolve a tablespoon of light brown sugar in a tablespoon of soy sauce. Add a half teaspoon of Chinese Five Spice Powder and a tablespoon of vegetable oil and mix well. Garnish cooked carrots with sliced scallions.
Honey Glazed Carrots in Air Fryer Combine two tablespoons of honey with a teaspoon of kosher salt, a half teaspoon each of cinnamon and black pepper, and a quarter teaspoon of nutmeg in a large mixing bowl. Add just enough hot water to melt the honey enough to stir to combine. Serve with minced chives on top.
Moroccan Carrots in Air Fryer In a large mixing bowl, combine a tablespoon of olive oil, a teaspoon of kosher salt, a teaspoon of chili powder, and a half teaspoon of cinnamon. Squeeze a lime wedge over the top of the carrots before serving.
How to Cook Carrots in an Air Fryer
Air fryers are perfect for helping you to save time in the kitchen. Start these air fryer carrots after taking the roast out of the oven, and by the time it is rested and carved, the carrots are done!
Preheat your air fryer to 370 degrees Farhenheit. If your air fryer doesn't have a preheat option, set it for 5 minutes at 370°F. If your air fryer uses a removable air frying basket, make sure it is in the oven during the preheating stage.
While the air fryer is heating up, rinse and peel about five carrots. To make things easier, choose carrots close to the same thickness or use baby carrots.
Cut the carrots into three-inch-long sections. Then cut each section into quarters lengthwise. If you are using thick carrots, cut them into eighths. For a fancier presentation, try squaring the edges of each section before cutting them into quarters. No matter how you cut the carrots, try to make them similar in size and shape to ensure they complete cooking simultaneously.
Combine the cut carrots, olive oil, maple syrup, salt, black pepper, and garlic powder in a large enough mixing bowl to hold all the carrots at once. Use your hands to coat the carrots evenly.
Once the air fryer is heated, carefully add the seasoned carrots to the basket. It is okay if some carrots slightly overlap, but you want them as spread out as possible. If your air fryer is small, cook in batches.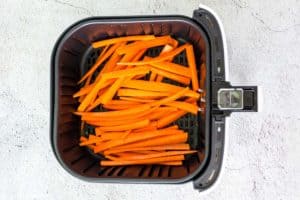 Set the timer for ten minutes. Midway through, take the basket out and give it a good shake before finishing cooking.
Recipe Notes and Ingredient Substitutions
Any other type of cooking oil can be used instead of olive oil. It is best to use ones with little to no flavor such as vegetable or avocado oil.
You can substitute garlic powder with onion powder easily. It is a 1 for 1 substitution.
Maple syrup adds a touch of sweetness without overpowering the whole dish.
Ground black pepper adds a savory, earthy flavor to balance with the sweetness of the carrots and honey.
The cooking time varies according to what you like. I find this recipe very handy as everyone gets what they want with little to no extra work for me.
If you want crispier carrots you can add more time, but watch them carefully so they don't burn.
How to Store and Reheat Air Fryer Carrots
Store carrots in the fridge for up to five days. Over time the carrots will absorb the oil and seasonings. Keep them in an airtight container to prevent them from drying out.
Reheat in the air fryer. If your air fryer doesn't have a reheat setting, cook at 320°F for two to three minutes. If the carrots appear dry, add a little more oil before reheating.
See what else we are cooking by checking out our Instagram!
Love carrots? Try these recipes!
Popular Vegetable Air Fryer Recipes
Check out more of my easy vegetable side dish recipes and the best air fryer recipes here on CopyKat!
Ingredients
6

carrots

1

tablespoon

olive oil

1

tablespoon

maple syrup

½

teaspoon

salt

⅛

teaspoon

ground black pepper

½

teaspoon

garlic powder
Instructions
Preheat the air fryer to 370 degrees.

Cut the carrots into sticks (Julienne cut). Cut the length to fit your air fryer basket.

Place carrot sticks, olive oil, maple syrup, salt, pepper, and garlic powder in a bowl.

Toss until all the carrots are coated with oil and seasonings.

Pour the carrots into the air fryer basket.

Air fry at 370 degrees for 4 minutes.

Shake the carrots and cook for an additional 4 minutes.

Check the doneness and cook for an additional 2 minutes if desired.

Serve and enjoy as a side dish or a snack!
Nutrition
Calories:
83
kcal
|
Carbohydrates:
12
g
|
Protein:
1
g
|
Fat:
4
g
|
Saturated Fat:
1
g
|
Sodium:
355
mg
|
Potassium:
309
mg
|
Fiber:
3
g
|
Sugar:
7
g
|
Vitamin A:
15286
IU
|
Vitamin C:
5
mg
|
Calcium:
36
mg
|
Iron:
1
mg