Piccadilly Carrot Souffle is one of the Piccadilly Cafeteria's most popular recipes. I know when I have made this dish for people, they can't believe it is carrots. Do you have finicky vegetable eaters? I would try the Piccadilly Carrot Souffle recipe on them, the sweet carrot souffle is quite delicious.


Piccadilly carrot soufflé is very popular at Piccadilly Cafeteria. I know when I've made this dish for people, they can't believe that they're eating carrots. Do you have finicky vegetable eaters? I would try this recipe on them – maybe don't tell them it's made from carrots until they've finished eating their portion. This carrot soufflé is sweet and quite delicious and doesn't have an eggy taste.
About Piccadilly Cafeteria
The first Piccadilly Cafeteria opened in 1932 in Baton Rouge, Louisiana. After twelve years of success serving up homestyle comfort food, a budding restaurateur by the name of T. H. Hamilton took over and grew the business. Today, there are forty-one restaurants all across the southeast. Favorite dishes are fried chicken, carrot soufflé, and a range of famous desserts. There's always something for everyone at Piccadilly.
When Did Soufflés First Puff Up?
Soufflés have probably been around ever since flour, milk, eggs, and butter have been whipped up into different concoctions to please the discerning palate. The first recorded appearance of a soufflé dates from the early 1700s when a French cook, Vincent de la Chappelle, made soufflés for European dignitaries including Madame de Pompadour, mistress of Louis XV. To learn more about the history of soufflés.
The Soufflé in Paris
The soufflé has long been associated with French haute cuisine. If you have ever watched the movie Sabrina starring Audrey Hepburn, you might remember the scene at a Parisian culinary school where the master chef humiliates her (and most everyone else in the class) by his critiques of their failed efforts at making the perfect soufflé. "Too low; too high; too heavy; sloppy" he intones to each one. You can watch this short amusing scene about cooking souffles. But please don't let it put you off making a soufflé.
Don't Forget to Turn on the Oven
Sabrina sighs to her French baron friend, whose soufflé is perfect, "I don't know what happened." He explains to her that she forgot to turn on her oven. He says:
"Your mind has not been on the cooking. It has been elsewhere. A woman happy in love, she burns the soufflé. A woman unhappy in love she forgets to turn on the oven."
So, don't spend time worrying how high your bubbly mixture is puffing up while it's baking. The ingredients hidden inside will taste heavenly and light as a cloud – as long as you remember to turn on the oven.
Want a Sweet Potato Soufflé? Click here.
Want Two Piccadilly Cafeteria Desserts? Try these:
Piccadilly Cafeteria Pecan Delight
Piccadilly Cafeteria Lemon Ice Box Pie
Try the Piccadilly Cafeteria Carrot Soufflé
Make the famous Piccadilly Cafeteria carrot soufflé at home. You are going to love the great flavor. It's the perfect side dish for the holidays, and your kitchen will smell amazing while it's baking.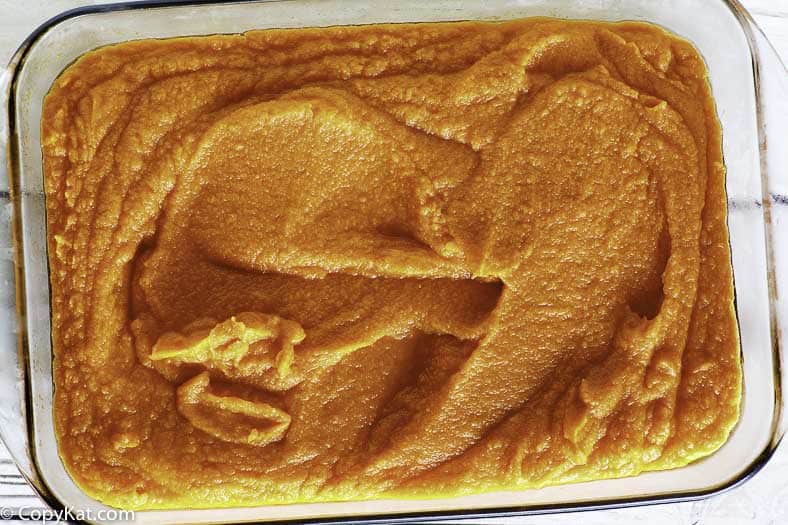 Ingredients
3 1/2

pounds

carrots

peeled

2 1/2

cups

sugar

1

tablespoon

Baking powder

1

tablespoon

vanilla

1/4

cup

flour

6

egg

1/2

pound

Butter

1

tablespoon

powdered sugar

for garnish
Instructions
Powdered sugar 1. Steam or boil carrots until extra soft. Drain well. 2. While carrots are warm, add sugar, baking powder, and vanilla. 3. Whip with

mixer

until smooth. 4. Add flour and mix well. 5. Whip eggs and add to flour mixture, blend well. 6. Add softened margarine to mixture and blend well. 7. Pour mixture into 13 by 9 inch baking dish about half full as the souffle will rise. 8. Bake in 350-degree oven about 1 hour or until top is a light golden brown. 9. Sprinkle lightly with powdered sugar over top before serving.
Nutrition
Calories:
597
kcal
|
Carbohydrates:
86
g
|
Protein:
6
g
|
Fat:
26
g
|
Saturated Fat:
15
g
|
Cholesterol:
183
mg
|
Sodium:
388
mg
|
Potassium:
838
mg
|
Fiber:
5
g
|
Sugar:
73
g
|
Vitamin A:
680.8
%
|
Vitamin C:
14.2
%
|
Calcium:
15.6
%
|
Iron:
8.4
%