Homemade Italian Seasoned Bread Crumbs are easy to make with simple ingredients. You can even customize the seasoning to have flavors to your liking. These homemade bread crumbs are so easy to make, you won't ever need to buy them again.
This post contains affiliate links. As an Amazon Associate, I earn from qualifying purchases.
Homemade Italian Bread Crumbs with Fresh Bread
Whether you are making mozzarella sticks or a Yellow Squash Casserole, good bread crumbs can make a lot of difference. Go ahead and spend three bucks for who-knows-how-old packaged Italian seasoned breadcrumbs, but you can make them yourself with this homemade Italian bread crumbs recipe and add the spices and seasonings you want to complement your food perfectly.
Is There Really a Difference Between Bread Crumbs?
Yes, there is, and it is more important than you think. We are not only talking about the kind of bread that the crumbs come from (see the next section) but the style of bread crumbs.
One noticeable difference is the size of the bread crumbs. Most traditional bread crumbs in the West are fine, but Japanese-style bread crumbs are much bigger and flakier. The crumbs' larger size traps more air between the crumbs and lighter and crispier coating. If you prefer this style of bread crumbs, they are simple to make. Follow the recipe as written until you get to step four. Instead of crumbling the bread, break the slices in half and pulse them two or three times in a food processor. If you don't have a food processor, you can lightly rub the dried bread against the side of a box grater with the largest holes.
And then there is the fresh bread crumbs vs. toasted bread crumbs confusion. Just because you may put the bread in the oven to remove excess moisture, it doesn't really count as toasting the bread crumbs. Untoasted bread crumbs lack the strength to use for breading but make a better binder for fish cakes or meatballs. If you plan on coating something and then cooking it, you need to toast the bread crumbs first.
To toast Italian Seasoned Breadcrumbs:
Heat three tablespoons of olive oil over medium-high heat in a large skillet.
When the oil is hot, pour in the seasoned bread crumbs.
Use a wooden spatula to coat the crumbs with the oil.
Continue to stir continuously until the bread crumbs develop a light golden color.
Remove the bread crumbs from the heat and cool on a rimmed baking sheet.
Do I Have to Use Italian Bread to Make Homemade Italian Bread Crumbs?
No, you don't. Just about any white flour, plain bread will do the trick so, you can use a half-eaten loaf of sandwich, leftover hamburger buns, leftover hotdog buns, or French bread or extra hot dog buns. Depending on your tastes, you may want to experiment with bread made from other types of flours like rye or whole wheat. However, you probably want to stay away from sweeter loaves of bread such as brioche or bread with a high ratio of crust to crumb (the fluffy interior of the bread) like a baguette. Don't use any bread with nuts or seeds.
Tips for Making and Storing Italian Breadcrumbs
Store bread crumbs in an airtight container for up to two weeks. If you need to keep them longer, you can freeze them in a freezer bag for up to two months.
Feel free to modify the bread crumb seasons based on what you like or have on hand. A few excellent additions are grated Parmesan cheese, dried oregano and parsley flakes, red pepper flakes, and fresh ground black pepper.
Check out our newest posts on Facebook!
Italian Bread Crumb Recipe Ingredients
Here's a list of what you need:
Bread slices
Salt
Italian Seasoning
Onion powder (optional)
Garlic powder (optional)
You can use leftover sandwich bread, Italian bread, French bread, or whatever you have on hand to prepare your own bread crumbs.
How to Make Italian Bread Crumbs
In just a few minutes, you will have some wonderfully seasoned bread crumbs.
If your house has low humidity, just set out bread slices to dry.
If your house is humid, heat oven to 200 degrees.
Place bread slices on a baking sheet.
Bake at 200 degrees for 5 to 7 minutes.
Turn bread slices over and bake an additional 5 to 7 minutes, until the bread is dried.
Crumble dried bread into a bowl and add salt.
Rub the Italian seasoning between your hands to release the aromatic oils then place the seasoning into the bowl.
Add onion powder and garlic powder if desired.
Stir to combine the crumbs and seasonings.
Store in an airtight container.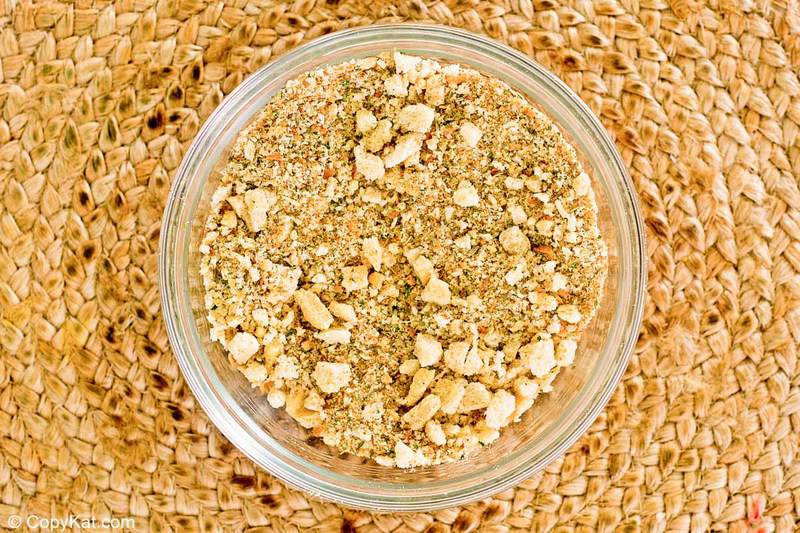 Homemade Italian Seasoning makes Breadcrumbs Flavorful
Many people buy Italian seasoning in the grocery store and it is a very common spice blend. If you do not have the spice blend of Italian seasoning on hand, you can use the following mix to create your own Italian seasoning:
1 tablespoon dried basil
1 tablespoon dried oregano
1 tablespoon dried parsley flakes
1 teaspoon garlic powder
1 teaspoon thyme
1 teaspoon dried rosemary, crashed
dash of ground black pepper
1/8 teaspoon crushed red pepper flakes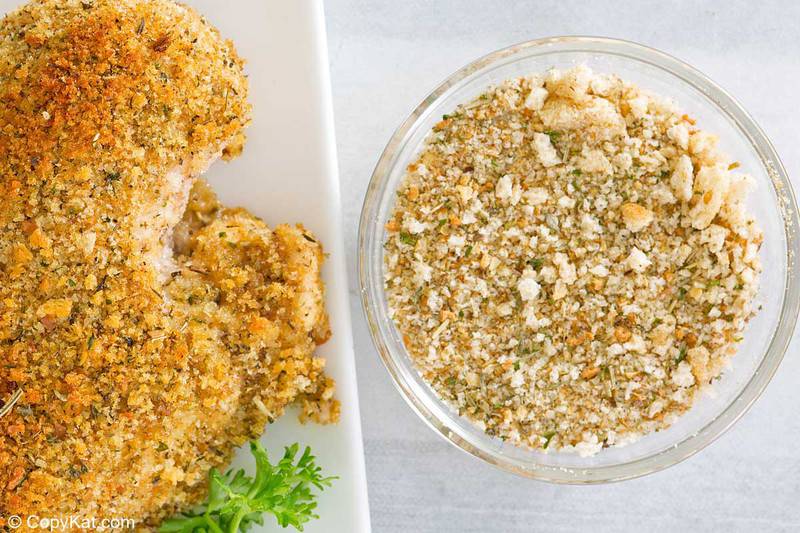 Check out these recipes for or with bread crumbs:
Popular DIY Recipes
Check out more of my easy bread recipes and the best DIY recipes here on CopyKat!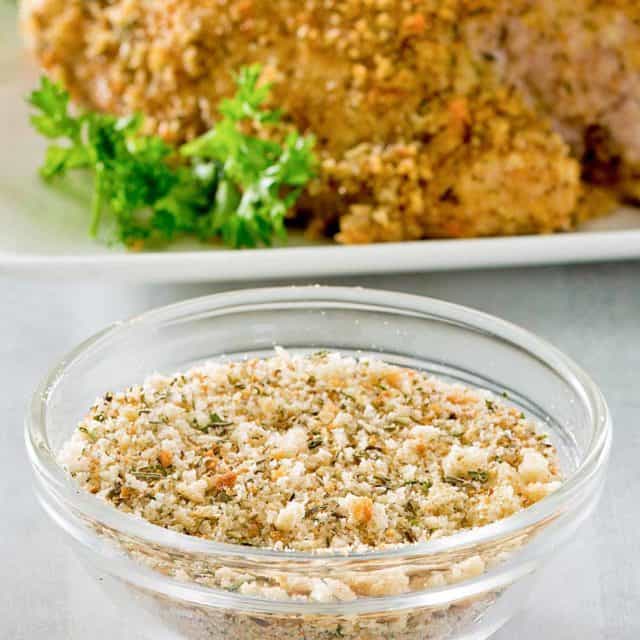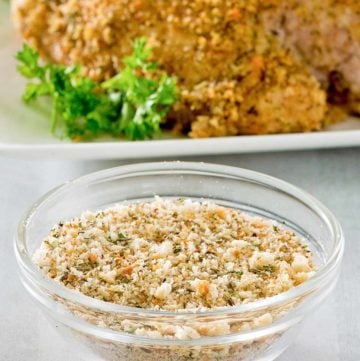 Ingredients
8

slices

white bread

½

teaspoon

salt

1

teaspoon

Italian seasoning

½

teaspoon

onion powder

½

teaspoon

garlic powder

(optional and not pictured in video)
Instructions
If your house is dry, allow the bread to dry out.

If your house is humid, place the bread into a 200-degree oven until the bread has dried out, and then flip the bread over and allow the bread to dry out on the other side. About 5 to 7 minutes on each side.

Crumble bread into a bowl and add salt.

Rub the Italian seasoning between your hands to release the aromatic oils and then place those into the bowl.

Add onion powder and garlic powder if desired.

Stir to combine bread crumbs and seasonings.

Store in an airtight container.
Nutrition
Calories:
269
kcal
|
Carbohydrates:
50
g
|
Protein:
9
g
|
Fat:
3
g
|
Saturated Fat:
0
g
|
Cholesterol:
0
mg
|
Sodium:
1072
mg
|
Potassium:
115
mg
|
Fiber:
3
g
|
Sugar:
5
g
|
Calcium:
276
mg
|
Iron:
4
mg