Do you ever have day-old bread? You know bread once it has passed its prime, or perhaps you are making a recipe and you need some bread crumbs. Maybe you don't want to drive to the store to go out and get some bread crumbs, I can show you how to make your own homemade Italian seasoned bread crumbs from scratch.


A lot of different recipes use Italian seasoned bread crumbs, I have made the Olive Garden Fried Mozzarella with Italian seasoned bread crumbs. You can dredge chicken breasts with these and saute them with some butter or olive oil and you will have dinner in a flash. You don't need to buy them store-bought, you can make them at home.
I personally love to save money where ever I can. It is hard to stay on a budget but I love to take shortcuts where I can and save a little bit here and there. By making homemade substitutes for items I would normally buy out I can save money. While bread crumbs won't break the bank, if you are like me, you may have leftover bread that has passed its prime, but you can still use it. Now don't use bread that is moldy, throw that away.
You can use leftover sandwich bread, Italian bread, French bread or whatever you have on hand to prepare your own bread crumbs. After my bread is dried out I season this with a blend of Italian herbs, some onion powder, and if you like a little garlic powder, and you will have some wonderfully seasoned bread crumbs.
Italian Seasoning makes breadcrumbs flavorful
Many people buy Italian seasoning in the grocery store, it is a very common spice blend. If you do not have the spice blend of Italian seasoning on hand, you can use the following mix to create your own Italian seasoning:
1 tablespoon dried basil
1 tablespoon dried oregano
1 tablespoon dried parsley flakes
1 teaspoon garlic powder
1 teaspoon thyme
1 teaspoon dried rosemary, crashed
dash of ground black pepper
1/8 teaspoon crushed red pepper flakes
Check out these recipes for or with bread crumbs: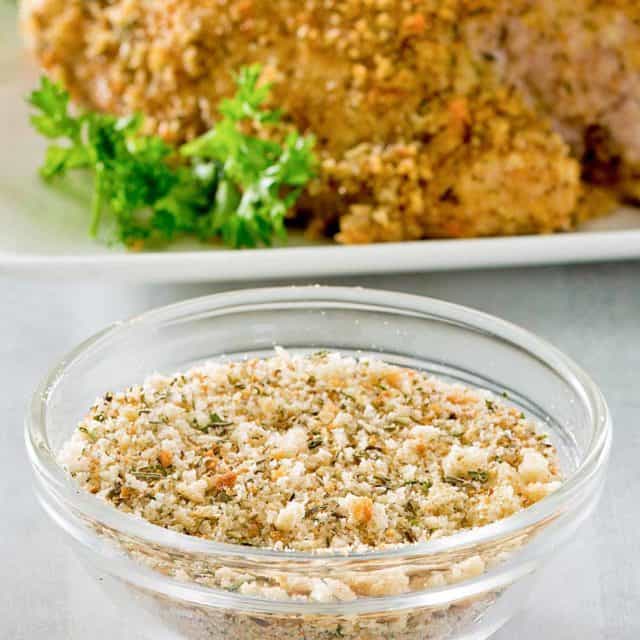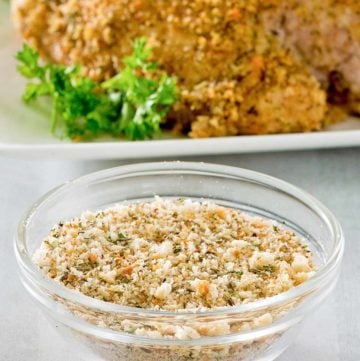 Ingredients
8

slices

white bread

½

teaspoon

salt

1

teaspoon

Italian seasoning

½

teaspoon

onion powder

½

teaspoon

garlic powder

(optional and not pictured in video)
Instructions
If your house is dry, allow the bread to dry out.

If your house is humid, place the bread into a 200-degree oven until the bread has dried out, and then flip the bread over and allow the bread to dry out on the other side. About 5 to 7 minutes on each side.

Crumble bread into a bowl and add salt.

Rub the Italian seasoning between your hands to release the aromatic oils and then place those into the bowl.

Add onion powder and garlic powder if desired.

Stir to combine bread crumbs and seasonings.

Store in an airtight container.
Nutrition
Calories:
269
kcal
|
Carbohydrates:
50
g
|
Protein:
9
g
|
Fat:
3
g
|
Saturated Fat:
0
g
|
Cholesterol:
0
mg
|
Sodium:
1072
mg
|
Potassium:
115
mg
|
Fiber:
3
g
|
Sugar:
5
g
|
Calcium:
276
mg
|
Iron:
4
mg