You can make Swiss Miss Hot Cocoa Mix at home and save money. You may even want to put this in a pretty jar and give it for a gift.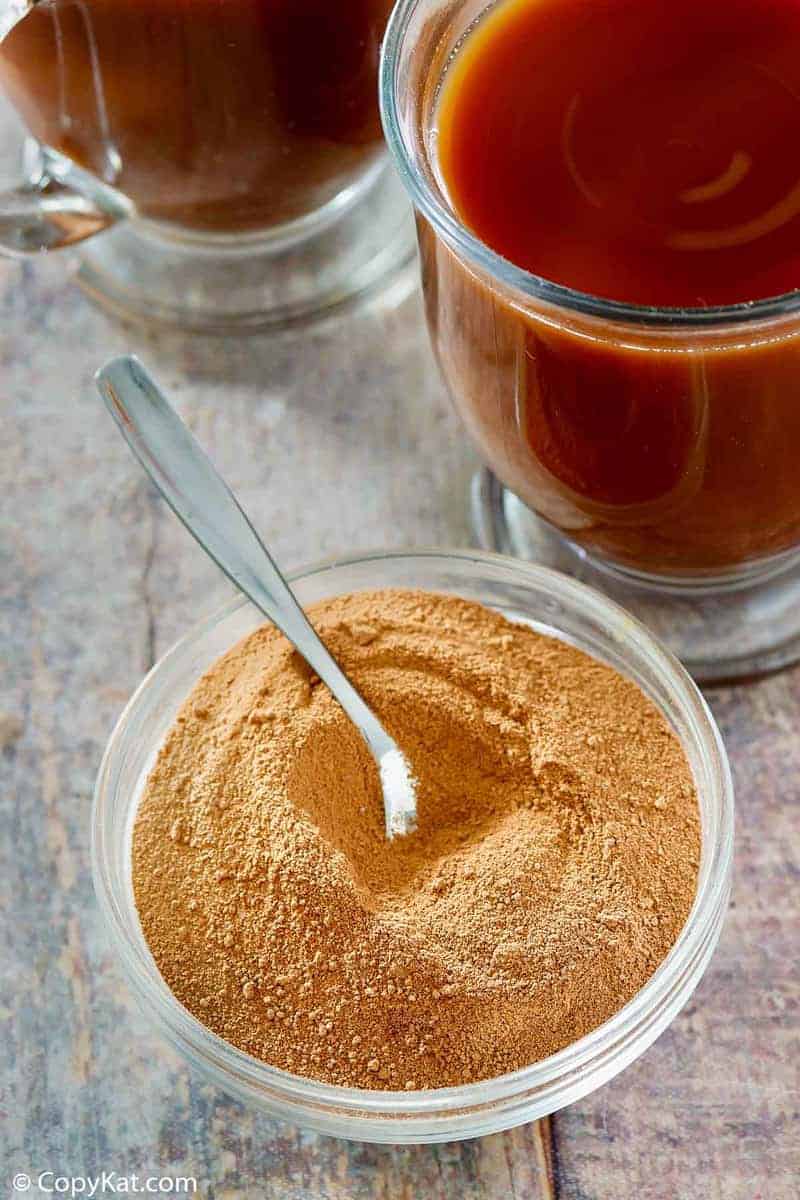 You were one lucky kid if you grew up with the kind of mother who would greet you at the door with a steaming cup of hot cocoa after a long day of sledding and snowball fights. While it's probably a long time since your mother clipped your mittens to your coat sleeves, it doesn't mean the days of warming your bones with a delicious cup of hot cocoa have to be over.
This recipe recreates the classic taste of Swiss Miss Hot Cocoa Mix for a fraction of the cost of any store-bought mix out there. All you need are three ingredients and a few seconds to stir together with a winter's worth of warmth. Save it for yourself and your family, or give as a thoughtful holiday gift.
So Much Better Than the Stuff in the Pouches
Not only is making your hot cocoa mix at home cheaper than the commercial products, but you also get the chance to make it the way you like it. Try some of these add-ins to make your mix special.
Add a 1/2 teaspoon of instant espresso powder per serving for an additional caffeine kick.
Add a 1/8 teaspoon of cayenne pepper things spicy. Chili peppers go surprisingly well with chocolate.
A sprinkling of fresh nutmeg and cinnamon (and perhaps a splash of rum) transforms hot cocoa into a holiday-worthy drink.
Finely crush half a peppermint candy and mix with each serving of hot cocoa for some serious Christmas cheer.
The Difference Between Hot Cocoa and Hot Chocolate
It is essential to know that this recipe is not for the best hot chocolate mix but is for the best hot cocoa mix. Many people use the terms "hot chocolate" and "hot cocoa" interchangeably, but there is a difference. So. what is it?
You make hot cocoa with cocoa powder, milk, and sugar. It is thinner in consistency than hot chocolate and has significantly fewer calories. On the other hand, hot chocolate contains finely chopped chocolate melted in hot milk and then thinned out slightly with a splash of heavy cream. Loaded with fat and exceedingly thick, most folks drink real hot chocolate from small, espresso-sized cups. Authentic hot chocolate is pretty rare in the US, although it is popular in Europe and Central and South America.
If you want to try making your own hot chocolate, you don't need a homemade hot chocolate mix. Just heat a cup and a half of whole milk in a small saucepan until warm. Add 8 ounces of chopped dark chocolate and continuously stir until the chocolate melts. Turn off the heat and stir in a half cup of heavy cream and serve immediately in small cups.
Tips For Serving and Storing Homemade Swiss Miss Hot Cocoa Mix
Everyone loves whipped cream and marshmallows. Homemade whipped cream and homemade marshmallows are even better!
Add caramel flavor. Dissolve a soft caramel chew in your hot cocoa for a delightful taste.
Keep your mix dry. Store your hot cocoa mix in a glass jar or sealed plastic bag in the cupboard away from the light and moisture.
See what we are up to by friending us on Facebook.
Swiss Miss Ingredients
What you need to make hot chocolate mix:
Powdered Milk
Sugar
Cocoa Powder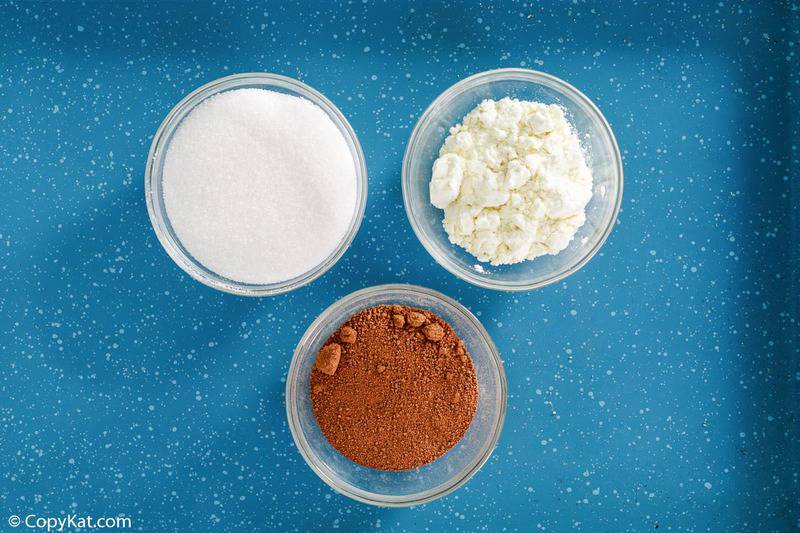 How to Make Swiss Miss Hot Cocoa Mix
Sift all ingredients together three times.

Store this mixture in a tightly sealed container in a cool place.
When ready to use, you can add a couple of heaping tablespoons to hot water.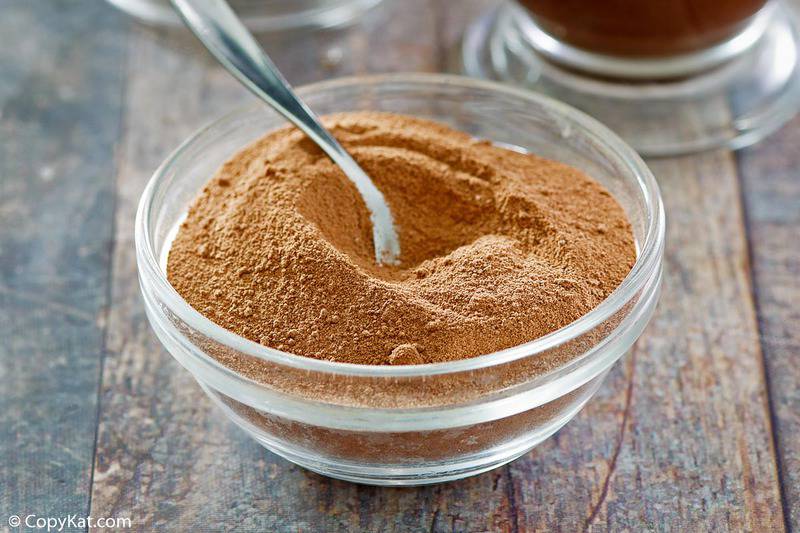 Love chocolate? Try these recipes:
More Hot Chocolate Recipes
Be sure to check out more of my DIY recipes and easy drink recipes.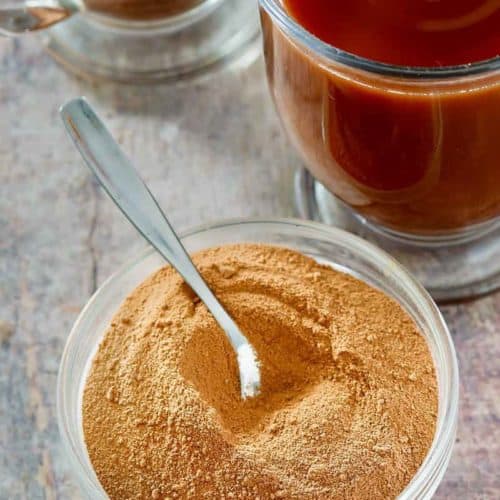 Ingredients
16

ounces

powdered milk

1

cup

sugar

3/4

cup

cocoa
Instructions
Sift all ingredients together three times. Store this mixture in a tightly sealed container in a cool place. When ready to use, you can add a couple of heaping tablespoons to hot water.
Nutrition
Calories:
79
kcal
|
Carbohydrates:
10
g
|
Protein:
3
g
|
Fat:
3
g
|
Saturated Fat:
2
g
|
Cholesterol:
10
mg
|
Sodium:
42
mg
|
Potassium:
175
mg
|
Fiber:
0
g
|
Sugar:
9
g
|
Vitamin A:
105
IU
|
Vitamin C:
1
mg
|
Calcium:
105
mg
|
Iron:
0.3
mg