McDonald's Eggnog Shake is one of the items on McDonald's menu that comes out around the Christmas holiday season. Over the years their shakes have only tasted better and better, and this eggnog shake tastes so good you will want one all year.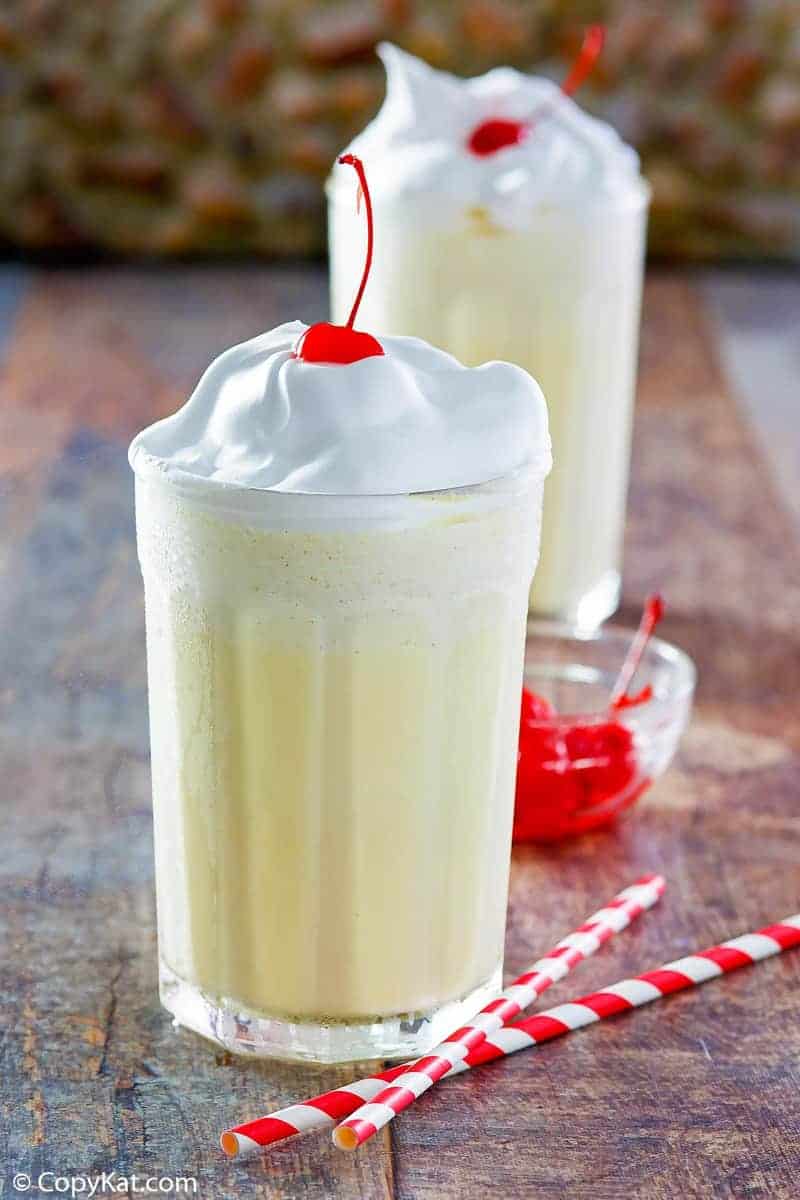 This post contains affiliate links. As an Amazon Associate, I earn from qualifying purchases.
What makes the McDonald's Milkshake so good?
Mickey D's eggnog shake is so creamy and delicious that you almost don't miss the alcohol. Almost. But by the time you unwrap your last gift, and the Christmas tree is starting to drop needles, the McDonald's eggnog milkshake will be gone for another year.
Don't worry. The recipe below will satisfy your eggnog shake cravings anytime you want, and it is so simple to make that you probably will find yourself serving them at your next holiday party!
Why you'll love this recipe
The eggnog flavor is a holiday favorite, and eggnog isn't a common flavor, so you can enjoy this unique milkshake when you make it at home. An eggnog milkshake has the right amount of sweetness balanced with savory elements of nutmeg. So there is something for everyone to love.
How to Make a Milkshake Like an Old-Time Soda Jerk
With so few milkshake ingredients, the only difference between a good one and a great one is having the proper equipment and knowing the correct shake-making techniques. Luckily, you probably already have everything you need.
You don't have to invest in a dedicated milkshake maker, although they do look very cool. A halfway decent blender will work just fine for a simple milkshake like this one.
Take out the vanilla ice cream five to ten minutes before making the milkshakes. You want the ice cream to be soft enough to scoop easily but definitely not melting.
For the best results, use an unopened container of ice cream to make your milkshakes. Depending on the package type and your freezer, previously opened ice cream can develop ice crystals that can ruin a milkshake.
Once the ice cream is easily scoopable, scoop a cup for each serving into the blender. If you are adding any alcohol, pour it in now. Place the cover on the top, but take out the center cap. Turn the blender on low and slowly pour in the liquid until you reach the desired consistency.
Finally, pour the shake into frosted glasses, pop in a thick straw, and garnish with a dollop of whipped cream and a maraschino cherry. Serve immediately.
Ingredients
Here's a list of what you need to make this copycat McDonald's eggnog milkshake recipe:
Vanilla ice cream
Eggnog
Whipped cream
Maraschino cherry
How to Make an Eggnog Shake
Place vanilla ice cream into a blender.
Add eggnog and blend for about 45 seconds.
Pour the milkshake into a glass.
Top with whipped cream and a maraschino cherry.
Tips and Variations For Making and Serving the Best Eggnog Shakes
Use your favorite type of vanilla frozen dessert. McDonald's uses regular vanilla ice cream, but French Vanilla ice cream works extraordinarily well in this recipe. Surprisingly, low butterfat ice creams tend to make even creamier milkshakes. Replacing the ice cream with vanilla gelato or even frozen custard may be an exciting experiment.
Spice things up a bit. A light sprinkling of cinnamon and freshly ground nutmeg into the blender before mixing will elevate your eggnog milkshake to gourmet standing.
Make it an 'adult' milkshake. A shot of brandy, bourbon, or rum is always appreciated by those looking for a more traditional holiday tipple. Bailey's Irish Cream is another great addition.
Frost your serving glass to keep the milkshake ice cold. Wrap your glasses in damp paper towels and place them in the freezer for a few minutes. Take the glasses out and gently peel off the paper towels.
Either way, it is going to taste great!
What can you serve with an eggnog milkshake?
Of course, you will want to serve this with some holiday cookies, I love to serve this with some 7 layer bar cookies or some Chocolate Crinkle Cookies. This would also go well with a slice of pumpkin bread.
Are you looking for more holiday recipes? Try these!
More McDonald's Seasonal Drink Recipes
Be sure to check out more of my easy Christmas recipes and the best McDonald's copycat recipes right here on CopyKat.com!
Do you like cooking videos? Check out our channel on YouTube.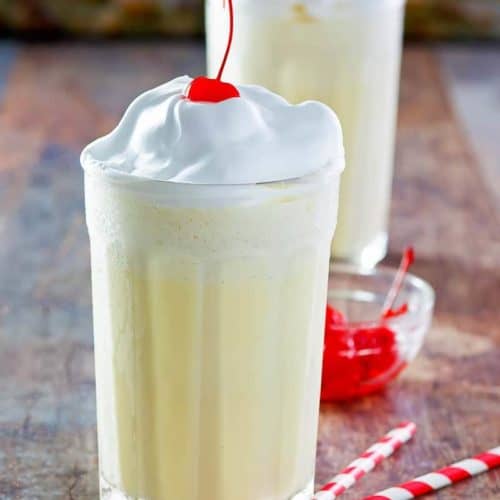 Ingredients
1

cup

vanilla ice cream

1/2

cup

eggnog

2

tablespoons

whipped cream

1

maraschino cherry
Instructions
Place vanilla ice cream in a blender.

Pour the eggnog into the blender. Blend for about 45 seconds.

Pour the milkshake into a glass and top with whipped cream and a maraschino cherry.
Nutrition
Calories:
416
kcal
|
Carbohydrates:
44
g
|
Protein:
10
g
|
Fat:
21
g
|
Saturated Fat:
13
g
|
Cholesterol:
139
mg
|
Sodium:
175
mg
|
Potassium:
472
mg
|
Fiber:
0
g
|
Sugar:
40
g
|
Vitamin A:
880
IU
|
Vitamin C:
1.9
mg
|
Calcium:
334
mg
|
Iron:
0.3
mg