You can have this cranberry relish at home with our recipe. This cranberry relish has oranges, apples, and fresh cranberries and tastes so good! I got the ingredients straight from Luby's, but the amounts took several holidays to perfect. They gave me the recipe to feed 200 people!
The tart taste of cranberry relish is the perfect contrast to heavy sauces and carbohydrates. That is why it isn't easy to find a table anywhere in America that doesn't have at least one version of it come the fourth Thursday in November. But you don't have to wait until Thanksgiving to serve up this delicious side dish. It can and should be enjoyed throughout the year, just like it is at Luby's cafeteria in Texas.
Luby's no-cook cranberry relish starts with fresh cranberries and then adds apples, oranges, and a touch of sugar to round out the flavor profile. This recipe saves time because it actually improves in flavor when stored in the fridge overnight. Give this simple cranberry orange relish a try, and it will probably become a cherished family recipe.
What is the Difference Between a Cranberry Relish and a Cranberry Sauce?
When it comes to cranberries, some folks prefer sauce, others like relish, but many are confused about the two's differences. There is a straightforward way to tell them apart: Cranberry sauce is cooked, while cranberry relish is not.
In fact, cranberry sauce is very similar to a jam or jelly as it is cooked on the stovetop with sugar and water until the cranberries start to break down. Sometimes a few spices and other flavorings are thrown into the pot, perhaps even a little pectin to help thicken the sauce. The cooking process and the larger amount of sugar in cranberry sauce recipes produce a sweet dish with just a hint of tartness.
On the other hand, tartness is the overriding flavor of cranberry relish. The fresh uncooked cranberries really come through and can surprise those who are used to eating cranberry sauce. Cranberry relish is definitely more of a 'grown-up' side dish; however, many former cranberry sauce fans grow to prefer the relish version over time.
Fancying Up Fresh Cranberry Relish
Although this recipe is perfectly fine the way Luby's serves it, you may want to think about a few ways to really make it your own when you make it at home. Here are a few suggestions to help get your mind working:
Add a cup of chopped pecans, 8 ounces of crushed pineapples, and 2 cups of unsweetened coconut flakes.
Combine a two cup of chopped walnuts with the cranberry relish before resting in the fridge overnight. Sprinkle more on top before serving.
Increase the sweetness naturally by adding 2 cups of dried dates to the relish.
A cup of chopped candied ginger adds a little spiciness.
Tips For Making, Enjoying and Storing Fresh Cranberry Relish
You can use frozen whole cranberries for this recipe. But first, thaw the cranberries in a colander in the sink before using them in the recipe.
Store in an airtight container for up to five days in the fridge. You can freeze in a well-sealed freezer bag for up to a month. Let frozen cranberry orange relish thaw slowly in the fridge.
More than a side dish, you can eat cranberry relish in many ways. Try it on top of your waffles or mixed with cream cheese and spread on a bagel. Boost the flavor of your favorite balsamic vinaigrette by adding a few spoonfuls of relish to it.
See what we are up to on Facebook.
Ingredients
Here's a list of what you need
Fresh cranberries
Apples
Seedless Oranges
Sugar
Red food coloring
How to Make Cranberry Relish
Insert knife blade into the bowl of a food processor.
Place cranberries in the processor bowl.
Slice and cube apples, removing core and seeds but leaving the peel on.
Zest one orange then peel and section oranges.
Add apple cubes, zest, orange sections, sugar, and food coloring to the food processor bowl.

Process until all is pureed and blended.
Refrigerate overnight for best results.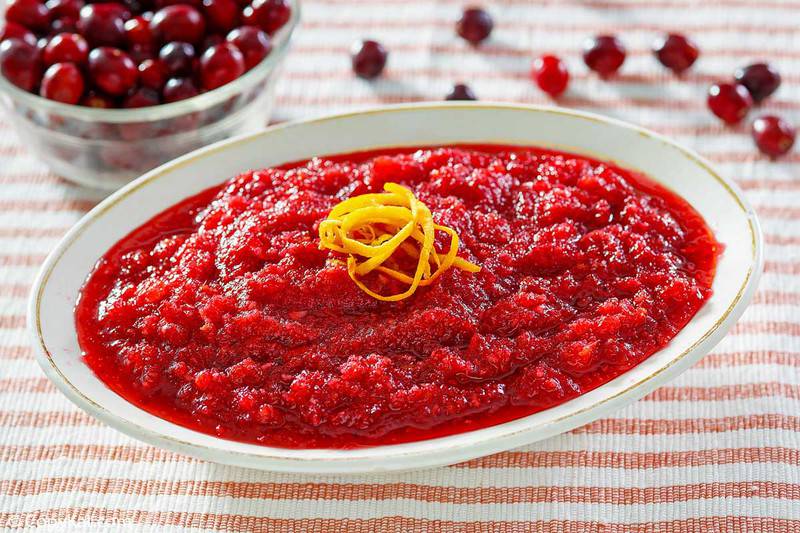 Holiday Salad Recipes
Favorite Thanksgiving Recipes
Be sure to check out more holiday salad recipes and the best copycat restaurant recipes right here on CopyKat.com!
Ingredients
16

ounces

whole cranberries

2

oranges

1

tablespoon

orange zest

2

apples

2

cups

sugar

5

drops

red food coloring
Instructions
Using your food processor, dump cranberries in a container with a puree blade. Slice and cube apple, removing seeds but leaving the peel on. Add into a processor. Wash thoroughly one orange and scrape zest.

Peel both oranges, section and add to mixture. Add sugar and food coloring. Puree until all is blended. Refrigerate overnight for best results.
Notes
Thanks to Pam Hite for sharing this recipe. She suggests that the above is Luby's original recipe; however, I also add one small can of crushed pineapples, one small bag of coconut and 1 cup chopped pecans. It's a must-have on our holiday dinner table
Nutrition
Calories:
207
kcal
|
Carbohydrates:
53
g
|
Protein:
0
g
|
Fat:
0
g
|
Saturated Fat:
0
g
|
Cholesterol:
0
mg
|
Sodium:
1
mg
|
Potassium:
124
mg
|
Fiber:
3
g
|
Sugar:
47
g
|
Vitamin A:
105
IU
|
Vitamin C:
22.4
mg
|
Calcium:
16
mg
|
Iron:
0.2
mg