Sweet potato casserole with pecan topping is good any time of the year, don't just have it for Thanksgiving. These mashed sweet potatoes covered with a lovely brown sugar pecan crust are sure to be a family favorite.
This post contains affiliate links. As an Amazon Associate, I earn from qualifying purchases.
Southern Sweet Potato Casserole
This Southern sweet potato casserole combines a sweet creamy inside with optional coconut and is covered with a lovely nutty and sweet crust using pecans. This easy sweet potato casserole recipe is good any time of the year, not just on Thanksgiving. It goes perfectly with glazed ham or pork roast and green beans.
Even those who think they don't like sweet potatoes will love this casserole. The crunchy pecan topping makes a nice contrast to the sweet potatoes and is much better than marshmallows. This dish is fantastic, smells great when cooking, tastes amazing and travels easily. This is an awesome, easy-to-make side dish. You can also eat it warm for dessert with ice cream!
How to Cook the Sweet Potatoes
Boiling – Add peeled and cubed sweet potatoes to a large pot of salted water. Bring to a boil over high heat, then lower the heat and simmer until the potatoes are very tender (15-20 minutes). Drain, allow to cool, and mash.
Tip: Boil the sweet potatoes whole until soft. Then the skin falls off, making them very easy to mash.
Baking – How to Bake Sweet Potatoes (Recommended) – Your casserole will be much more flavorful if you use baked sweet potatoes. Baking brings out the syrup and helps with caramelization. Preheat your oven (400 degrees). Rinse and pat dry the whole potatoes, coat the skins with some vegetable oil, place in a pan, and bake until tender (approximately an hour, depending on how big the potatoes are). It's also a lot easier than boiling – just cut the baked potatoes in half and scoop out the goodness – no peeling!
Using Canned Sweet Potatoes – You can, of course, use canned sweet potatoes to make things easier, but your casserole won't taste as good. One large 40 oz. can is just over 4 cups.
Tip: Boil them in the syrup for a while to get them somewhat mushy, then drain and mash them.
Sweet Potato Casserole Tips
Don't substitute other nuts for the pecans. This Southern sweet potato casserole is just not the same without the true Southern nut meant for sweet potatoes.
If you want, toast the pecans before you add them to the topping. This is not absolutely necessary because they will be in the oven later, but if you would like more flavor from the pecans, toast them lightly – do not let them burn!
Add some spice, e.g., pumpkin spice or cinnamon and nutmeg. You could also choose to add cloves or ginger. Also double the vanilla if you want.
For a real Southern sweet potato casserole touch, add a touch of bourbon. Use 1/8 to a 1/4 cup.
Use half & half, cream, or evaporated milk instead of regular milk.
This is a sweet casserole. If you like, you can reduce the sugar. If you want to control the sweetness, add the sugar gradually and taste your mashed sweet potatoes as you go along. Start at 1/8 cup and add from there as needed, keeping in mind that the casserole will sweeten up as it bakes.
This easy sweet potato casserole could easily be made vegetarian/vegan/diabetic by altering the dairy/sugar ingredients.
Can This Sweet Potato Casserole Recipe Be Made Ahead of Time?
Yes, prepare the casserole the day before and store it in the fridge overnight. Take it out about an hour before baking to bring the dish closer to room temperature. You can also make the topping ahead or prepare it the next day.
This sweet potato dish can also be made in advance and placed in your freezer unbaked. Cover the casserole dish with plastic wrap and then foil over that. Take out of the freezer a day ahead and thaw in the fridge. Bake as usual. Turns out great!
You could also mix up a big batch of the topping and keep in a zip lock bag in your freezer.
Sweet Potato Casserole With Pecan Topping
This easy sweet potato casserole recipe might turn out to be your signature Thanksgiving dish that will get filed in your favorite recipes album. If you have any leftovers, they taste great with scrambled eggs for breakfast the next morning.
Ingredients
Here's a list of what you need:
Mashed sweet potatoes
White sugar
Vanilla extract
Eggs
Butter
Milk
Coconut (optional)
Brown sugar
All-purpose flour
Pecans
How to Make Sweet Potato Casserole with Pecan Topping
Beat sweet potatoes, white sugar, vanilla, eggs, butter, milk, and coconut (if using) with a mixer until well blended.

Place mixture into a 2-quart casserole dish that has been well greased with butter.
Combine brown sugar, flour, and pecans in a bowl.

Spread pecan topping over the sweet potato mixture.
Bake at 350 degrees for 55 minutes.
Love sweet potatoes? Try these recipes!
Favorite Thanksgiving Side Dish Recipes
Be sure to check out more of my easy side dish recipes and the best Thanksgiving recipes to make for a special family dinner.
This recipe is by Virginia McDowell. Jefferson City, Mo. 1984.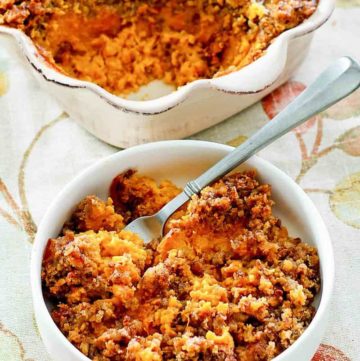 Ingredients
4

cups

mashed sweet potatoes

1

cup

white sugar

1

teaspoons

vanilla

4

eggs

4

ounces

butter

1/3

cup

milk

1

cup

coconut (optional)
Topping
1/2

cup

firmly packed brown sugar

1/4

cup

flour

1

cup

chopped pecans

2 1/2

tablespoons

butter
Instructions
Beat casserole ingredients in

mixer

until well blended. Put unto a 2-qt. long casserole dish that has been well greased with butter. Mix and spread topping ingredients over the sweet potato mixture. Bake in 350 degrees oven for 55 minutes.
Nutrition
Calories:
371
kcal
|
Carbohydrates:
39
g
|
Protein:
4
g
|
Fat:
22
g
|
Saturated Fat:
11
g
|
Cholesterol:
81
mg
|
Sodium:
141
mg
|
Potassium:
266
mg
|
Fiber:
3
g
|
Sugar:
28
g
|
Vitamin A:
6695
IU
|
Vitamin C:
1.2
mg
|
Calcium:
47
mg
|
Iron:
1.2
mg