Are you looking for a new recipe for sweet potatoes? I recently tried horseradish mashed sweet potatoes, and they were incredible. I wanted to recreate this dish for you.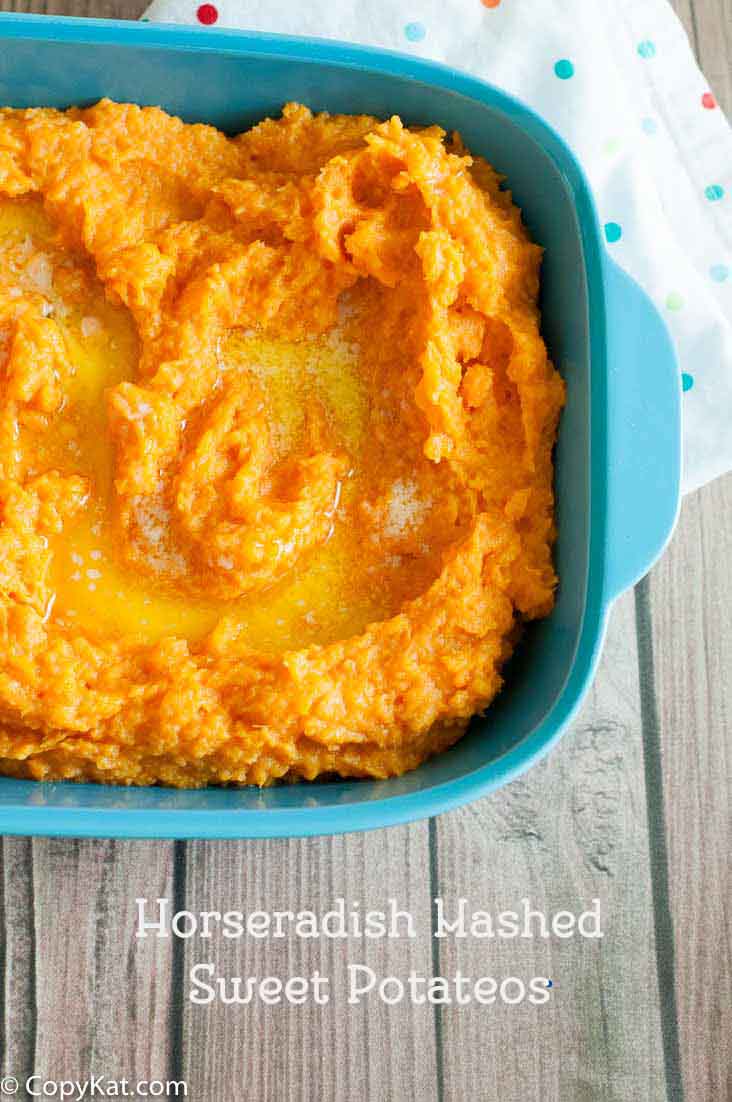 For the holidays we all think of sweet potatoes as being a sweet dish. I know my Boston Market Sweet Potatoes is a popular recipe. The Bostom Market Sweet Potatoes is almost a dessert recipe. While I like that sweet potatoes when they are a sweet dish, sometimes I want to serve something that is a bit more savory.
Sweet potatoes do not need to be sweet, they can be savory, so often people just make sweet potato recipes that are sweet. Sweet potatoes are an excellent vegetable that can be made in other ways. This version of sweet potatoes has rapidly become one of my favorites. The flavor of the sweet potatoes is balanced nicely with a touch of horseradish. I like to serve this dish with beef or a heavier dish.
I start the recipe by first baking the potatoes in the oven. I just wrap them in foil and bake them for about 1 hour, I peel the potatoes and then mash them in my mixer. I just add prepared a creamy horseradish sauce, melted butter, and a touch of salt. This is all that I do with the potatoes. For that is a recipe you want to use a horseradish sauce that is premade. I like the Heinz brand it is a very dependable sauce that has a known level of heat. I think you could use fresh horseradish, but I find sometimes it is hard to find, and it can vary in the degree of heat.
I hope you give this recipe a try and that you enjoy these savory radish sweet mashed potatoes.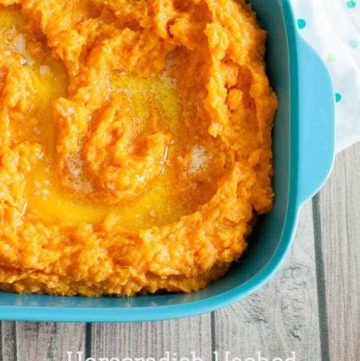 Ingredients
2

pounds

sweet potatoes

2

tablespoons

melted butter

1/4

cup

Horseradish sauce

1

1/2

teaspoon salt
Instructions
Preheat oven to 350 degrees. Place washed and scrubbed sweet potatoes on a baking sheet. Bake potatoes for approximately 1 hour. The potatoes are done when a fork pierces through the potatoes. When potatoes have cool enough to handle, peel potatoes and place in a

mixer

. Add melted butter, horseradish sauce, and salt to the potatoes. Mix potatoes until smooth and creamy. Serve with additional melted butter if desired.
Nutrition
Calories:
126
kcal
|
Carbohydrates:
23
g
|
Protein:
1
g
|
Fat:
2
g
|
Saturated Fat:
1
g
|
Cholesterol:
7
mg
|
Sodium:
118
mg
|
Potassium:
400
mg
|
Fiber:
3
g
|
Sugar:
5
g
|
Vitamin A:
16175
IU
|
Vitamin C:
4.6
mg
|
Calcium:
38
mg
|
Iron:
0.7
mg