If you have not tried Red Lobster Whipped Sweet Potatoes with Honey Roasted Pecans you are missing out on a limited time only menu item. Red Lobster knows how to celebrate the holidays. Now you can too, with this copycat recipe.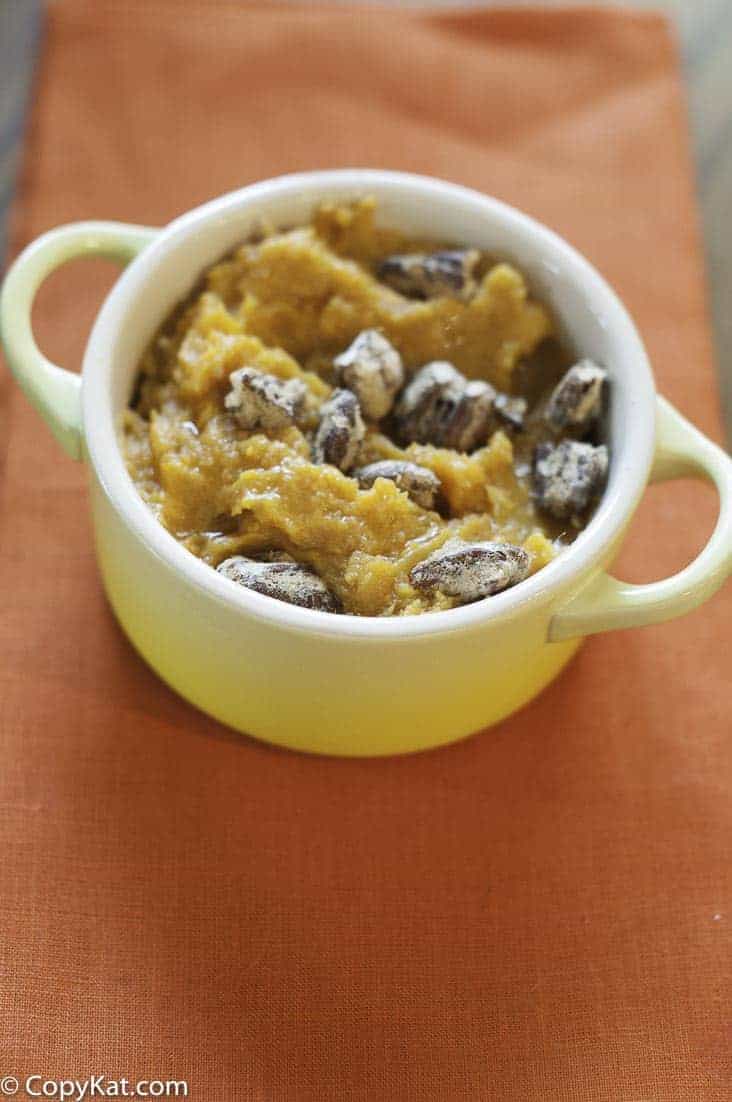 Thanks to many a reader like yourself, you had noted that Red Lobster was serving up a delicious side dish that I knew I had to try. When suddenly so many people requested Red Lobster Whipped Sweet Potatoes with Honey Roasted Pecans I knew I had to swing into action.
If you haven't had a chance to try these in the restaurant, I think you will find they are relatively simple to make. Start out by baking sweet potatoes; I like to start out with about 2 pounds. If you want to double or triple the recipe, you can. It's not a problem.
I have included a recipe for honey roasted nuts; you could use any nut that you want. You might enjoy them so much you might want to make them just to snack on. If you want to take a shortcut, you could use candied nuts you find the store. I think you will like the homemade ones the best.
You are going to enjoy these Red Lobster Whipped Sweet Potatoes with Honey Roasted Pecans any time of year.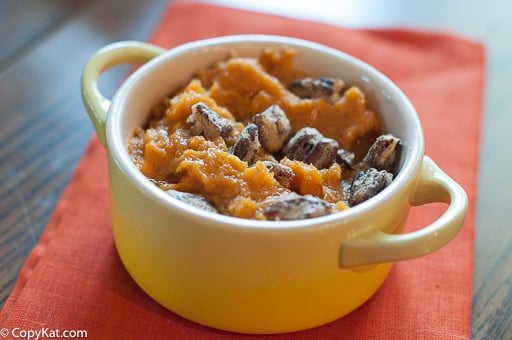 Love the Red Lobster Recipes? Don't miss out on these great copycat recipes.
Red Lobster Fresh Roasted Brussel Sprouts
Red Lobster Tartar Sauce
Red Lobster Cheddar Bay Biscuits
Red Lobster Parrot Bay Coconut Shrimp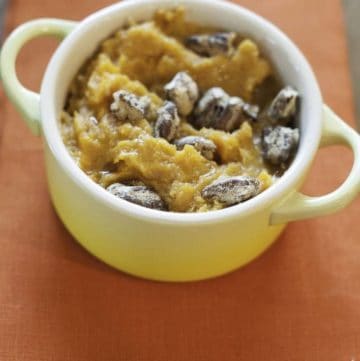 Ingredients
2

pounds

sweet potatoes

2

cups

pecans

2

tablespoons

honey

1

tablespoon

butter

(for nuts)

1/4

teaspoon

cinnamon

1/4

teaspoon

salt

1/2

cup

butter

(for potatoes)

1/2

teaspoon

salt

(for potatoes)

1/3

cup

brown sugar

Melted butter

for topping if desired
Instructions
Preheat oven to 350 degrees. Place sweet potatoes on a baking sheet, and bake until they are done. Medium sized sweet potatoes take about 40 to 45 minutes. Larger or smaller sweet potatoes cooking time will differ. Sweet potatoes are done when poked with a fork the fork will slide through the potato easily. To make the nuts melt the 2 tablespoons of honey, and the 1 tablespoon of butter together. Add 1/4 teaspoon of cinnamon and 1/4 teaspoon salt to the honey mixture. Pour the honey sauce over the pecans.

Spread on a baking sheet lined with parchment paper. Bake for 15 to 20 minutes. Stir the nuts several times while baking. Cook until golden brown. To make the whipped sweet potatoes peel potatoes, and place into a mixing bowl. Add 1/2 cup butter, salt, and brown sugar. Use a mixer to whip the potatoes together. Red Lobster places the potatoes in individual casserole dishes. You can place the potatoes in a casserole dish. Sprinkle with nuts and drizzle with melted butter if desired.
Nutrition
Calories:
433
kcal
|
Carbohydrates:
39
g
|
Protein:
4
g
|
Fat:
30
g
|
Saturated Fat:
9
g
|
Cholesterol:
34
mg
|
Sodium:
396
mg
|
Potassium:
495
mg
|
Fiber:
5
g
|
Sugar:
18
g
|
Vitamin A:
16500
IU
|
Vitamin C:
3
mg
|
Calcium:
62
mg
|
Iron:
1.4
mg