Chocolate truffles are rich and creamy mouthfuls of soft chocolate. Chocolate truffles in the stores are often are very expensive. With a little time and patience, you can make sumptuous chocolate truffles for the people you love the most.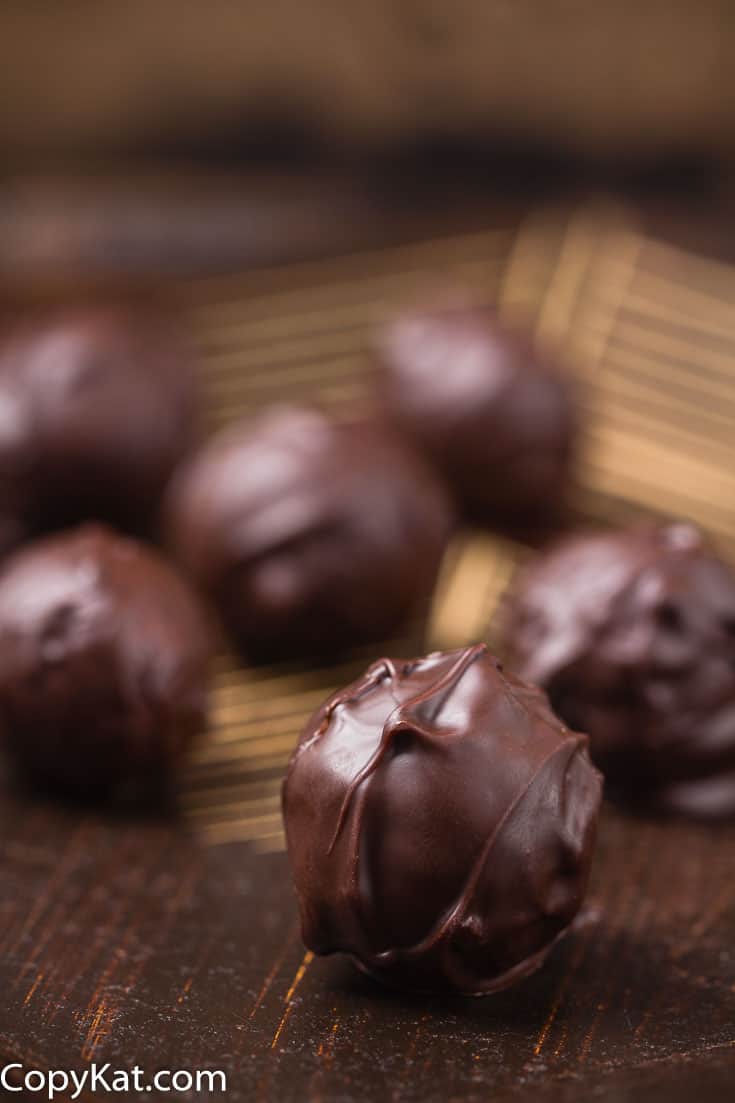 This post contains affiliate links. As an Amazon Associate, I earn from qualifying purchases.
Homemade Lindt Chocolate Truffles
Making homemade chocolate truffles is one of my favorite candies to make. You can flavor truffles anyway you like, or not at all. I like to use almond liqueur, but you can use any flavor you like. I have made truffles with coffee-flavored liqueur, hazelnut liqueur, dark rum, and orange liqueur.
So when you are making your truffles, you can make them any way you like. My truffles are covered in chocolate, but you can simply dust the truffles with cocoa powder. Either way that you finish your truffles, they will be a real delight.
These homemade chocolate truffles are perfect for Valentine's Day and DIY Christmas gifts. Truffle candy is an elegant gift for a chocolate lover or a special someone. Think of them as homemade Lindor truffles customized with flavors of your choice.
What Is a Chocolate Truffle?
Traditional chocolate truffles are ganache balls rolled in cocoa powder, but Lindt's Lindor Truffles are a bit different. These Lindt truffles use the standard ganache filling, but instead of getting a coating of cocoa powder, they are enrobed with more dark, luscious chocolate.
What Makes This Recipe for Lindt Chocolate Truffles so Good?
Really, how can you go wrong with rich, creamy chocolate covered with a crispy dark chocolate shell? You can't. And if you are a chocoholic, the small amount of effort needed for this recipe is well worth it.
What Makes a Truffle Candy a Truffle?
Don't worry. There is absolutely no fungus in a chocolate truffle. So, how did truffles get their name?
Originally, chocolatiers created truffles to look like the much sought-after fungus, complete with bumps and lumps, as a form of amusement for their high-end clients, much in the same way as today's famous kitty litter cakes. However, over time, the truffle's appearance became more refined.
What Is the Difference Between a Truffle and Chocolate?
Truffles are a type of sweet that typically contains ganache, a mixture of heavy cream and chocolate. After the ganache sets, the truffles get a coating of cocoa powder, nuts, or more chocolate.
Lindt Dark Chocolate Truffles Ingredients
To make the ganache, you'll need:
Chocolate
Heavy whipping cream
Vanilla extract
Liqueur of your choice
To make the crispy chocolate coating, you'll need:
Use your favorite dark chocolate. If you opt to use a chocolate bar, freeze it and shred it on a box grater before melting.
How To Make Truffles
To make copycat Lindor truffles, you need to make the chocolate ganache and the chocolate coating separately,
Start with the ganache:
Break up the chocolate and put it into a heat-proof mixing bowl.
Over medium heat, bring the heavy cream and vanilla extract to just below a boil in a heavy-bottom saucepan. Remember to stir occasionally to prevent scorching.
Pour the hot cream mixture over the chocolate and whisk together until smooth.
Add liqueur or other flavorings, if desired, and stir to combine.
Cover the mixing bowl with plastic wrap and chill in the fridge for a few hours until the ganache hardens enough to scoop.
Use a small cookie scoop or a tablespoon to portion out the ganache onto a parchment-lined baking tray.
You can rub your hands with a bit of canola oil and shape the ganache into perfect spheres, but it isn't necessary.
Place the tray in the fridge.
To make the chocolate coating:
Warm the chocolate in the microwave at 50 percent power for 30 seconds at a time just until the chocolate starts to melt. Stir and repeat as necessary.
Melt the butter in the microwave using the same technique as the chocolate.
Stir the melted chocolate and butter together.
To dip and decorate the Lindor truffles:
Use a fork or a chocolate dipper to dip each truffle into the chocolate.
After dipping the truffle, you can roll it in an additional coating like chopped nuts, flake salt, or even sprinkles, if you want.
Place the coated truffle on a parchment-lined baking tray. Repeat until you coat all of the truffles and put them in the fridge to set.
Transfer the truffles to a parchment-lined airtight container.
What Chocolate To Use for Lindt Dark Chocolate Truffles
For my recipe, I am using chocolate in 10-ounce increments. After making the New York Times Best Chocolate Chip Cookie Ever, I realized that you can indeed buy better quality chocolate in the grocery store if you take the time to look. Now, I personally love dark chocolate, you may not.
When I make truffles, I typically make dark chocolate truffles. So when I make these, I buy the chocolate chips with a high amount of cacao (how much chocolate liqueur is contained).
I have also made these same truffles with Valrhona or Callebaut, and they come out very well. Most of us can't find these brands at our local grocery stores. Thanks to the Internet and online ordering, everything is just a mouse click away.
How Long Will Homemade Truffles Last?
Homemade Lindor truffles will last three or four days in the fridge and up to three months in the freezer.
Do You Have to Refrigerate Homemade Chocolate Truffles?
In general, it is not a good idea to keep chocolate in the fridge, but homemade chocolate truffles are an exception. Since the ganache filling contains cream, truffles can spoil if you leave them on the counter.
How to Store Chocolate Truffles
If you plan to eat the truffles soon, go ahead and keep them in the fridge. However, your best bet is to put truffles in the freezer if you plan to store them longer than a few days.
Always put truffles on parchment or wax paper inside an airtight container and never stack them.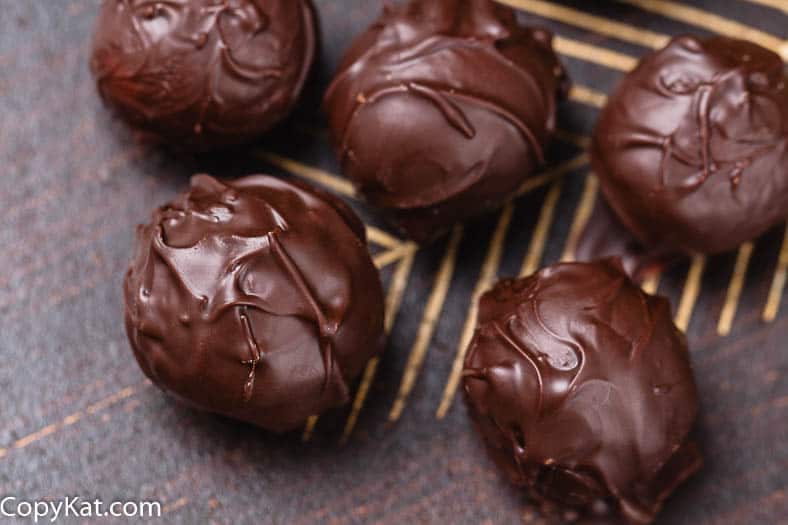 Lindt Lindor Dark Chocolate Truffles FAQs
What's the Cocoa Percentage of Lindt's Dark Chocolate Truffles?
Lindt's Lindor Dark Chocolate Truffles contain 50 percent cacao in the ganache and the chocolate coating. For people who want something more chocolatey, the company sells Extra Dark varieties that go all the way up to 70 percent cacao.
What Are Lindor Truffles Filled With?
Truffles come with various fillings, including the more traditional chocolate and hazelnut varieties, but then there are the fillings that are a bit more unusual, such as Matcha-flavored truffles.
How Many Calories Are in a Lindt Dark Chocolate Truffle?
According to the nutritional information provided by Lindt, the company's Dark Chocolate Truffles have 230 calories and 19 grams of fat per serving of three. That is about 77 calories and a little over 6 grams of fat per truffle.
How Much Caffeine Is in a Lindt Dark Chocolate Truffle?
Lindt doesn't list the amount of caffeine on the label, but dark chocolate contains about 20 mg of caffeine per ounce. Since one Lindor Dark Chocolate Truffle is a little less than half an ounce, there is probably no more than 7 or 8 mg of caffeine per truffle.
Additional Resources for Making Chocolate Truffle Candy
More Candy Recipes
Chocolate Lover Recipes
Be sure to take a look at more tasty Valentines Day and Christmas recipes.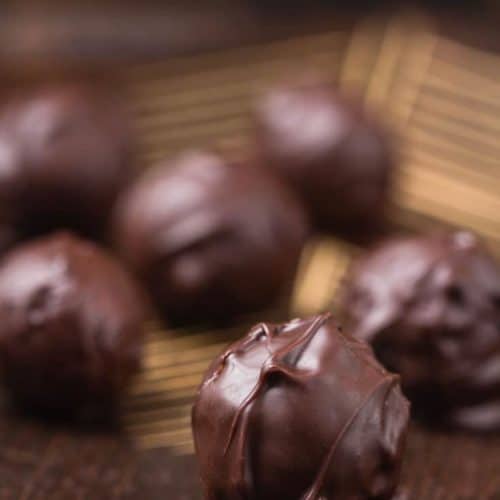 Ingredients
For the Ganache
10

ounces

chocolate

1/3

cup

heavy whipping cream

1

teaspoon

vanilla extract

1 1/2

tablespoons

liqueur

of your choice
Chocolate Coating
10

ounces

chocolate

2

tablespoons

butter

melted
Instructions
To make the ganache, bring heavy cream, and vanilla to almost a boil, pour the warm cream mixture over the chocolate. Whisk the chocolate and cream, until it is smooth and the chocolate is melted. When the mixture is smooth and creamy, with no more chunks of chocolate in mixture add in liqueur flavor that you desire. Cover the bowl with plastic wrap and place in the refrigerator for a couple of hours.

You will want to chill the mixture so it will be easy to make the individual truffles, until the mixture hardens it will be too soft to make the truffles. After about 3 to 4 hours, or even overnight, remove the unformed truffles from the refrigerator. Use a cookie scoop or a tablespoon to scoop out the truffle. Place truffle onto a cookie sheet that has been covered with either wax paper or parchment paper. Once all of the chocolate has been scooped out into individual pieces you may need to shape the truffles by rolling them into small balls. Place cookie sheet into the refrigerator while you make the ganache.

Make the chocolate coating for the outside of the truffle by melting two tablespoons of butter and pouring this over 10 ounces of chocolate. You may need to gently heat the chocolate in the microwave, or over a double boiler. Once the chocolate has been melted, you can begin to dip the truffles into the chocolate.

Dip the truffle into the melted chocolate, roll the truffle around into the chocolate until it is fully coated, using a fork lift the truffle out of the chocolate and gently tap the fork on the edge of the bowl to remove excess chocolate. Place the chocolate coated truffle onto parchment paper, and let the chocolate harden.

Before the chocolate sets completely you may choose to dust your chocolate with something extra.

Chopped nuts or even coarse sea salt are perfect additions. If you have never tried sea salt on chocolate, if your palate is a little more daring, you may find this a new flavor that you will love. Let your chocolates fully set and become hard before moving them into a storage container.
Nutrition
Calories:
143
kcal
|
Carbohydrates:
14
g
|
Protein:
0
g
|
Fat:
10
g
|
Saturated Fat:
6
g
|
Cholesterol:
7
mg
|
Sodium:
13
mg
|
Potassium:
70
mg
|
Fiber:
1
g
|
Sugar:
12
g
|
Vitamin A:
80
IU
|
Calcium:
8
mg
|
Iron:
0.6
mg