Blue Cheese Walnut Cookies -the first time I ever tried these cookies was at my friend Tina's house. She is quite the baker. Actually she is a fantastic baker, and I generally leave her house inspired to do more cooking. Last year at Christmas she did a massive amount of baking, and the Blue Cheese Walnut cookies was one of the cookies that she had. The Blue Cheese Walnut cookies are not a cracker, but a cookie.
The original recipe for the Blue cheese walnut cookies was one that was spotted on the Washington Post and the recipe is by From Roger Potter, pastry chef at 701 Restaurant in Northwest Washington. The first time these were made, we thought they were good, but needed some spice, as we felt they were missing something Tina went with dried ancho pepper powder. I think a little olive juice or maybe some cut up olives would also do well in here.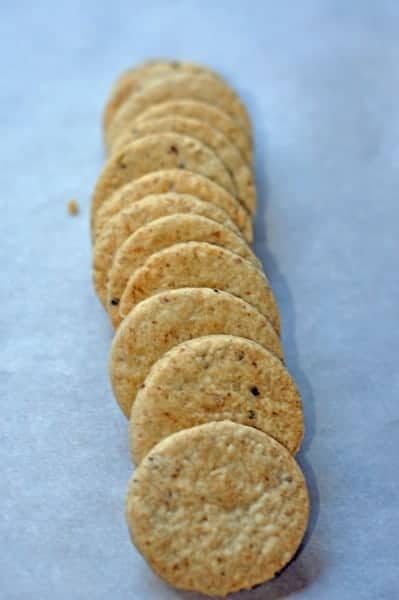 Blue Cheese Walnut Cookies
Links of interest
Original recipe – Blue Cheese Walnut Cookies
Ingredients
3 1/2

ounces

mild blue cheese

3

tablespoons

unsalted butter

at room temperature

1/2

cup

flour

1/4

cup

cornstarch

1/4

teaspoon

coarse salt

1/4

teaspoon

ancho chili powder

(although I haven't tried it, I think cayenne would also be good.)

1/8

teaspoon

freshly ground black pepper

1/3

cup

walnuts, finely chopped
Instructions
Preheat the oven to 325 degrees.

Line 2 baking sheets with parchment paper or silicone liners. Combine the blue cheese and butter in the bowl of a food processor; pulse until thoroughly blended. Add the flour, cornstarch, salt, pepper, ancho chili powder; pulse until the dough resembles coarse meal.

Add the walnuts and process until a moist dough is formed. Gather the dough into a flat disk, wrap in plastic wrap and refrigerate for at least 30 minutes and up to overnight, until thoroughly chilled and firm. Roll out the dough to a thickness of 1/4 inch.

Use 2-inch cookie cutters to cut out shapes. The dough can be rerolled. Transfer to the baking sheets, spacing the cookies 1 inch apart. Bake 1 sheet at a time for 12 to 14 minutes until lightly golden on the edges. Transfer to a wire rack to cool completely before serving or storing.

Notes: MAKE AHEAD: Store the cookies in an airtight container for up to 2 days. The dough can be refrigerated for up to 1 day. For best flavor, do not freeze the dough or the baked cookies. Yield: Makes about thirty 2-inch cookies.
Nutrition
Calories:
52
kcal
|
Carbohydrates:
3
g
|
Protein:
1
g
|
Fat:
3
g
|
Saturated Fat:
1
g
|
Cholesterol:
6
mg
|
Sodium:
82
mg
|
Potassium:
20
mg
|
Fiber:
0
g
|
Sugar:
0
g
|
Vitamin A:
80
IU
|
Calcium:
24
mg
|
Iron:
0.2
mg