Do you love Mcdonald's Egg McMuffin? A perfectly toasted English muffin, a slice of Candian bacon, and a perfectly cooked egg, and a slice of American cheese is the most-loved breakfast sandwich. You can make these at home.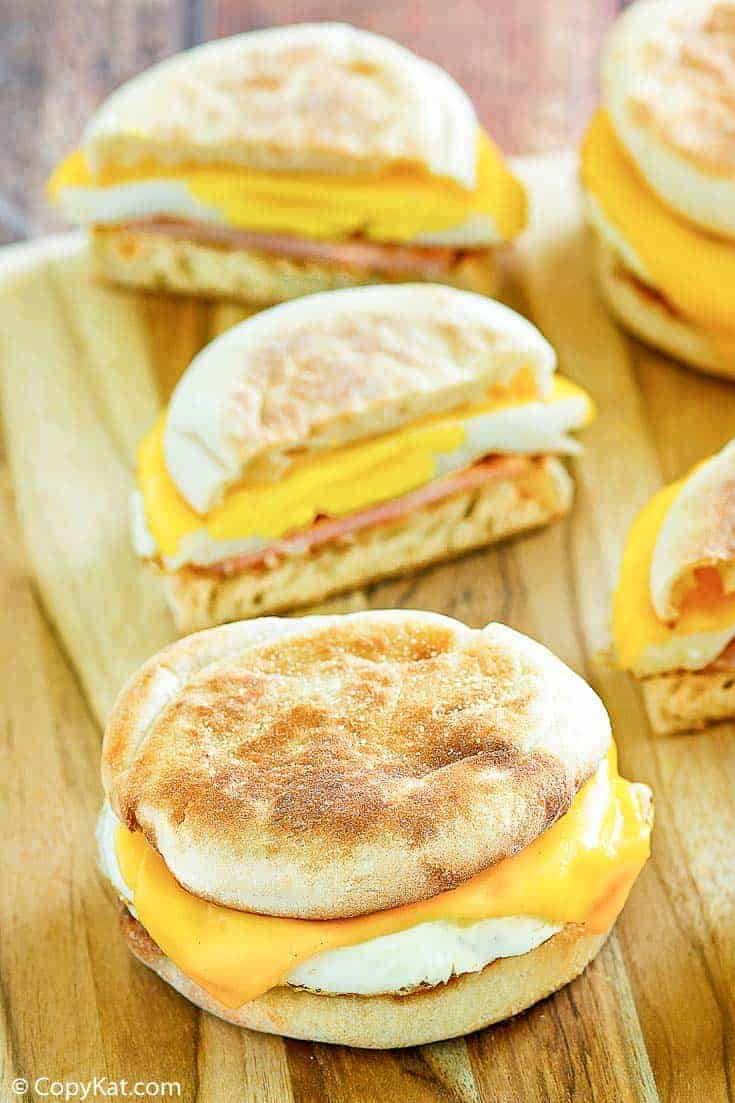 The humble egg McMuffin got its start in 1972.  Herb Peterson, created this recipe when he wanted to create a breakfast sandwich.  By 1973, the McDonald's Egg McMuffin became popular, and it has been on the menu ever since.
You can create your own egg McMuffin at home, they are easy to create, and best of all you can make several at once, and have breakfast for a week.   Nothing better than saving money and the time you will spend reheating your sandwich will be less time than it will take you to wait in line at the drive-through.
Ingredients
This is what you need to make a homemade egg McMuffin
:
English muffin
Egg
Canadian bacon
Cheese
Butter
Salt and Pepper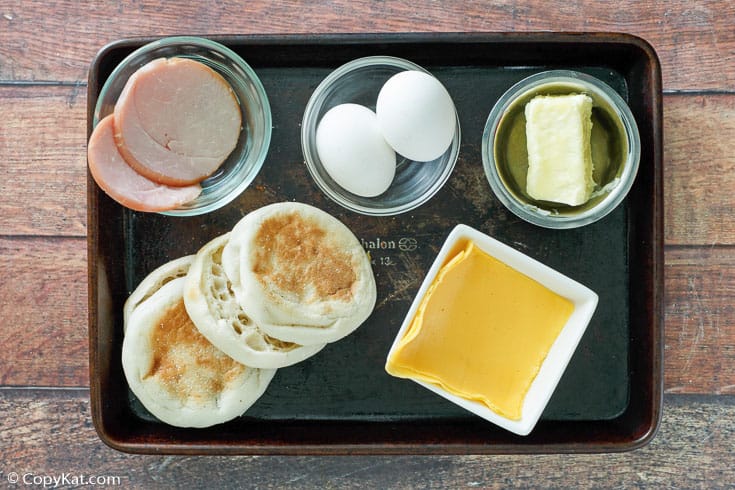 How to Make round eggs like McDonald's
How do you get your eggs round just like McDonald's? You will need to cook your eggs in something round.  While not critical in making this recipe, you can make it more authentic if the eggs are round.  You can get your eggs round with an egg ring, or some canning jar rings. You will need to place the ring on a warm skillet and then you will need to cook the egg inside of the ring.  What makes the egg round unique?  You need to break the yolk, by breaking the yolk the egg will cook more evenly without getting overcooked and rubbery.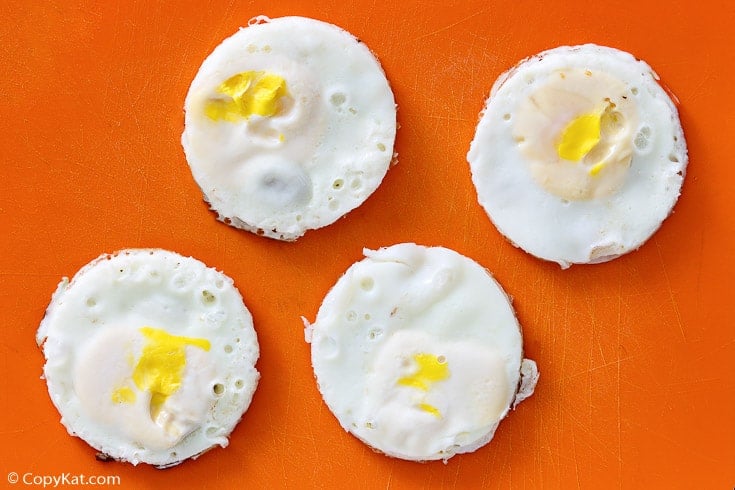 How to Make an Egg McMuffin
info from the recipe
Special egg McMuffin Tools
You will want to have round eggs to make this work you can accomplish this task in 3 different ways. Ever wondered how to make those McDonald's egg rounds?  These tools will help you make those egg rounds at home.
Use egg rings – these special rings you set in your skillet, and then you crack the eggs into the rings and cook them on the stovetop.
Canning jar rings – these can work as special egg rings, you need to spray them with non-stick spray before using, otherwise, they will stick.
The Egg McMuffin Maker – this special kitchen appliance will toast the English muffins, cook the ham, and cook your eggs.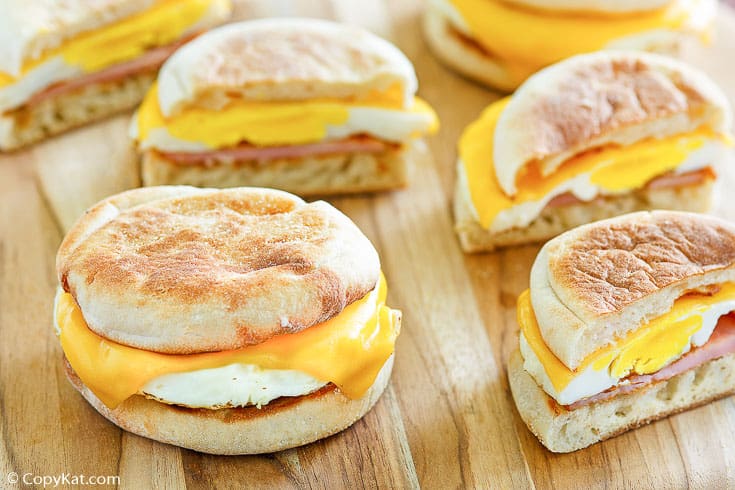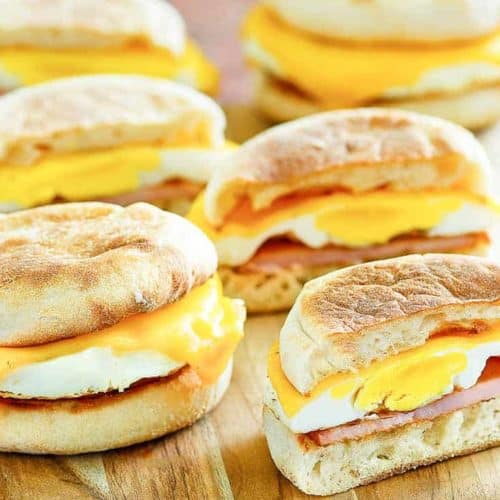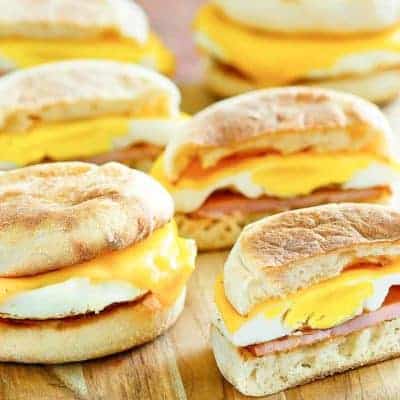 Ingredients
4

tablespoons

softened butter

butter has divided uses

4

English Muffins

4

slices

Canadian Bacon

4

eggs

1/2

cup

water

4

slices

American cheese
Instructions
Split open English Muffins and place them into a toaster, toast the English Muffins.

In a non-stick skillet over medium heat, cook Candian bacon on both sides for about 1 to 2 minutes in two teaspoons of butter. The bacon should begin to just brown.

While the Canadian bacon is cooking, remove the English muffins from the toaster and spread softened butter on both halves.

Place the 1 slice of Canadian bacon on each English Muffin bottom.

Add about 1 tablespoon of butter to the same skillet where you cooked the bacon.

Place the quart-sized canning lids screw size up (or you can use an egg ring) into the skillet.

Spray the canning lid with non-stick spray. Crack an egg into each of the rings.

Break the yolk with a folk. Pour about 1/2 cup of water into the skillet, and place a lid on top. Cook until the eggs are set, it should take about two minutes.

Gently remove the eggs from the rings, and place one egg on each piece of Canadian bacon.

Top each egg with one slice of American cheese, top cheese with the top of the English muffin.

Wrap each egg McMuffin with foil or parchment paper. Wait about 30 seonds before serving.
Recipe Tips for the Cook
By wrapping the egg McMuffin before serving it, will give you a soft English muffin and the cheese will melt perfectly. 
Nutrition
Calories:
420
kcal
|
Carbohydrates:
28
g
|
Protein:
20
g
|
Fat:
25
g
|
Saturated Fat:
13
g
|
Cholesterol:
229
mg
|
Sodium:
1037
mg
|
Potassium:
261
mg
|
Fiber:
2
g
|
Sugar:
1
g
|
Vitamin A:
786
IU
|
Calcium:
277
mg
|
Iron:
2
mg
h2>Love McDonald's? Try these copycat recipes
Popular Breakfast Recipes
Be sure to look for more copycat restaurant breakfast and favorite recipes.