McDonald's is known for their Big Mac sandwich all the world around. Now you can create your own homemade Big Mac recipe. The Big Mac sandwich is known for its two hamburger patties American cheese, "special sauce" (a variant of Thousand Island dressing), iceberg lettuce, pickles, and onions, served in a three-part sesame seed bun. Now you can make this classic recipe at home.

This famous hamburger was created by Jim Delligatti, an early Ray Kroc franchisee, who was operating several restaurants in the Pittsburgh area. This hamburger is sold all the world around, although does it have some variations in different places around the world. The one we have come to know and to love is the one that became popular in this 1974 jingle, "Two all-beef patties, special sauce, lettuce, cheese, pickles, onions – on a sesame seed bun."
The special sauce is really just a form of thousand island dressing. It isn't made in the stores anymore. It now comes in an air tight container that gets squirted out like you would a chaulking gun. I will give you my person version of their "special sauce". It is a fairly close approximation of the sauce.
One thing I really like about making a copy cat recipe for McDonald's is that you can add more beef if you like. For this recipe I am going to use a package of hamburger buns but we are going to use some of the buns as the middle. So if you use a package of 8 hamburger buns you can get about five of your own homemade Big Macs. What I like to do is cut the top off of the top bun to make it even, when you do this you can easily turn it into the middle portion of the Big Mac.
You can see this is how you can easily make your own Big Mac buns.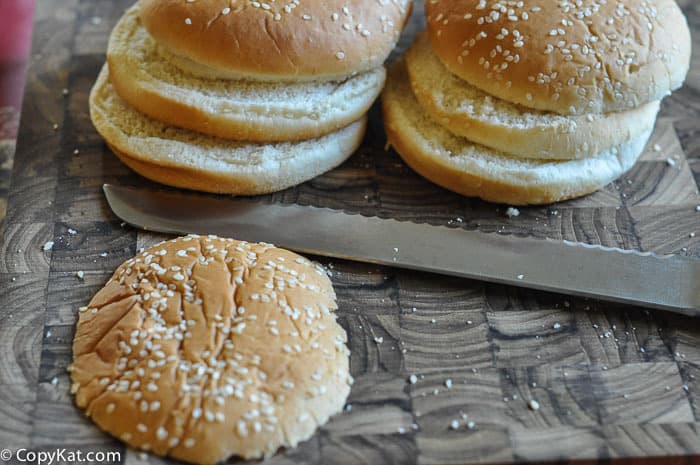 You might wonder why you would want to create your own homemade Big Mac, I personally think this tastes better. I know a lot of people are concerned about preservatives that can be found in fast food. I think when you make everything from scratch you can make homemade hamburger buns and homemade mayonnaise
, so this way you know exactly what you are eating. I personally love the ideas of some fast food items, but sometimes I like to try to make it a little healthier if I can.
I hope you enjoy my version of the McDonald's Big Mac.
Did you love this? Make you own McDonald's Quarter Pounder.

Ingredients
1 1/2

pounds

ground chuck

1/2

teaspoon

salt

1/4

teaspoon

black pepper

1

tablespoon

of butter

<a

href="https://copykat.com/mcdonalds-secret-sauce/"

title="McDonald's Secret Sauce">"special sauce"

5

slices

of American cheese

1

tablespoon

minced onion

15

dill

pickle slices
Instructions
In a bowl combine ground chuck and salt and pepper. Shape meat into 10 meat patties. Shape patties somewhat thin. Set a

griddle

to 350 degrees. Place meat on the

griddle

and cook for 3 to 4 minutes. Season with a sprinkle of salt and pepper. Flip burgers and cook for an addition 3 to 4 minutes on each side, or until juices from the meat run clear. Spread softened butter on cut sides of bun and place on

griddle

until the bread begins to brown.

Flip the middle bun and allow to toast on the both sides. Build the burger by starting at the bottom. The bottom bun, Big Mac sauce, onions, lettuce, cheese, hamburger patty, and the middle bun. Spread the Big Mac sauce, onion, lettuce, hamburger patty, two or three pickle slices, and finally the top bun.
Nutrition
Calories:
445
kcal
|
Carbohydrates:
1
g
|
Protein:
27
g
|
Fat:
36
g
|
Saturated Fat:
15
g
|
Cholesterol:
123
mg
|
Sodium:
720
mg
|
Potassium:
395
mg
|
Sugar:
0
g
|
Vitamin A:
270
IU
|
Calcium:
244
mg
|
Iron:
2.8
mg