Cilantro rice is a nice change from Spanish rice that is so often served at Mexican restaurants. Cilantro is a pungent herb that provides rice with a special kick. Red and green peppers, along with the cilantro, gives this rice dish a colorful look.
This post contains affiliate links. As an Amazon Associate, I earn from qualifying purchases.
Why You Should Try This Cilantro Rice Recipe
If you sometimes need a quick, tasty side dish to complete your meal, this white rice with cilantro fits the bill. It's very easy to make and perfect for putting together weeknight burrito bowls.
Once you cook rice with additional flavors, you may vow never to make plain rice again!
Make the best cilantro rice with colorful red and green bell peppers. With its fresh, bright look and flavor, this green rice pairs well with Mexican and Asian dishes.
Cilantro White Rice – Ingredients You Will Need
Here's what you need to make this delicious cilantro rice without lime.
Uncooked parboiled rice
Chicken base
Unsalted butter
Green bell pepper
Red bell pepper
Fresh Cilantro
What is chicken base? It's essentially a concentrated stock. Read more about it and the difference between chicken broth, chicken stock, chicken bouillon, and chicken base.
How to Make This Cilantro Rice Recipe
Cilantro white rice is an easy rice dish to make. Here are the steps:
Clean and soften the rice and drain.
Combine the chicken base with hot water and add to the rice.
Place the rice in a 350°F oven for 15 minutes.
Remove from the oven and add the melted butter.
Return the rice to the oven for 15 more minutes.
Combine the green and red bell peppers and soften them in hot water.
Cut off the cilantro stems and chop the leaves.
Drain and add the tender veggies to the rice along with the cilantro.
For a touch of citrus, drizzle some freshly squeezed lime juice over the rice.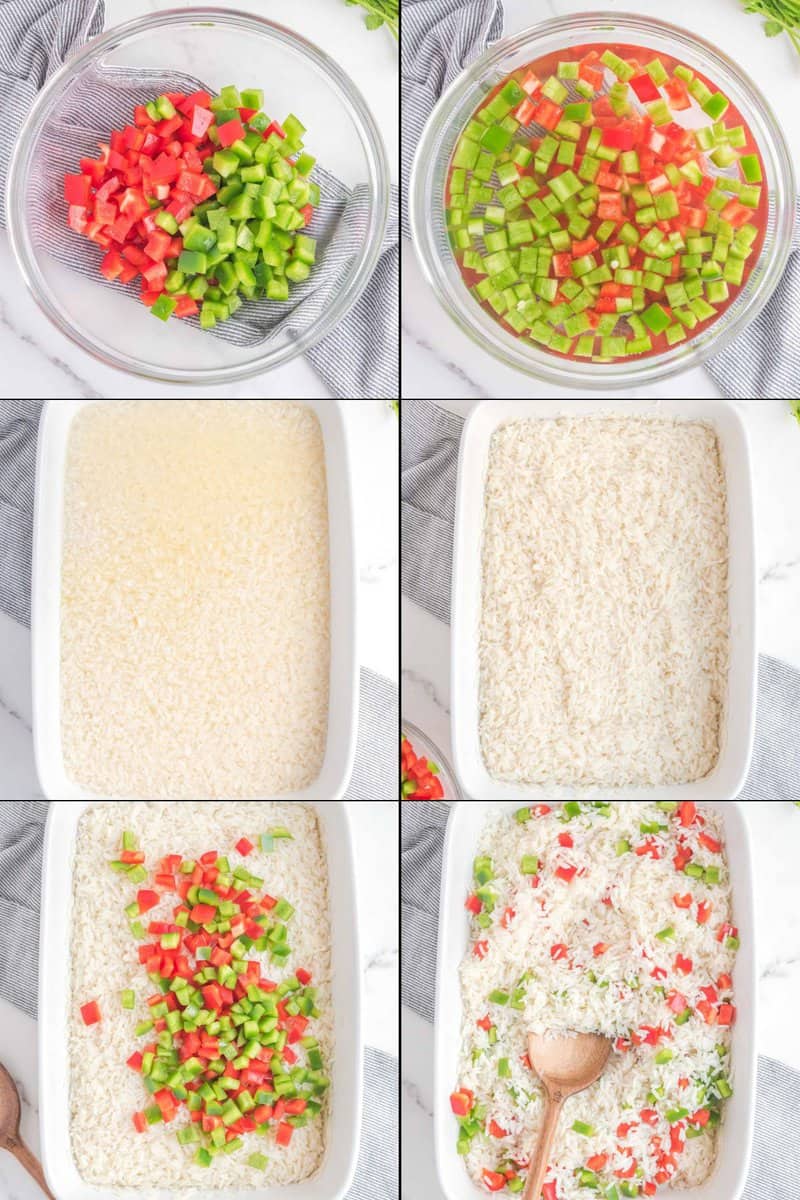 Recipe Notes and Tips
Before adding the cilantro, allow the rice to cool somewhat. This prevents the heat of the rice from cooking the delicate cilantro leaves and turning them to a washed-out, dull green.
Because this recipe uses chicken base, you may not need to add salt. So, taste the stock before adding it to the rice to determine if you need to add a pinch or two of additional salt.
White Rice With Cilantro – Variations
Cilantro Basmati Rice: You can choose basmati long-grain rice. It's more aromatic than plain rice, and the flavor complements the cilantro.
Cilantro Jasmine Rice: You can also use jasmine rice instead of regular long-grain white rice.
Cilantro Brown Rice: You can also make this recipe with brown rice if you like.
Cilantro Lime Rice: This recipe is for cilantro rice without lime. However, if you want cilantro lime rice, use fresh limes and toss some grated lime zest in with the water you add to the rice. The lime oils in the zest will infuse the rice with lime flavor as it cooks.
Onion Cilantro Rice: Add some garlic and/or scallions. For a little heat, add some red pepper flakes.
Parsley Rice: If you don't happen to care for cilantro, use chopped fresh parsley instead or a combination of herbs like dill, chives, basil, and mint.
Spinach Cilantro Rice: Add some chopped fresh baby spinach to the cilantro.
Vegetarian Cilantro Rice: For a vegetarian or vegan version, simply substitute vegetable broth or stock for the chicken base.
Brown vs. White Rice
Did you know that all white rice starts out as brown? Then the rice is milled to remove the husk, bran, and germ. This increases rice's shelf life, but a lot of its nutrition is lost, including vitamins, minerals, and fiber.
This is why white rice is often fortified. In general, brown rice is higher in nutrients, but white rice is more easily digestible.
What to Serve With Cilantro Rice
This rice side dish can be served hot or cold (perfect for picnics). Here are some more serving suggestions:
Use it as a filling for enchiladas or burritos.
Use it as a stuffing for bell peppers.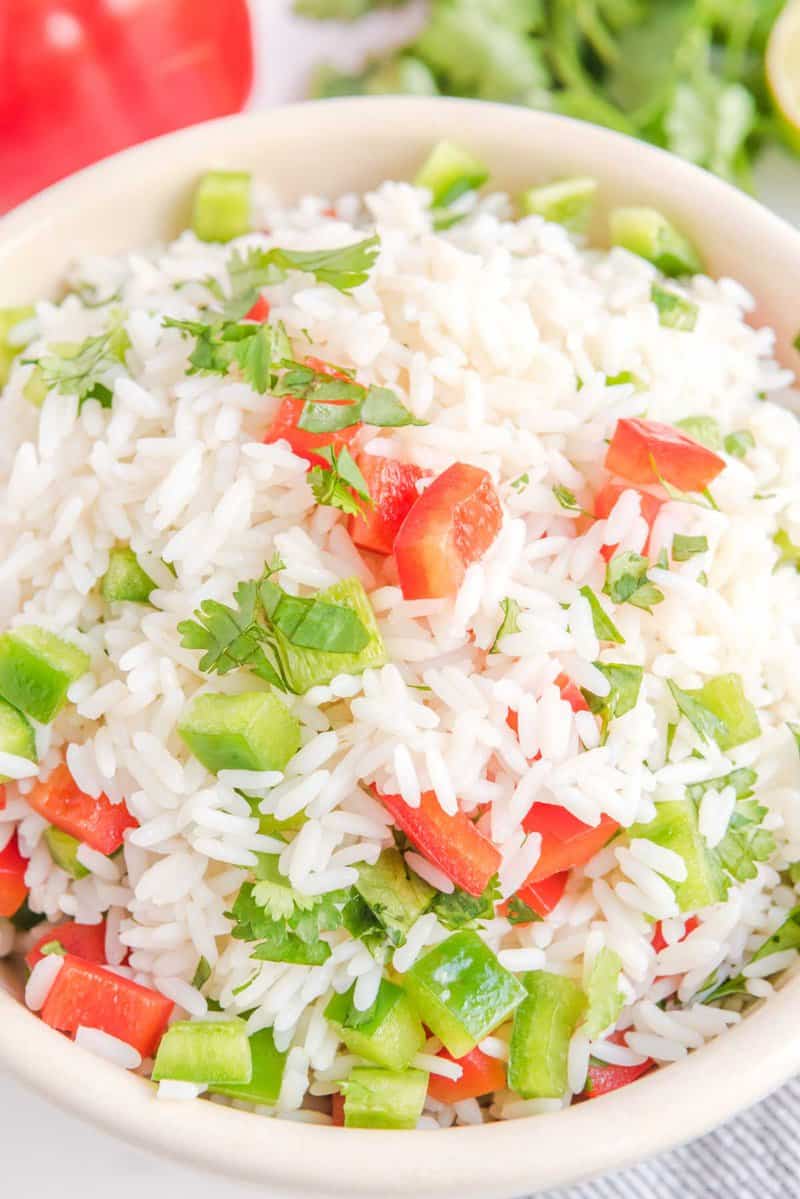 How to Store Leftover Cooked Rice
Having cooked rice in the fridge or freezer makes meals so much easier. Here are a few tips for storing cooked rice:
Cool cooked rice quickly by spreading it out on a baking sheet or placing it in the refrigerator. (Rice left out at room temperature for more than a couple of hours may be subject to bacteria growth).
Cooked rice will last 3 to 4 days in the refrigerator in an airtight container.
For longer storage, place the cooled rice into a resealable freezer bag or freezer-safe containers. It will be good in the freezer for up to 3 months. Thaw in the fridge or at room temperature.
Reheat rice with a little water over medium heat or use your microwave. Use a fork to fluff up the reheated rice.
Favorite Rice Recipes
Popular Mexican Recipes
Check out more of my easy side dish recipes and the best recipes for Mexican food on CopyKat!
Ingredients
2 1/2

cups

uncooked parboiled rice

Uncle Ben's recommended

1/4

cups

chicken stock base

4

tablespoons

unsalted butter

melted

1/2

cup

diced green bell pepper

1/2

cup

diced red bell pepper

1/4

cup

chopped cilantro leaves
Instructions
Preheat the oven to 350°F.

Place the rice in a 3- or 4-quart baking dish. Cover with very hot tap water and stir vigorously to clean and soften the rice. Drain the rice in a colander. Repeat twice with fresh hot water.

In a mixing bowl, combine the chicken base with 1 quart of very hot tap water. Mix well with a wire whisk.

Add the dissolved chicken base to the soaked rice, mix well, and place the rice in the oven uncovered for 15 minutes.

Remove the rice from the oven, add the melted butter, and mix thoroughly. Cover the dish and return it to the oven for 15 more minutes.

Meanwhile, combine the green and red bell peppers in a mixing bowl and cover them with very hot tap water. Set aside to soften.

When the rice has finished baking, drain and rinse the softened peppers. Add the peppers and cilantro to the rice, mix thoroughly, and serve.
Nutrition
Calories:
128
kcal
|
Carbohydrates:
13
g
|
Protein:
1
g
|
Fat:
7
g
|
Saturated Fat:
4
g
|
Cholesterol:
20
mg
|
Sodium:
43
mg
|
Potassium:
47
mg
|
Fiber:
0
g
|
Sugar:
0
g
|
Vitamin A:
715
IU
|
Vitamin C:
26
mg
|
Calcium:
5
mg
|
Iron:
1
mg