Rice pilaf is easy, tasty, and inexpensive. You can make this simple rice pilaf in your oven. Did I mention this was an easy recipe for me? To control your salt or sodium intake, you can use low-sodium or homemade chicken stock to make this recipe.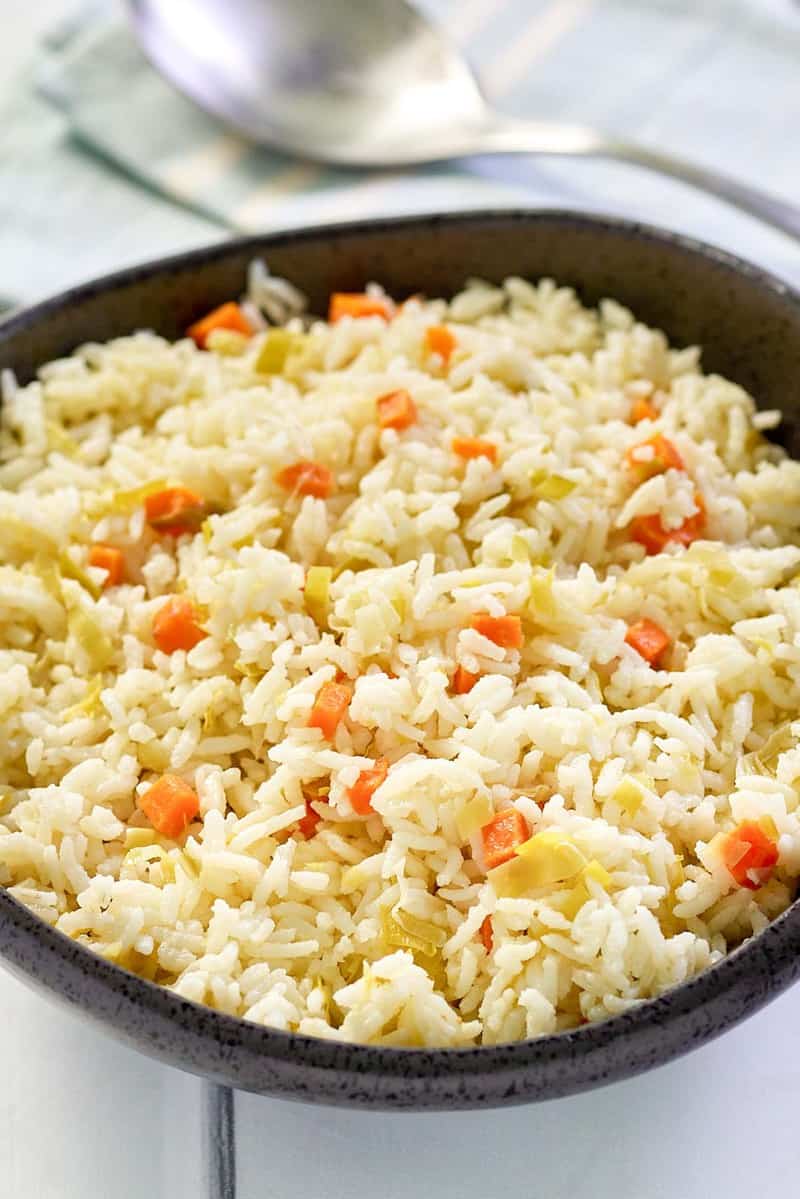 This post contains affiliate links. As an Amazon Associate, I earn from qualifying purchases.
Baked Rice Pilaf
Are you looking for new rice recipes? Have you ever tried making rice pilaf? Rice pilaf is easy to make and can be prepared by baking it in the oven. I love this dish, it is almost effortless.
This dish is prepared in the oven. So once this dish is placed into the oven you can pretty much leave it alone until it is time to take it out.
Homemade Rice Pilaf
One of the best things about homemade rice pilaf is that it has no preservatives. Also, if you are concerned about salt, you can prepare this with a low-sodium broth.
Rice pilaf is very adaptable. Once the technique is down, you can swap out the flavors (see recipe variations below).
What Is Rice Pilaf
Rice pilaf is a rice-based dish similar to a dry risotto without all the fuss. Aromatics and rice are lightly sautéed in butter before adding stock to the pan to finish cooking. You can serve it as a side dish, but it works as the main course with the addition of some meat.
Why Oven Rice Pilaf Is the Perfect and Easy Side Dish
You can never know how to make too many side dish recipes, especially when they're as easy to make and flexible as this one. Oven rice pilaf goes well with almost any meat-based main course, from roasts to grilled chicken. And you can easily swap out the other ingredients to fit your personal preferences.
That makes this recipe an excellent choice for kid-friendly dinners.
Why You Should Try This Easy Rice Pilaf Recipe
Get this recipe onto the table in less than 30 minutes with just five ingredients. Unlike other, more traditional recipes for rice pilaf, this version starts the rice on the stovetop and then transfers it to the oven to finish cooking.
Using the oven to cook the rice allows you to concentrate on other courses without worrying about burning the rice.
Rice Pilaf Ingredients
To make seasoned rice pilaf, you'll need:
Butter
Leeks or onions
Chopped carrots
White rice – we like to use long grain rice for this recipe.
Chicken or vegetable stock
Use long-grain rice for this dish. Jasmine rice is a good, flavorful option, but basmati rice is also good. You could try this with Orzo pasta, but the cooking time should be reduced.
How to Make Easy Homemade Rice Pilaf
The basic technique for rice pilaf is very simple:
Preheat your oven to 350 degrees with the rack in the middle.
Cut a piece of parchment paper into a circle the same size as the pot you will use to cook the Rice Pilaf.
Rinse the rice by swirling it in a bowl with cold water. Repeat until the water is clear. This vital step removes the surface starch and keeps rice grains from sticking to each other.
Warm a large ovenproof dish, like a Dutch oven, over medium heat. Melt the butter.
Once the butter stops foaming, sauté the leeks or onions and carrots until tender.
Add the rice to the pot and cook, occasionally stirring, until the rice is shiny.
Add the liquid (stock or broth) to the rice.
Cover the rice with the precut piece of parchment paper and put it on the lid. The rice will simmer as it cooks in the oven.
Bake in the preheated oven for 12 minutes.
Remove the pot from the oven and let rest for 12 minutes
Fluff with a fork and serve.
You could garnish with parsley if desired.
Variations on the Recipe
This is a bit of a 'back of the fridge' recipe where you can add just about anything hanging out in your refrigerators a little too long. Here are a few ideas.
Start by upping the aromatics. Chopped garlic is excellent in this dish. Just add it with the onions or leeks.
The more vegetables, the better. Chopped celery can go in with the onions or leeks, and frozen green peas are great when added to the pot along with the broth.
A bay leaf and a pinch of dried oregano and dried thyme mixed with the broth will significantly improve the taste.
Swapping a mushroom broth for a chicken broth keeps the rice pilaf vegetarian and gives the dish a deep umami flavor.
What To Serve With This Classic Rice Dish
Rice pilaf goes with almost all meat or fish dishes. I love to serve this basic rice pilaf with pork chops. Anything grilled is particularly good with it. It is the perfect side dish!
How To Store Rice Pilaf
Cool the rice and then place it in an airtight container. Keep it in the refrigerator.
Rice Pilaf contains more moisture and is prone to spoiling faster than plain rice. Try to use it up within a day or two.
How Do You Freeze Seasoned Cooked Rice
Place a metal baking tray in the freezer for an hour. Spread the leftover Rice Pilaf on the chilled baking tray and shake it into a thin, even layer.
Return the baking tray to the freezer for an hour or until the Rice Pilaf is frozen. Transfer the rice to a freezer-safe container.
How to Reheat Perfect Rice Pilaf
The best way to reheat the Rice Pilaf is to put it back into a Dutch oven and bake in a preheated 350-degree oven until hot. Alternatively, heat it in a covered dry skillet over medium-low heat until warm. Depending on how dry the Rice Pilaf is, you may want to add a few tablespoons of stock or water before reheating.
Rice Pilaf FAQ
What makes a Pilaf a Pilaf?
Pilaf is the dish's name, but it also describes the cooking method of the dish. The term pilau can be used interchangeably with pilaf.
Is Rice Pilaf Gluten Free?
Yes, as long as the stock you choose is gluten-free.
Is Rice Pilaf Healthy?
Rice Pilaf is much healthier than fried rice, but it does contain a fair amount of carbs.
More Great Rice Recipes
Popular Side Dish Recipes
Check out more of my easy side dish recipes and the best budget-friendly recipes here on CopyKat!
Ingredients
3

tablespoons

butter

1

cup

chopped leeks or onions

2

tablespoons

chopped carrots

2

cups

uncooked rice

4

cups

chicken or vegetable stock
Instructions
Preheat the oven to 350°F.

Heat the butter in an ovenproof pot over medium heat.

When the butter has melted, add the leeks and carrots, and sauté until the leeks have become tender.

Add the rice, and cook until the rice becomes shiny. Then add the stock.

Place a paper tent over the rice, place the lid on the pot, and bake for about 12 minutes.

Remove the rice from oven and allow it to rest for another 12 minutes.

Then remove the lid and paper tent, stir, and serve.
Nutrition
Calories:
343
kcal
|
Carbohydrates:
57
g
|
Protein:
8
g
|
Fat:
8
g
|
Saturated Fat:
4
g
|
Cholesterol:
19
mg
|
Sodium:
288
mg
|
Potassium:
281
mg
|
Fiber:
1
g
|
Sugar:
3
g
|
Vitamin A:
1255
IU
|
Vitamin C:
2.4
mg
|
Calcium:
32
mg
|
Iron:
1.1
mg