Starbucks Iced Vanilla Latte is a wonderful and creamy coffee drink with rich flavor. Save money and make a delicious homemade espresso drink with simple ingredients. You are going to love this iced coffee recipe, it will taste just like it came out of a coffee shop.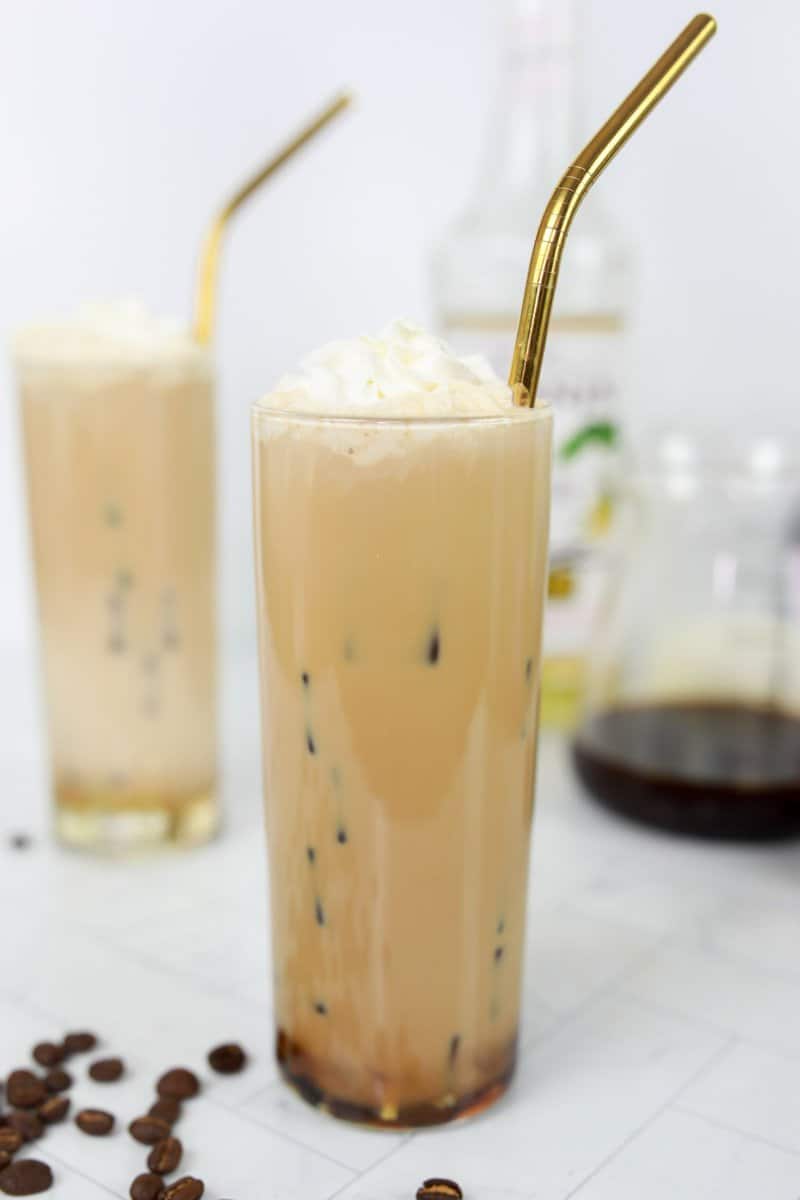 This post contains affiliate links. As an Amazon Associate, I earn from qualifying purchases.
Vanilla Iced Latte
Iced coffee is something that all coffee lovers crave when the weather turns hot. As much as you might enjoy a nice, toasty coffee in cooler times, it can just seem too much for those sunnier days. This is why iced coffee is a must during the summer.
Starbucks iced vanilla latte is the perfect drink to sip and enjoy on a warm and sunny afternoon when what you want is a pick-me-up that also serves to cool you down. It's a refreshing way to get your daily cup of Joe and easier than you would think to whip up!
The iced vanilla latte Starbucks drink is a version of the classic vanilla espresso beverage – rich espresso mixed perfectly with vanilla syrup and creamy milk. It's a perfect combination of flavors, the difference being that this sweet vanilla latte is chilled over ice.
How Do You Make Iced Coffee at Home?
Making iced coffee at home couldn't be easier. Basically, all you need is a good quality strong coffee and, of course, ice. You simply brew coffee, let it cool to room temperature or refrigerate it, and then pour it over ice.
CopyKat Tip: Freeze coffee in an ice tray to use in place of ice. This will help keep your drink from watering down. Want your drink to have more coffee flavor? Add extra shots of espresso.
Ingredients Needed for a Homemade Iced Vanilla Latte Starbucks Beverage
This is an easy iced vanilla latte recipe based on the popular Starbucks iced coffee drink made in just a few minutes with just five ingredients. You can customize your drink to contain the amount of sweetness to your preference.
Espresso
Vanilla Syrup
2% Milk
Ice
Whipped Cream (optional topping)
This vanilla iced latte Starbucks beverage is made with 2% milk which is what Starbucks uses for all their iced lattes. However, you can use any grade of milk that you want.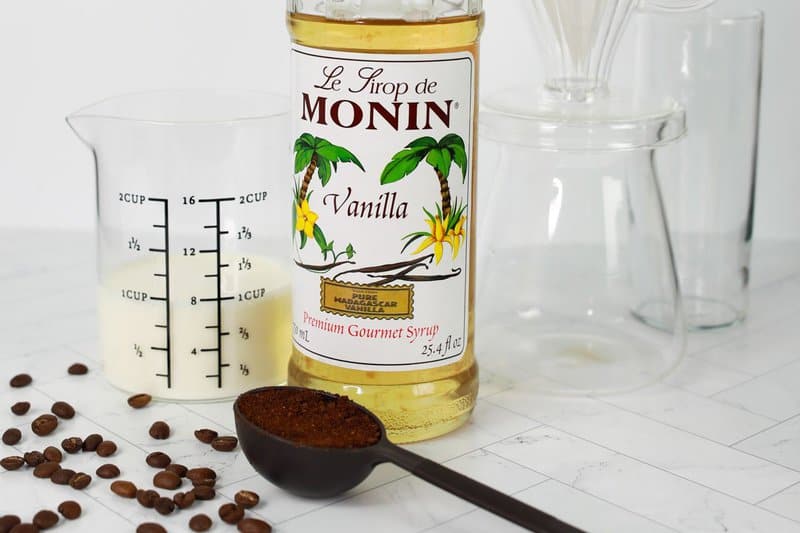 Alternatives for Espresso
You can use espresso made in an espresso machine or a Nespresso. However, if you don't own an espresso machine, you can also make this drink with strong coffee produced in a French Press or use instant espresso powder. Cold-brew coffee will also work.
How to Make Starbucks Iced Vanilla Latte
Skip those trips to Starbucks – you can make this perfectly refreshing and sweet drink at home!
This Starbucks iced vanilla latte recipe is quick and easy – it takes less time than getting in your car and driving to Starbucks! Plus, you'll save big bucks by ditching the coffee shop (check your credit card balance!). So, get your best barista apron on and make this tasty drink in your own kitchen.
Here are the simple recipe steps:
Fill a glass with ice and add the vanilla syrup.
Add espresso. At room temperature or chilled would be best because hot expresso will melt the ice.
Pour milk and stir to combine.
Top with whipped cream if desired.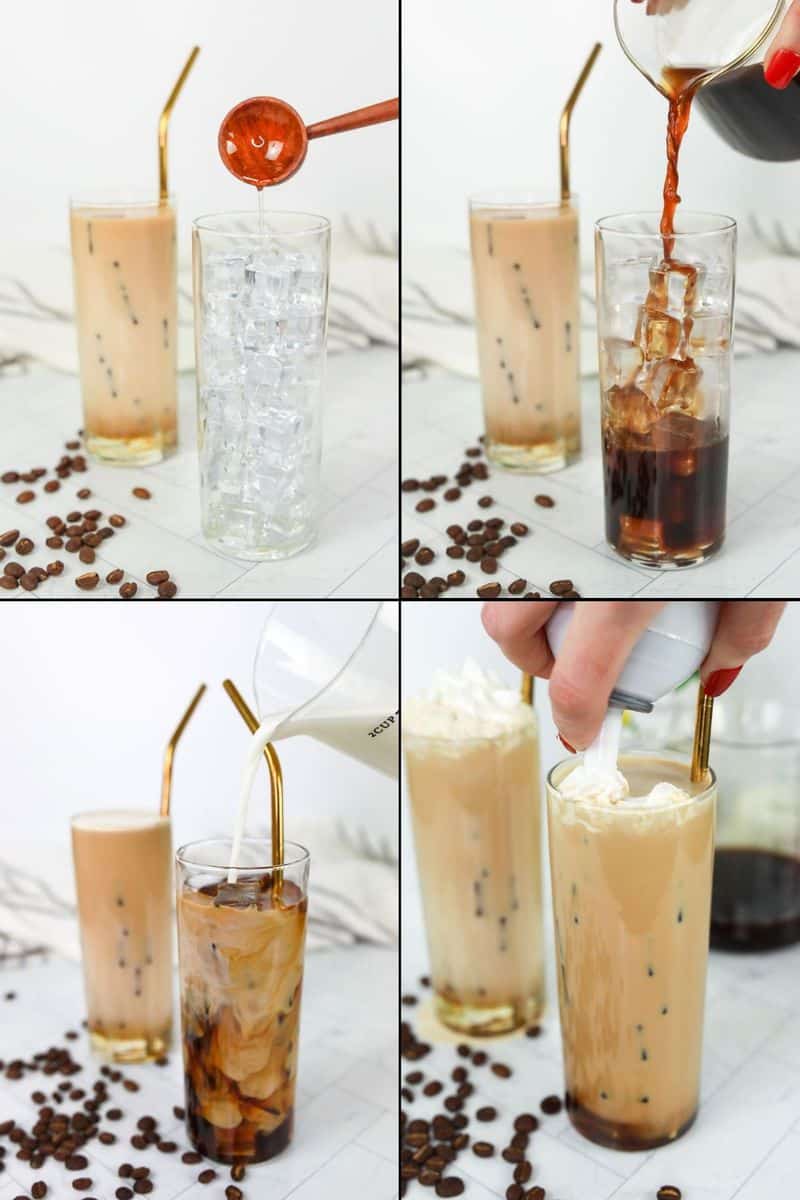 Recipe Variations
You can easily customize an iced latte with other flavors instead of vanilla. Here are some popular latte ones:
Caramel
Chocolate (Mocha)
Cinnamon
Hazelnut
White Chocolate
You can also make an iced blonde vanilla latte by using Starbucks blonde espresso roast coffee.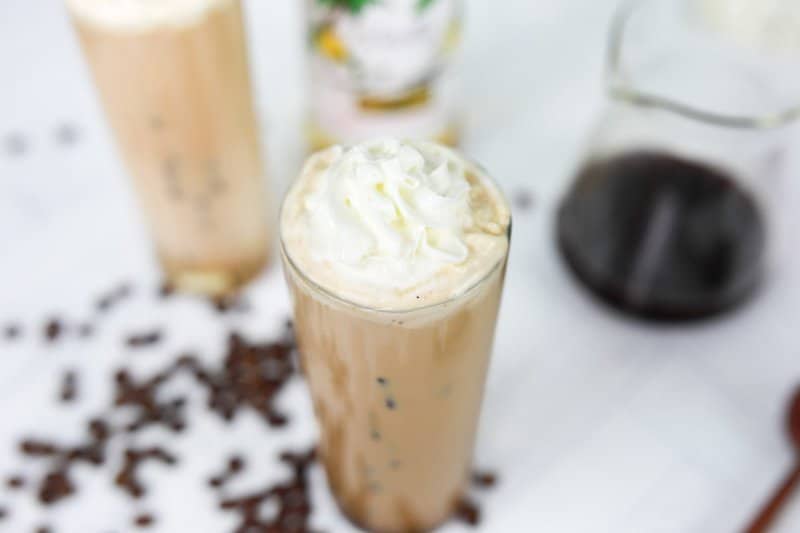 How to Make Vanilla Syrup at Home
You can, of course, go with store-bought vanilla syrup. You can even find sugar-free vanilla syrup. However, it's easy to make homemade vanilla syrup. Here's a simple vanilla syrup recipe.
Add 1 cup water and 2 cups sugar to a small pot.
Heat on medium-high and stir until the sugar dissolves.
Cool until room temperature, and then add 2 teaspoons of vanilla extract.
Homemade vanilla syrup can be made ahead of time. Make a batch and you'll have it on hand to make several iced vanilla latte Starbucks drinks.
How to Serve This Starbucks Iced Vanilla Latte Recipe
Serve up your Starbucks iced vanilla latte in attractive glasses. So much nicer than plastic cups!
Why not make a big pitcher for a summer party – it's sure to be a crowd-pleaser. However, hold off on adding the cream until pouring into individual glasses as it will begin to melt into the drink.
What Goes With an Iced Vanilla Latte Starbucks Beverage
And, here's a link to an interesting article that talks about coffee and food pairings.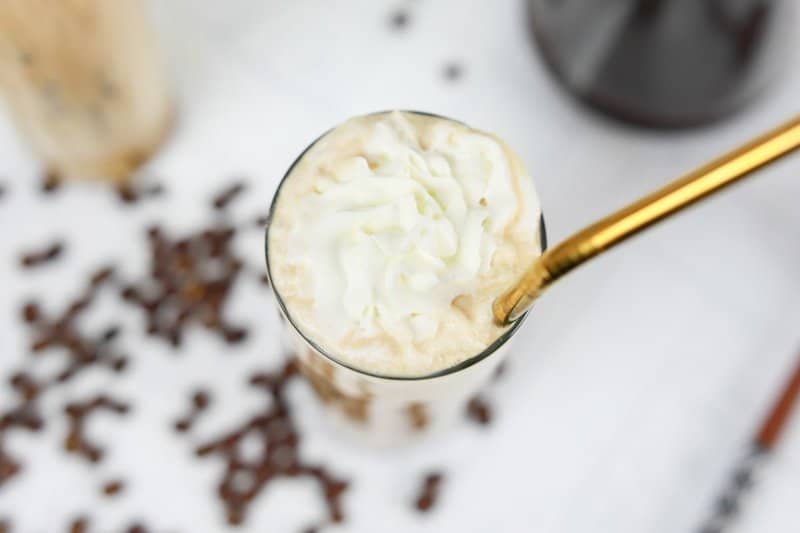 I hope you give this recipe a try! You are going to love the natural flavors of vanilla for this coffee treat. Best of all you have options to make this with an instant coffee (bold espresso roast), instant espresso, or you can make a rich coffee with your own coffee grounds. You can get your caffeine fix when you prepare coffee at home.
Favorite Starbucks Iced Drink Recipes
Best Starbucks Frappuccino Recipes
Check out more of my easy drink recipes and the best Starbucks recipes here on CopyKat!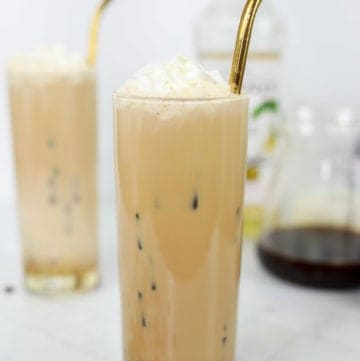 Ingredients
1

tablespoon

vanilla syrup

1.5

ounces

espresso

1

cup

ice cubes

1

cup

2% milk

2

tablespoons

whipped cream
Instructions
Pour vanilla syrup into a glass.

Add espresso and stir to combine.

Add ice.

Add milk and stir to combine.

Top with whipped cream.
Nutrition
Calories:
199
kcal
|
Carbohydrates:
28
g
|
Protein:
8
g
|
Fat:
7
g
|
Saturated Fat:
4
g
|
Polyunsaturated Fat:
1
g
|
Monounsaturated Fat:
2
g
|
Trans Fat:
1
g
|
Cholesterol:
26
mg
|
Sodium:
141
mg
|
Potassium:
405
mg
|
Sugar:
27
g
|
Vitamin A:
302
IU
|
Vitamin C:
1
mg
|
Calcium:
303
mg
|
Iron:
1
mg