From homemade chicken noodle soup to delicious skillet meals, chicken stock, chicken bouillon, and chicken base are all essential to producing that homemade taste, with less time and effort. However, many cooks are confused as to the differences and similarities between these three essential ingredients. So let me do my best to unconfuse you.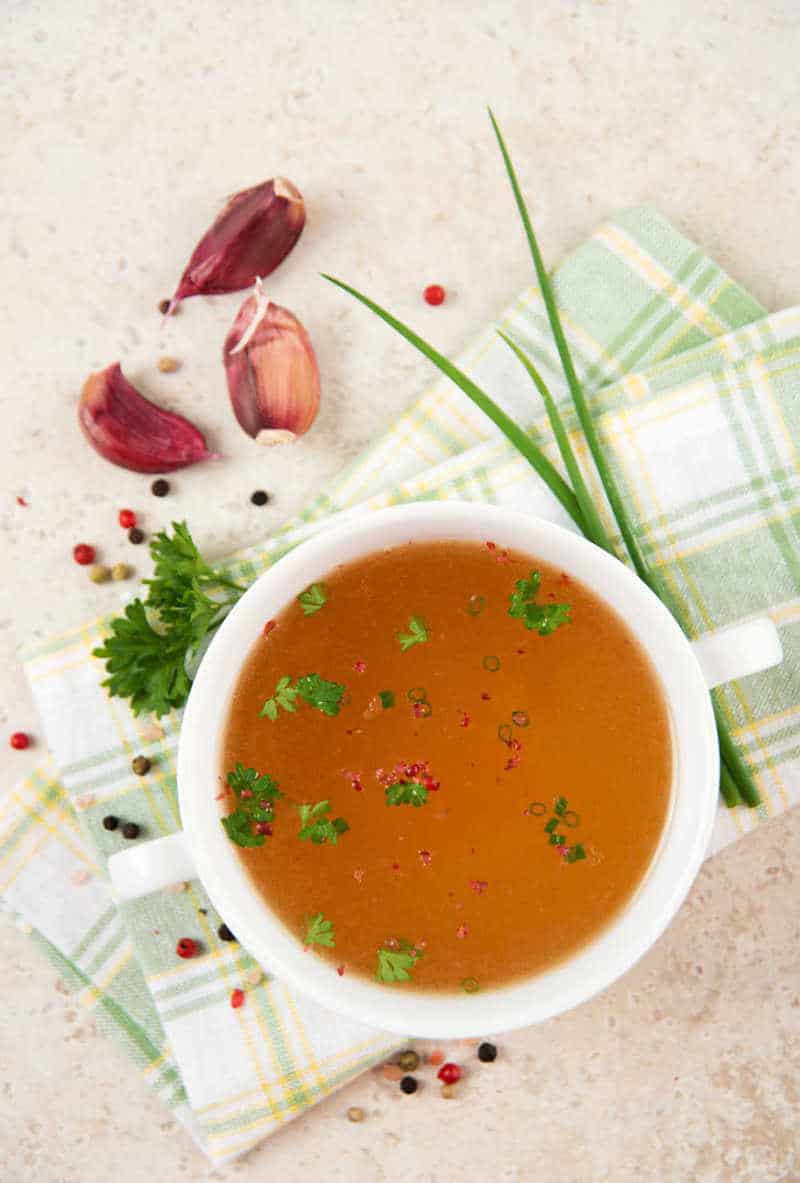 This post contains affiliate links. As an Amazon Associate, I earn from qualifying purchases.
Chicken Stock
Chicken stock is primarily made from whole chickens, veggies (like carrots, onions, and celery), and seasonings such as kosher salt, fresh ground black pepper, and tons of fresh garlic. Chicken stock is the foundation for so many recipes: soups, stews, sauces, and even casseroles.
Although you can certainly purchase a good-quality chicken stock from the grocery store, making it in your own kitchen is much more cost-effective and produces a stock with a deeper, richer flavor than the canned varieties.
When I make chicken stock at home, I place all of my chicken pieces in a large pot with some veggies like carrots, celery, and onions. I add enough water to cover the chicken completely. Then I simmer this for a few hours – I never try to boil the mixture.
Chicken Bouillon
Basically, a bouillon cube is chicken, beef, or vegetable stock that has been dehydrated and shaped into a small cube. It is used to flavor soups and stews by dissolving the cubes in boiling the liquid. However, bouillon cubes can be extremely salty, so if you want less salt select low-sodium varieties.
Chicken Soup Base
Chicken Base (Also Known as Chicken Soup Base).
Having a deep and rich taste, the chicken base is just a highly concentrated stock used for soups, stews, sauces, and casseroles. You can find the chicken base (sometimes labeled chicken soup base) in powder or cube form in your grocery store. It is typically sold right next to the chicken bouillon cubes.
One of the most popular brands is called Better Than Boullion. Or, you can make your own and all you have to do is take some out of your freezer whenever you need it. The chicken base takes a lot more time to make than chicken stock, but the rich results more than makeup for the longer cooking time.
To Make a Chicken Base – Begin with the basic ingredients used in making a stock (whole chicken, onions, celery, carrots, garlic, water, salt, and pepper). Let everything simmer for a few hours until the liquid is much reduced and the veggies have dissolved into the rich sauce. You may want to strain before freezing or using.
Why Chicken Base is better to use Than Chicken Stock
Because the chicken base is simmered much longer than stock, the flavors meld more and become much richer. There is even a difference in color. Chicken base is usually darker, much like a beef broth, while stock is pale and has a thinner consistency. Chicken base is best used when making sauces, skillet dinners, or stews. And, because the chicken base has so much more flavor, and is a bit thicker than stock, its versatility far outdoes its thinner cousin.
Though subtle, the differences between chicken base, bouillon, and stock really show how each can be used in different recipes, and even how chicken base is better to use than its thinner relative, chicken stock. Also, making your own base, stock or bouillon is more cost-effective and flavorful than store-bought varieties.
A Few Ways to Use Your Homemade Chicken Base
(Note: if the copykat recipe says chicken stock or bouillon, swapping it out for chicken base will give you a tastier dish. I've been switching to chicken base more and more.)
Ingredients
2

pounds

chicken bones

you can use backs, wings, and other leftover trimmings

1

onion

quartered

2

celery stalks

2

carrots

peeled, and quartered

1

bunch

parsley

if desired
Instructions
Place the chicken into a large stockpot. Place the vegetables on top of the chicken.

Gently heat the stock, do not allow the stock to boil.

Cook for about 3 hours on low.

Strain the stock, and return the liquid to the pot. Reduce the liquid in half.

Use the remaining liquid as base.
Notes
Optional vegetables to add to your base:
parsnips
a clove of garlic 
shallots
Nutrition
Calories:
16
kcal
|
Carbohydrates:
3
g
|
Protein:
1
g
|
Fat:
1
g
|
Saturated Fat:
1
g
|
Sodium:
23
mg
|
Potassium:
134
mg
|
Fiber:
1
g
|
Sugar:
2
g
|
Vitamin A:
3193
IU
|
Vitamin C:
12
mg
|
Calcium:
22
mg
|
Iron:
1
mg