Do you enjoy a warm bowl of soup filled with meat and vegetables? This homemade Campbell's vegetable beef soup is perfect for you. It's so easy to put together, and you can enjoy a bowl of soup that fills your belly and warms your heart.
This post contains affiliate links. As an Amazon Associate, I earn from qualifying purchases.
What Makes Campbell's Beef Vegetable Soup Recipe the Perfect Hearty Soup?
Soup gets short shrift in many American homes. Most of the time, soup's reserved for kids or for those times when you're not feeling well. That is a shame because a good soup is delicious and hearty enough to be a fantastic lunch or a light supper.
This copycat Campbell's Vegetable Beef Soup recipe is loaded with tender beef chunks, creamy potatoes, sweet carrots, and filling barley in a flavorful beef broth. It just might be the perfect way to warm up on those chilly autumn and winter evenings.
Serving soul-warming vegetable beef soup is a great meal, good comfort food, and a real crowd pleaser.
What Makes This Recipe So Good?
Sure, dumping a can of condensed Cambell's Vegetable Beef soup into a bowl, adding water, and heating it in the microwave is quick and easy, but it can't ever compare with homemade.
This copycat recipe may take all afternoon to make, but don't worry. Most of the cooking time is hands-off. Once the ingredients are prepped and in the pot, you can go about your day while your home fills with the most amazing aromas.
Just taste one spoonful and you'll see how this is sure to be a family-favorite meal. It's a perfect bowl of soup with a hearty combination of carrots, potatoes, barley, and beef.
Campbell's Vegetable Beef Soup Ingredients
Butter
Beef stew meat
Water
Ground black pepper
Salt
Carrots, sliced
Potatoes, peeled and cubed
Celery, chopped
Dried onions
Barley
Beef bouillon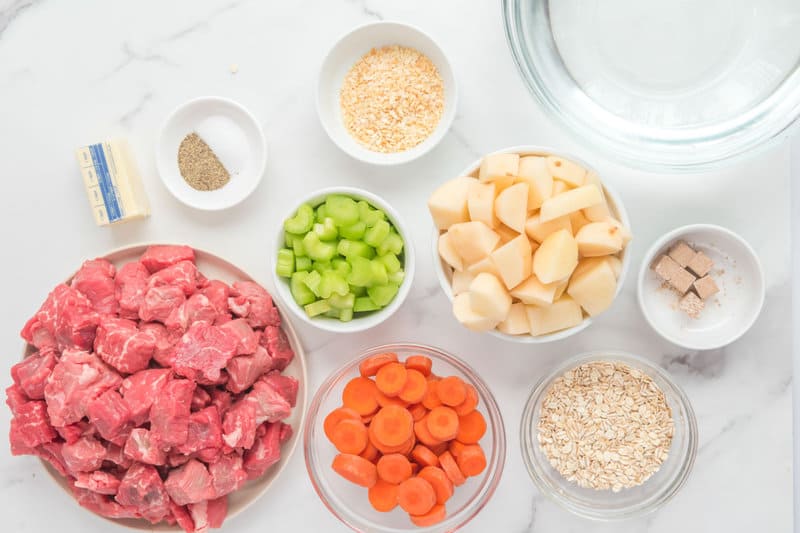 How To Make This Campbell's Vegetable Beef Soup Recipe
Melt the half butter in the Dutch oven and cook the meat over medium-high heat. Add half the stew meat to the pot and cook until it develops a rich dark brown color. Remove the browned meat to a bowl.
Add the remaining butter to the same pot and brown the rest of the meat.
Return the first batch of beef and any collected juices to the pot.
Deglaze the pot with water. Use a wooden spatula to scrape all the fond off the bottom of the pot. If you are using beef stock in the recipe instead of beef bouillon, use all the stock to deglaze.
Add the remaining ingredients to the pot and stir well.
Reduce the heat to low and cover. Cook for two to three hours until the meat is fall-apart tender.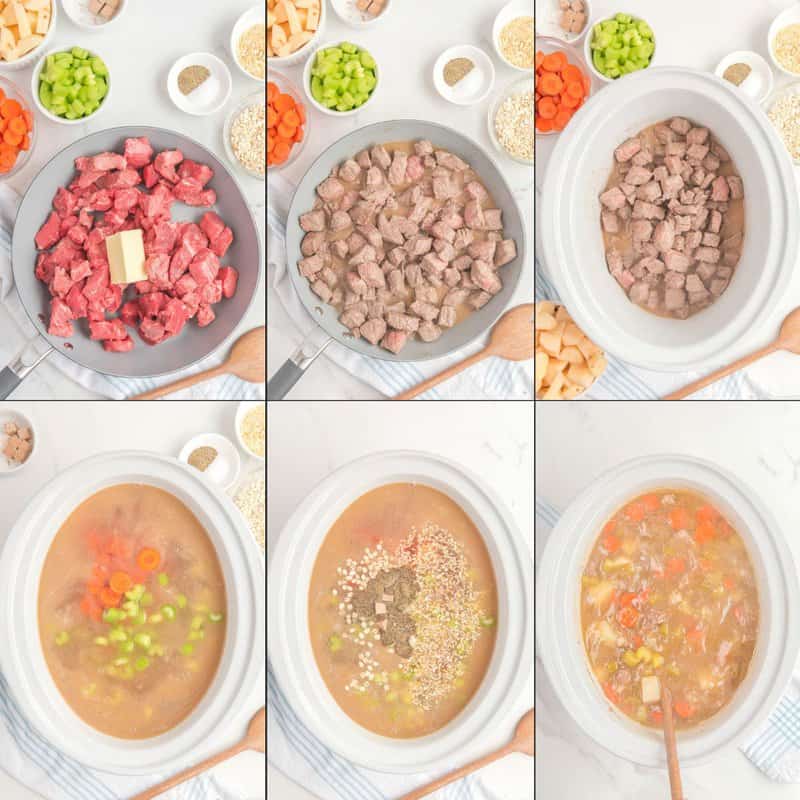 To prepare in a slow cooker:
Cook the meat on the stovetop as above.
Deglaze the pot and transfer the beef and all the liquid to the slow cooker.
Add the rest of the ingredients and cook on the LOW setting for four to six hours.
To prepare in a pressure cooker:
Brown the meat in the pressure cooker. If you are using an Instant Pot, use the SAUTE setting on HIGH.
Deglaze the pot and add the remaining ingredients.
Cook for 20 minutes and manually release the pressure.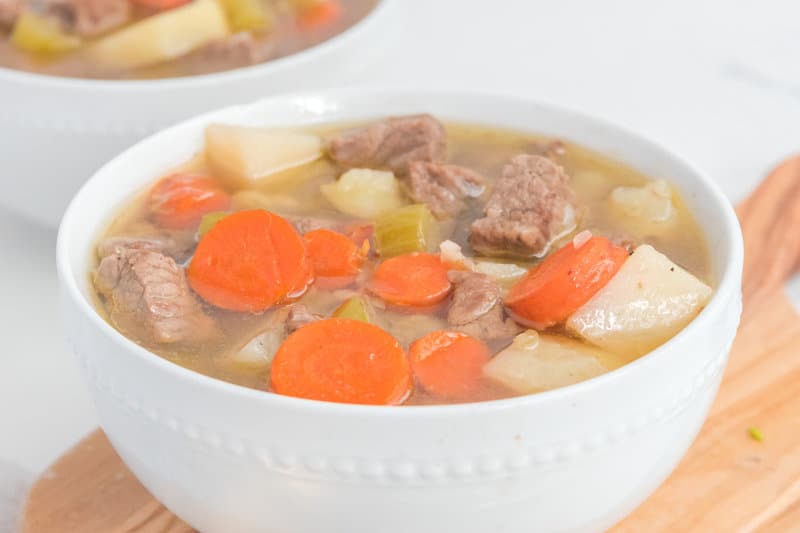 Recipe Variations
So, is Campbell's vegetable beef soup healthy? In general, yes; however, the vegetable and beef soup Campbell's sells contains additives including caramel color and beef flavoring. This homemade version is much healthier because it doesn't use any additives.
To make the soup even better for you, try reducing the amount of beef you use and replacing it with green beans and peas. You can also replace the beef bouillon with reduced-sodium beef stock.
Don't have beef stew meat? Use ground beef instead.
This is a customizable soup by substituting or adding vegetables to suit your taste.
What To Serve With Vegetable Beef Soup Campbell's Style
A thick slab of country-style bread or crunchy garlic bread are tasty side dish options. Try packing a few crackers if you plan on taking the soup with you in a Thermos. If you have the time, you may want to try this homemade crackers recipe.
A simple green salad or grilled cheese sandwich would also be great to serve with this soup.
You can also top the soup with some fresh avocado, shredded cheese, or sour cream.
How To Store the Leftovers
Cool the soup as fast as possible and keep it in an airtight container for up to three days in the fridge.
You can freeze the soup in a freezer bag or freezer-safe container for up to two months. Freezing the soup in portion-sized servings is a good idea because you won't have to defrost all the soup at once.
What's the Best Way to Reheat Beef Vegetable Soup
Let the frozen soup thaw overnight in the fridge, or use the QUICK DEFROST setting on the microwave.
The best way to heat the soup is slowly over medium-low heat on the stove. Pour soup into a saucepan and let it simmer until warmed through.
If you don't have access to a stove, using a microwave is fine. To microwave, put the soup in a covered microwaveable bowl and heat on HIGH for a minute. Stir the soup and heat for another minute. If it is not hot, continue heating in 30-second intervals.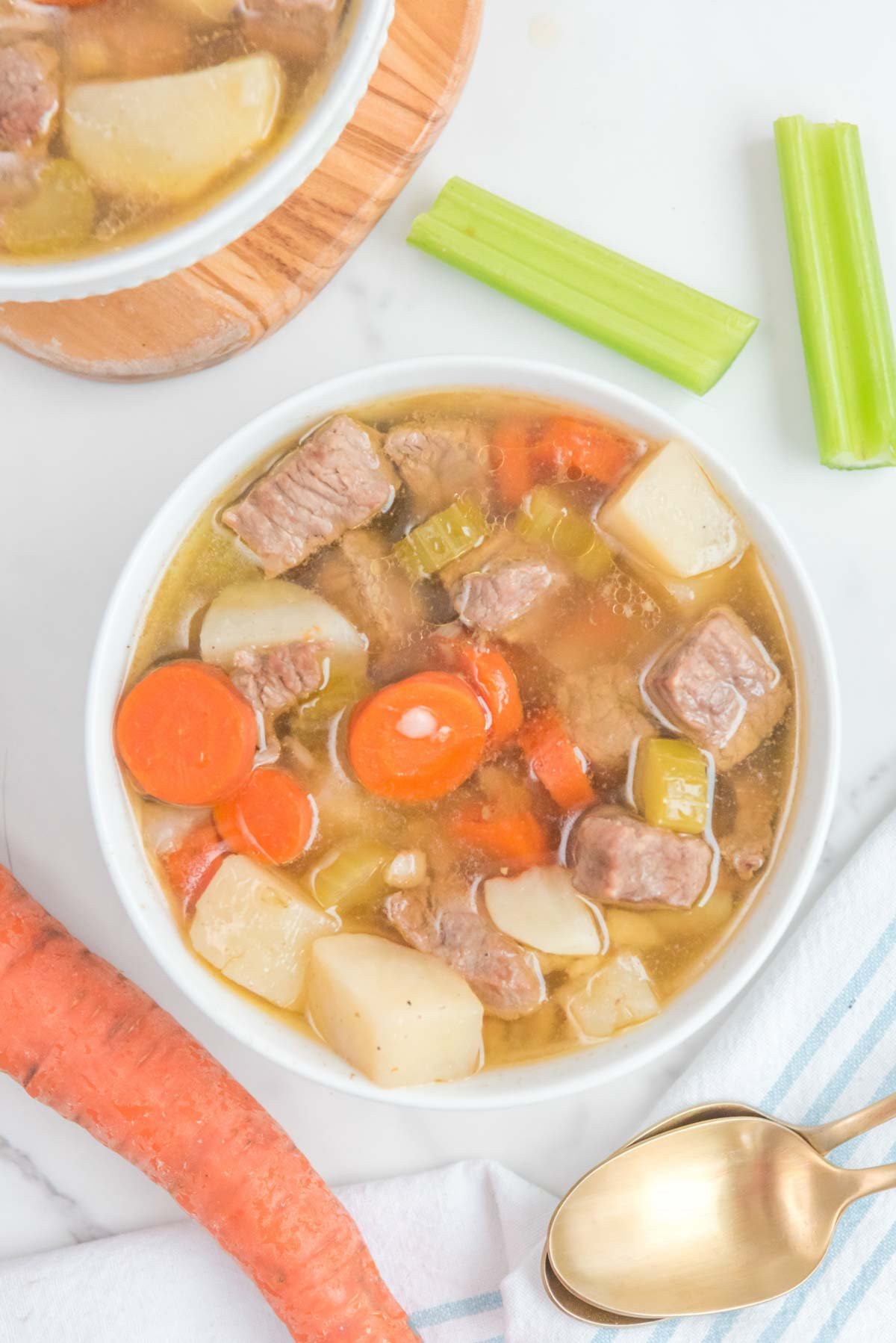 Favorite Hearty Soup and Stew Recipes
Popular DIY Recipes
Check out more of my easy soup recipes and the best DIY recipes on CopyKat!
Ron Shiflet graciously created this copycat recipe.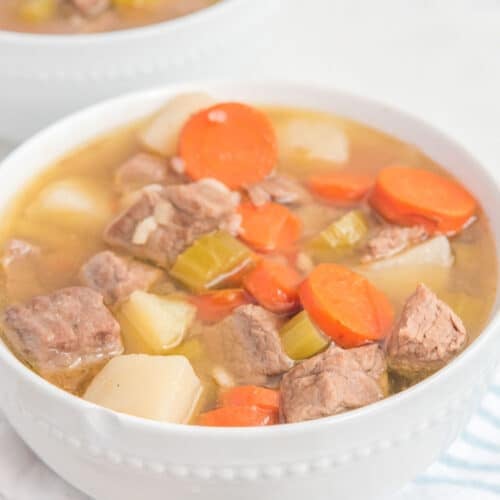 Ingredients
3

pounds

beef stew meat

1/4

cup

butter

3

quarts

water

1

teaspoon

pepper

1

tablespoon

salt

1 1/2

cups

chopped carrots

1

pound

potatoes

peeled and cubed

1

cup

chopped celery

1/4

cup

dried onions

1/2

cup

barley

6

cubes

beef boullion
Instructions
Brown the meat in butter in a skillet over medium-high heat.

On the Stovetop: Place the browned meat in a large pot or Dutch Oven. Add the remaining ingredients. Cook over low heat for 2 to 3 hours.

In a Crockpot Slow Cooker: Cook on low for 4 to 6 hours.

In an Instant Pot Pressure Cooker: Cook on high for 20 minutes. Perform a manual release.
Nutrition
Calories:
459
kcal
|
Carbohydrates:
19
g
|
Protein:
49
g
|
Fat:
19
g
|
Saturated Fat:
8
g
|
Cholesterol:
148
mg
|
Sodium:
1230
mg
|
Potassium:
801
mg
|
Fiber:
4
g
|
Sugar:
2
g
|
Vitamin A:
4245
IU
|
Vitamin C:
9.6
mg
|
Calcium:
61
mg
|
Iron:
6.5
mg