Homemade Pepperoni Hot Pockets are so much better than store-bought. Just a few simple ingredients are needed for the best pepperoni pizza pockets baked in the oven. There are no preservatives or mystery ingredients.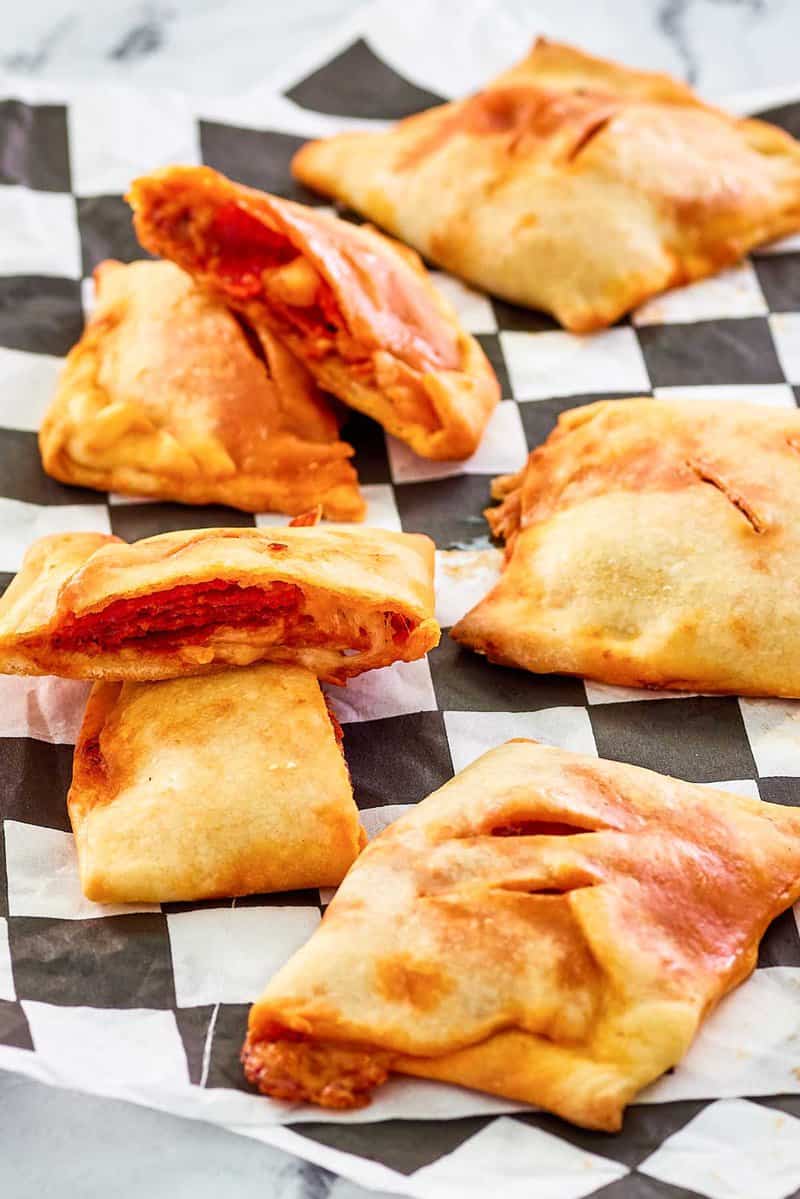 This post contains affiliate links. As an Amazon Associate, I earn from qualifying purchases.
What Makes Pepperoni Hot Pockets the Perfect Snack
If you are of a certain age, Hot Pockets were a big part of your afterschool snacking ritual. Pizza Hot Pockets were one of the few meals that most parents felt utterly safe having their children prepare — after all, this was before we knew about the dangers of preservatives!
And although these microwavable meals tasted pretty great when we were younger, they just aren't that appealing to adults. But you can try these upgraded homemade Hot Pockets that are so much better than the ones you remember.
Make a batch to relive your childhood, or share these kid-friendly snacks with your own children!
Why This Is the Recipe You Must Try for Homemade Pepperoni Hot Pockets
With only a few ingredients, these Hot Pockets pepperoni snacks are so easy to make that you'll never want to return to the ones in the shiny sleeves. Keep extras in the freezer, and a fast, filling meal is always at hand.
What's in a Pepperoni Hot Pocket
To make Pepperoni Hot Pockets, you'll need these ingredients:
Pizza dough
Pepperoni
Low-fat shredded mozzarella cheese
Pizza sauce
Egg white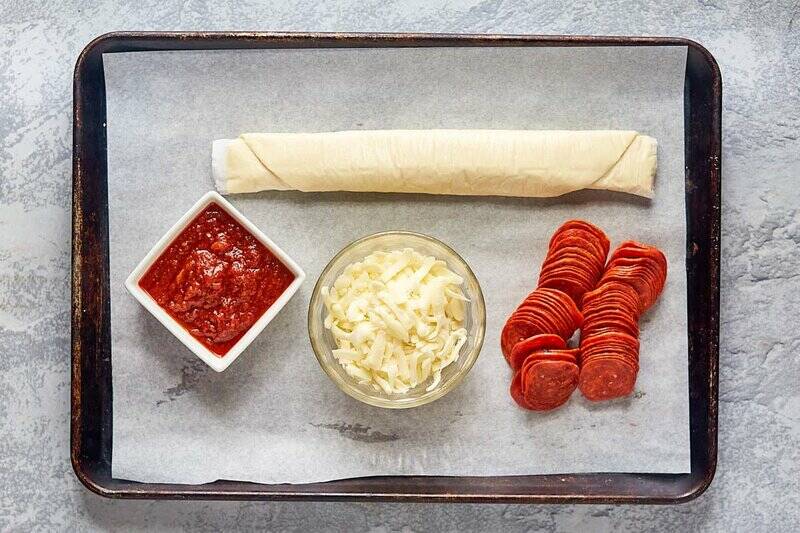 Ingredient Notes
You can use premade refrigerated pizza dough or make your own.
Low-fat and low-moisture mozzarella is preferable in this recipe because it won't melt as much, and the dough won't get too soggy.
You can use pasta sauce if you don't have any pizza sauce.
How to Make Homemade Pepperoni Pizza Hot Pockets
To fill the Hot Pockets:
Spread some flour on your work surface to keep the dough from sticking.
Form the dough into a loose ball and press it into a thick disk. Use a bench scraper or knife to cut the dough into eight equal pieces.
Roll the dough into long rectangles about 1/8-inch thick.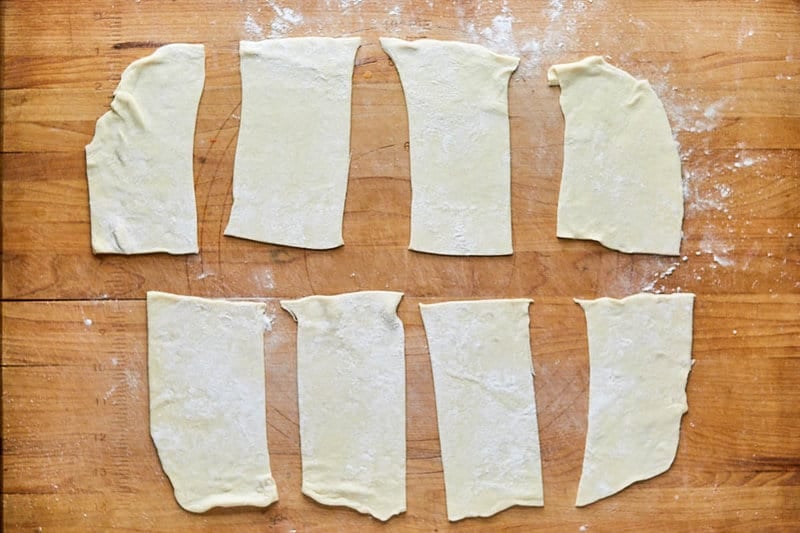 Place a tablespoon of pizza sauce on the lower half of the long end of the rectangle. Keep the sauce light or risk having it leak out.
Sprinkle about a tablespoon of shredded mozzarella on top of the sauce.
Add a few slices of pepperoni.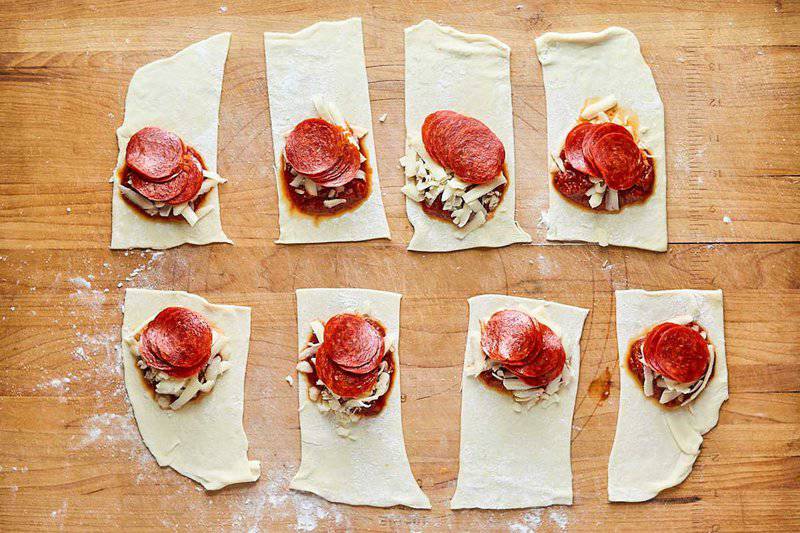 Brush a little water on the edge of the dough around the filling.
Fold the top of the dough rectangle down over the fillings and use your fingers to push out any extra air and seal.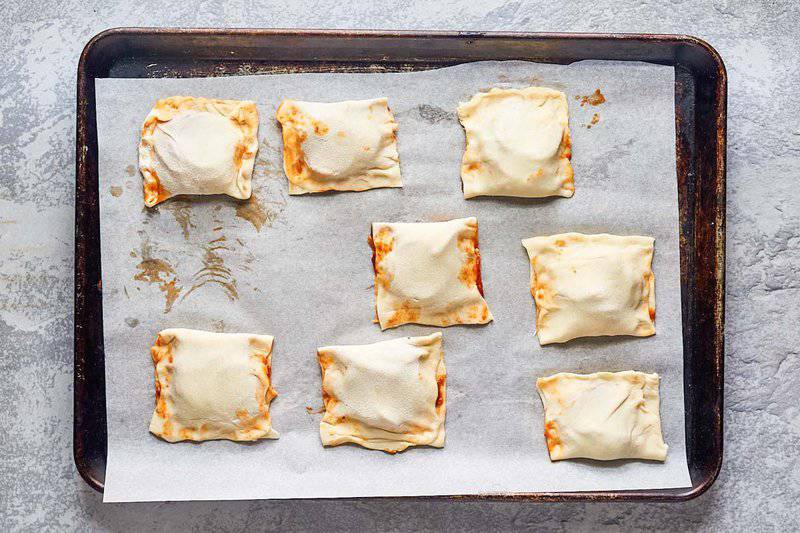 To bake the Hot Pockets:
Preheat the oven to 400°F.
Whisk together the egg white with some water in a small bowl to make an egg wash.
Brush the egg wash on the top and sides to give the Hot Pockets a lovely color.
Poke the top of the Hot Pockets with a fork several times or cut two small slits with a knife to let out the steam and prevent them from puffing up when cooking.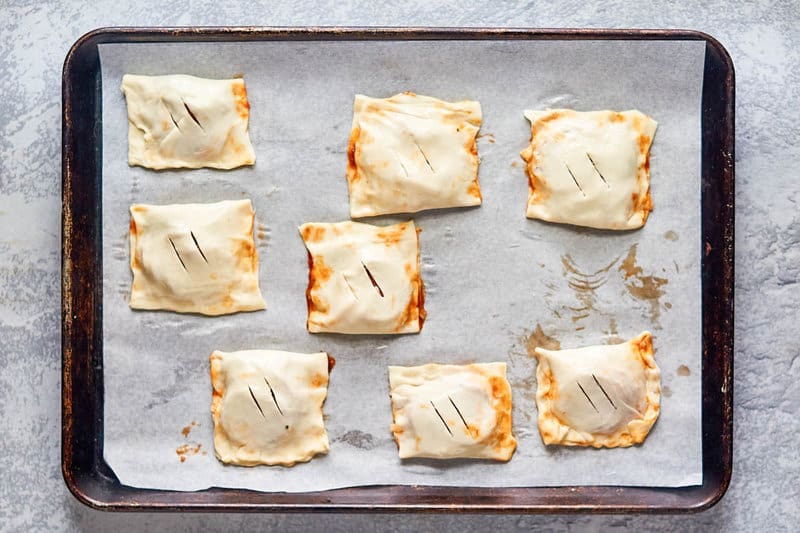 Grease two baking trays.
Put four Hot Pockets on each tray, leaving plenty of room between them and the sides.
Bake the Hot Pockets until golden brown, about 20 to 25 minutes.
Let them cool on a wire rack for at least five minutes before serving.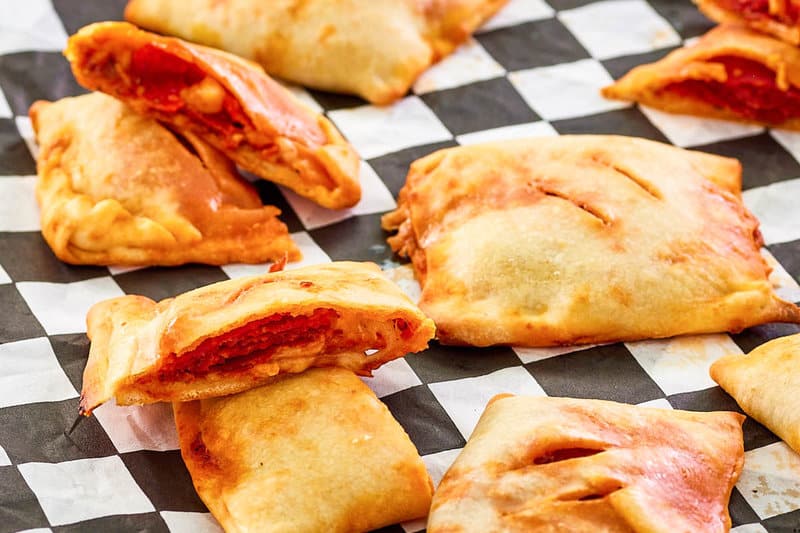 Recipe Variations
You can stuff your homemade Hot Pockets with just about anything. We have also covered the famous Ham and Cheese Hot Pocket. You can try these fillings if you need a few ideas:
Pizza Hot Pocket. Replace the pepperoni slices with your favorite precooked pizza toppings such as olives, onions, or mushrooms.
Chicken and Cheese Hot Pocket. Fill the pockets with shredded cooked chicken and your favorite kind of cheese.
Ham and Cheese Hot Pocket. Deli ham and gruyere cheese is a classic combination.
Spinach and Feta Hot Pocket. To make a Greek-inspired vegetarian filling for Hot Pocket, start by sauteing spinach in olive oil. Drain well. Add the hot spinach to a bowl and season lightly with salt. Stir in fresh feta cheese and add a squeeze of lemon.
What To Serve With Pepperoni Hot Pockets 
Hot Pockets are great on their own, but why not add a simple salad, a simple soup, or potato chips to make it a meal? You may want to serve it with some delicious Crumbl sugar cookies.
How To Make Homemade Hot Pockets Ahead of Time
You can easily freeze these Hot Pockets to cook later. Prepare the first half of the recipe and place them in a single layer on a baking tray.
Put the Hot Pockets in the freezer for about 6 hours until they are frozen solid. Wrap each separately in plastic wrap and store in a freezer bag for up to three months.
To cook, thaw in the fridge and follow part two of the recipe above.
How To Store Cooked Hot Pockets
Let cooked Hot Pockets cool to room temperature. Cover cooled Hot Pockets in plastic wrap and put them in the fridge for up to three days.
Alternatively, you can freeze them on a baking pan, wrap them individually in plastic, and then keep them in an airtight container for up to three months in the freezer.
How to Reheat Homemade Pepperoni Hot Pockets
To reheat cooked Hot Pockets in the oven:
Thaw in the fridge and wrap in aluminum foil.
Heat in a 375-degree oven until hot, about 10 to 15 minutes.
To reheat cooked Hot Pockets in the microwave:
Wrap the Hot Pocket in a damp paper towel.
Heat a thawed Hot Pockets for about 3 minutes or until hot.
Heat one of the frozen Hot Pockets on high for 3 minutes. Carefully turn it over and heat for another 2 minutes.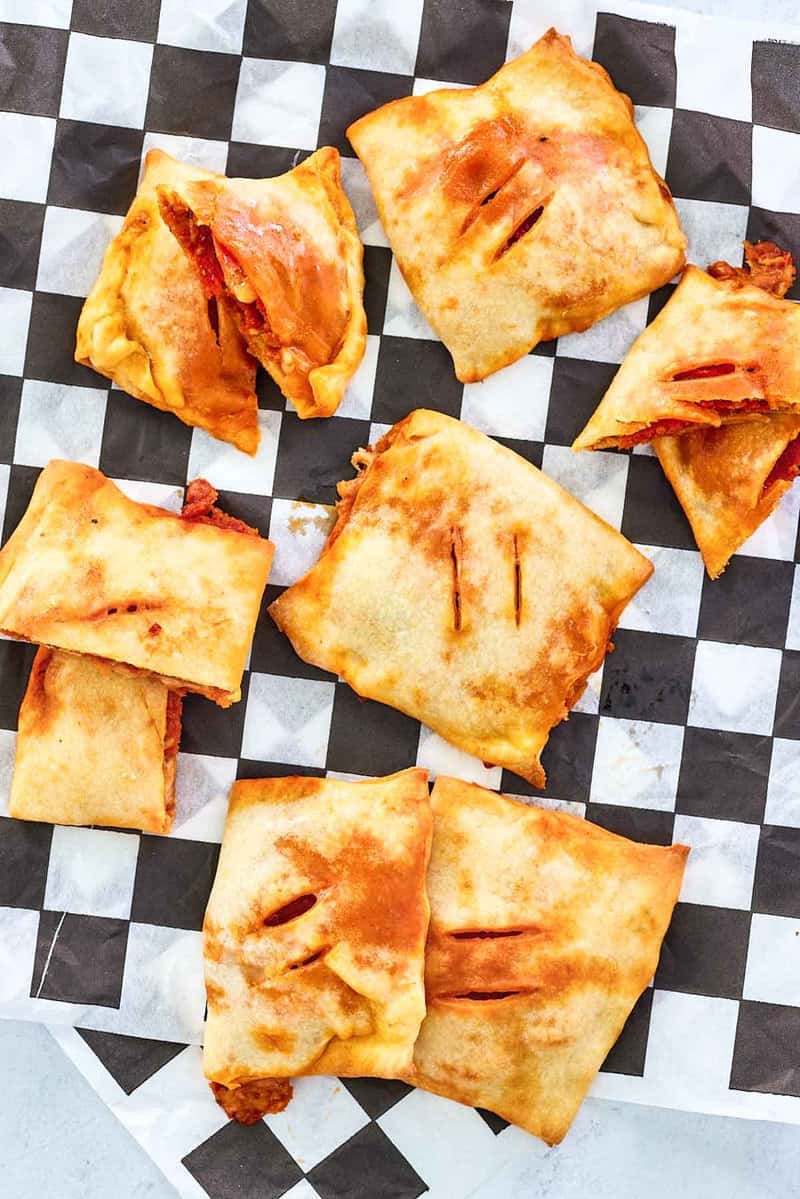 Favorite Pizza and Sandwich Recipes
Popular Savory DIY Recipes
Check out more of my tasty sandwich recipes and the best DIY recipes here on CopyKat!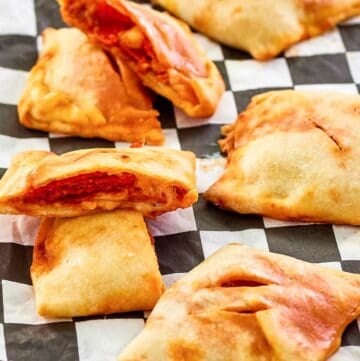 Ingredients
1

pound

refrigerated pizza dough

or homemade pizza dough

flour

for work surface

1

jar

pizza or pasta sauce

½

pound

low-fat shredded mozzarella cheese

½

pound

mini pepperoni

or regular-sized pepperoni

1

egg

1

tablespoon

water
Instructions
Preheat the oven to 400°F, and spray 2 baking sheets with non-stick spray.

Lightly flour a surface to roll out your dough.

Divide the dough into 8 equal portions, and roll each portion into a rectangle.

Place a generous tablespoon of pasta sauce on one side of each portion of dough.

Add 1 tablespoon low-fat mozzarella cheese on top of the pasta sauce.

Add several slices of pepperoni on top of the cheese.

Fold the dough over to cover the cheese. Press the edges to seal the Hot Pocket the best that you can.

Make the egg wash by whisking together the egg and water in a small bowl.

Brush the egg wash over the Hot Pockets and cut 2 slits into the top of each Hot Pocket.

Place 4 Hot Pockets on each prepared baking sheet, and bake for 20 to 25 minutes or until the tops are golden brown.

Remove the baking sheets from the oven, and let the Hot Pockets set up for 5 minutes on the baking sheet before serving.
Nutrition
Calories:
367
kcal
|
Carbohydrates:
29
g
|
Protein:
18
g
|
Fat:
20
g
|
Saturated Fat:
9
g
|
Polyunsaturated Fat:
2
g
|
Monounsaturated Fat:
7
g
|
Trans Fat:
0.5
g
|
Cholesterol:
66
mg
|
Sodium:
1130
mg
|
Potassium:
165
mg
|
Fiber:
1
g
|
Sugar:
5
g
|
Vitamin A:
247
IU
|
Vitamin C:
1
mg
|
Calcium:
233
mg
|
Iron:
2
mg