The Cracker Barrel Banana Pudding reminds you of home, creamy homemade vanilla pudding, with fresh bananas, crunchy vanilla wafers. What could be better than that? Serving banana pudding in individual Mason jars is the perfect way to upgrade your banana pudding.
Cold, creamy, lightly sweetened, and with a bit of crunch, Cracker Barrel banana pudding is a favorite way for many diners to top off their meals at the restaurant. But you can make a homemade banana pudding of your own, which is, dare I say, maybe even better than the original. Well, if not better, than undoubtedly much, much cuter.
The presentation of this recipe definitely increases the adorability factor by serving up the old fashioned banana pudding in small mason jars for convenient single-portion servings. You can prepare the homemade banana pudding beforehand, and they will keep covered in the fridge for a day or two with no problem. That makes this recipe a perfect party dessert or an ideal afterschool snack.
Treat the Bananas Like the Stars They Are
You can't have a really good banana pudding without truly amazing bananas. When making this recipe, use ripe, but still firm, bananas. This will help you to create a contrast in textures between the smooth homemade pudding and the vanilla wafers.
One problem you may run into when making banana pudding ahead of time is that the bananas will tend to turn brown. Bananas start to brown as soon as they come in contact with the air.
Help prevent this from happening by place a kitchen towel on the counter and gently tap the bottom of the mason jar as you make the alternating layers of vanilla pudding, vanilla wafer crumble, and sliced bananas. The tapping will force out any trapped air and help to stop oxidation.
Leave the sliced bananas off the top of the pudding until just before serving. When you do add them, help slow down the browning by lightly brushing each banana slice with lemon juice.
Cooking and Serving Tips For Cracker Barrel Banana Pudding
Stay away from the store-bought vanilla pudding. Preparing pudding from a box may be easier, but it won't taste fabulous. Making vanilla pudding from scratch isn't quick, but it is well worth the time and effort. It's easy to make homemade pudding, I bet one bite of this pudding, and you won't buy a box of pudding again.
Make your own whipped cream. Topping your banana pudding with homemade whipped cream is the only way to go. If you have an electric or stand mixer, making your whipped cream is fast.
Pour one cup of cold heavy whipping cream into the bowl. Then add two tablespoons of confectioner sugar and a few drops of vanilla extract.
Run the mixer at medium-low for about 3 minutes until medium peaks form.
Add the finishing touches. Just before serving, place a large dollop of whipped on top, a few slices of banana, and a light sprinkling of cinnamon sugar. Nut lovers can top with a few cracked walnuts.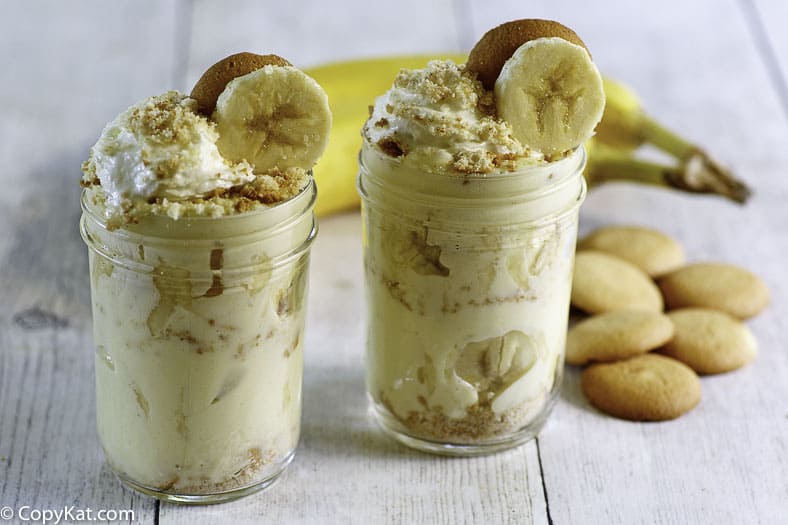 Is your sweet tooth craving more desserts? Try these recipes:
Top cracker Barrel Copycat Recipes
Keep up-to-date with everything we are doing by joining us on Facebook!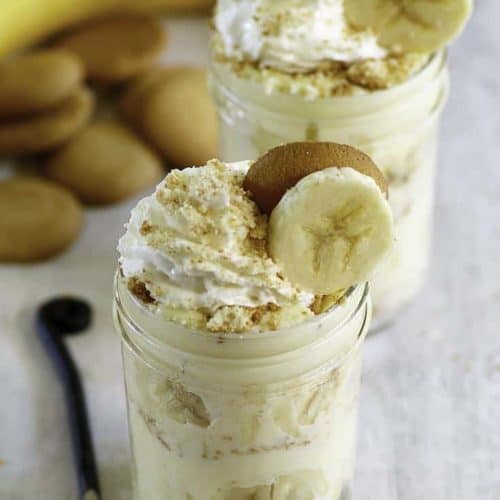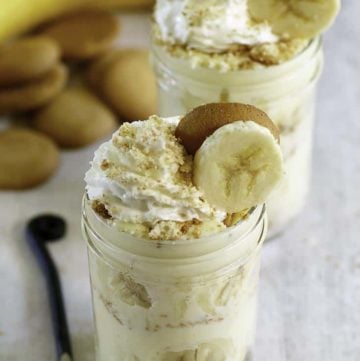 Ingredients
Pudding Ingredients
3/4

cup

sugar

1/3

cup

all-purpose flour

3

cups

whole milk

4

beaten egg yolks

3

tablespoons

butter

2

ounces

cream cheese

2

teaspoons

vanilla
Banana Pudding Ingredients
48

vanilla wafers

1

cup

heavy whipping cream

whipped

1

teaspoon

sugar

2

large

bananas
Instructions
Pudding Instructions
In a heavy saucepan combine sugar, flour, and milk.  Cook and stir continually over medium heat until the mixture is thickened and bubbly.  Cook and stir for an additional two minutes. Remove from heat.

Place for egg yolks in a small bowl.  Beat eggs well. Place 1 cup of the hot pudding mixture slowly into the beaten eggs.  Stir the egg mixture well, and then slowly add this into the pan where the remainder of the pudding is.  Cook the mixture until it just begins to bubble. Add butter, cream cheese and vanilla. Stir until all of the ingredients are well incorporated.

Pour the pudding into a bowl.  Place plastic wrap on the surface of the pudding.   Place pudding into the refrigerator to cool.
Whipped Cream
Place 1 cup of heavy whipping cream into a bowl with 1 teaspoon of sugar.

Using either a whisk or a mixer, beat the whipping cream until it becomes stiff. Refrigerate, and use immediately.
Assembling the pudding
Break for vanilla wafers into each jar,  cut bananas into slices, place 4 or 5 slices of bananas into each jar.  Add a couple of tablespoons of pudding on top of the bananas. Repeat 2 more times in each jar.  Top with whipped cream.
Notes
The plastic wrap is placed over the cooling pudding to keep a skin from forming on top of the pudding. 
Allow pudding to cool to room temperature before preparing individual puddings. 
You could swap the vanilla wafers with shortbread cookies like Lorna Dunes. 
Nutrition
Calories:
723
kcal
|
Carbohydrates:
84
g
|
Protein:
10
g
|
Fat:
39
g
|
Saturated Fat:
21
g
|
Cholesterol:
223
mg
|
Sodium:
348
mg
|
Potassium:
427
mg
|
Fiber:
2
g
|
Sugar:
53
g
|
Vitamin A:
1285
IU
|
Vitamin C:
4
mg
|
Calcium:
192
mg
|
Iron:
1
mg