The fall is the perfect time for creamy pumpkin bisque, a hearty and filling soup that makes a great first course, or even a light dinner. This recipe for pumpkin bisque is very easy, a can of pumpkin is used so there is no need to spend hours roasting pumpkin.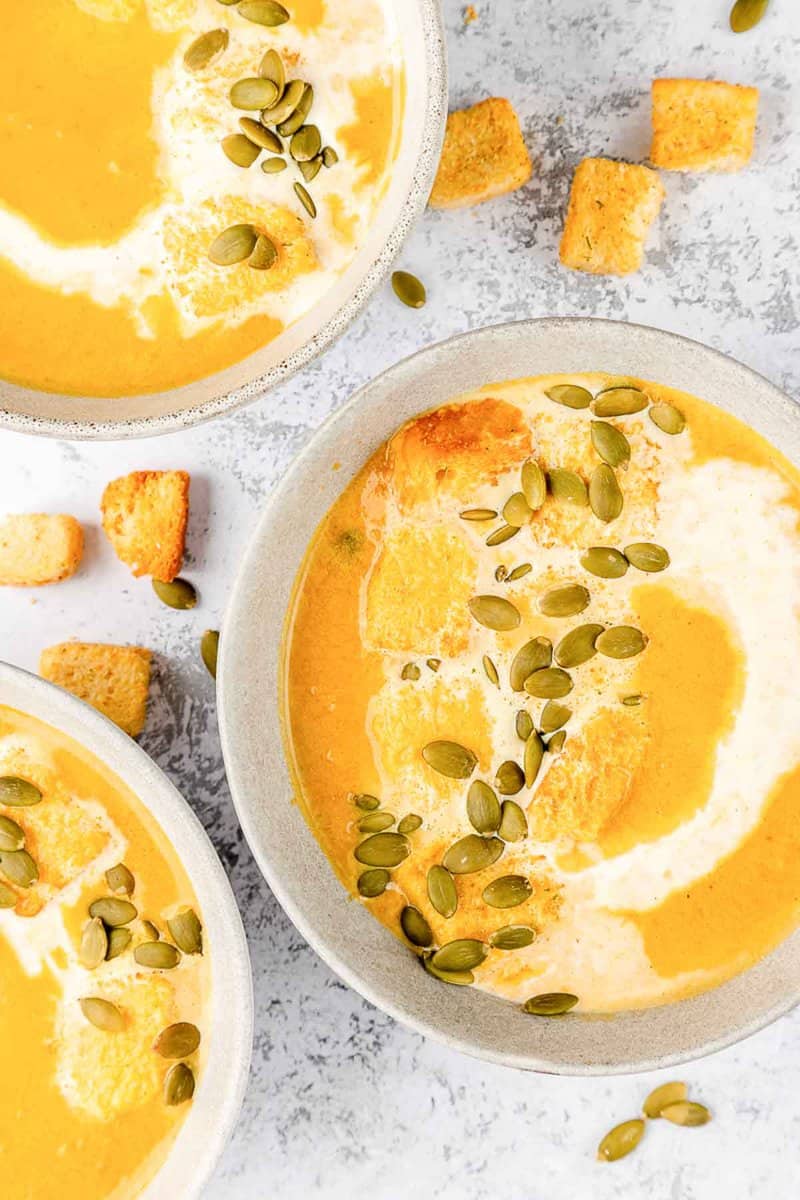 This post contains affiliate links. As an Amazon Associate, I earn from qualifying purchases.
Pumpkin Curry Bisque Soup
Fall is the perfect time for pumpkin bisque, but, of course, you can make it any time you want. This creamy pumpkin bisque recipe with a touch of saffron and curry is a great way to enjoy the flavor of pumpkin all year round. This soup is so very warm and comforting any time of the year.
Pumpkin bisque is a hearty and filling soup that makes a great first course or even a light dinner by itself with some crusty bread. This recipe for pumpkin bisque is very easy – it involves just a can of pumpkin purée, so there is no need to spend hours roasting fresh pumpkin.
What Is a Bisque?
Bisque and chowder are two types of thick soup that originated in French fishing villages.
A bisque is a soup prepared so that the final result is a smooth thick cream soup. Traditional bisques feature seafood like lobster, shrimp, crayfish, or crab – the crustacean shells are typically ground into a fine paste to thicken the mixture.
However, more modern bisques may be made with puréed vegetables and/or aromatics instead of shellfish. One key ingredient of a bisque soup is heavy cream, and sometimes white wine is added.
Learn about the differences between bisque and chowder.
Why Pumpkin Bisque Soup Is Perfect for Fall
When the leaves turn those beautiful fall colors – red, gold, and orange – it's time to get some of those colors into your food. And when there's a nip in the air, it's hard to beat a colorful soup that also comforts the soul.
It isn't hard to make a simple curried pumpkin bisque if you use a can of puréed pumpkin. This pumpkin bisque recipe gives you a creamy, comforting, and deliciously flavorful soup! Everyone in your family will eagerly spoon up this fall-themed soup that's loaded with flavor and even elegant enough for company.
Pumpkin Bisque Soup Recipe Ingredients
Made with simple ingredients, this pumpkin bisque recipe is quick and easy. This is what you will need:
Canned pumpkin purée
Butter
Onions
Garlic
Curry powder
Saffron
Chicken broth
Heavy cream
How to Make Pumpkin Bisque
This creamy pumpkin bisque recipe is very easy to make, and you can have dinner on the table in no time.
Melt the butter in a large pot or Dutch oven.
Add the onions and garlic and sauté until the onions are translucent.
Add the curry powder and cook for about one minute.
Add the saffron strands.
Add the broth and pumpkin purée.
Reduce heat to low and simmer until heated through.
Add the heavy cream and stir until combined.
Add salt and pepper to taste.
Serve in bowls topped with plain or cheese croutons and pumpkin seed kernels (pepitas).
Recipe Variations
It's easy to make this recipe for pumpkin bisque into a vegan pumpkin bisque – just swap out the chicken stock for vegetable stock and use plant-based dairy. Here are some other variations you might like to try:
Swirl in a touch of maple syrup for pumpkin maple bisque.
Combine some of the pumpkin purée with butternut squash purée for butternut squash bisque.
Add spices. This pumpkin bisque soup recipe tastes wonderful with a little freshly grated nutmeg or cinnamon sprinkled over the top. A pinch of cayenne pepper will add a little heat.
You could also add in some crumbled crispy bacon for extra deliciousness.
For dairy-free bisque, use full fat coconut milk instead of heavy cream.
Tips for Making the Best Pumpkin Bisque
For this pumpkin bisque recipe, you need pumpkin purée. Be sure not to pick up a can of pre-seasoned pumpkin pie filling, or you will get a very different soup.
If you don't have curry powder at home, you can use cumin and a little mild chili powder instead.
Don't burn the garlic: When cooking the onions and garlic, make sure the heat isn't too high as you don't want the garlic to burn and affect the flavor of the soup.
Don't boil the cream: Once the cream is added, you only need to heat everything to serving temperature. Once the soup is at a perfect temperature for eating, you're done!
What to Serve With Pumpkin Bisque
How to Store Pumpkin Bisque Leftovers
Pour the cooled leftover soup into a large, airtight container. It will keep in the fridge for up to 5 days or up to 3 months in the freezer.
This soup reheats very well on the stovetop or in the microwave. Thaw in the refrigerator overnight and throw it in the blender if it separates during the thawing process.
Can't get enough pumpkin recipes? Try these!
Favorite Bisque and Fall Soup Recipes
Check out more of my easy soup recipes and the best fall recipes on CopyKat!
Ingredients
2

tablespoons

butter

1

cup

chopped onions

2

garlic cloves

chopped

1

teaspoon

curry powder

1/4

teaspoon

saffron

4

cups

chicken broth

vegetable broth is ok

15

ounces

pumpkin puree

1/2

cup

heavy cream
Instructions
Melt butter in a medium-sized pot over medium heat

Add chopped onions and chopped garlic and sauté until the onions are translucent.

Add curry powder, stir well, and cook for about one minute. This mixture should be very fragrant.

Add saffron strands and stir well.

Add four cups of chicken broth and stir well.

Add one can of pure pumpkin and stir until the pumpkin is fully blended.

Reduce heat to low and cook for about five minutes or until heated through.

Add heavy cream and stir.

Taste and season with salt if desired.
Notes
This bisque tastes wonderful with a little freshly grated nutmeg over the top.
You can serve it with croutons and pepitas (pumpkin seed kernels) for toppings.
This soup reheats very well, so you can make it ahead of time or even pack in a lunch and bring it to work.
Nutrition
Calories:
220
kcal
|
Carbohydrates:
14
g
|
Protein:
3
g
|
Fat:
17
g
|
Saturated Fat:
10
g
|
Cholesterol:
55
mg
|
Sodium:
928
mg
|
Potassium:
487
mg
|
Fiber:
3
g
|
Sugar:
5
g
|
Vitamin A:
17155
IU
|
Vitamin C:
24.3
mg
|
Calcium:
73
mg
|
Iron:
2.2
mg