Air Fryer Grilled Cheese Sandwich is n easy meal for lunch or a light dinner. A perfectly cooked grilled cheese sandwich has melty cheese and crispy slices of bread on the outside. When you make it in the air fryer you are going to have the best grilled cheese sandwiches you have ever taken a bite.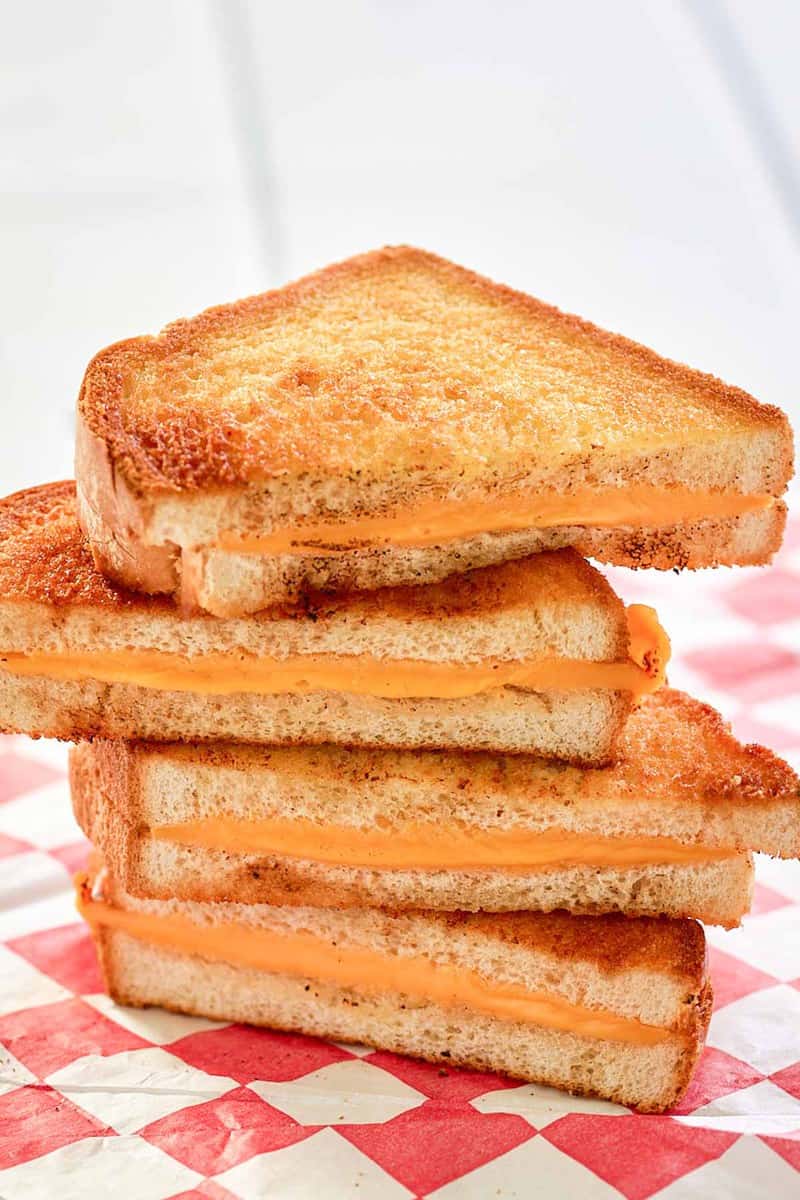 This post contains affiliate links. As an Amazon Associate, I earn from qualifying purchases.
Air Fried Grilled Cheese
The grilled cheese sandwich has been an American favorite for decades, yes, this is a simple recipe. This version eliminates the frying pan and replaces it with an air fryer. A crunchy grilled cheese in an air fryer sandwich is a new take on the comfort food classic you grew up with and have never stopped loving.
A grilled cheese sandwich in an air fryer gives you a classic sandwich made with perfectly toasted bread and gooey melted cheese.
Why Make a Grilled Cheese in Air Fryer Sandwich?
An air fryer is a great thing to have because there are so many things you can easily make in it, including grilled cheese. Even your kids can learn to cook safely with an air fryer.
They don't have to turn on the gas stove; they just add food to the fryer basket, press the right buttons and go! When your son's friends come over from baseball, you need something kid-friendly and easy to make.
Grilled cheese in the air fryer is a genius way to make these golden, toasty sandwiches. Using an air fryer to make grilled cheese streamlines the process and is much more hands-free. This recipe could be your favorite minimal-effort lunch.
Why Using the Air Fryer Is the Perfect Way to Make Grilled Cheese
If a good grilled cheese is a work of art (and I believe it is), then a grilled cheese in air fryer sandwich rates as a masterpiece! You won't go back to the skillet after making a grilled cheese sandwich in an air fryer.
The bread gets beautifully toasty in the air fryer. It's perfectly grilled to a crunchy golden brown on the outside and melty goodness on the inside. It's life-changing!
With the air fryer, no one gets a little soggy spot that somehow the frying pan managed to miss. In contrast, each bite of your air fryer grilled cheese is crunchy-gooey-cheesy goodness.
What Makes the Perfect Grilled Cheese?
Many grilled cheesemakers may be challenged to produce that diner-style, picture-perfect grilled cheese with golden toasted edge-to-edge bread and perfectly melted cheese. Enter the air fryer. The air fryer uses convection to displace the heat throughout the whole sandwich. This creates a crispy outside and an interior that's gooey perfection. So, here's what the perfect grilled cheese is like:
The bread is deeply toasted and golden but not burned.
The sandwich is golden-brown on both sides. If you don't flip, the other side won't get kissed by the heating element.
The bread is sturdy enough to hold up to the cheesy interior but soft enough so that your teeth sink into it with delight.
The cheese is adequately melted. This may seem obvious, but if you've ever eaten a grilled cheese that's charred on the outside with bits of still solid, room temperature cheese inside, you know that making a good grilled cheese is more nuanced than you might think.
The finished sandwich is buttery but definitely not greasy – ooey-gooey but never soggy.
Ingredients
To make a grilled cheese sandwich in the air fryer, here's what you'll need:
Bread – Use your favorite bread, e.g., sandwich bread, French bread, sourdough.
Cheese –This recipe uses Deluxe American, but you can use any cheese that melts well – cheddar, havarti, provolone, mozzarella, or swiss. Feel free to mix your favorite slices of cheese. For example, use a nutty cheese like gruyere and a classic sharp cheddar.
Keep away from those pre-shredded bagged cheeses. They tend to be coated with a powder to keep the shreds from clumping together and thus won't melt well.
Butter or Mayonnaise – They're both so good; you can't go wrong with either. Or, try combining them – 2 tablespoons of mayo with 1 tablespoon of butter. You can also substitute mustard for the mayo.
Ingredients Substitutions
How to Make Grilled Cheese in Air Fryer
You can make toasty, crispy grilled cheese in air fryer sandwiches in just a few simple steps:
Spread butter or mayonnaise on one side of the bread.
Lay a piece of buttered bread in the air fryer basket, butter side down.
Place 2 slices of cheese on the bread.
Place another piece of buttered bread on top of the cheese, butter side up.
Air fry the sandwiches at 370°F for 4 minutes.
Flip the sandwiches over.
Cook until the cheese has melted and the bottom is browned.
Serve immediately and enjoy!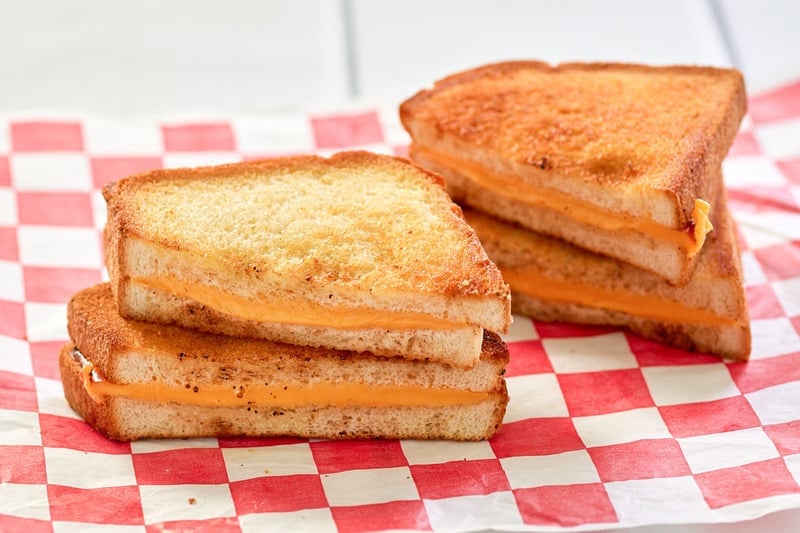 Recipe Variations
Expand your grilled cheese sandwich options. Make every recipe your own by adding ingredients of your choice. Here are a few ideas to jazz up your grilled cheese in the air fryer sandwich:
Air fried grilled cheese with bacon. Add a few slices of crisp, cooked bacon.
Air fryer grilled cheese and ham. Create your very own take on croquet monsieur by using a layer of thinly sliced ham. This is extra yummy combined with a fried egg!.
Air fried grilled cheese and tomato. Before adding tomatoes to your sandwich, thinly slice them, place them on a paper towel and pat them dry. This will prevent the grilled cheese from becoming watery.
Air-fried grilled cheese and pesto. Instead of butter or mayo, spread the insides of your bread with pesto. Use any combination of fontina, provolone, or gouda.
For grilled cheese air fryer sandwiches, you can also go for pepperoni, mushrooms, caramelized onions, avocados, cucumbers, and even thinly sliced apples or pears.
3 Tips for Making an Air Fryer Grilled Cheese
When making air-fried grilled cheese, be sure not to overcrowd the air fryer basket. Two sandwiches should be able to fit depending on the bread size.
A grilled cheese air fryer sandwich may have a tendency to fall apart. To prevent this, while toasting the first side, secure each corner with a toothpick. When ready to flip, simply remove the toothpicks, turn, and keep cooking. This trick is especially important if you are using thinner, softer bread.
If you shred the cheese, no matter what variety you use, it helps it to melt faster and gives you that delicious cheese pull as you tear into your grilled cheese.
What to Serve With Grilled Cheese Air Fryer Sandwich
Air fryer grilled cheese can be paired with many different side dishes for a delicious meal. For a fun family dinner, try serving this sandwich with air fryer potato wedges or avocado fries.
And, is there anything that's better than a crunchy, buttery, and melty grilled cheese sandwich and a bowl of warm tomato basil soup? Just thinking about this classic comfort food combination should give you warm, fuzzy feelings.
Popular Air Fryer Recipes
Favorite Sandwich Recipes
Check out more of my easy sandwich recipes and the best air fryer recipes here on CopyKat!
Ingredients
3

tablespoons

butter or mayonnaise

4

pieces

sandwich bread

4

slices

cheese

I love Kraft Deluxe American cheese
Instructions
Spread the butter or mayonnaise on one side of each piece of bread.

Lay a piece of bread, spread side down, in the air fryer basket.

Top with 2 slices of cheese.

Place another piece of bread, spread side up, on top of the cheese.

Cook the sandwiches at 370°F for 4 minutes

Flip the sandwiches over and cook until the bottom is browned and the cheese has melted.
Nutrition
Calories:
514
kcal
|
Carbohydrates:
26
g
|
Protein:
18
g
|
Fat:
38
g
|
Saturated Fat:
22
g
|
Polyunsaturated Fat:
2
g
|
Monounsaturated Fat:
9
g
|
Trans Fat:
1
g
|
Cholesterol:
101
mg
|
Sodium:
740
mg
|
Potassium:
107
mg
|
Fiber:
1
g
|
Sugar:
3
g
|
Vitamin A:
1086
IU
|
Calcium:
506
mg
|
Iron:
2
mg