Loose Meat Sandwich is similar to a Sloppy Joe but made with cheese sauce instead of tomato sauce. This cheesy meat sandwich is great for lunch or dinner and sure to be a favorite.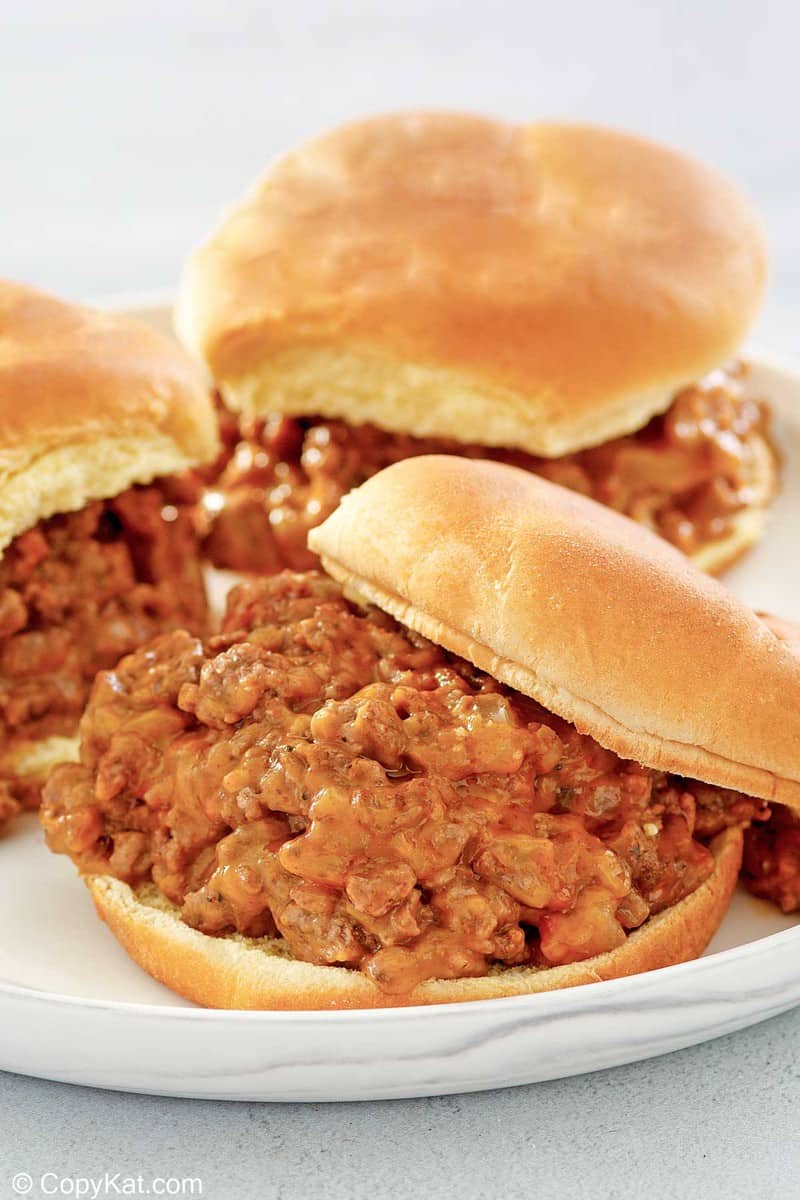 This post contains affiliate links. As an Amazon Associate, I earn from qualifying purchases.
Easy Loose Meat Sandwich Recipe
Loose meat sandwich is an old recipe that I have made many times. It's so easy to make! A can of cheddar cheese soup and some ground beef gives you a delicious sandwich.
What Is a Loose Meat Sandwich?
Loose meat sandwiches are like hamburgers, except they're more like Sloppy Joes, but they're totally different! Who's hungry?
A loose meat sandwich is the ultimate, all-American road-food feast made famous by Iowa's famous diner chain Maid-Rite. However, you don't have to be from Iowa to enjoy a classic loose meat sandwich!
Depending on where you are in the Midwest, this type of sandwich may be called a Maid-Rite, big T, loose hamburger, nu-way, steamer, or tavern sandwich.
Since the 1920s, the ground beef sandwich has been made with sautéed (sometimes steamed) ground beef and onions, served on a bun, and dressed up with mustard, ketchup, and pickles.
Loose Meat Sandwich vs. Sloppy Joe
So is a loose meat sandwich just another name for a sloppy Joe? The answer is no. The main difference between a sloppy Joe and a loose meat sandwich is the absence of a tomato-based sauce.
With this recipe, you have the choice to make a delicious and cheesy loose meat sandwich instead of a sloppy joe. The best loose meat sandwich recipe gives you a sandwich that's not quite as sloppy as a sloppy Joe, but it's still firmly in the category of messy.
There's definitely some skill involved in keeping the whole thing together on the way to your mouth!
Why This Is the Best Loose Meat Sandwich Recipe
This easy loose meat sandwich recipe tastes just as good as the famous Iowa diner classic. Seasoned beef full of flavor is piled high on a hamburger bun creating an easy and quick meal everyone will love.
This easy ground beef recipe takes just minutes to prepare. It's easier and quicker than a regular burger, and you don't have to fire up the grill.
If you love sloppy joes and hamburgers, then you'll really enjoy a loose meat sandwich.
Recipe Ingredients
The ingredients for this ground beef sandwich recipe are very basic:
Ground beef
Onion
Canned cheddar cheese soup
Ketchup
Ground black pepper
Hamburger buns
Ingredient Substitutions
You can substitute soft dinner rolls for burger buns, especially if you are planning a buffet.
Some people claim that Hawaiian sweet rolls tend to keep the filling together more easily.
Fattier beef, like ground chuck, will provide more flavor, but you can use lean ground beef if you want to save on calories.
For a leaner sandwich, substitute ground turkey or chicken for the beef. However, this will give you a different taste.
Go meatless by using veggie meat crumbles.
How to Make a Loose Meat Sandwich
The steps for this ground beef sandwich recipe are very simple:
Cook the beef and onion together and remove excess fat.
Stir in the soup, ketchup, and black pepper.
Reduce heat and cook until heated through.
Toast hamburger buns while the filling is cooking.
Serve on split and toasted hamburger buns.
To make loose meat sandwiches in a slow cooker,
Brown the ground beef in a skillet, then add to the cooked beef to the slow cooker with all the remaining ingredients (minus the buns, of course).
Cover and cook on low for 2 to 3 hours.
Recipe Variations
Use nacho cheese soup.
Add a dash or two of Worcestershire sauce or soy sauce to amp up the flavor.
Take your loose meat sandwich over the top with any burger toppings you like. Here are some suggestions:

Ketchup
Mustard
Mayonnaise
Dill pickle slices
Red onion
Tomato slices
Barbecue sauce
Horseradish sauce
Crushed potato chips
Recipe Notes
Beef: A ground beef blend of approximately 85% lean and 15% fat gives the best flavor.
Onions: Yellow onions, white onions, or even shallots will work. This recipe cooks the onions at the same time as the beef. However, if you prefer them to be still a bit raw, don't add them until the meat is about halfway through cooking. Brown them in the skillet before browning the beef if you like them really soft and mild in flavor.
How to Serve a Loose Meat Sandwich
These easy loose meat sandwiches are perfect for a no-fuss dinner or feeding a crowd. They could also be part of a buffet-style meal or a tailgate menu.
What Goes Well With Loose Meat Sandwiches?
Basically, anything that goes well with a hamburger, such as:
French fries
Potato chips
Sweet potato fries
Can You Make Ahead Loose Meat Sandwiches?
Feel free to make the loose meat sandwich filling up to 3 days in advance. Store it in an air-tight container in the refrigerator. Reheat on the stove or in the microwave until warm.
How to Store Loose Meat Leftovers
Store leftovers covered in the refrigerator for up to 4 days.
Tip: Leftover meat could be used in tacos, spaghetti sauce, or added to a casserole.
Freezing Loose Meat
Make the loose meat, then divvy it up in single-size or family-size servings in freezer-safe containers or zip-top bags. It will keep in the freezer for up to 3 months.
When ready to use, thaw it overnight in the refrigerator, and reheat it on the stove or in the microwave.
Favorite Sandwich Recipes
Popular Ground Beef Recipes
Check out more of my easy sandwich recipes and the best recipes with ground beef here on CopyKat.
Many thanks to Stephanie Eynard from Coldspring, TX for this easy loose meat sandwich recipe (1993).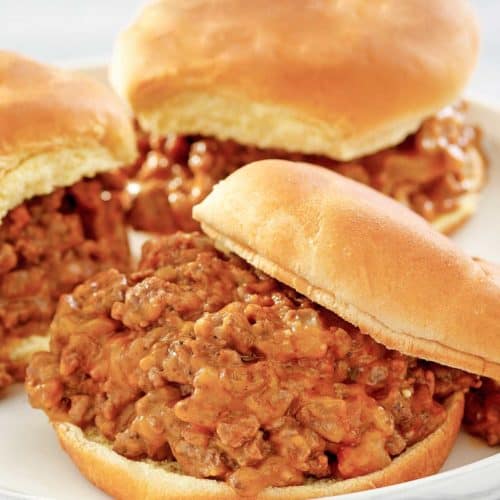 Ingredients
1

pound

ground beef

1/2

cup

chopped onion

1

10.5 ounce can

cheddar cheese soup

2

tablespoons

ketchup

1/8

teaspoon

black pepper

6

hamburger buns

split and toasted
Instructions
In a 10-inch skillet over medium-high heat, cook the beef and onion until the beef is browned and the onion is tender, stirring to separate and crumble the beef. Spoon or drain off the fat.

Stir in the soup, ketchup, and black pepper. Reduce the heat to low and heat through, stirring occasionally.

Serve on toasted hamburger buns.
Nutrition
Calories:
363
kcal
|
Carbohydrates:
28
g
|
Protein:
18
g
|
Fat:
18
g
|
Saturated Fat:
7
g
|
Cholesterol:
55
mg
|
Sodium:
577
mg
|
Potassium:
522
mg
|
Fiber:
1
g
|
Sugar:
5
g
|
Vitamin A:
230
IU
|
Vitamin C:
1.7
mg
|
Calcium:
107
mg
|
Iron:
2.9
mg