Subway Tuna Salad is great for a tasty lunch or dinner. Make a classic tuna salad sandwich, wrap, or salad with your favorite toppings. No need to go to the restaurant when homemade tuna salad with this copycat recipe is so much better.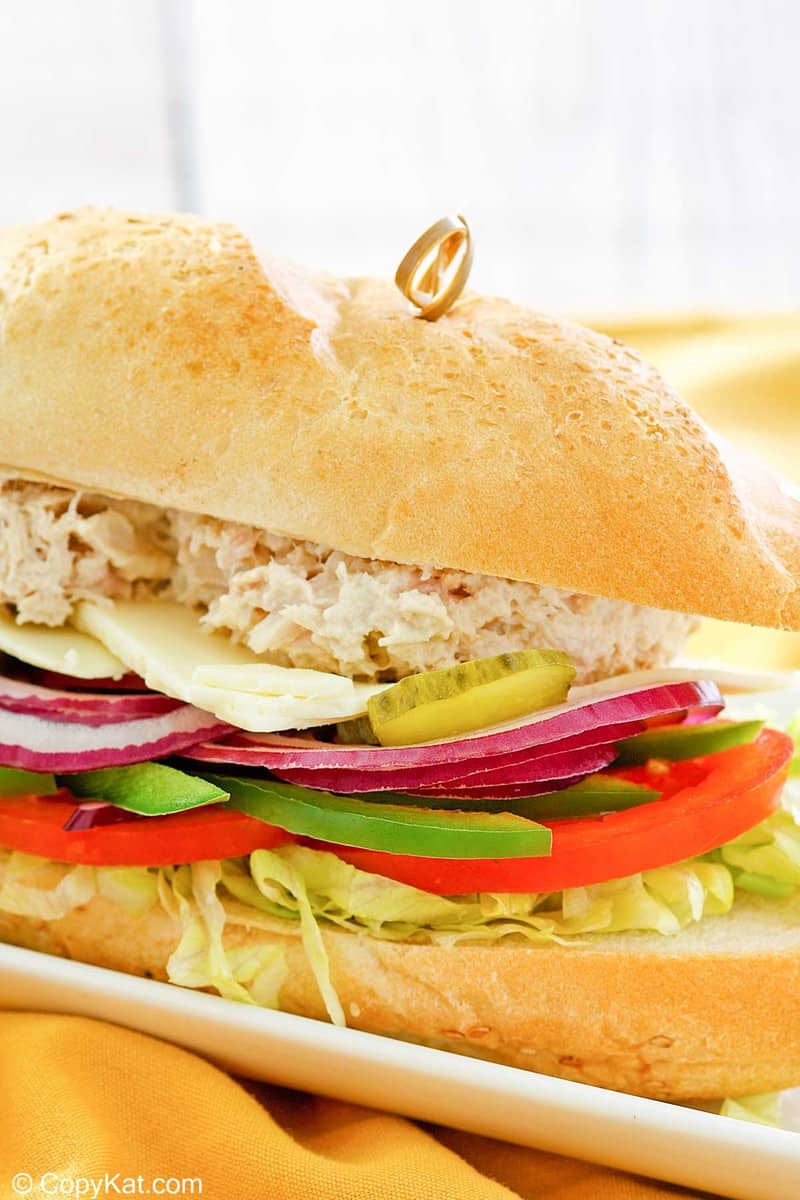 This post contains affiliate links. As an Amazon Associate, I earn from qualifying purchases.
Best Tuna Salad
Just because a tuna salad sandwich is quick and easy to prepare doesn't mean it must be boring and bland. Take this copycat Subway Tuna Salad recipe, for example.
You can whip it up in only a few minutes, but it's a deliciously satisfying meal for lunch or dinner at home or perfect for anyone who is brown-bagging it.
Subway restaurants may be known for their sandwich artists, but there isn't any reason why you can't make an even better tuna salad hoagie!
Why is this the Best Subway Tuna Salad Recipe?
There are countless recipes for tuna salad online. Many of them are fancy, calling for expensive tuna or herbs and other seasonings. Who needs it?
Subway's tuna salad recipe is barebones and allows the real taste of the fish to be front and center. The mild tuna salad flavor becomes the perfect base for adding all of your favorite toppings.
Whether you want to keep your sandwich classic with just a bit of shredded lettuce and sliced tomatoes or spice things up with pickled jalapenos, onions, and a few slices of cheese, the choice is yours!
Subway Tuna Salad Ingredients
There are a few components to this tuna sub sandwich. There's the basic sandwich with tuna salad, cheese, and bun. Then you have the various vegetable toppings and sub dressings if desired. Here's a list of what you need:
Tuna Salad Sandwich
Water-packed tuna – I recommend yellowfin tuna
Mayonnaise
White American cheese slices
Sub sandwich buns
Vegetable Toppings
Shredded lettuce
Tomatoes
Cucumbers
Bell peppers
Onions
Black Olives
Dill pickle slices
Sliced jalapenos
Sub Sandwich Dressing
Oil – Canola or light olive oil is best.
Red wine vinegar
Ingredient Substitutions
One reason why Subway's sandwiches are so popular is that they offer such a wide range of toppings. But, when you make a Subway Tuna Salad sandwich at home, you have even more options.
Here are just a few topping suggestions that Subway doesn't offer, along with alternative must-have ingredients.
Consider adding some of these toppings to your sandwich:
Sundried tomatoes
Avocados
Sprouts
Tarragon
Apple slices
Chopped hardboiled eggs
Tuna Types
There are a lot of different choices when it comes to tuna. Although the recipe calls for canned tuna in water, there is absolutely no reason why you can't use oil-packed tuna instead.
When choosing your tuna, remember that anything labeled as skipjack or light tuna comes from smaller tuna species that typically have lower mercury levels.
Mayonnaise Alternatives
Mayo provides the creaminess that is so essential for a good tuna sub. However, depending on diet philosophy it is considered either healthy (low-carb/keto) or not the healthiest ingredient (low-fat/low-calorie).
Save calories and fat by using a light mayo instead.
If you are looking to eliminate mayo, many people like to substitute sour cream or Greek yogurt.
Another fantastic alternative is using mashed avocado with a touch of white vinegar or lemon juice to add some acidity.
Tuna Sandwich Bread Choices
You can change the entire tuna sandwich with your choice of bread. For the sake of your teeth, you should probably stay away from any crusty bread, but ciabatta or even focaccia bread are excellent choices.
If you are a bit daring, try something sweet, like raisin-nut bread, for a totally unique taste experience.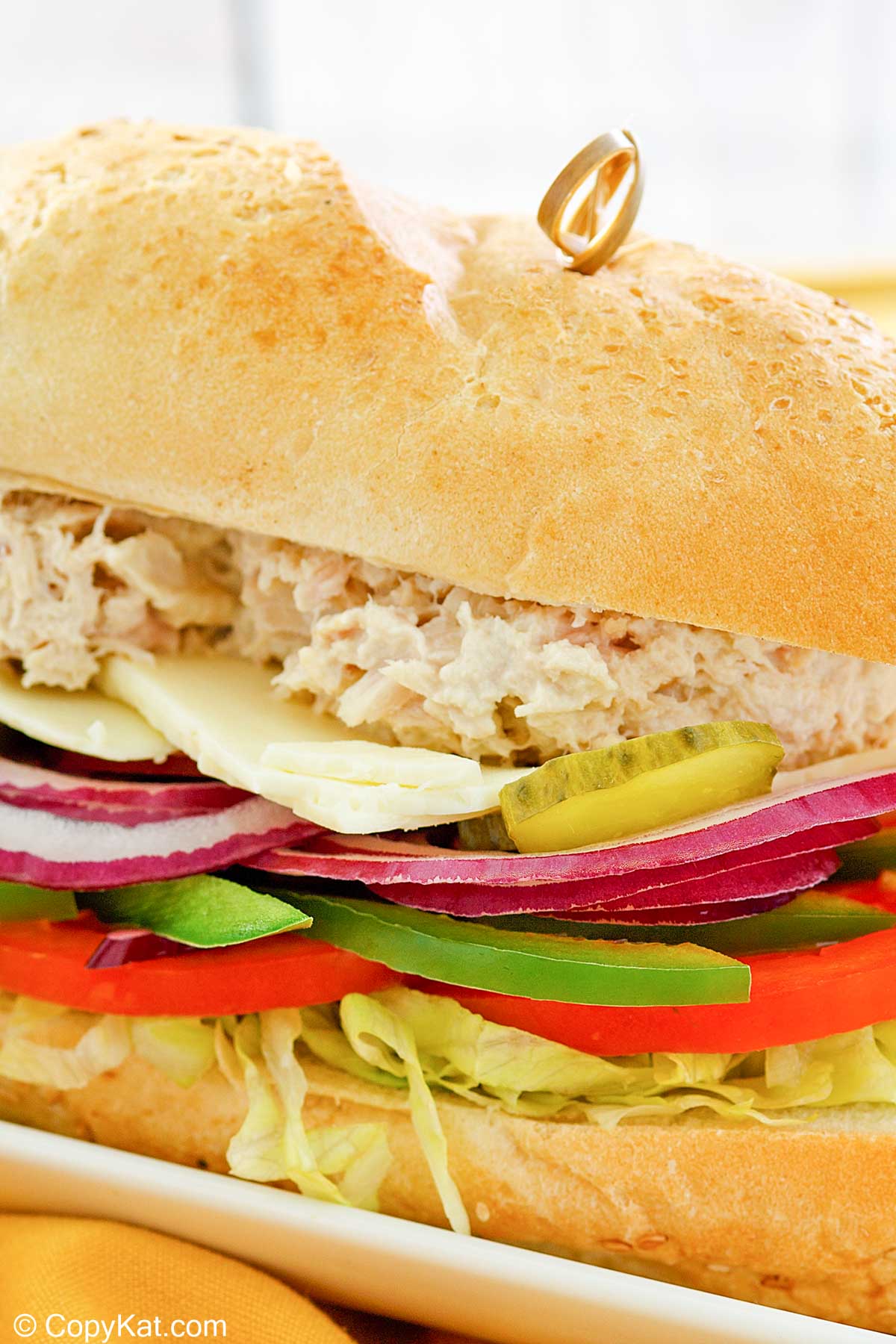 How to Make Subway Tuna Salad
Prepare tuna salad by first draining excess water from the tuna. Place drained tuna in a small bowl, and flake tuna with a fork.
Add mayonnaise, and stir well to combine.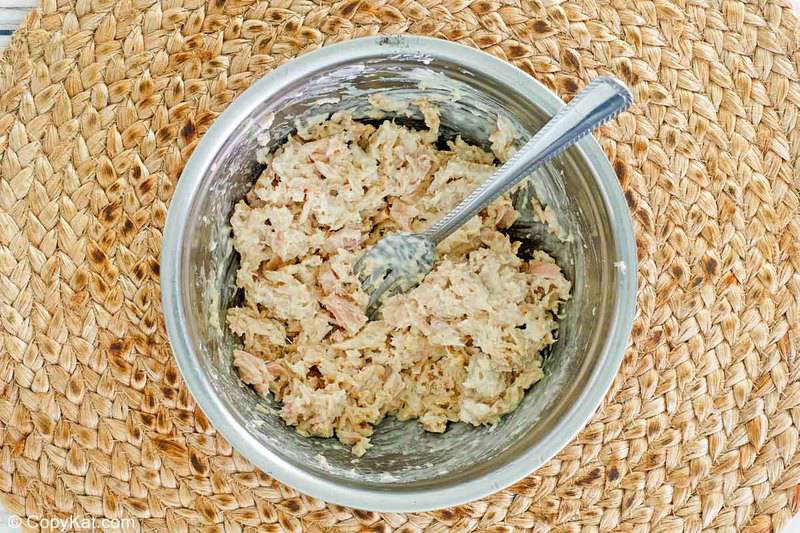 Cut sub sandwich bread in half.
Build the sandwich by first placing small scoops of tuna salad on the top portion of the bun.
Place desired toppings on the bottom portion of the bun.
Then cut the cheese squares into triangles and place 2 triangles on top of the vegetables.
Dress the sandwich with a squirt of mayonnaise, oil, and vinegar if desired.
Then close the bun and enjoy!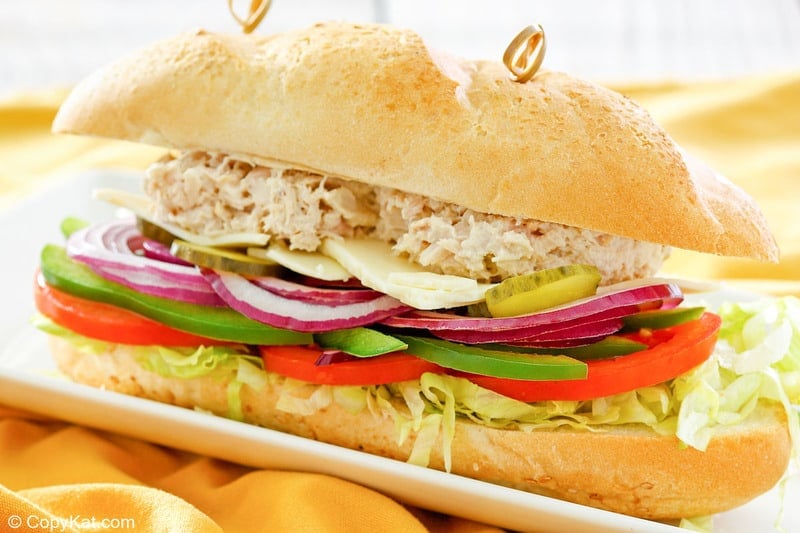 Recipe Variations
No need to just make a tuna salad sandwich. Here are some great ways to make it as a tuna melt, wrap, or salad instead.
Tuna Melt: Place the scoops of tuna on the bottom half of the bun and top with cheese. Put the tuna and cheese topped bottom bun and the top bun on a baking sheet. Broil until the cheese is melted. Add toppings if desired.
Tuna Salad Wrap: Place the tuna salad and toppings on a large flour tortilla and roll it up burrito-style.
Tuna Salad Salad: Place the shredded lettuce in a bowl. Top with vegetables, cheese, and scoops of tuna salad. Dress with oil and vinegar or a vinaigrette dressing.
What Goes Well with a Tuna Salad Sub?
This tuna fish recipe from Subway deserves a salty side dish to help balance the flavors. Potato chips are great; the crunchier, the better.
Try crunchifying your sandwich by topping the tuna salad with a handful of your favorite thick-cut potato chips.
Are you more of a fries person? That's great, too!
Of course, you'll need something to wash everything down, and the best way to do that is with something bubbly. Soda, seltzer, or even beer go great with this copycat Subway tuna salad recipe.
How to Store Tuna Salad
You can easily halve this tuna fish salad recipe by using only one can and a tablespoon of mayonnaise. But if you have any leftovers, keep them fresh in the fridge in an airtight container.
Remember, oxygen is the enemy, so use the smallest container you can, and press plastic wrap directly on top of the tuna to prevent it from drying out.
How Long Does Tuna Salad Last?
The tuna fish recipe from Subway keeps in the fridge for up to three days.
I hope you give this copycat recipe for Subway's tuna sandwich a try soon. Food tastes better when you make it at home. You can make this with the tuna you like best, and you can modify this recipe any way you like.
Favorite Sandwich Recipes
More Tuna Recipes
Check out more of my easy sandwich recipes and the best fast food recipes here on CopyKat!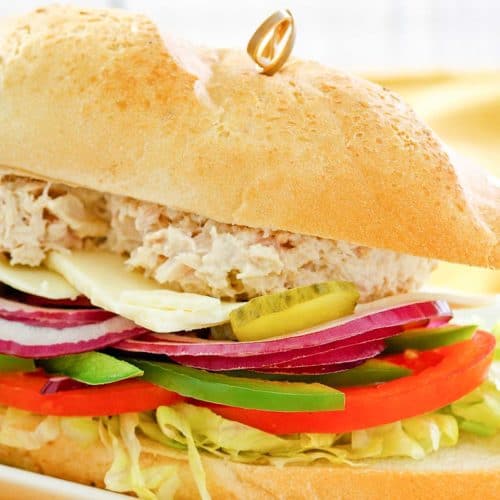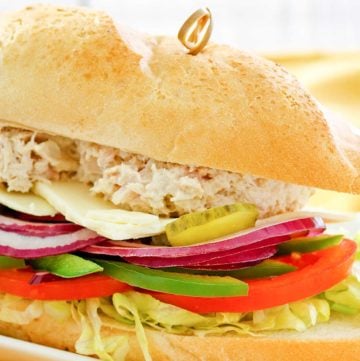 Ingredients
2

5-ounce cans

water-packed tuna

2

tablespoons

mayonnaise

2

6-inch

sub sandwich buns

1

cup

shredded lettuce

6

slices

tomatoes

1/4

cup

sliced cucumbers

1/4

cup

sliced green bell peppers

1/4

cup

sliced red onions

1/4

cup

sliced black olives

10

slices

dill pickles

10

slices

jalapeños

2

slices

white American cheese

2

tablespoons

mayonnaise
Instructions
To prepare the tuna salad, drain the excess water from the tuna. Place the drained tuna in a small bowl, and flake with a fork.

Add the mayonnaise and stir well to combine.

Cut each sandwich bun in half lengthwise.

Place two small scoops of tuna salad on the top portion of each bun.

On the bottom portion of each bun, add shredded lettuce and a few slices of tomato, green bell pepper, red onion, black olives, and pickled jalapeños.

Cut the cheese squares into triangles and add 2 triangles on top of the vegetables on each sandwich.

Add a squirt of mayonnaise if desired, close the buns, and serve.
Nutrition
Calories:
553
kcal
|
Carbohydrates:
59
g
|
Protein:
15
g
|
Fat:
33
g
|
Saturated Fat:
8
g
|
Polyunsaturated Fat:
14
g
|
Monounsaturated Fat:
9
g
|
Trans Fat:
1
g
|
Cholesterol:
33
mg
|
Sodium:
7602
mg
|
Potassium:
2198
mg
|
Fiber:
24
g
|
Sugar:
34
g
|
Vitamin A:
7490
IU
|
Vitamin C:
569
mg
|
Calcium:
634
mg
|
Iron:
5
mg