Have you ever tried Chicken Salad Chick Egg Salad? It is a great basic egg salad that can be put together in a matter of a few minutes. Best of all it's easy to make, and delicious!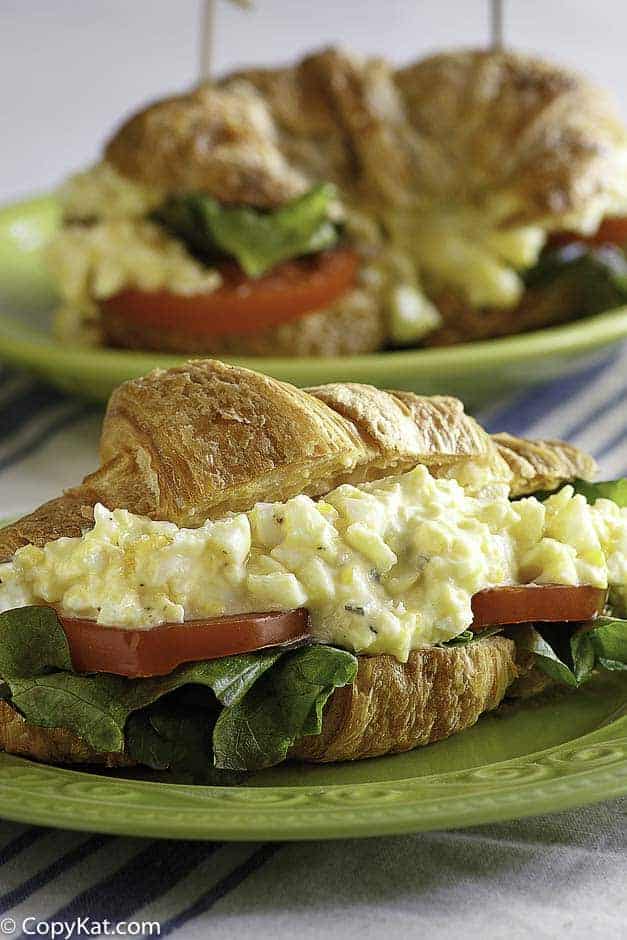 About Chicken Salad Chick Restaurants
If you are lucky you live near one of the Chicken Salad Chick restaurants. They are a new chain of fast-casual dining that is wonderful! They serve up, guess guessed it, chicken salad, but they also serve egg salad, pimento cheese salad, and all sorts of delicious soups. You always get a sweet cookie with your meal. I don't know what is better than that!
The decor is super cute, it is like stepping into your great-grandmother's country farm home. The food isn't complicated, you aren't going to find dishes like a sweet potato bisque and kale salad.
You are going to be served classic dishes we all love. The Chicken Salad Chick Egg Salad with relish is very good, and this is the recipe I have created for you. So until one of these opens next to you, you can still enjoy their food.
What makes the Chicken Salad Chick Egg Salad recipe special?
Simple ingredients prepared well.
You don't need to hunt down exotic ingredients to make amazing food. I bet you have everything you need in your pantry to make this recipe. The egg salad contains a few simple ingredients. Here's a list of what you need:
Hard-boiled eggs
Mayonnaise
Sweet pickle relish
Sweet pickle relish juice
Tarragon vinegar or white vinegar
Salt
Ground black pepper
Recipe Notes
Getting this in the right ratio makes all of the difference. Too much or too little of any ingredient will change both the flavor and texture.
To cook your eggs, I have a great recipe for making hard-boiled eggs on the stove, and how to make hard-boiled eggs in an InstantPot.
The real difference in this egg salad is the eggs are finely minced. When I make egg salad at home, I normally chop them in small pieces, but their eggs are minced very fine. I think this is one of the reasons the egg salad tastes so good. The flavors mix better when the eggs are chopped super fine.
CopyKat Tip: A pastry blender works great for finely chopping eggs.
How to Make Egg Salad
Peel the hard-boiled eggs.
Chop the eggs very finely.
In a large bowl, mix together mayonnaise, sweet pickle relish, tarragon vinegar, sweet pickle relish juice, salt, and black pepper.
Add the chopped eggs to the mayonnaise mixture. Very gently stir to combine.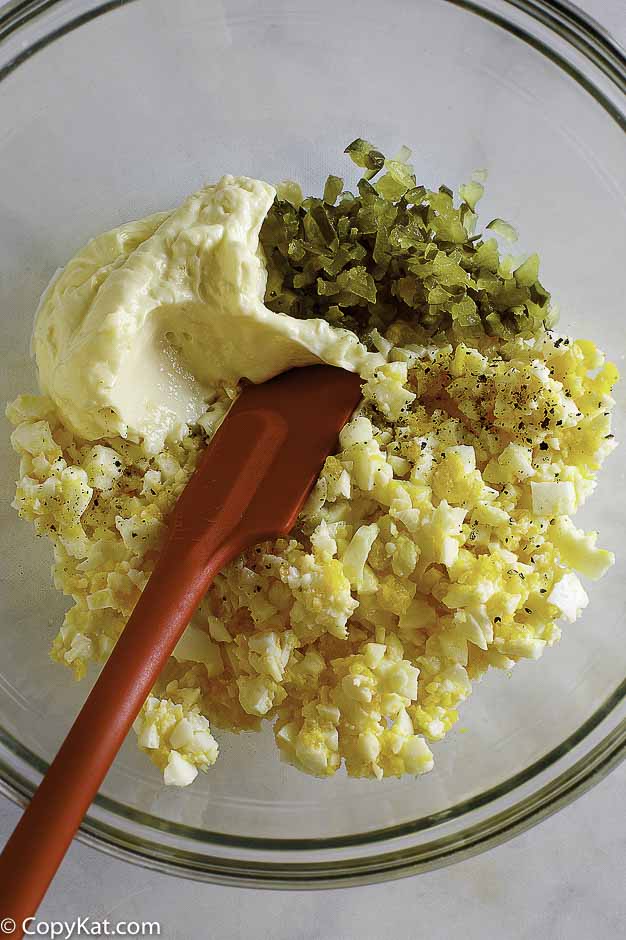 Recipe Tips for Peeling Eggs
Buy your eggs 7 to 10 days before you want to use them, it will make them easier to peel.
Boil eggs in salted water. Just a little salt in the water helps.
When you cook your eggs cool them quickly, by placing them in an ice bath, it will make the eggs easier to peel.
How to Serve Chicken Salad Chick Egg Salad
If you want it like the restaurant, you can serve egg salad in three ways.
It is served by the scoop. Place a large scoop on a plate of leaf lettuce.
It is served as a sandwich on Wheat Berry bread, toasted, or not. They will add leaf lettuce and fresh tomatoes.
It is served on a croissant with the optional leaf lettuce and tomatoes.
I hope you enjoy this recipe! I can't wait until you get to try one of their delicious salads either made at home or in the restaurant! Be sure to try the Chicken Salad Chick Chicken Salad Recipe!
You made it this far! Be sure to follow me on Facebook. Drop me a comment on Facebook, and let me know what recipe you want to see next!
Love eggs? Try these recipes!
More Salad Sandwich Recipes
Check out more of my easy sandwich recipes and the best fast food recipes here on CopyKat!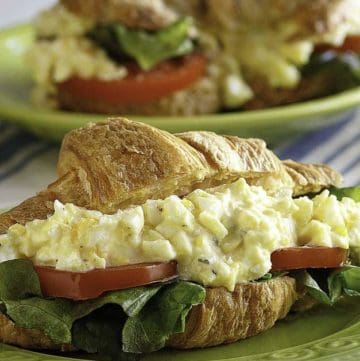 Ingredients
12

hard boiled eggs

1/2

cup

mayonnaise

may need 1 to 2 tablespoons more

3

tablespoons

sweet pickle relish

1

teaspoon

sweet pickle juice

1

teaspoon

tarragon vinegar

plain is ok

1

teaspoon

salt

1/2

teaspoon

ground black pepper
Instructions
Peel hard-boiled eggs. Chop very finely.

Mix together mayonnaise, sweet pickle relish, tarragon vinegar, sweet pickle relish juice, salt, and black pepper.

Mix in chopped egg very gently.
Notes
Buy your eggs several days in advance before making the hard-boiled eggs, they are easier to peel between 7 and 10 days old.
Cooling the eggs quickly after cooking them makes them easier to peel.
Want to jazz up your egg salad, try adding some fresh dill, and some scallions or red onions.
Nutrition
Calories:
438
kcal
|
Carbohydrates:
5
g
|
Protein:
19
g
|
Fat:
36
g
|
Saturated Fat:
8
g
|
Cholesterol:
571
mg
|
Sodium:
1036
mg
|
Potassium:
189
mg
|
Fiber:
0
g
|
Sugar:
5
g
|
Vitamin A:
935
IU
|
Calcium:
75
mg
|
Iron:
1.9
mg