Recreate the magic of Brennan's Oatmeal Custard with this easy copycat recipe! This heartwarming breakfast custard with oats is baked to perfection to start your morning with a smile. Served with a vibrant medley of fresh berries and a dollop of whipped cream, this dish is a harmonious balance of nutrition and indulgence. Oatmeal custard is perfect for a leisurely brunch or an energizing breakfast.
This post contains affiliate links. As an Amazon Associate, I earn from qualifying purchases.
Oatmeal Breakfast Custard
You can make Brennan's famous oatmeal custard with this easy oatmeal recipe. This breakfast custard is light yet rich. It's dessert for breakfast! What a way to start the day!
Brennan's Oatmeal Custard is a delightful recipe that turns your familiar breakfast oatmeal into a rich and creamy dessert! The creaminess of this oatmeal custard makes it feel really luxurious and whoever thought oatmeal could be described that way!
About Brennan's
Brennan's opened in 1967 in Houston as a sister restaurant to the world-famous Commander's Palace in New Orleans. The restaurant is renowned for using the freshest local ingredients and offering many original creations as part of its award-winning cuisine.
For weekend dinners, Brennan's Creole Jazz Brunch remains a five-star tradition among Houston's Sunday brunch enthusiasts. Diners enjoy tantalizing jazz music and the fragrance of fresh flowers. Southern mainstay dishes and twists on classic favorites are graciously served in sun-filled dining areas.
What Is Custard?
Custard is a thick, creamy, rich dessert. Dessert custards are sweet, but custards can also be savory dishes. They are made with whole eggs or egg yolks, cream or milk, flavorings (e.g., vanilla, nutmeg), and optional sweeteners (e.g., sugar, honey). A basic custard recipe is thickened and set by the eggs. However, a small amount of starch is included in some recipes to provide added thickening power and body.
Custards as we know them today date all the way back to the Middle Ages when custard was used as a filling for a tart or flan. In fact, the word custard comes from croustade, which is a French word for a tart with a crust. After the end of the 15thCentury, creams using fruit became popular, and custards began to be made in individual dishes rather than just as a filling for a crust.
Why You Should Add Baked Oatmeal Custard to Your Next Brunch
This breakfast oatmeal custard recipe is also great to serve at brunch. Even if you have family members who don't like oatmeal, they will love this custard. It's warm, rich, and sweet and doesn't taste like oatmeal at all!
Once you try this recipe for breakfast custard, oatmeal will never be the same!
Baked Oatmeal Custard Ingredients
Here's what you need to make this delicious breakfast custard:
Oatmeal (Old-fashioned rolled oats)
Eggs
Milk
Whipping cream
Brown sugar
Cinnamon
Vanilla extract
Fresh raspberries and blackberries
Equipment Needed
You probably already have the kitchen items you need for making this recipe, but just in case:
How to Make Breakfast Custard
Combine the eggs, milk, and cream and push through a fine mesh sieve.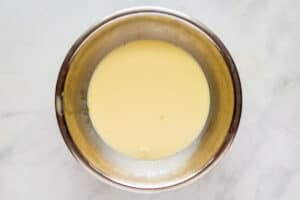 Add the brown sugar, cinnamon, oatmeal, vanilla, and berries.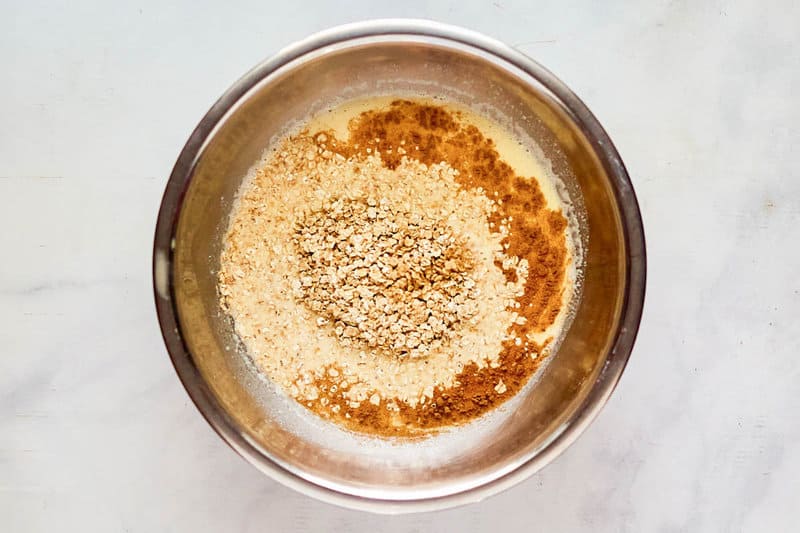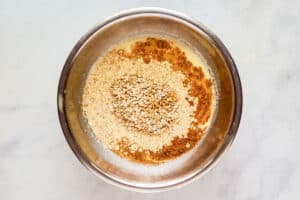 Pour into prepared ramekins to within 1/4 inch of the top.
Place the ramekins in a baking dish and fill the baking dish with water to within 3/4 inch of the top of the ramekins.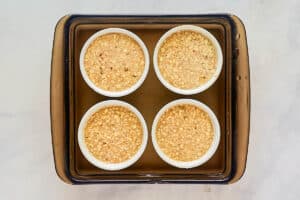 Bake, covered, at 350°F for 1 hour.
Serve warm, garnished with berries and whipped cream.
Recipe Variations
Raspberries and blackberries are used here but you can substitute other fruit combinations such as strawberries and blueberries. Here are a few other suggestions:
Almond slivers are a great addition.
Think about adding bananas and dates instead of berries.
You can even top your custard with hot fudge sauce, caramel sauce, or maple syrup.
What to Serve With Baked Oatmeal Custard
Serve breakfast custard with your favorite breakfast dishes, such as scrambled eggs or French toast.
This breakfast custard recipe makes a great dessert after a simple main course, such as baked white fish, roast chicken, or grilled meats.
How to Store, Freeze, and Reheat
Storing: Allow the baked oatmeal custard in the ramekins to cool to room temperature. Cover each ramekin with a lid or tightly with plastic wrap. Place the covered ramekins in the refrigerator. They can typically be stored for up to 4 days.
Freezing: After the custard in the ramekins has cooled to room temperature, cover each tightly with plastic wrap. For an extra layer of protection, cover the wrapped ramekins with aluminum foil or place them into a larger freezer-safe bag. Label the bag or ramekin with the date. The custard can be frozen for up to 3 months.
Reheating: If the custard has been stored in the refrigerator, you can reheat it in the microwave or oven. For the microwave, remove the plastic wrap and heat for about 1 minute or until heated through. In the oven, heat at 350°F for about 10 minutes or until warmed.
If the custard has been frozen, it's best to first thaw it in the refrigerator overnight. If you're in a hurry, you can also use the defrost function on your microwave before heating it normally.
Favorite Recipes with Oats
If you would like more types of oatmeal recipes, check out the OATrageous Oatmeals cookbook.
Popular Breakfast Recipes
Check out more of my easy breakfast recipes and the best copycat restaurant recipes on CopyKat!
You can find more of Brennan's great recipes in their book Breakfast at Brennan's and Dinner, Too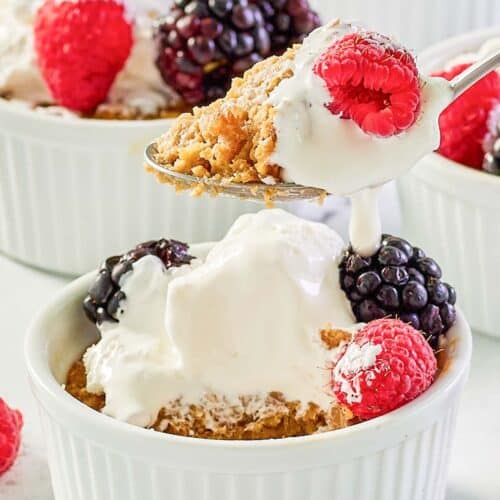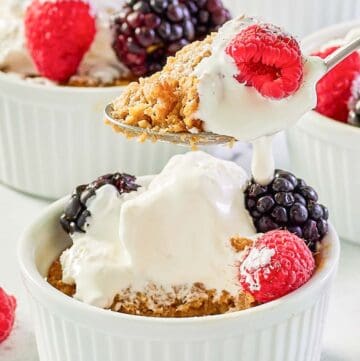 Ingredients
5

eggs

beaten

1 1/2

cups

milk

3/4

cup

whipping cream

1

cup

+ 2 tablespoons brown sugar

1

teaspoon

ground cinnamon

2 1/2

cups

oatmeal

1/2

teaspoon

vanilla extract

1

cup

mixed fresh raspberries and blackberries

plus extra, to garnish

1

cup

whipped cream

to garnish
Instructions
Preheat the oven to 350°F and grease 8 1-cup ramekins with butter or nonstick cooking spray.

Combine the eggs, milk, and cream and mix well. Push the mixture through a fine mesh sieve to fully incorporate the eggs. Discard any residue.

Add the brown sugar, cinnamon, oatmeal, vanilla, and berries to the egg mixture and lightly stir to combine.

Pour the mixture into the prepared ramekins to within 1/4 inch of the top.

Place the ramekins in a 9×13-inch baking dish. Fill the baking dish with water to within 3/4 inch of the top of the ramekins and bake, covered, for 1 hour.

Remove the ramekins from the water bath and serve warm, garnished with berries and a dollop of whipped cream.
Nutrition
Calories:
438
kcal
|
Carbohydrates:
55
g
|
Protein:
10
g
|
Fat:
20
g
|
Saturated Fat:
10
g
|
Cholesterol:
190
mg
|
Sodium:
104
mg
|
Potassium:
315
mg
|
Fiber:
3
g
|
Sugar:
40
g
|
Vitamin A:
805
IU
|
Vitamin C:
5.4
mg
|
Calcium:
166
mg
|
Iron:
1.9
mg