On a cold winter morning, there's no better way to begin the day than with a comforting hot bowl of oatmeal. But deciding which kind of oatmeal to make – traditional, steel-cut, quick cook, instant – shouldn't be taxing your brain when you've just got out of bed. So, if you are confused about the different kinds of oats and how to cook oatmeal with them, this guide will explain everything you need to know.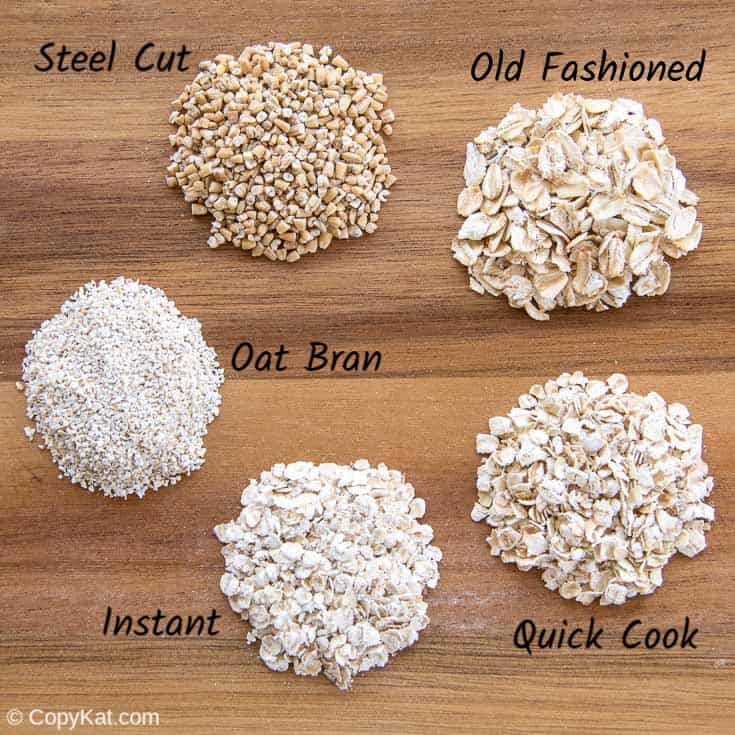 This post contains affiliate links. As an Amazon Associate, I earn from qualifying purchases.
Oatmeal Basics
Before we go into the differences, let's begin by talking about what the different kinds of oatmeal have in common. Number one, they're all good for you. Oatmeal is a whole-grain food that's low in cholesterol and saturated fat, a good source of fiber, and may help to reduce the risk of heart disease.
All oatmeal is made from oats that begin as kernels of grain (groats) that are then processed into different varieties. It's this variation in the processing method that determines the type of oatmeal. So, let's take a look at oats in their several different varieties.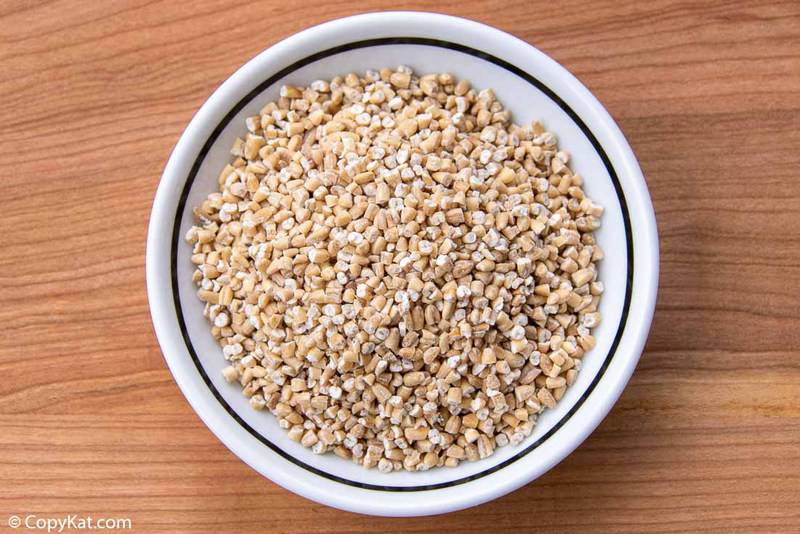 Steel-Cut Oats
Steel-cut oats are also called Pinhead oats or Irish oats. Instead of being rolled, these oats are chopped into small pieces and have a rough texture before they are cooked.
They take much longer to cook (about 20-30 minutes) than old fashioned oats. If you like chewier oatmeal, steel-cut is the way to go.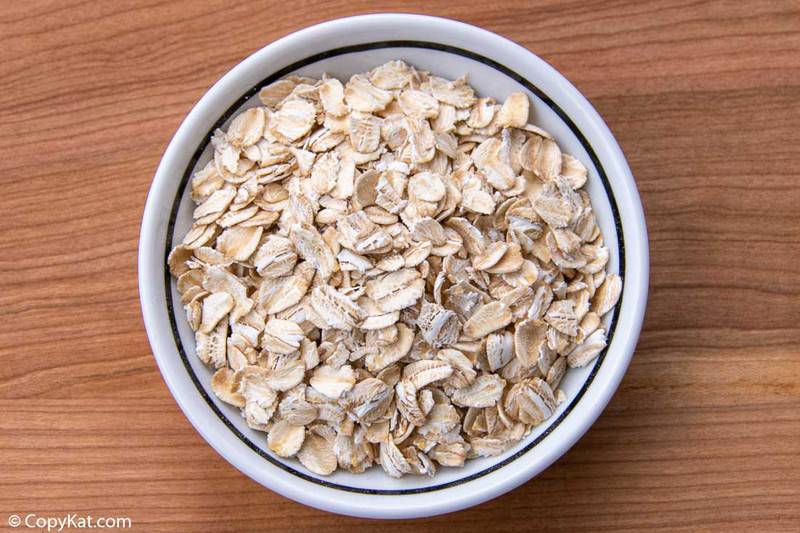 Old Fashioned Oats
Old Fashioned oats are also known as rolled oats because of the way they are made. The rolling process flattens the oats and makes them flakey.
They are able to absorb more water and cook more quickly (in about 5 minutes) than steel-cut oats. Apart from oatmeal, old fashioned oats are a good choice for muffins, granola bars, and cookies.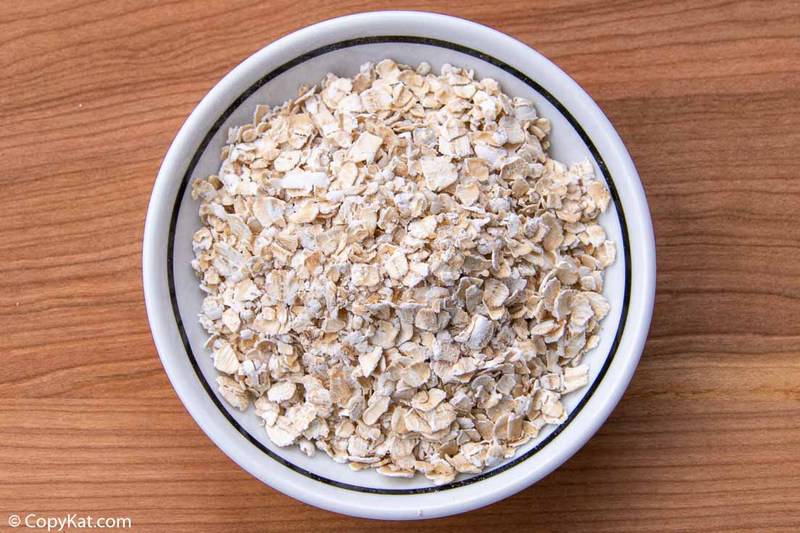 Quick Cook Oats
These oats are thinner and more finely chopped than rolled oats.
If you are in a rush, these oats will cook in only one minute on your stovetop. They can also be microwaved.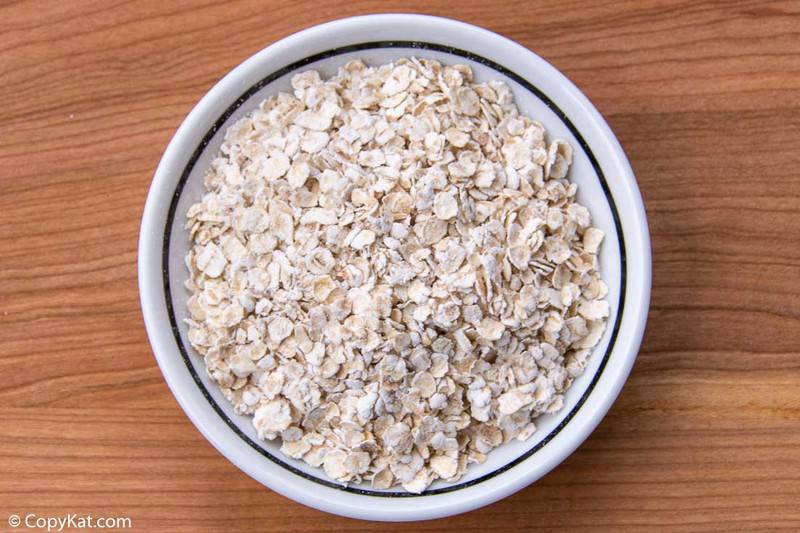 Instant Oats
These oats come in convenient individual packages and are great for stowing away in your desk at work. Simply add liquid and pop them in the microwave.
They are also great for camping trips (cook them on your camping stove).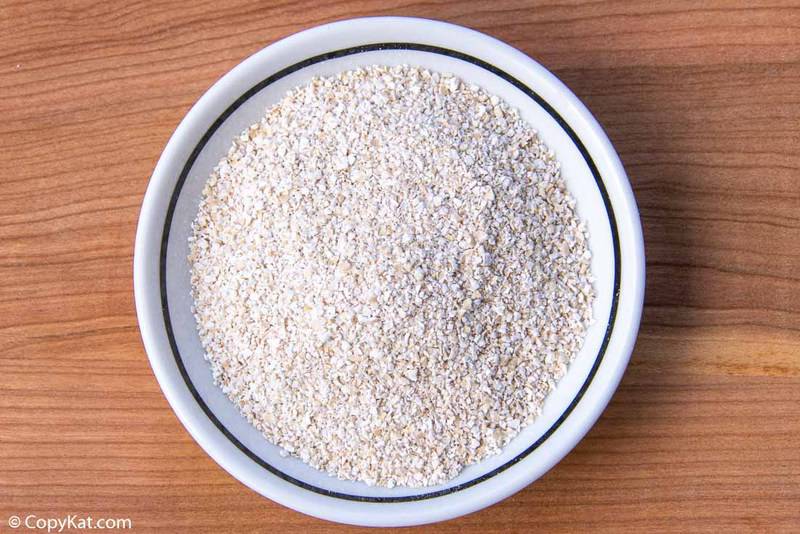 Oat Bran
During processing, the outer layer of the oat (the bran) is removed to help the oatmeal cook faster. However, when the outer husk is finely milled, it turns into a highly-concentrated oat bran that actually cooks up really quickly.
This type of oatmeal has the most fiber in it of all types of oatmeal. If you want to increase your daily fiber intake and stay full through lunch, this is a great choice for breakfast. The flavor is so lovely that you may find you don't need to add sweeteners.
Apart from a delicious breakfast, oat bran is also good in muffins, cakes, and bread.
How to Cook the Different Kinds of Oats
Whichever type of oats you are using, you can't go wrong if you give them the time they need to cook. If time in the mornings is tight, you can use old-fashioned oats to make overnight oats.
You can also put steel-cut oats in your slow-cooker and let them cook while you're asleep. You can use just water (with a pinch of salt if you like), milk, or a combination of water and milk.
For simplicities sake, the term "liquid" will be used in talking about how to cook oatmeal. After cooking, cover the pan and let the oatmeal sit for 2-3 minutes.
How to Cook Oatmeal on the Stovetop – Great for Steel-cut and Old-fashioned
Steel-Cut Oatmeal – Bring 1 cup of liquid to a boil, add 1/4 cup of oatmeal and reduce heat to low. Simmer, stirring occasionally, for about 20-30 mins. Yes, steel-cut oats take longer to cook, but they're worth it. You get a texture that is simultaneously delicious, creamy, and chewy. Note that with steel-cut, you use a lower ratio of oats to liquid than for other types of oats.
Old Fashioned Oatmeal – Bring 1 cup of liquid to a boil, add 1/2 cup of oats and reduce heat to medium. Cook, stirring occasionally, for about 5 mins for a slightly textured oatmeal.
Quick Cook Oatmeal – Bring 1 cup of liquid to a boil, add 1/2 cup of oats and simmer on the stovetop, stirring occasionally, for about 1 min for soft and smooth oatmeal.
Instant Oatmeal – For a single serving, measure 1/3 cup instant oats into a bowl. Add up to 1/2 cup boiling liquid and stir. Nothing could be easier!
How to Cook Oatmeal in the Microwave
The use of your microwave for making oatmeal is best suited for quick or instant oats. Mix 1 cup of liquid with 1/2 cup of oats in a 2-cup microwavable bowl. Microwave on high for 1-1/2 to 2 minutes. Stir before serving.
Oat Bran – Bring 1-3/4 cups of liquid to a boil, add 1/2 cup of oat bran and simmer on the stovetop, stirring occasionally, for about 2-3 mins for a creamy, almost sweet oaty richness.
How to Store Oats
Oats keep really well. Store them in an airtight container in a cool, dark spot in your pantry for up to twelve months. Also, you can check the "Best if Used By" or "Best By" date on the package to know when it is time to discard them.
Where to Purchase Oats
Most of these different types of oatmeal can be purchased at your grocery store. It may be harder to find steel-cut oats and oat bran. Here are a few types of oatmeal I prefer, and ones that I regularly purchase.
Making Oatmeal Ahead of Time
It's easy to make a pot of oatmeal when you have time. Then just pop it in your fridge for a whole week of easy breakfasts. Just scoop out a portion, add a splash of milk and reheat on the stovetop or in a microwave. Here are some oatmeal recipes for you to try:
Recipes with Oatmeal
Favorite Breakfast Recipes
Check out more of my beginner cooking recipes and easy breakfast recipes here on CopyKat!
Ingredients
2/3

cup

oat bran

1

cup

water

1

cup

milk

1/4

teaspoon

salt
Optional Mix-ins
1/2

teaspoon

cinnamon

2

tablespoons

walnuts
Instructions
Bring water, milk, and salt to a boil.

Stir in oat bran cereal and cook approximately 3 minutes.

Serve in bowls and sprinkle cinnamon and nuts on top.
Nutrition
Calories:
239
kcal
|
Carbohydrates:
34
g
|
Protein:
12
g
|
Fat:
13
g
|
Saturated Fat:
3
g
|
Cholesterol:
12
mg
|
Sodium:
351
mg
|
Potassium:
432
mg
|
Fiber:
7
g
|
Sugar:
7
g
|
Vitamin A:
198
IU
|
Calcium:
171
mg
|
Iron:
2
mg