Starbucks Spinach Feta Wrap is a great breakfast that you are going to love. This can be found in one of the Starbucks coffee shops or you can make one at home with this easy copycat recipe.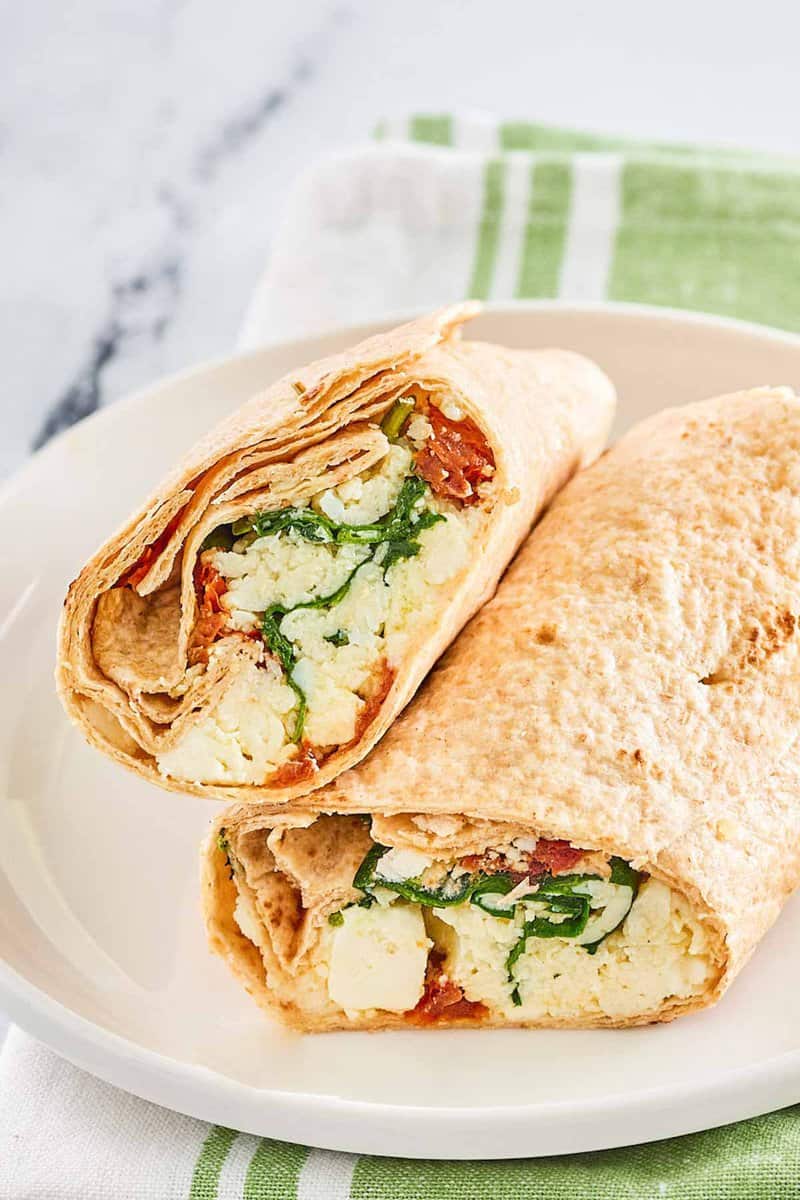 This post contains affiliate links. As an Amazon Associate, I earn from qualifying purchases.
What Makes the Starbucks Spinach Feta Wrap So Good?
With later nights and busy mornings, breakfast on the go is becoming much more routine. But that doesn't mean the best you can do is grab a donut on the way out the door. These Spinach Feta Breakfast Wraps are a healthier option and taste so much better.
Fluffy egg whites, tender spinach, sweet and tart sun-dried tomatoes, and tangy feta cheese wrapped in a whole wheat tortilla is one of the most popular breakfast sandwiches at Starbucks, and easy to make at home with this copycat Spinach Feta Wrap recipe.
Why You Should Try This Recipe
This Starbucks Spinach Feta Wrap recipe is delicious, simple to make, easy to reheat, and convenient to take with you. Since they freeze wonderfully, you can stock your freezer with various wraps (see the Possible Recipe Variations section below), and you'll always have a nutritious meal you'll love that's ready in minutes!
Spinach Feta Wrap Ingredients
For a copycat Starbucks Spinach Feta Wrap, you need:
Egg whites
Salt
Ground black pepper
Spinach
Large tortilla or wrap
Sun-dried tomatoes
Feta cheese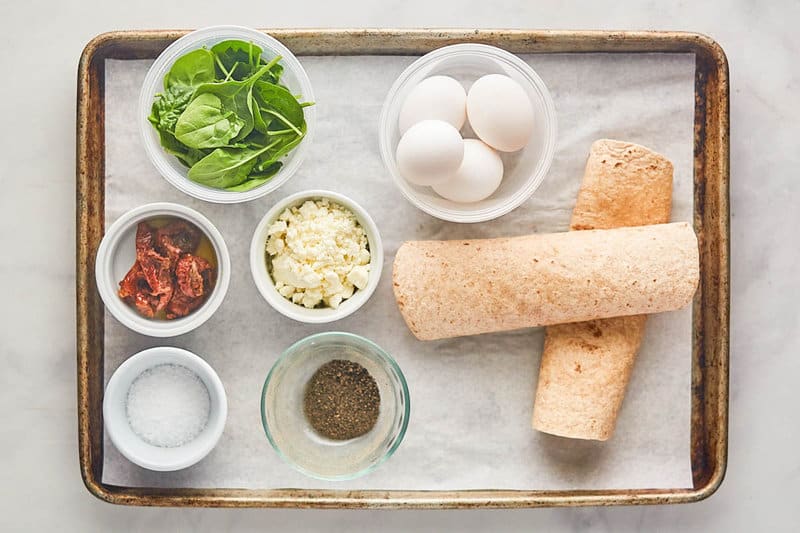 Ingredient Notes
If you prefer, feel free to make this wrap using whole eggs or a third of a cup from a carton of egg whites from a carton.
Starbucks uses whole wheat tortillas, but you can opt for a standard or a gluten-free wrap.
Jarred julienne-cut sun-dried tomatoes in olive oil are best in this recipe. Try drizzling some of the olive oil over the egg whites for even more flavor!
How to Make Starbucks Spinach Feta Wrap
To cook the egg whites and spinach:
Separate the eggs. You'll only use the egg whites so reserve the egg yolks for making other recipes.
Whisk together the egg whites, salt, and black pepper in a mixing bowl.
Heat a non-stick pan over medium-low heat. Lightly grease the pan with butter or cooking spray.
Pour in the egg whites and stir briefly with a silicone spatula.
Once the egg whites begin to set, stir the spinach into the eggs.
Continue to cook until the spinach wilts. Pour off any liquid into the sink and reserve the egg whites mixture for later.
To assemble the copycat Starbucks Spinach Feta Wrap:
Warm the tortilla in a large skillet over medium heat for 1-2 minutes on each side to make it easier to fold.
Place the tortilla on the work surface.
Place the cooked egg whites and spinach mixture on the bottom third of the tortilla.
Spread a few pieces of sun-dried tomatoes on top of the egg whites and crumble some feta over the top.
Bring the bottom of the tortilla over the egg whites, fold in the sides, and roll into the shape of a burrito.
Tip: If you have a panini press, you can toast it for a few minutes.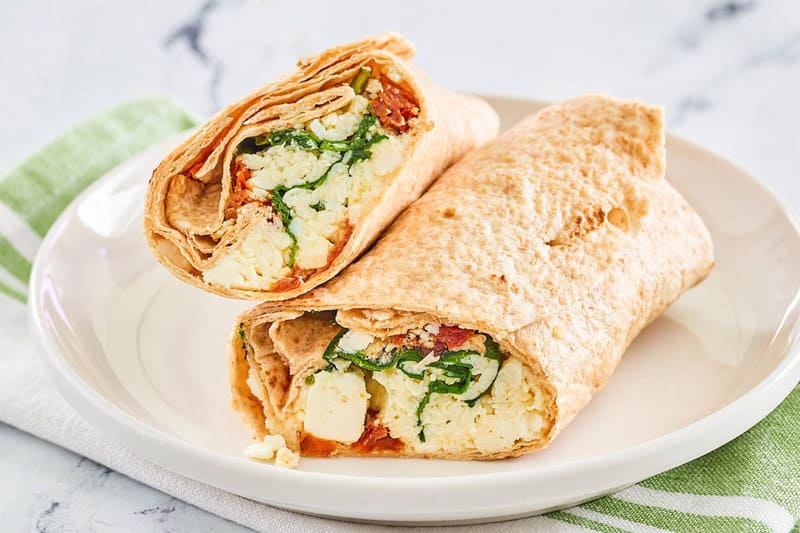 Possible Recipe Variations
Besides swapping out the egg whites for whole eggs and using a different type of tortilla, you can experiment with various fillings. Here are a few combinations you may want to try:
Smoked Salmon and Egg Wrap: Add smoked salmon and fresh dill to the eggs. Spread cream cheese on the tortilla before wrapping.
Capresse and Egg Wrap: Cook the eggs with seeded tomatoes. Put sliced mozzarella, fresh basil, and a splash of balsamic glaze on top of the eggs before rolling.
Tex-Mex Scrambled Egg Wrap: Scramble the eggs with black beans and sliced jalapeno peppers. Top the eggs with sliced avocado and a drizzle of chipotle mayo, and fold into a breakfast burrito.
What to Serve With This Starbucks Spinach Feta Wrap Recipe
Pair with a cup of coffee for breakfast on the go, or sit down to a more relaxed meal with home fries or a mixed green salad on the side.
How to Store a Spinach Feta Wrap
For wraps you plan to make in advance, allow the egg whites to cool to room temperature and pour off any excess liquid. Prepare the breakfast burritos as above, wrap them in plastic wrap, and then store them in an airtight container in the fridge for up to three days.
If you prefer to freeze the breakfast burritos, wrap each individually in aluminum foil and then put them in a freezer bag for up to a month. Be sure to label the foil wrapper to know what filling is inside.
What's the Best Way to Reheat Spinach Feta Wraps?
Reheating a wrap in the microwave is the quickest option. Wrap a thawed breakfast burrito with a damp paper towel and heat it for about two minutes or until hot. For a frozen wrap, increase the cooking time by a minute or two.
For a crunchier wrap, try reheating aluminum foil-wrapped breakfast burritos in a preheated 350-degree Fahrenheit oven for 15 to 20 minutes. Defrost frozen wraps overnight in the fridge before reheating.
Popular Starbucks Copycat Recipes
Favorite Breakfast Recipes
Check out more of my easy breakfast recipes and the best Starbucks recipes here on CopyKat!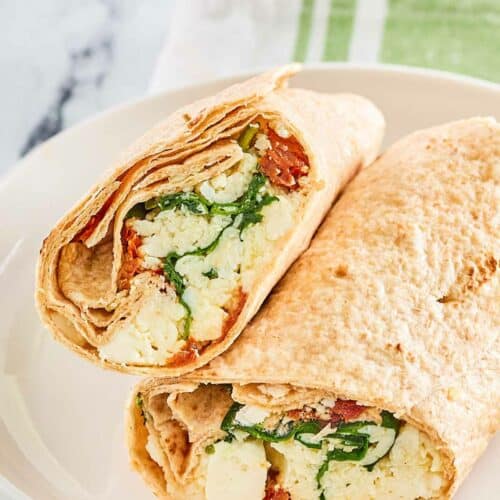 Ingredients
3

egg whites or 1/3 cup of egg whites

1/8

teaspoon

salt

1/4

teaspoon

ground black pepper

1/4

cup

fresh spinach leaves

1

burrito-sized

whole wheat tortilla or wrap

2

teaspoons

sun-dried tomatoes

2

teaspoons

feta cheese
Instructions
In a small bowl, beat the egg whites with salt and pepper.

Heat a small nonstick skillet over medium-low heat. Spray the skillet with nonstick spray and pour in the eggs. Gently shake the skillet as the eggs cook.

Add the spinach on top of the eggs and let the spinach wilt.

Remove the eggs and spinach from the skillet and place them on the tortilla.

Scatter sun-dried tomatoes and feta over the eggs and spinach.

Fold the tortilla like a burrito (bottom up first, then sides), cut it in half, and serve.
Notes
If you happen to have a Panini press, this sandwich is amazing when pressed for a moment or two.
Nutrition
Calories:
101
kcal
|
Carbohydrates:
7
g
|
Protein:
12
g
|
Fat:
2
g
|
Saturated Fat:
1
g
|
Cholesterol:
8
mg
|
Sodium:
580
mg
|
Potassium:
526
mg
|
Fiber:
1
g
|
Sugar:
4
g
|
Vitamin A:
790
IU
|
Vitamin C:
5.9
mg
|
Calcium:
59
mg
|
Iron:
1.1
mg