You have seen the Starbucks Eggs and Cheese Protein box, you can make these at home with ease. You don't need to buy these, you can make them for less.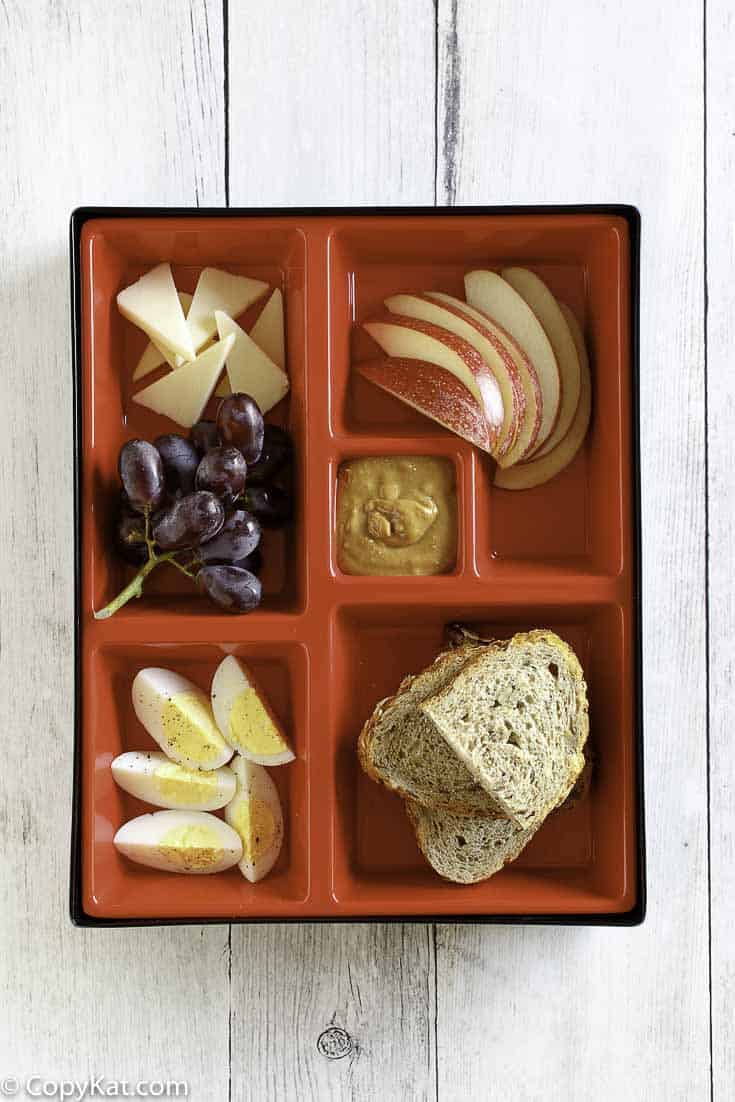 This post contains affiliate links. As an Amazon Associate, I earn from qualifying purchases.
Make your Own Starbucks Cheese & Fruit Protein Box
Is there anyone out there that hasn't been to Starbucks? Maybe if you come from the Planet Mars? Come to think of it, there's probably a Starbucks on Mars too!
Most people pop into Starbucks for a Caramel Macchiato or a Double Chocolate Chip Crème Frappuccino Blended Crème. Starbucks has really expanded the universe when it comes to drinks you can make with coffee.
This highly successful chain of coffee shops has even created a new language – who had ever heard of ordering a Tall, Grande, or Venti before Starbucks came on the scene? If you would like to read how these names for Starbucks cup sizes came about, click here.
Other Than Coffee
Starbucks also sells a variety of food items including feel-good food to go with your coffee – muffins, scones, croissants, sandwiches. One of my personal favorites it the Starbucks Pumpkin Bread.
Starbucks Cheese & Fruit Protein Box
If you want to have lunch at Starbucks or pick up a takeaway to eat back at the office, then Starbucks Protein Boxes are perfect. The Cheese & Fruit Protein Box contains the following ingredients – Gouda, Brie, two-year aged Cheddar, nine-grain crackers, apples, and grapes.
This makes for a nutritionally balanced lunch box that contains 20 grams of protein. For complete information on the nutritional value of this box, click here.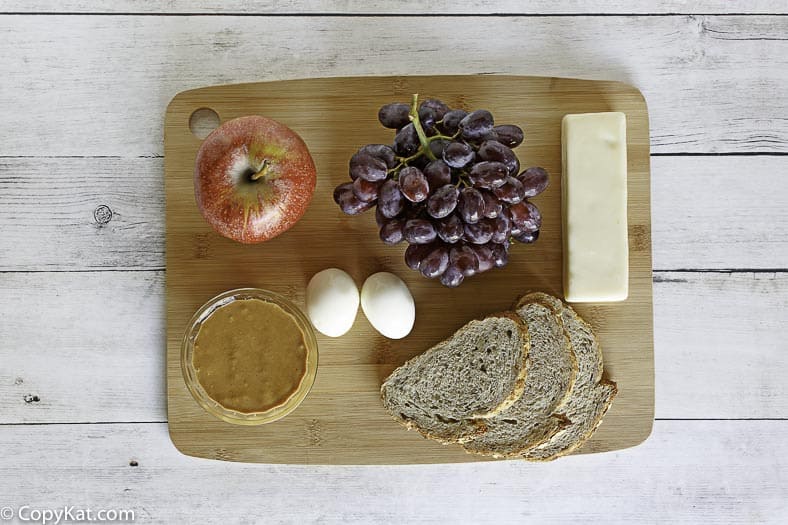 Make Your Own Cheese & Fruit Protein Box
You can easily buy the ingredients in the Starbucks Cheese & Fruit Protein Box and make your own. You can assemble one for each member of your family much more cheaply than giving them money to buy one at Starbucks. And, they won't be tempted to spend even more on a Grande Caramel Flan Latte!
How To Avoid Brown Apples in Your Lunchbox
Here are three ways to keep your sliced apples looking fresh:
Lemon Juice: Simply squeeze the juice of one lemon into a bowl of sliced apples and toss lightly to coat. The apple slices will stay fresh in a sealed container in your refrigerator for 4-5 days. If your children aren't keen on the taste of lemons, the juice of any citrus fruit will work. Pineapple juice is absolutely yummy on apples!
Fruit-Fresh: This is a powdered preservative made from citric acid. To preserve four cups of sliced apples, mix three tablespoons of water with two teaspoons of Fruit-Fresh. Toss the apples to coat and then store them in an air-tight container in your refrigerator. If you can't find this product in your local grocery store, you can buy it from Amazon.
Eat Cleaner: An all-natural, tasteless, and odorless food cleaner that contains citric acid. It was created to remove wax, dirt, and pesticide residue from food.
Eat Cleaner comes in wipes or sprays, so you need to follow the directions on the package.
You can see a comparison of these three methods here.
Other Starbucks Protein Boxes
The following Protein Boxes are also available from Starbucks. All of the boxed lunches are aimed to satisfy your middle-of-the-day hunger and deliver enticing taste combinations. They each contain at least 20 grams of protein and a full cup of fresh veggies and fruits. You can also quickly and economically put these protein boxes together yourself.
Want more Starbucks? Check out these copycat recipes
Find lots of Starbucks recipes here on CopyKat!
Ingredients
2

hard boiled eggs

½

sliced apple

2

ounces

grapes

2

ounces

white Cheddar cheese

1

tablespoon

peanut butter

1

slice

multigrain muesli bread
Nutrition
Calories:
602
kcal
|
Carbohydrates:
31
g
|
Protein:
34
g
|
Fat:
38
g
|
Saturated Fat:
17
g
|
Cholesterol:
432
mg
|
Sodium:
662
mg
|
Potassium:
498
mg
|
Fiber:
3
g
|
Sugar:
17
g
|
Vitamin A:
1090
IU
|
Vitamin C:
4.5
mg
|
Calcium:
489
mg
|
Iron:
2.8
mg