Who doesn't love Ikea meatballs? You can make them at home with this copycat recipe.
Ikea Meatballs served at In-Store Restaurants
I'm sure that most of you have spent some frustrating hours puzzling out how to assemble a piece of Ikea furniture. I know that I have. However, if you visit one of Ikea's iconic stores, after you've picked out your future puzzle and arranged to have it delivered, you can relax in Ikea's in-store restaurant and enjoy some delicious food, including Ikea meatballs which everyone associates with Sweden. You don't have to fret about assembling your new furniture until you get home.
It's Not Just About Furniture Anymore
You can just pop into an Ikea in-store restaurant for a quick snack or a tasty treat or sit down for a hearty meal. The menu not only includes some classic Swedish dishes, but it also caters to kids and those who want to eat organic, vegetarian, or healthy food. You can read more about the evolution of Ikea's restaurants by clicking here. Some people like Ikea's eateries so much, they go to Ikea just to eat. When Ikea introduced the idea of eating inside an Ikea store, an Ikea executive was quoted as saying:
"I firmly believe there is potential. I hope in a few years our customers will be saying, 'Ikea is a great place to eat — and, by the way, they also sell some furniture'."
Surprise, Surprise! Swedish Meatballs Are Not Swedish!
According to an article published in the UK's Guardian newspaper, people in Turkey reacted with undisguised glee when Sweden came clean that their country's signature national dish is, in fact, Turkish. It turns out that Swedish meatballs are actually based on a recipe the Swedish King Charles XII brought home from Turkey in the early 18th century.
More on What Happened to Charles XII
Charles was variously known as the Lion of the North and the Swedish Meteor for his early successful military exploits. However, in 1709, the Swedish Meteor came undone by taking on Russia. After losing a key battle, Charles and what was left of his army took refuge in what is now Moldova, then part of the Ottoman Empire. The king then spent the following six years in exile in and around what is now present-day Turkey. And, he obviously spent a lot of time enjoying Turkish food.
More on the History of Swedish Meatballs
Having acquired a taste for the local Turkish cuisine, Charles eventually went back to Sweden in 1714 to bring with him the recipe for the spicy beef and lamb meatballs that in time became the Swedish staple. He also imported the recipe for a popular Swedish stuffed cabbage dish and introduced the Swedes to drinking coffee. You can read the complete Guardian article by clicking here.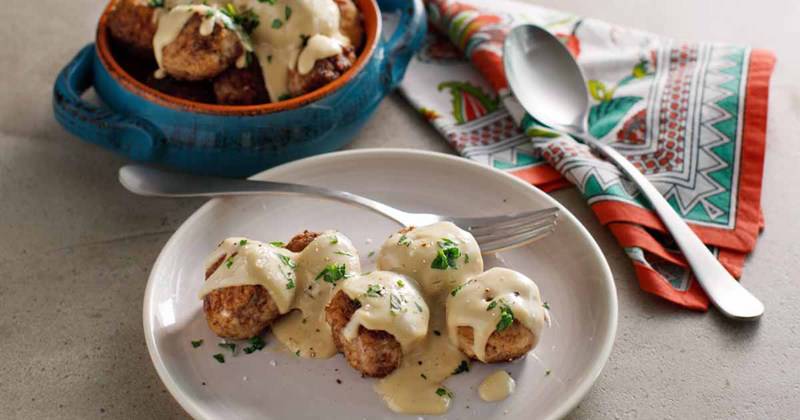 Ikea Meatballs
Ikea sells approximately two million meatballs every day in its 340 in-store restaurants worldwide. However, you don't have to go to Ikea to eat these delicious meatballs. You can make them at home with my easy recipe, and they'll taste just as good as the ones in Ikea. Whether they're really Swedish or Turkish, you'll still find them delicious. And, if you want a Scandinavian dessert to go with your Ikea meatballs try this Scandinavian Almond Cake.
Love meatballs? Be sure to try these great meatball recipes
Porcupine Meatballs
Buffalo Style Meatballs
Tangy Sweet Chipotle Meatballs
Creamy Meatballs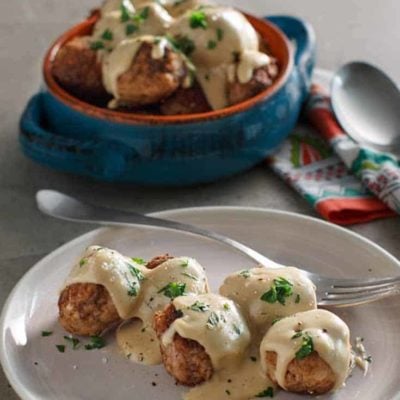 Ingredients
2 1/2

pounds

Russet potatoes

peeled and cut into cubes

1

pound

ground beef

1

pound

ground pork

1

egg

2

tablespoons

heavy cream

1/2

cup

chopped white onion

1

teaspoon

salt

1/2

teaspoons

ground white pepper

1/4

teaspoon

allspice

optional

1/2

cup

flour

4

ounces

butter

divided use

2

teaspoons

soy sauce

2

teasponns

Worcestershire sauce

1

cup

water

1/2

cup

heavy cream
Mashed potatoes
remaining potatoes

2

tablespoons

butter

2

tablespoons

heavy cream
Instructions
Place potatoes into a large pot, add enough water to cover the potatoes. cook potatoes over medium-high heat. Cook potatoes for 8 to 10 minutes or until they are tender. Drain, and set aside.

In a small skillet heat together 2 teaspoons of butter and chopped white onion. Cook until tender, but do not let the onion brown. In a large bowl combine ground beef, ground pork, 1 egg, heavy cream, cooked onion, salt, and white pepper. Add 3/4 cup cooked potato to the bowl. Use a mixer to combine the mixture. Blend until the meatball mixture is smooth.

Form small balls out of the meat mixture. Drop the meatballs into flour and roll gently in the flour. Cook the meatballs in a large skillet with a tablespoon of butter. Turn the meatballs every few minutes while cooking so they cook evenly. Cook the meatballs for 15 minutes or until done. The meatballs will be browned on all sides when they are finished.

To make the gravy, you may need to add another tablespoon of butter to the skillet. Add 2 tablespoons of flour to the skillet. Cook the roux for about two minutes. Add the water and the heavy cream to the roux stir continually over medium heat. The sauce will thicken. Add soy sauce and Worcestershire sauce to the gravy. Cook and heat through.
Remaining potatoes
For the remaining potatoes, not used in the mashed potatoes, you can make mashed potatoes out of them. Place warm cooked potatoes into a bowl, and add in butter and cream, and mix with a blender until smooth. You will want to adjust for seasoning.
Nutrition
Calories:
650
kcal
|
Carbohydrates:
33
g
|
Protein:
24
g
|
Fat:
46
g
|
Saturated Fat:
23
g
|
Cholesterol:
170
mg
|
Sodium:
598
mg
|
Potassium:
948
mg
|
Fiber:
2
g
|
Sugar:
1
g
|
Vitamin A:
800
IU
|
Vitamin C:
9.2
mg
|
Calcium:
60
mg
|
Iron:
3.3
mg