Porcupine Meatballs with Tomato Sauce is a delicious and hearty meal. These delicious ground beef meatballs with rice, and oatmeal or cracker crumbs are great for dinner or an appetizer.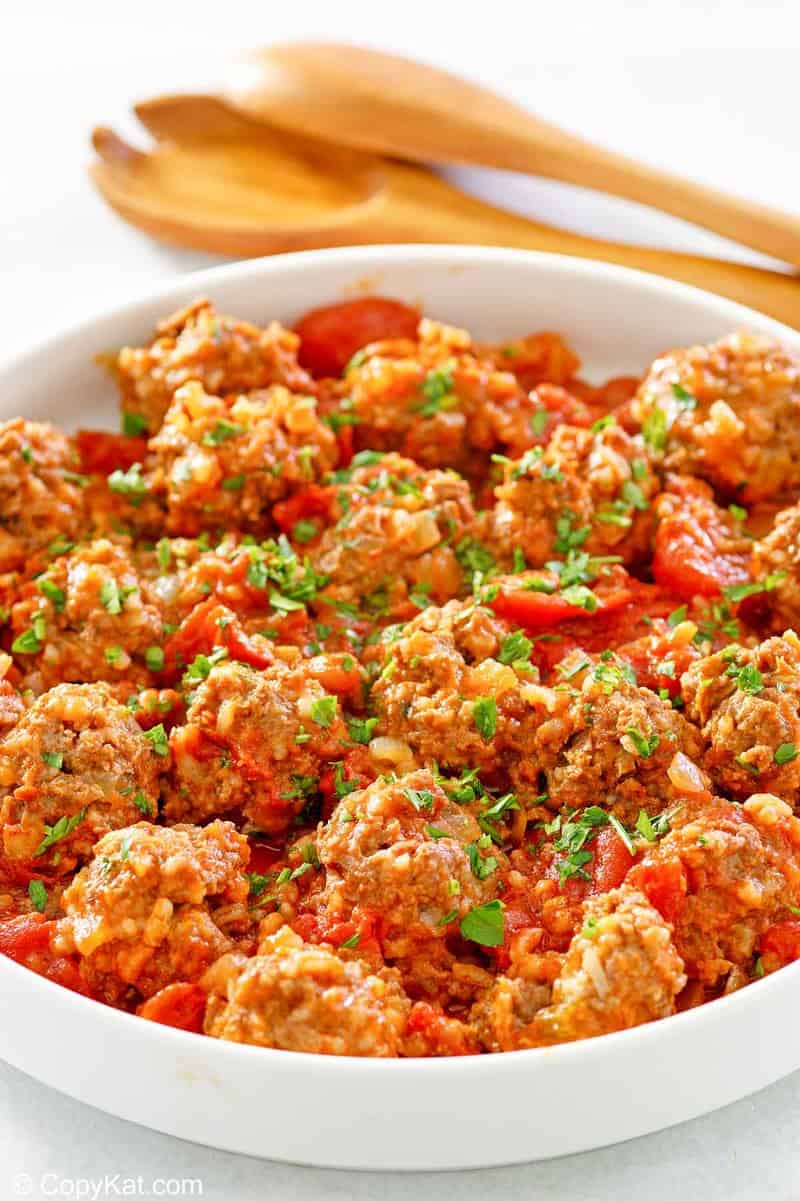 This post contains affiliate links. As an Amazon Associate, I earn from qualifying purchases.
Old Fashioned Porcupine Meatballs
Old-fashioned porcupine meatballs is a dish my mom made when I was growing up, and now you can enjoy one of my favorite family recipes. I always thought porcupine meatballs were a fun dinner, and I still do.
It's hard to beat – hearty meatballs made with rice and simmered in a rich tomato sauce.
Porcupine Meatballs History
Porcupine meatballs came about during the time of the Great Depression as a way to help stretch ground beef into more meals. Adding rice bulked up the meat, yielding more meatballs for less money.
The recipe stuck and eventually, people started making rice-filled meatballs by choice rather than necessity.
What Are Porcupine Meatballs?
Porcupine meatballs are well-seasoned meatballs in a luscious tomato sauce.
They are called porcupine meatballs because the rice expands while cooking inside the meatballs and ends up poking out of the meat like porcupine quills. This turns mundane meatballs into resemblances of that spiky animal.
Why This is the Best Porcupine Meatballs Recipe
This is your recipe for the best porcupine meatballs because it's so simple and easy to make. You don't even have to cook the rice before adding it to the meatball mixture.
It's also comforting and filling and makes the perfect weeknight dinner. This recipe for porcupine meatballs gives you the ideal comfort food that won't stretch your grocery budget.
Chopped peppers or carrots are great additions to these ground beef meatballs – this is a casual way to get your picky eaters to eat more veggies.
Bonus: Your kids will love helping you turn meat into porcupines!
Recipe Ingredients
Simple ingredients for a simple recipe. Here's what you need to make this easy porcupine meatballs recipe:
Canned tomatoes
Water
Ground beef
Onion
Minute Rice
Garlic salt
Salt
Ground black pepper
Cracker Crumbs or Oatmeal
Ingredient Note
A great thing about these meatballs is that they don't have to be browned on the stovetop first. You do need to make sure to use lean ground beef to avoid excess fat in the sauce.
If you do use fattier ground meat, you should brown the meatballs and drain off some fat before you combine them with the tomato sauce.
Ingredient Substitutions
This recipe is for porcupine meatballs with Minute Rice. Don't substitute regular rice for Minute Rice because the grains may not cook all the way through.
You can use leftover cooked rice to make these meatballs. To do this, substitute your cooked rice for the uncooked rice and omit the water. A great one to use is leftover Rice A Roni beef flavor.
Note: If you use cooked rice, the rice won't stick out of the meatballs as much. Your meatballs will have less of the classic porcupine look but will taste just as good.
How to Make Porcupine Meatballs
There are just a few simple steps for making these meatballs and sauce:
Boil the tomatoes and water for a few minutes.
Place the beef, onion, rice, cracker crumbs (or oatmeal), garlic salt, salt, and pepper in a large bowl.
Use your hands to mix the ingredients together and then roll the meat mixture into small balls.
Drop the meatballs into the tomato sauce.
Reduce the heat to low and simmer the meatballs and sauce for 1 hour.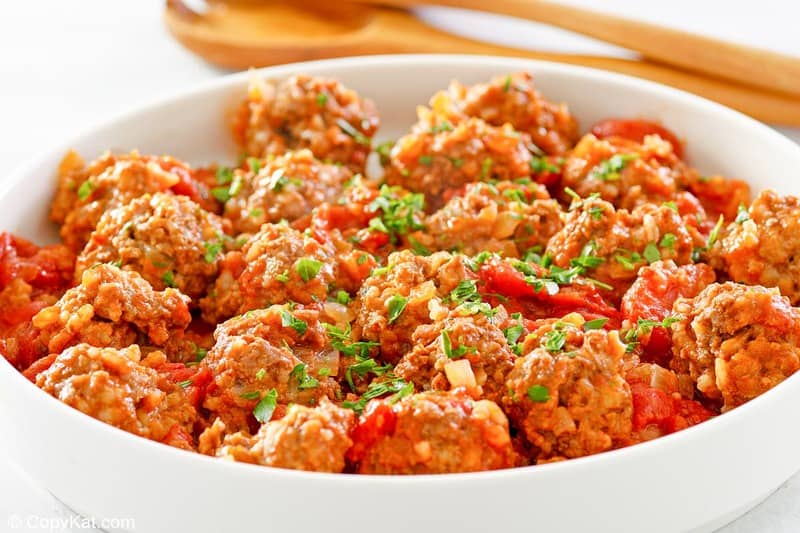 How to Form Meatballs
A good idea is to use an ice cream scoop to form 1-inch meatballs because it ensures that the meatballs are all relatively the same size.
Use your hands to press the meat mixture together and shape it into a ball.
Porcupine Meatballs Oven Baked
If you prefer to make these baked porcupine meatballs, here's what to do:
Pace them in an 8×8-inch baking dish and pour the tomato sauce over them.
Cover the dish with a lid or aluminum foil.
Bake in a 350-degree oven for 45 minutes.
Uncover and cook for an extra 15 minutes.
Recipe Variations
These old-fashioned porcupine meatballs with Minute Rice are super easy to make, and you could easily customize them if you want. Here are some ideas:
Spices – Add a little allspice, other spices, or Worcestershire sauce to give these meatballs a different flavor.
Fresh Herbs – Basil and oregano pair nicely with ground beef.
Vegetables – Chop up small pieces of mushroom, carrot, zucchini, or bell peppers and add to your meatballs.
Cheese – Make cheesy porcupine meatballs by mixing in some of your favorite shredded cheese or grated parmesan for an extra ooey-gooey texture and flavor.
Meat – Swap out the ground beef for ground chicken, turkey, pork, sausage or a combination of meats.
How to Serve Porcupine Meatballs
These easy porcupine meatballs taste great on their own as a party appetizer.
At a party, serve them alongside these other fabulous appetizer recipes.
Make a meatball sub sandwich by serving them on toasted hoagie rolls.
What to Serve With Porcupine Meatballs
How to Store Porcupine Meatballs
To store leftover meatballs, place them in an airtight container or heavy-duty ziptop bag (like a freezer bag) and keep them in the fridge. They will last 3 to 4 days in the refrigerator.
How to Freeze Porcupine Meatballs
You can prepare the meatballs and freeze them before baking.
Simply form the meatballs on a parchment-lined cookie sheet and freeze. Once frozen, you can put them into a ziptop bag or container until ready to use. Place the sauce in a second container.
Alternately, you can bake them first and then freeze them or freeze the leftovers.
Store in airtight freezer containers or heavy-duty freezer bags.
Properly stored, meatballs will be at their best quality for 2 to 3 months if cooked and 3 to 4 months if uncooked.
Busy weeknights, late practices, unexpected guests? No problem when you have these insanely delicious and best porcupine meatballs on hand.
How to Reheat Porcupine Meatballs
Meatballs can be reheated easily. If frozen, thaw them overnight in the refrigerator.
Reheat meatballs in a greased baking pan in the oven at 350 degrees until heated through.
Love meatballs? Try these recipes!
Favorite Budget-Friendly Recipes
Check out more of my easy ground beef dinner recipes and the best budget-friendly recipes here on CopyKat!
This recipe is by Judy Eynard. Kansas City, Mo. 1971.
Ingredients
28

ounces

canned tomatoes

6

cups

water

1

pound

ground beef

1

small

onion, chopped

1/2

cup

Minute Rice

1/2

cup

oatmeal

or cracker crumbs

1/2

teaspoon

garlic salt

salt and pepper

to taste
Instructions
Combine the tomatoes and 6 cups water in a large pot and bring to a boil.

In a bowl, mix the beef with the remaining ingredients and roll into small balls.

Drop the meatballs into the tomato sauce.

Reduce the heat and simmer for 1 hour.
Nutrition
Calories:
261
kcal
|
Carbohydrates:
14
g
|
Protein:
15
g
|
Fat:
15
g
|
Saturated Fat:
5
g
|
Cholesterol:
53
mg
|
Sodium:
253
mg
|
Potassium:
548
mg
|
Fiber:
2
g
|
Sugar:
4
g
|
Vitamin A:
1100
IU
|
Vitamin C:
19
mg
|
Calcium:
31
mg
|
Iron:
2.4
mg