Fried Cabbage and Sausage is classic comfort food and a delicious budget-friendly dinner to enjoy any day of the week. You can make the best fried cabbage with bacon and sausage on the stovetop or in an Instant Pot with this easy recipe.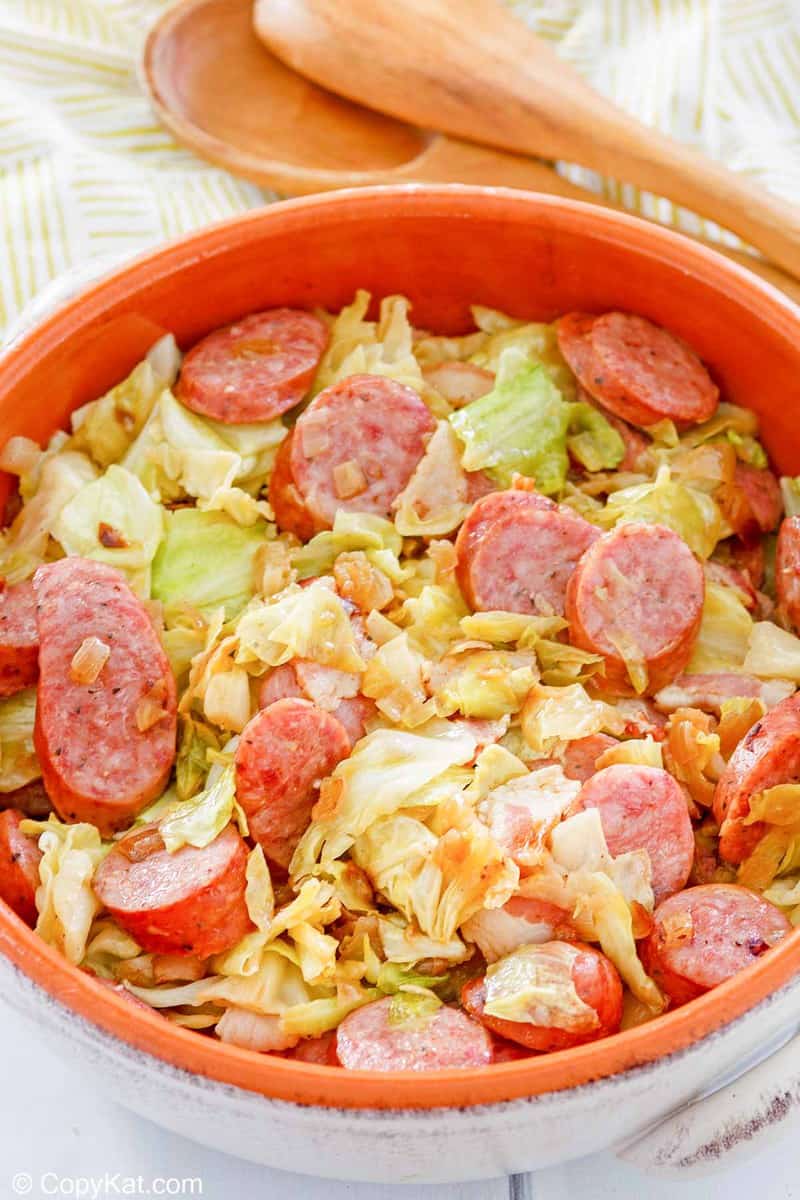 This post contains affiliate links. As an Amazon Associate, I earn from qualifying purchases.
Southern Fried Cabbage with Bacon and Sausage
Fried Cabbage and Smoked Sausage might not appear on too many restaurant menus, and that's a real shame because it probably tastes better than most of what is on them.
This recipe is packed with smoky flavor and crunchy cabbage and will please the typical meat and potato type of person. If you have never had this unfussy but incredibly complexly flavored dish before, why are you waiting?
Why This is the Best Recipe for Fried Cabbage and Sausage
This meal is the epitome of economics. Using only basic cooking techniques, a single pan, and inexpensive ingredients, this Fried Cabbage and Sausage recipe feeds a crowd very well indeed. This recipe might be light on the budget, but it isn't light on flavor.
While you can certainly make minor tweaks to personalize it, as long as you use quality ingredients, it is already amazing. By layering the flavors of sausage and bacon together, this dish is completely delicious.
Why This Dish Works
This dish is packed full of flavor. By cooking the bacon and onions first, you caramelize both the onions and the bacon. This browning really dials up the flavor. Then with browning the sausage you end up with an irresistible way to make fried cabbage.
Recipe Ingredients
To make fried cabbage and smoked sausage, you'll need:
Cabbage
Bacon
Onion
Polish kielbasa sausage
Vegetable oil
Black pepper
Garlic powder
Celery salt
Ingredient Notes
You can use any cabbage in this recipe, but it's probably a good idea to stick with a white or green variety just for the sake of appearance. If you don't care what the dish looks like, you can definitely use red cabbage if you prefer the taste.
Selecting thick-cut, smoky bacon for this recipe, like Wright Brand Thick Sliced Hickory Smoke Bacon, adds a lot to this dish.
Polish kielbasa is only one type of sausage that works well in this recipe. Check out the FAQs selection for suggestions on other sausages.
Ingredient Substitutions
Swap out the bacon and sausage for meat-free options, and fried cabbage makes an ideal vegetarian meal. MorningStar Farms Veggie Breakfast Meatless Bacon Strips and Hot Italian Beyond Meat Sausage Plant-Based Dinner Links are particularly good vegetarian-friendly substitutions.
How to Make Fried Cabbage and Sausage
Prep the cabbage by coring and washing it. See the FAQs section to learn how.
Cut the cored cabbage into half-inch strips and set aside.
Slice the sausages and bacon strips into bite-sized pieces.
Heat a large pan over medium heat. Sauté the bacon and onions until the onion is translucent and the bacon is cooked.
Add the sausage to the pan and sauté until the sausage begins to brown.
Add the cabbage and sauté until the leaves soften. Stir to prevent the cabbage from burning.
Season with black pepper, garlic powder, and celery salt. Serve immediately.
Recipe Variations
Many people love to make fried cabbage with sausage and peppers, but there are many ways to make this recipe your own. Try adding red pepper flakes for an extra bite or adding a splash of vinegar or pickle brine for a tangy flavor.
If you want, you can even cook this in an Instant Pot. To do this:
Brown the onions, bacon, and sausage in the Instant Pot using the Sauté function.
Add the chopped cabbage into the pot.
Since an Instant Pot requires some liquid to cook, pour in your choice of beef or pork broth. You can even use water if that is all you have.
Set the timer for 3 minutes, and cook on HIGH pressure.
When the timer goes off, do a quick release.
How to Serve Fried Cabbage and Sausage
Strain any liquid and serve hot.
What Goes Well With This Recipe?
A hunk of good bread, some yeast rolls, or a side of rice is all you need to turn this Fried Cabbage and Smoked Sausage recipe into a hearty, satisfying meal.
How to Store Fried Cabbage
You can keep fried cabbage in an airtight container in the fridge for up to three days.
How to Freeze Fried Cabbage
If you know you will freeze the meal in advance, it is best to undercook the cabbage to keep it from losing all of its crispiness when you reheat it.
You can store fried cabbage in the freezer in an airtight container for up to four months.
How to Reheat Fried Cabbage
If reheating from frozen, thaw the cabbage overnight in the fridge.
Reheat in a large dry pan over medium heat until warm. Do not reheat in the microwave, or you'll end up with soggy cabbage.
Frequently Asked Questions About This Fried Cabbage With Sausage Recipe
Should you wash cabbage before cooking it? 
Yes. It is easiest to peel off the first layer or two of leaves and give the head of cabbage a good rinse under the faucet. That way, you don't push any of the dirt on the outside into the center. After cutting the cabbage into pieces, rinse in a colander and drain thoroughly before cooking.
How do you cut cabbage for frying?
Remove any dirty or damaged outer leaves and cut the cabbage in half from top to bottom. Then cut each half in half again. Place each quarter on a cutting board and cut diagonally to remove the core. Repeat with the other pieces of cabbage. Lay the cored cabbage horizontally on the cutting board and cut it into half-inch strips.
What types of sausage can you use?
You can use any sausage to make this dish. Polish kielbasa is particularly mild, so if you like a little more spice, go with andouille or chorizo instead.
If you are looking for the perfect low-cost and easy-to-prepare dinner that can really help you stretch your budget, fried cabbage and sausage is the perfect dinner for you!
Love cabbage? Try these recipes!
Favorite Budget Recipes
Check out more of my easy dinner recipes and the best budget-friendly recipes here on CopyKat!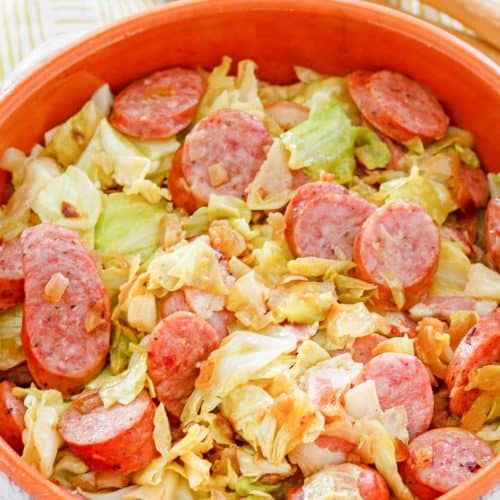 Ingredients
4

ounces

diced bacon

1

cup

diced onion

16

ounces

Polish smoked sausage

cut into 2-inch slices

2 1/2

pounds

cabbage

sliced

1/2

teaspoon

celery salt

1/4

teaspoon

garlic powder

1/4

teaspoon

ground black pepper
Instructions
Core the cabbage and cut it into bite-size pieces, about ½-inch. Discard the core.

Slice the sausage into bite-sized or smaller pieces, about 1 to 2-inches.
Stovetop Method
In a large skillet over medium heat, sauté the diced bacon with the onions.

Add the sausage and cabbage, and cook until tender.

Season with black pepper, garlic powder, and celery salt.
Instant Pot Method
Set the Instant Pot to Sauté and brown the onions, bacon, and sausage in the Instant Pot.

Add the chopped cabbage.

Add garlic powder, celery salt, and pepper.

Since an Instant Pot requires some liquid to cook, pour in your choice of beef or pork broth. You can use water if you do not have either of the broths.

Close and secure the lid on the Instant Pot. Set it to manual HIGH pressure and the timer for 3 minutes.

When the timer goes off, do a quick release.
Notes
Other types of sausage work well in this recipe, try some of these varieties:
Smoked sausage
Bratwurst
Kielbasa
Nutrition
Calories:
102
kcal
|
Carbohydrates:
10
g
|
Protein:
3
g
|
Fat:
5
g
|
Saturated Fat:
1
g
|
Cholesterol:
9
mg
|
Sodium:
120
mg
|
Potassium:
298
mg
|
Fiber:
3
g
|
Sugar:
5
g
|
Vitamin A:
140
IU
|
Vitamin C:
53.4
mg
|
Calcium:
61
mg
|
Iron:
0.8
mg