There are two kinds of people in this world, those who know and love Stuffed Cabbage Rolls, and those who haven't tried stuffed cabbage rolls. Either you've grown up with your family's coveted recipe, or you haven't. If you are among the latter, then you are truly missing out on a wonderful savory cabbage recipe.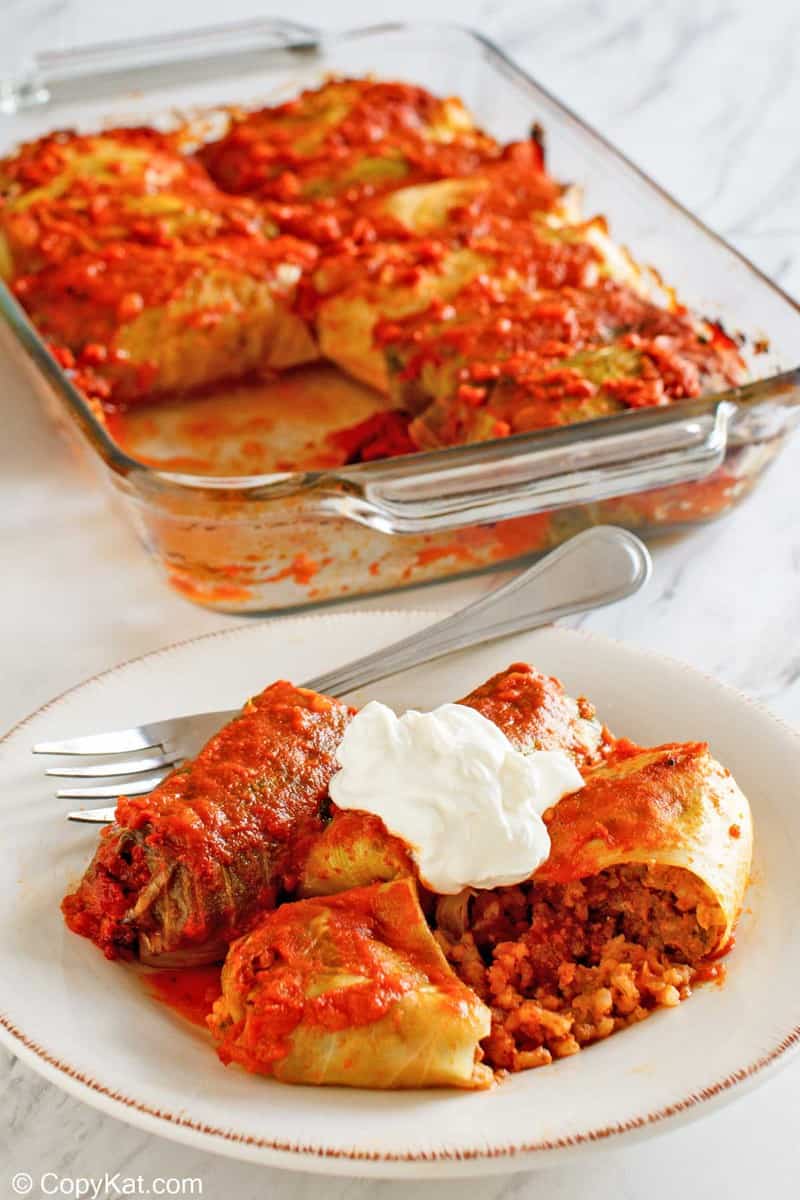 Cabbage Roll Origin
Although their specific origin is lost to the ages, stuffed cabbage rolls are most definitely European, probably from the East and certainly from the underprivileged. There are many variations including Greek, Hungarian, Italian, German, and Polish.
You will even find Lebanese and Ukrainian versions too.
But don't let their humble beginnings deter you from their wholesome taste. Recipes for Stuffed Cabbage Rolls are as diverse as the peoples who carried them through generations.
Cabbage Rolls with Ground Beef and Rice
When the meat was scarce during the war, or too expensive after the war, people used grain, usually rice, to stretch the portions. Cabbage has always been inexpensive despite its nutrient punch.
The cabbage roll filling is almost always a mixture of grain, meat, spices, and egg to bind it all together. Some recipes call for cooking the ingredients on the stovetop before stuffing the cabbage leaves, others are stuffed raw.
Some cabbage rolls are then baked in a sauce, others are fried. They can be savory or sweet, meaty or vegetarian, hot and spicy, and don't even get me started on the folding techniques!
Although one can create a lot of variety by changing up the meat and the grain, it is the combination of spices that makes each region's and each family's recipe unique. Well, that and the folding…and sauce.
Cabbage Roll Sauce
The region one's grandmother came from often determines the choice of sauce. Hungarians and Romanians are partial to gravy made from flour and broth. Every second year, together they hold a Stuffed Cabbage Roll festival, called the Töltött Káposzta Fesztivál, featuring cooking competitions and cabbage roll tasting among regional, folk entertainment.
Ukrainians prefer a sweet sauce made with brown sugar and raisins. Western Europeans bake their Stuffed Cabbage Rolls in tomato sauce.
But for all the variety, one thing is always agreed upon: stuffed cabbage rolls always taste better the next day!
The Humble Cabbage Roll
Stuffed Cabbage rolls have an unpretentious appeal. They are simple food with basic ingredients. And the end result is something special.
Stuffed Cabbage Rolls were a favorite around my childhood house. Growing up, my Mother often made them, as so many women did, trying to stretch the family budget. The family recipe I'm sharing with you is one of my Mother's specialties.
Recipe Ingredients
Here's a list of what you need:
Cabbage
Ground beef chuck
Onion
Green bell pepper
Rice
Crackers
Salt
Ground black pepper
Egg
Tomato sauce
Sugar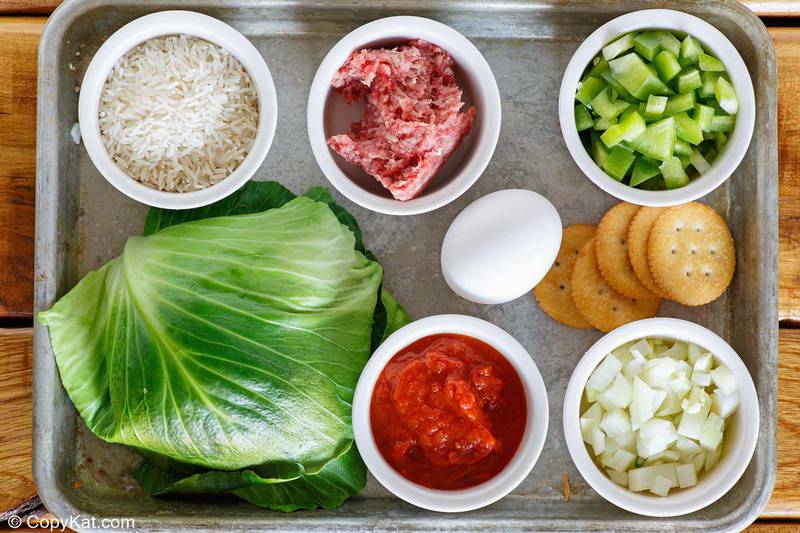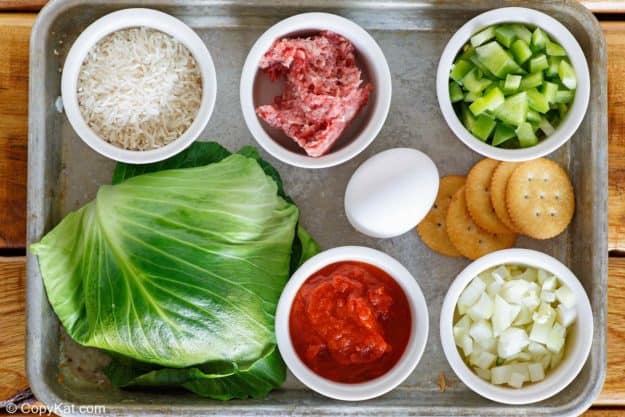 How to Make Stuffed Cabbage Rolls
Blanch cabbage leaves in a large pot of boiling salted water.
Combine tomato sauce with water in a small bowl.
Combine ground beef, onion, green pepper, rice, crackers, salt, pepper, egg, and fourth of the tomato sauce.
Spoon the filling on blanched cabbage leaves.
Roll the leaves up, and place them in a baking dish.
Pour the remaining sauce on top.

Sprinkle sugar on top.
Bake at 350 degrees for 1 hour.
Recipe Variations
You can add any or all of these ingredients to the sauce for extra flavor:
Crushed red pepper flakes
Oregano
Minced garlic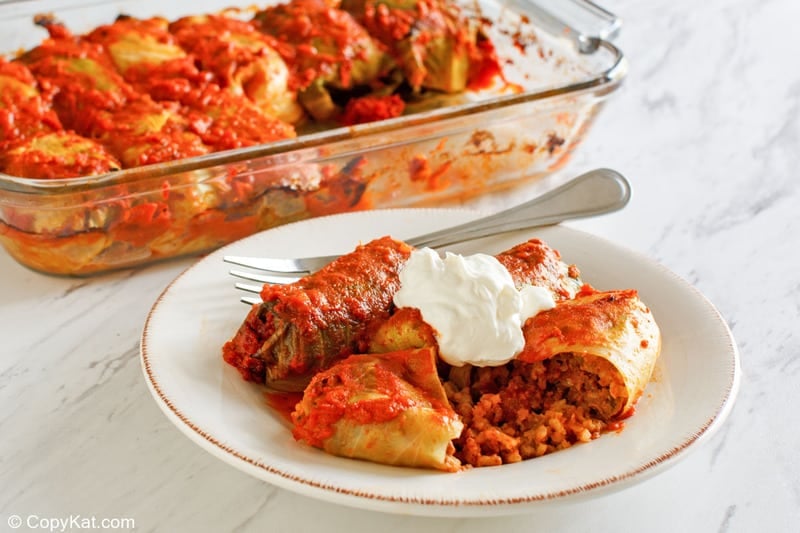 Love cabbage? Try these recipes!
Popular Dinner Casseroles
Check out more of my easy casserole recipes and favorite family recipes here on CopyKat!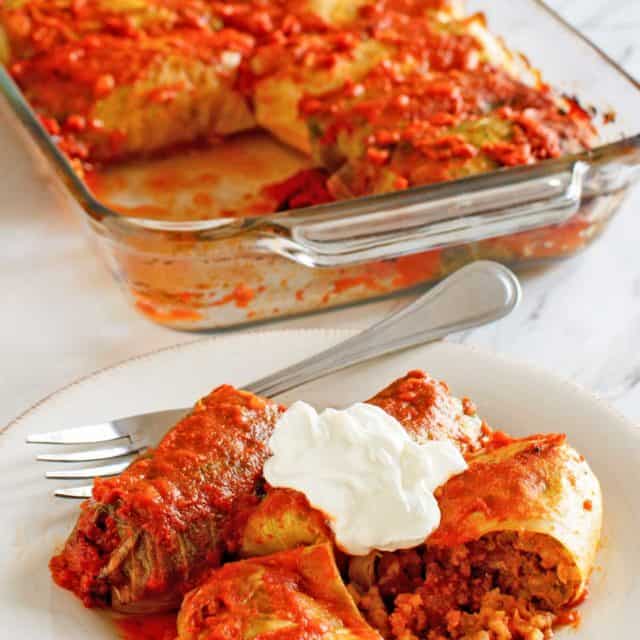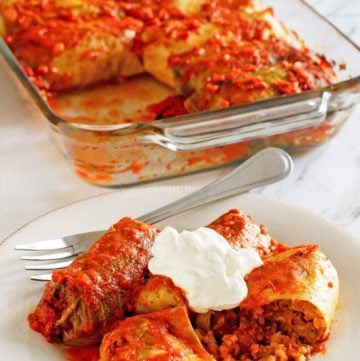 Ingredients
Cabbage Roll Filling
1

pound

ground beef chuck

1/2

cup

minced onion

1/2

cup

green bell pepper

chopped

1/4

cup

rice

1/4

cup

crackers

crushed

1/2

teaspoon

salt

1/4

teaspoon

ground black pepper

1

egg
Cabbage Roll Sauce
4

ounces

tomato sauce

1/2

cup

water

1/2

tablespoon

sugar
Instructions
Preheat oven to 350 degrees.
Cabbage Leaf Preparation
Clean the head of a cabbage. Gently pull off about 12 to 15 of the largest leaves of cabbage.

Drop the cabbage leaves into a large pot of boiling salted water.

Cook the cabbage for 3 minutes to blanch it. Blanching it will make it tender and pliable.
Filling Preparation
Combine tomato sauce with water in a small bowl.

In a mixing bowl, combine ground beef, onion, green pepper, rice, crackers, salt, pepper, egg, and 1/4 of the tomato sauce.
Cabbage Rolls Preparation
Spoon the filling mixture into the blanched cabbage leaves, roll the leaves up, and place them in a deep baking pan.

Pour the remaining sauce over the rolls.

Sprinkle sugar on top.

Bake for 1 hour at 350 degrees.
Notes
Cabbage rolls taste even better when you reheat them on the second day!  
Sauce Variations – add any or all of these ingredients for extra flavor:
1/2 teaspoon of crushed red pepper flakes 
1/4 teaspoon oregano 
1/4 teaspoon minced garlic 
Nutrition
Calories:
178
kcal
|
Carbohydrates:
12
g
|
Protein:
10
g
|
Fat:
10
g
|
Saturated Fat:
3
g
|
Cholesterol:
48
mg
|
Sodium:
243
mg
|
Potassium:
350
mg
|
Fiber:
2
g
|
Sugar:
4
g
|
Vitamin A:
190
IU
|
Vitamin C:
40.6
mg
|
Calcium:
54
mg
|
Iron:
1.6
mg