Beer Battered Chicken Fried Steak is a delicious twist to a classic Southern dish. The crispy crust has a special flavor and the steak is tender and juicy.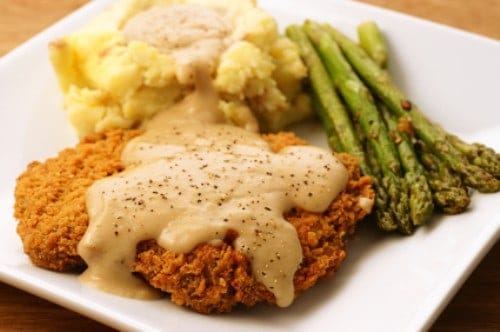 Bill Maxwell, a former Texas restaurateur, originally claimed his chicken-fried steak was the "best found south of the Rio Brazos." Subsequent chicken-fried steak contests proved him truthful, so he extended his claim to include all lands south of Arkansas.
Bill called his version of chicken fried steak "Texas on a Half Shell".
About Chicken Fried Steak
You know that when you step across the Texas border campaign, you are bound to need to try two dishes in my personal opinion. One is a good smokey barbeque brisket, and my second recommendation would be a Chicken Fried Steak.
Now, they call it Chicken Fried Steak, but there is no chicken involved in a chicken fried steak. It is called chicken fried steak because it is deep-fried like chicken.
Texas was settled by all sorts of people. This preparation may have derived from Wiener schnitzel. But instead of using veal, beef was pounded thin and tenderized. This type of meat preparation is popular.
Texans naturally fried many things because if you have lived through a Texas summer, you want to cook food quickly, so you don't have to keep your ovens and stoves hot continually to cook a long meal. Deep frying enables you to cook quickly.
Chicken Fried Steak Batter
Chicken fried steak is often battered with buttermilk. What makes this recipe unique is the use of beer. This changes the flavor of the batter that encases the well-known chicken fried steak flavor we all love.
Ingredients
This is what you need to make beer-battered chicken fried steak:
Round Steak
Flour
Eggs
Beer
Meat tenderizer
Salt and pepper
Garlic powder
Oil for frying
How to Make Beer Battered Chicken Fried Steak
Season the round steak and pound it in flour until it is thin.
Whisk together eggs, beer, salt, and meat tenderizer.
Add enough flour to beer mixture to make a watery batter.
Dip steak in the batter.
Coat dipped steak with flour.
Deer fry until golden brown.
Serve with white gravy or french fries.
Love southern food? Try these recipes
Best Southern Desserts
Be sure to take a look at more favorite family recipes and easy desserts.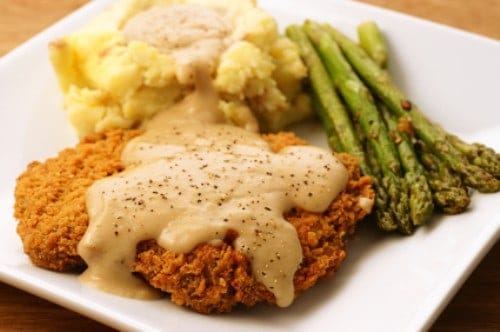 Ingredients
16

ounces

round steak

1

cup

flour

4

eggs

12

ounces

flat Beer

1

tablespoon

Adolph's meat tenderizer

1

teaspoon

salt

1/2

teaspoon

black pepper

1/2

teaspoon

garlic powder

vegetable oil

for frying
Instructions
Sprinkle salt, pepper and garlic salt on both sides of tenderized steak to taste. Put steak onto a tray that is well-covered with flour. Then "pound the hell out of it (the steak) with stiff fingers, working from the center out, until it reaches the size of an LP record." (That's those things they used to make before compact discs). Flip several times and repeat pounding. Mix eggs, beer, 1 teaspoon salt and Adolph's meat tenderizer in a shallow bowl. Add enough flour to make a thin, watery batter. Beat mixture smooth. Dip meat into batter. "Flop" back onto flour tray and cover with four. Pound again with fingertips until moisture is absorbed. Cook in deep fat at 350 degrees until golden brown. Serve with French fries and cover with white gravy.
Nutrition
Calories:
491
kcal
|
Carbohydrates:
27
g
|
Protein:
34
g
|
Fat:
23
g
|
Saturated Fat:
14
g
|
Cholesterol:
235
mg
|
Sodium:
712
mg
|
Potassium:
516
mg
|
Fiber:
0
g
|
Sugar:
0
g
|
Vitamin A:
240
IU
|
Calcium:
55
mg
|
Iron:
4.6
mg