Easy Bisquick Peach Cobbler is the perfect summer dessert. You can use ripe peaches or canned ones. In about 25 minutes you can have a quick and easy peach cobbler ready to enjoy!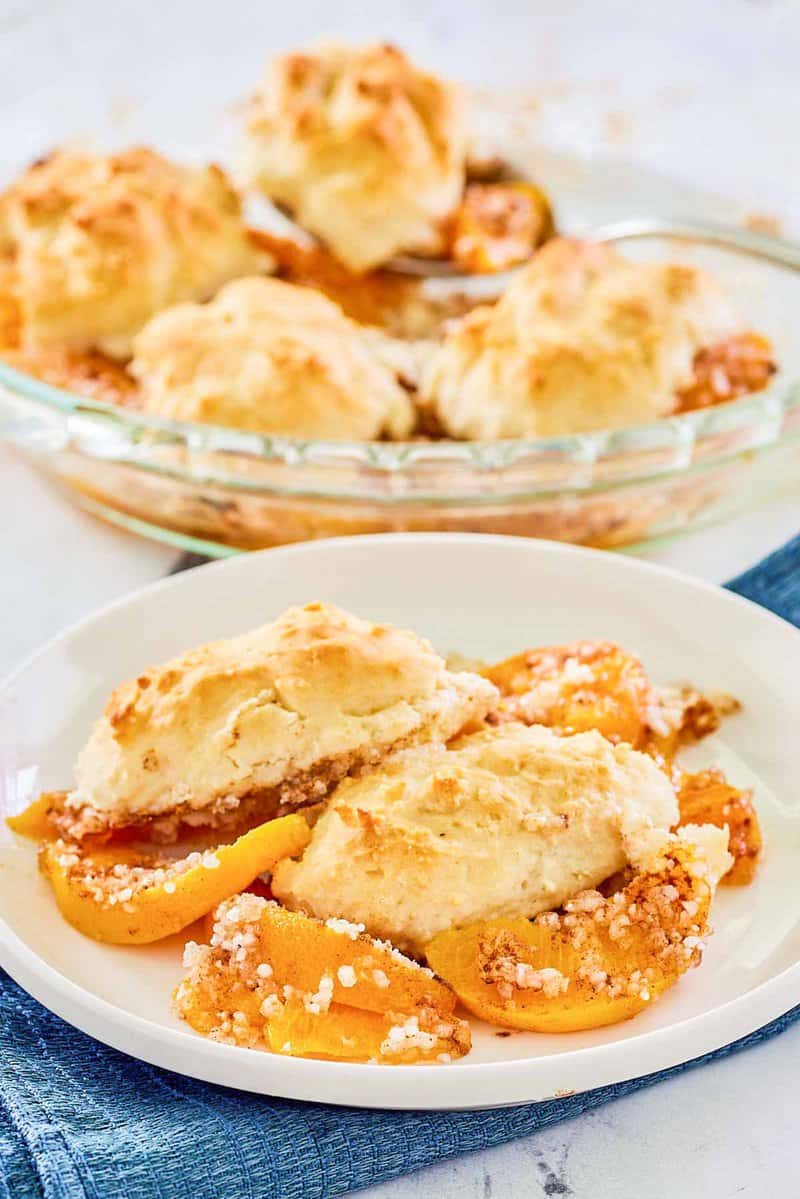 This post contains affiliate links. As an Amazon Associate, I earn from qualifying purchases.
Jiffy Peach Cobbler
My Grandmother used to make this peach cobbler. She called this recipe her Jiffy Peach Cobbler. She would use either a can of peaches or 3 or 4 fresh peaches.
What Makes Easy Bisquick Peach Cobbler a Quick and Easy Addition to a Weeknight Meal
Many people consider cobblers poor substitutes for fruit pies, but this Bisquick peach cobbler recipe with cinnamon might change a few minds. It isn't overly sweet but still incredibly satisfying with its crunchy topping and soft, warm fruit filling.
Add a dollop of whipped cream or a scoop of ice cream, and you have a quick and tasty treat that will surely delight even the most adamant pie lovers in your family.
Why You Should Try This Recipe
You don't have to be a top baker to make this Peach Cobbler. Using Bisquick for the topping and canned peaches for the filling make this a great recipe for baking spur-of-the-moment.
And with a total prep and baking time is less than 45 minutes, there is no excuse not to make this Easy Peach Cobbler recipe with Bisquick whenever you want a little treat that isn't too terrible for you.
Peach Cobbler Bisquick Topped Dessert Ingredients
For this peach cobbler recipe Bisquick style, you'll need:
Peaches, sliced canned peaches
Tapioca
Ground cinnamon
Bisquick baking mix
Whole milk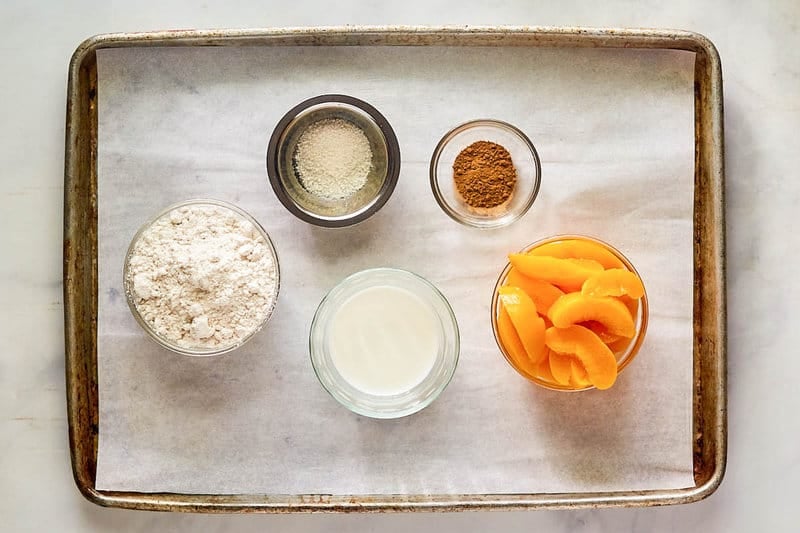 Ingredient Notes
Use canned peaches that are packaged in their natural fruit juice and not in syrup. Del Monte's Yellow Cling Peaches is a good choice.
You can use another baking mix similar to Bisquick, such as Jiffy All-Purpose Baking Mix, or make your own baking mix.
How to Make This Easy Peach Cobbler Recipe With Bisquick
To make a peach cobbler Bsquick style:
Preheat the oven to 350 degrees F.
Combine the peaches with their juice, tapioca, and cinnamon in a bowl and stir until the tapioca dissolves.
Transfer the peach mixture to a lightly greased 9-inch pie plate or 8-inch square baking pan.
Use a rubber spatula or a rounded handle of a wooden cooking spoon to mix the Bisquick and whole milk into a stiff dough. It will be similar to dough for biscuits.
Form the Bisquick mixture into six equal discs and use them to cover the top of the peach mixture.
Bake the peach cobbler for 20 to 25 minutes until the crust topping is golden brown.
Allow the cobbler to cool slightly before serving.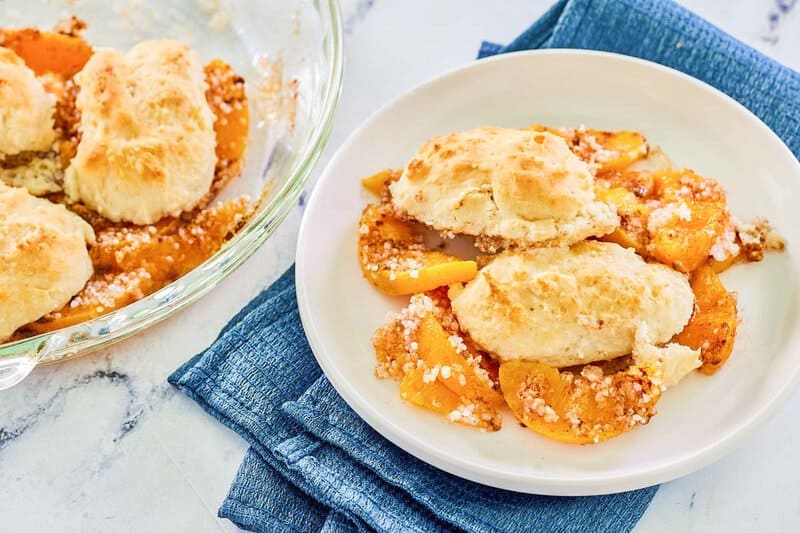 Recipe Variation With Fresh Peaches
If you have perfectly ripe fresh peaches, you can use them in this Bisquick Peach Cobbler recipe.
Peel and slice the peaches. Then place them in a mixing bowl along with two tablespoons of light brown sugar. Toss to coat the peach slices with the brown sugar.
Cover the bowl with plastic wrap and place it in the fridge for a few hours until the peaches soften and release some juice.
You can also do the same with fresh strawberries to macerate them.
Recipe Variations with Fruit and Spices
Use other fruit for this recipe. Please note if you use cherry, raspberry, or blueberry pie filling there is no need of adding tapioca.
Use berries: You can use fresh blueberries, raspberries, or blackberries. You'll need to mix the tapioca with about ¼ to ½ cup of water since there won't be juice from the can or macerating.
Sprinkle cinnamon and sugar on top of the dough before baking to add an extra layer of flavor. Add ¼ teaspoon ground nutmeg for even more flavor.
What to Serve With Peach Cobbler
A dollop of homemade whipped cream, Cool Whip, or a scoop of vanilla ice cream goes well with this Peach Cobbler.
How to Store the Leftovers
Allow the peach cobbler with canned peaches and Bisquick topping to cool to room temperature. Wrap the pie tin tightly in plastic and put it in the fridge for up to three days.
You can freeze the cobbler in an airtight container for up to a month.
How to Reheat Peach Cobber for the Best Results
Peach cobbler warms nicely in the oven. Allow frozen cobbler to thaw overnight in the fridge before reheating:
Take the cobble from the fridge and leave it on the counter for about 15 minutes to allow it to come up to room temperature.
Preheat the oven to 250°F.
While the oven is heating up, divide the cobbler into serving pieces and transfer them to a clean baking dish.
Cover the baking dish with aluminum foil and heat it in the oven for about 15 minutes or until the cobbler is warm.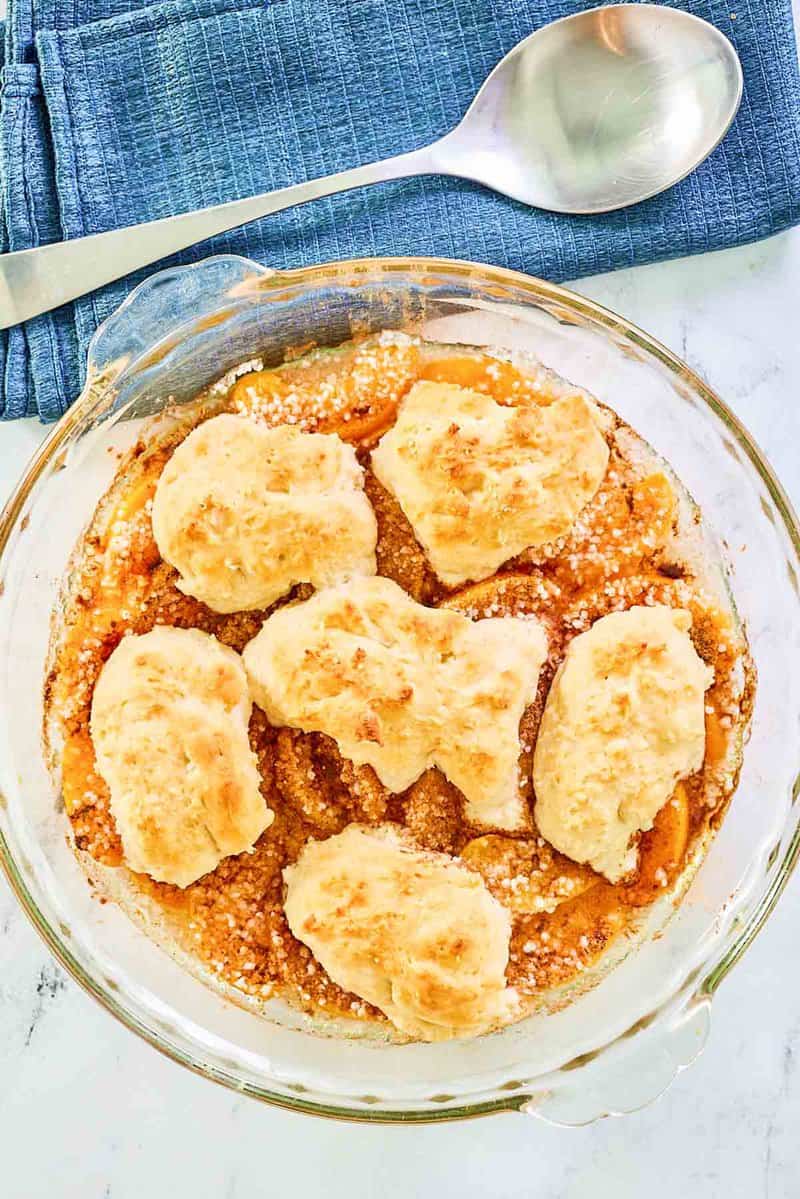 Love cobbler? Try these easy recipes!
Favorite Dessert Recipes
Check out more of my easy dessert recipes and the best summer recipes here on CopyKat!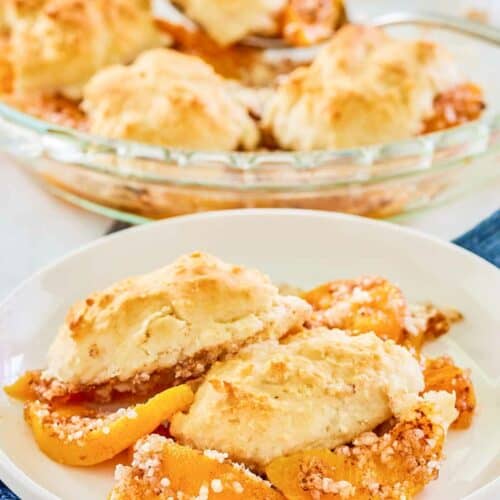 Ingredients
16

ounces

canned sliced peaches

with juice

2

teaspoons

tapioca

1/2

teaspoon

ground cinnamon

1

cup

Bisquick baking mix

1/3

cup

milk

whipped cream or ice cream

to serve (optional)
Instructions
Preheat the oven to 350°F.

In a 9-inch pie plate, combine the peaches and juice, tapioca, and cinnamon and stir to combine.

In a small bowl, mix the Bisquick and milk to form a dough. Top the peaches with 6 equal-sized dollops of dough.

Bake for 25 to 30 minutes, and serve warm with whipped cream or ice cream, if desired.
Notes
You can use other canned fruit instead of peaches.
If using fresh peaches, cut up enough peaches to yield about 4 cups of cut peaches. Add 3 tablespoons of sugar to the peaches and wait for juice to form.
Nutrition
Calories:
193
kcal
|
Carbohydrates:
32
g
|
Protein:
4
g
|
Fat:
5
g
|
Saturated Fat:
1
g
|
Cholesterol:
2
mg
|
Sodium:
391
mg
|
Potassium:
291
mg
|
Fiber:
2
g
|
Sugar:
14
g
|
Vitamin A:
405
IU
|
Vitamin C:
7.5
mg
|
Calcium:
88
mg
|
Iron:
1.1
mg