Frozen coleslaw is a great coleslaw that you can keep in the freezer and have whenever you want. What's more, the longer it stays frozen and sits in the vinegar dressing, the tastier it gets.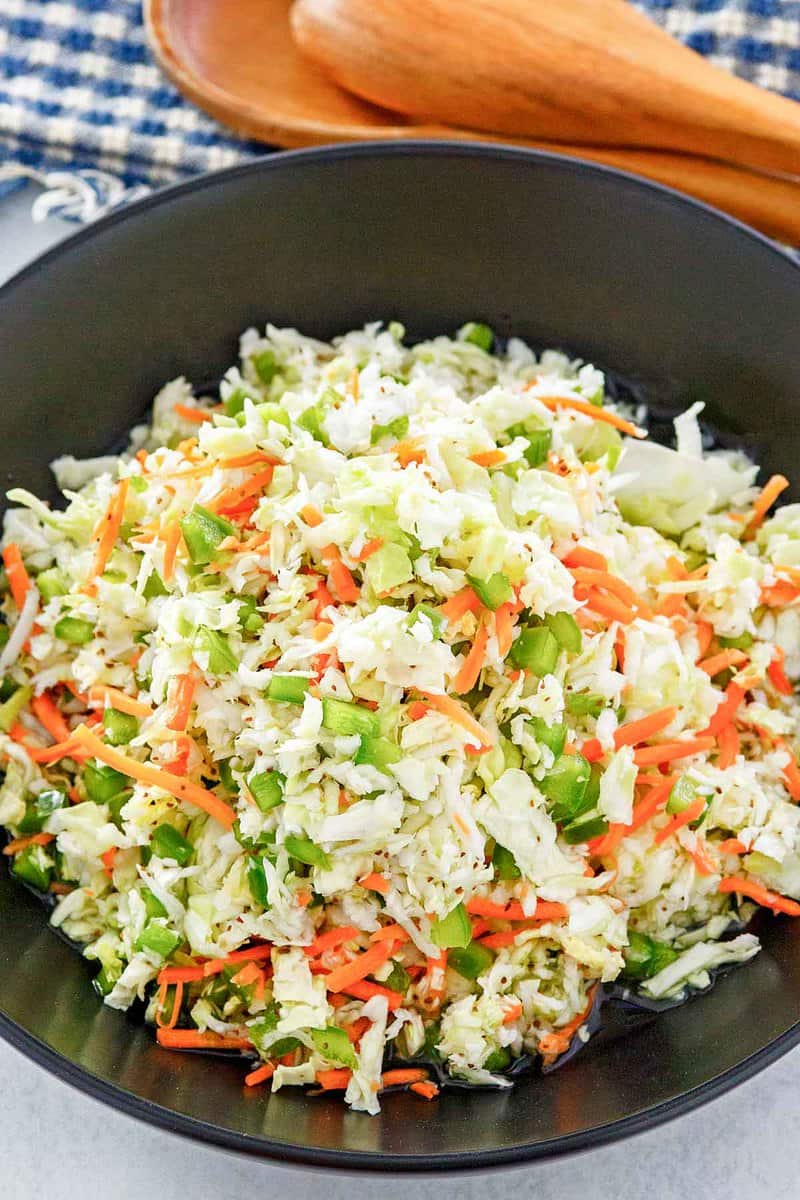 This post contains affiliate links. As an Amazon Associate, I earn from qualifying purchases.
Delicious Freezer Coleslaw
This freezer slaw has a great flavor, and if you make large batches, you will always have some on hand to take to pot luck events.
Coleslaw is an American staple that takes many forms. It can be creamy with mayo or sour cream or light and vinegary like this freezer coleslaw recipe.
What Is Freezer Slaw?
Frozen coleslaw is a vinegar-based coleslaw that can be frozen and used as desired. Freezer slaw originated in the south.
This southern freezer slaw is an easy and delicious make-ahead side dish coleslaw with vinegar dressing.
Why This is the Best Freezer Slaw Recipe
If you are looking for a tried and true coleslaw recipe that is simple to make and tastes amazing, you've found it! This recipe gives you a fabulous make-ahead sweet and tangy slaw that stays crisp even after being kept in the freezer!
A vinegar-based dressing (rather than mayonnaise) means your slaw will freeze really well.
This coleslaw recipe also adds tons of flavor without piling on unwanted calories. This is a great summertime recipe when cabbage and green peppers are abundant and cheap.
Do yourself a favor, and make several batches for the colder months ahead.
Recipe Ingredients
This freezer coleslaw recipe is very easy to make with just simple ingredients:
Shredded cabbage
Salt
Shredded carrots
Green bell pepper
White vinegar
Water
Sugar
Celery seed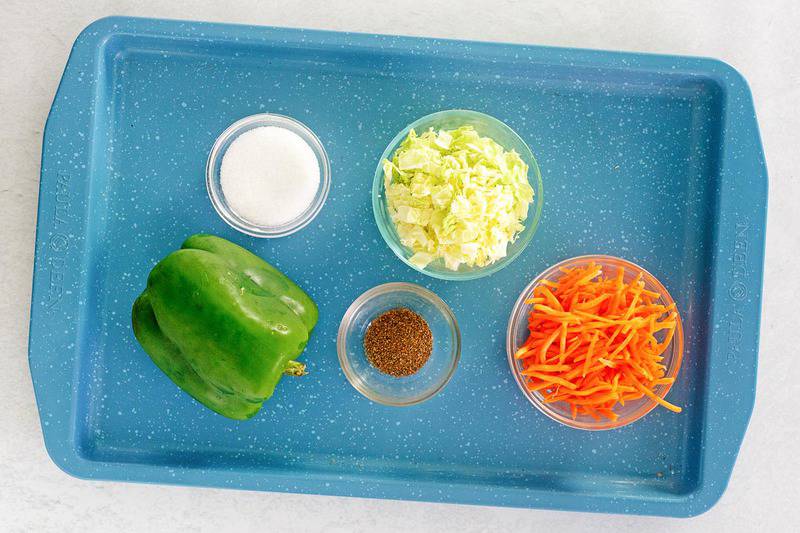 Ingredient Notes
For this southern freezer slaw recipe, any cabbage will work deliciously. Green or purple, savoy or napa will each add a great flavor and texture.
When choosing your cabbage, go for heads that are heavy for their size, with outer leaves that are unblemished and firm.
Read about different types of cabbage – some of which you may have never heard of.
How to Make Freezer Slaw
Here are the simple steps to make coleslaw you can freeze:
Shred cabbage with a food processor, or a vegetable shredder.
Place cabbage and salt in a large bowl. Toss to coat the cabbage with salt and let it sit for an hour.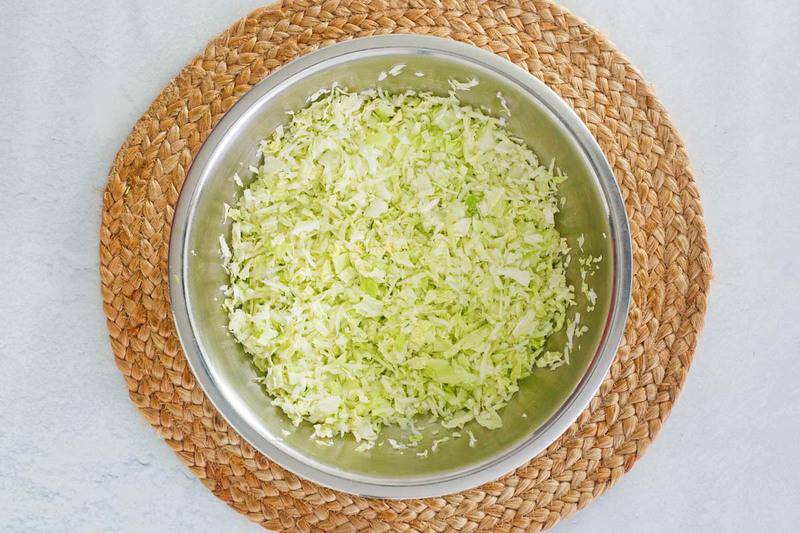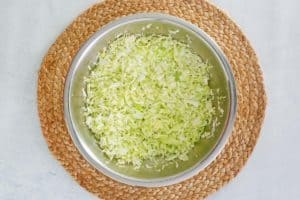 Drain and squeeze out the cabbage to thoroughly remove any excess liquid. Place the cabbage back in the bowl.
Add shredded carrots and chopped bell pepper. Toss to combine.
While the salted cabbage is sitting, combine vinegar, water, sugar, and celery seed in a medium saucepan over high heat. Bring the mixture to a boil and boil for 1 minute or until the sugar is dissolved.
Cool the dressing until it is lukewarm.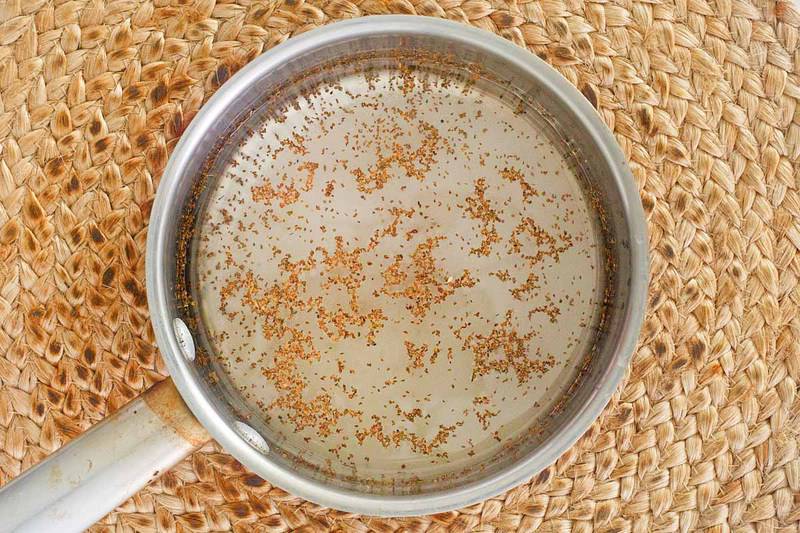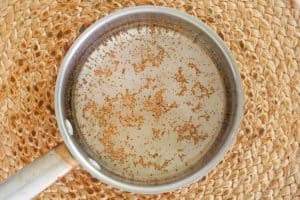 Pour the dressing over the cabbage mixture and stir to combine.
Place the coleslaw into freezer-safe containers and freeze the slaw.
When you are planning to use the slaw, thaw it in the refrigerator overnight.
If you are storing the coleslaw place into freezer containers or seal with a food vacuum sealer.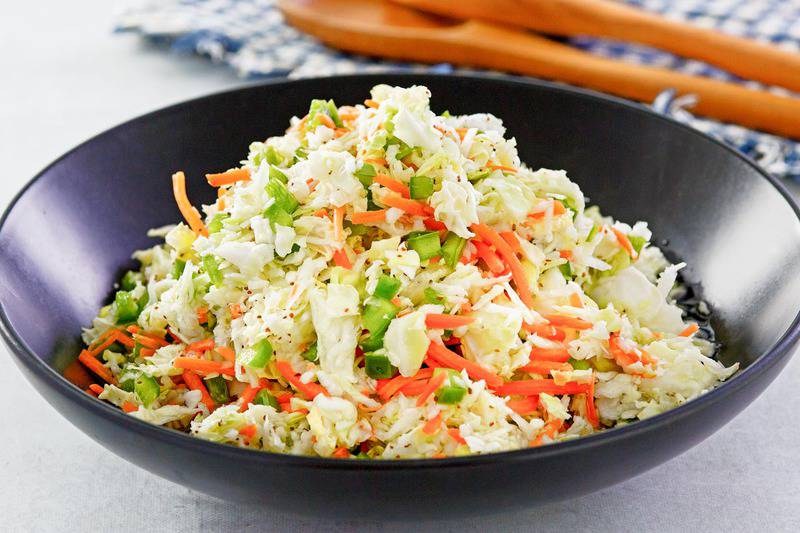 Recipe Variations
This frozen coleslaw recipe is very flexible, and you don't have to stick strictly to it. Here are some ideas for changing it up:
Use different colored cabbage. Green with red/purple cabbage looks so pretty and colorful in freezer jars.
Add some finely diced onion or apple.
Consider adding other veggies that freeze well – celeriac, kohlrabi, radishes, or turnips.
Equipment (Optional)
Food Processor or Vegetable Shredder
Vacuum Food Sealer
How to Use Frozen Coleslaw
Coleslaw has to be one of the most popular accompaniments with a wide variety of uses. You can pile some on top of your piping hot jacket potato, serve it as part of a picnic, pair it with barbequed meat and grill staples such as burgers, ribs, and hot dogs.
Freezer coleslaw is also good in tacos as a substitute for shredded lettuce and as a low-carb topping for steak, grilled chicken, and roast beef or shredded pork. Or, team it up with vegan proteins like tempeh or tofu.
Add cold and crisp coleslaw to a BBQ sandwich to add flavor and nutrition to it.
How to Store Leftover Cole Slaw
Store leftover coleslaw in an airtight container in the refrigerator. Do not re-freeze any thawed frozen slaw.
When properly stored, cold coleslaw left in the fridge is perfectly safe for consumption for 3 to 5 days.
Can I Freeze Cole Slaw?
If you are wondering can you freeze coleslaw, keep this in mind:
Vinegar-based works best; mayo breaks down.
Vinegar freezes well; mayo does not.
If the coleslaw is vinegar-based, you can freeze it for up to 6 months. Mayo-based coleslaw just doesn't freeze well – the dressing will tend to break down as it thaws.
Here's the best way to freeze your vinegar-based coleslaw:
Place your coleslaw mix in a freezer bag.
Starting from the bottom of the bag and working up to the top opening, squeeze out as much excess air as possible before sealing and placing the sealed bag in the freezer.
Freezing Cole Slaw Tip: Invest in a food saver device that will take out all the air in the package and perfectly seal your coleslaw.
How to Thaw Freezer Slaw
When ready to use, thaw the coleslaw in the refrigerator. Once it is thawed, drain excess fluid, and add mayonnaise to suit your taste if you prefer a creamy coleslaw.
It's best to use the thawed coleslaw within 3 days. Any longer and the texture will soften and the flavor degrade.
Can You Freeze Shredded Cabbage to Make Coleslaw Later?
The quick answer is, no, you have to turn it into coleslaw first. Adding a vinegary liquid to shredded cabbage assists in preserving its texture.
If you just toss a bag full of chopped or shredded cabbage into your freezer, hoping it will defrost and give you crispy cabbage that's ideal for coleslaw, you'll be disappointed.
Like many other leafy vegetables, cabbage has a high water content that will cause your cabbage to break down and become soggy when frozen.
You can freeze raw cabbage for use in a cooked dish like cabbage casserole or cabbage rolls, but it won't work well for coleslaw.
The secret is to make freezer coleslaw! You get a very tasty coleslaw, and the defrosted cabbage will be crisp and delicious.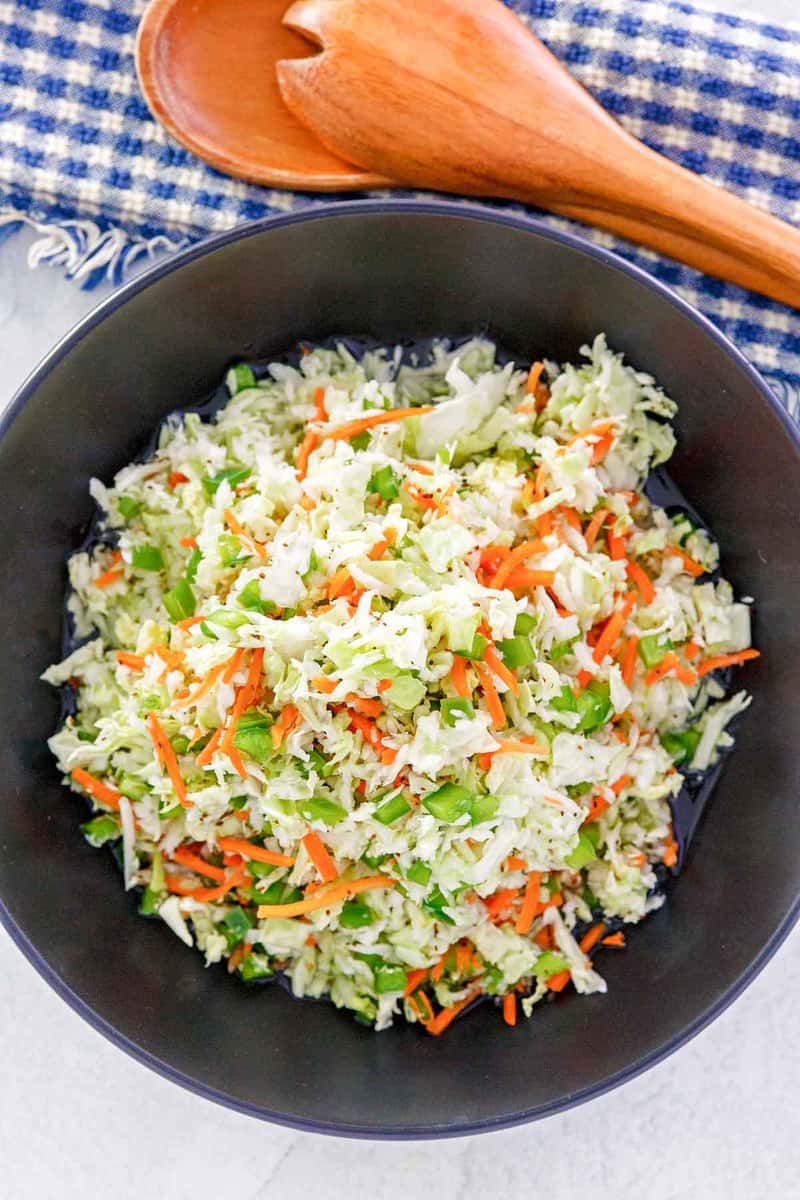 Love coleslaw? Try these recipes!
Popular Side Dish Salad Recipes
More Freezer Recipes
Check out more of my easy side dish recipes and favorite family recipes here on CopyKat!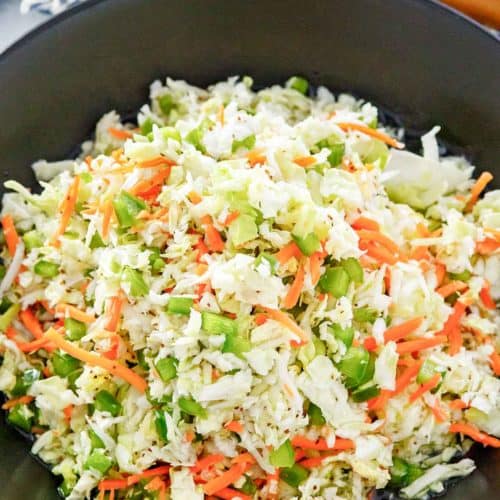 Ingredients
Coleslaw Mix
2

pounds

shredded cabbage

1

teaspoon

salt

1/2

cup

shredded carrot

1

green bell pepper

finely chopped
Coleslaw Dressing
1

cup

vinegar

1/4

cup

water

2

cups

sugar

1

teaspoon

celery seed
Instructions
Combine the cabbage and salt. Mix well and let stand for 1 hour.

Squeeze out thoroughly.

Add carrot and bell pepper.

While the cabbage is standing, make the dressing.

In a pot, combine the vinegar, water, sugar, and celery seed, and boil for 1 minute.

Let stand until lukewarm.

Pour the dressing over cabbage mixture and freeze.
Nutrition
Serving:
0.5
cup
|
Calories:
75
kcal
|
Carbohydrates:
19
g
|
Protein:
1
g
|
Fat:
0.1
g
|
Saturated Fat:
0.02
g
|
Polyunsaturated Fat:
0.01
g
|
Monounsaturated Fat:
0.02
g
|
Sodium:
102
mg
|
Potassium:
80
mg
|
Fiber:
1
g
|
Sugar:
17
g
|
Vitamin A:
481
IU
|
Vitamin C:
17
mg
|
Calcium:
18
mg
|
Iron:
0.2
mg