Mustard Pork Chops is an easy and delicious dinner to make with a few simple ingredients. Boneless pork chops are seasoned, coated with mustard, and baked to perfection. Baked mustard pork chops are an effortless weeknight dinners for the whole family.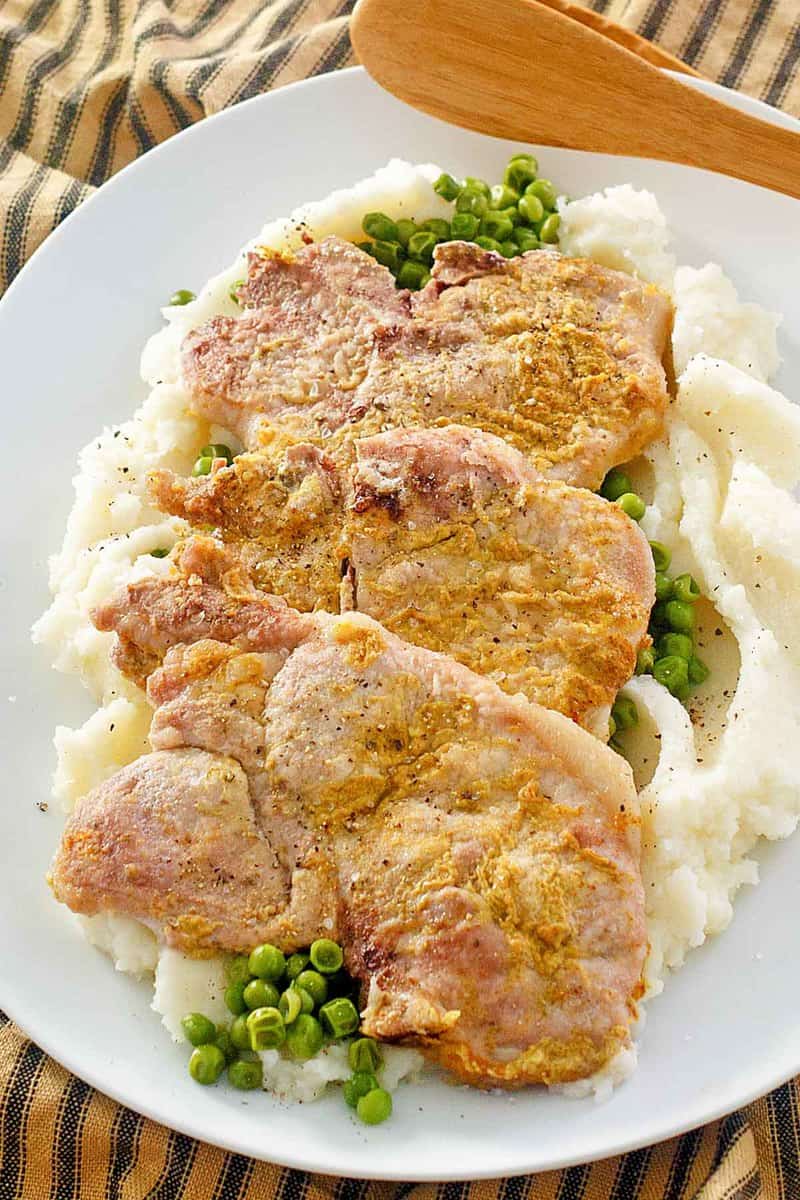 This post contains affiliate links. As an Amazon Associate, I earn from qualifying purchases.
Baked Mustard Crusted Pork Chops
When you need something simple but delicious for dinner, make this mustard pork chops recipe. Baked mustard pork chops are so good, but not a ton of work, and make for an amazing family dinner! Your pork chops have never been so juicy and tender!
Why This is the Best Recipe for Mustard Pork Chops
The flavor produced from the use of mustard in this recipe is impeccable. Not to mention that this recipe is extremely simple to make. Best of all you won't need to grab your skillet and stand by the stove, this recipe is made in your oven.
Why is this Baked Mustard Pork Chop Recipe Different?
Instead of using an egg first before dipping the pork chop in the breading, you lather it up with mustard to make sure that the mustard flavor penetrates throughout the pork chop. The topping is wonderfully tangy and oh so creamy! You are going to love the taste of this recipe.
Plus the steps for this Dijon mustard pork chops recipe is very simple and easy to follow.
Recipe Ingredients
I can almost promise you will have everything you need in your house to make this delicious baked mustard pork chops recipe.
Pork chops
Yellow or brown mustard
All-purpose flour
Seasoned salt or Kosher salt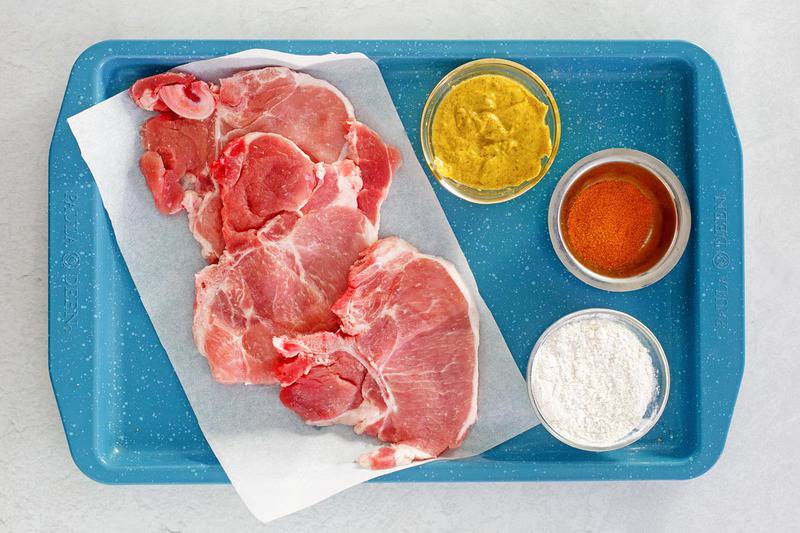 Ingredient Substitutions
If you do not have yellow or brown mustard on hand, Dijon mustard, honey mustard, or maple mustard will do too!
Also, if you are looking to make this recipe gluten-free, try substituting regular flour for gluten-free flour. If you have a food processor, throw some quick oats in there and grind them up until they have a flour-like consistency to use as a substitute.
How To Make Mustard Pork Chops
Begin by preheating the oven to 350 degrees.
Then in a small bowl, combine the flour and seasoned salt and mix it with a fork.
Before you prepare the pork chops, spray a cooking sheet with nonstick cooking spray or line it with parchment paper and set it aside.
Now get out the pork chops and put 1 tablespoon of mustard on one side and then dredge the pork chop side with the mustard in the flour mixture.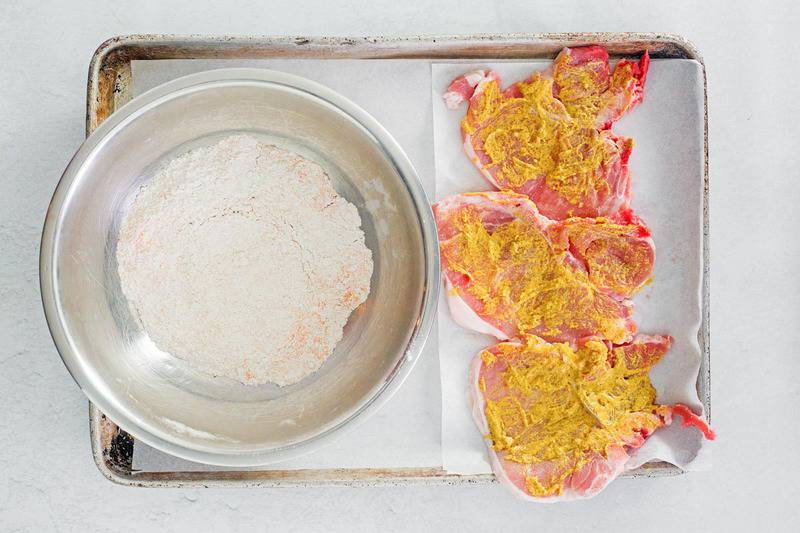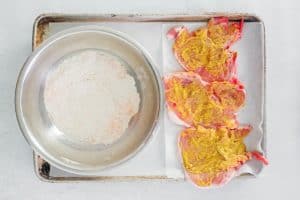 Remove the pork chop from the flour and put 1 tablespoon of mustard on the other side of the pork chop and again dredge that side in the flour mixture and place it on the prepared baking sheet.
Continue doing this with each piece of pork chop.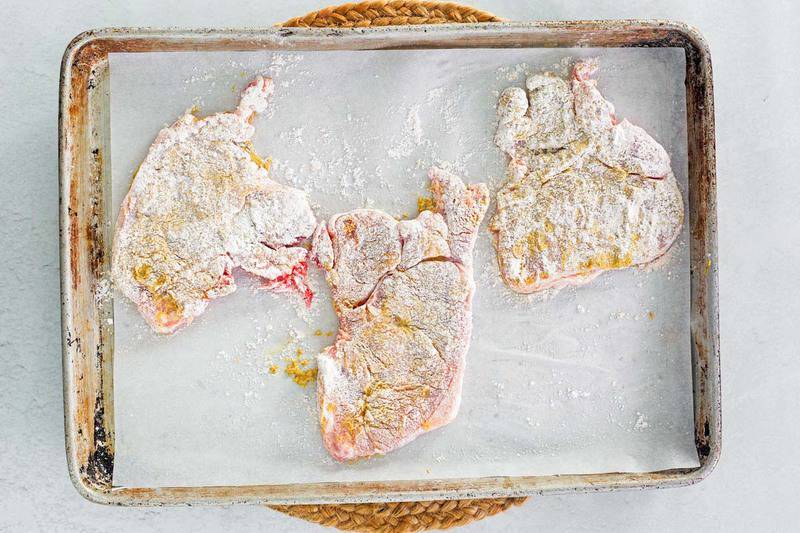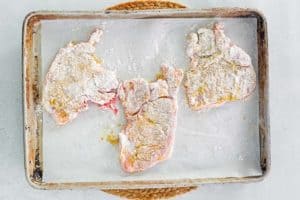 Once all of the pork chops have been coated and on the cooking sheet, place it in the oven for 30 to 45 minutes or until the outside is brown and crispy.
When they are done, remove the baking sheet from the oven and serve the mustard pork chops with your favorite sides. If desired you can test the doneness of the pork with a meat thermometer, pork should be 145 degrees when fully cooked.
You may want to place all of the pork chops on a platter, and garnish with some fresh herbs if desired.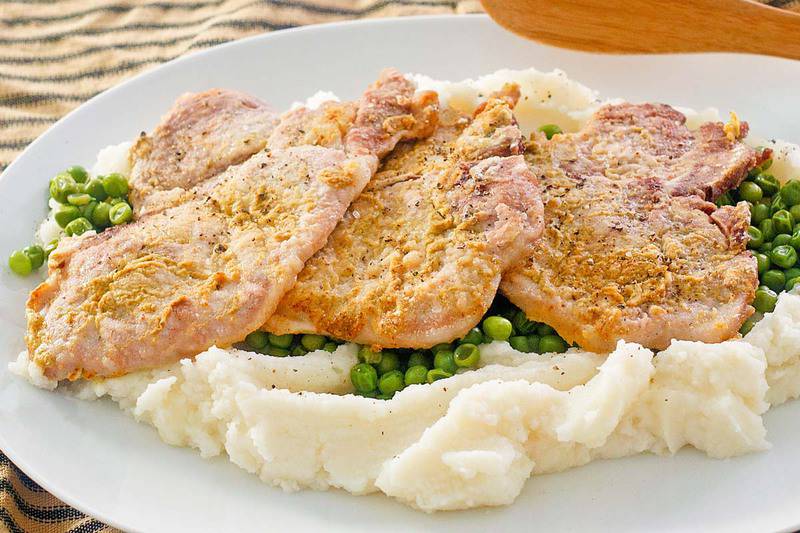 Recipe Variations
When it comes to using mustard in this recipe, you can change out the yellow mustard for Dijon or any grainy mustard whole seed mustard.
If you think you'll want even more seasoning, you can always add your favorite spices to the flour mixture. A little thyme would do great in this too.
Can You Use Bone-in or Boneless Pork Chops?
For this recipe, you are welcome to use either bone-in or boneless pork chops. However, I generally use boneless pork chops for this baked mustard pork chops recipe.
How to Serve Mustard Pork Chops
This delicious recipe will be served whole on a plate immediately after being removed from the oven!
What Goes Well With This Dish
I have always loved serving these pork chops with mashed potatoes and peas but here are some other options:
How to Store Mustard Crusted Pork Chops
Mustard crusted pork chops need to be stored in an airtight container to avoid the outside of the pork chops getting too soggy. They will stay fresh in the fridge for 4 to 5 days.
How to Freeze Mustard Pork Chops
Freezing meals with breading can be a little difficult to keep up the integrity of the dish.
Should you want to freeze breaded pork chops, place them on a sheet pan in the freezer until they are individually frozen. Freezing them first this way keeps them from sticking together
Place the frozen pork chops in a zip-top bag or freezer-safe container. They will last for 2 to 3 months in the freezer.
How to Reheat Mustard Pork Chops
Since this recipe does have a delicious breading, the best way to reheat these mustard pork chops is in the air fryer. Start at 350°F for 6 to 8 minutes and check it as you go.
You can also reheat them in the oven at 350°F until they are heated through.
Avoid the microwave if possible as it will make the breading on the pork chops soggy.
Favorite Pork Chop Recipes
Popular Budget Friendly Recipes
Check out more of my easy pork recipes and the best budget friendly recipes here on CopyKat!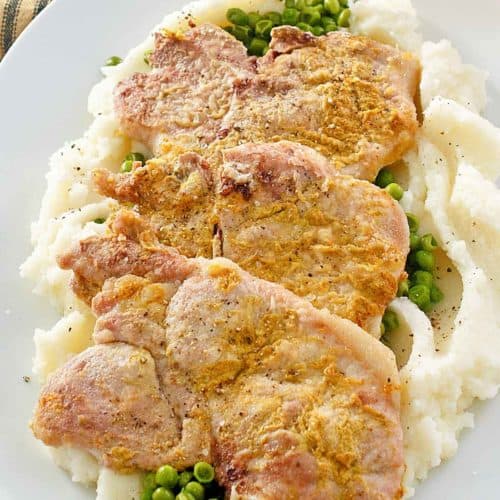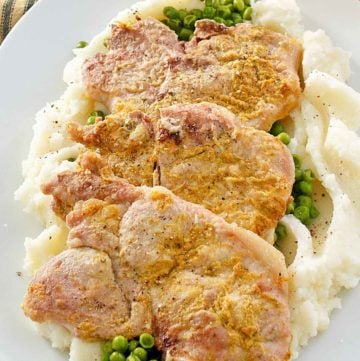 Ingredients
1

cup

all-purpose flour

1

teaspoon

seasoned salt

2

tablespoons

prepared yellow or brown mustard

1

pound

pork chops
Instructions
Preheat the oven to 350°F. Grease a baking sheet.

Combine the flour and seasoned salt in a small bowl.

Spread 1 teaspoon of mustard on one side on the pork chop, and dredge in flour.

Spread 1 teaspoon of mustard on the other side, and dredge. Continue until all chops are covered.

Place the dredged pork chops on the baking sheet.

Bake for 30 to 45 minutes, or until brown and crispy.

Serve with mashed potatoes and peas or your favorite side dishes.
Nutrition
Calories:
294
kcal
|
Carbohydrates:
24
g
|
Protein:
27
g
|
Fat:
8
g
|
Saturated Fat:
2
g
|
Cholesterol:
75
mg
|
Sodium:
721
mg
|
Potassium:
466
mg
|
Fiber:
1
g
|
Sugar:
0
g
|
Calcium:
17
mg
|
Iron:
2.1
mg