Pork Milanese with Lemon Caper Sauce is a delicious and easy pork chop recipe to make for dinner. Crispy breaded pan-fried pork chops with a creamy citrusy sauce are sure to be a favorite.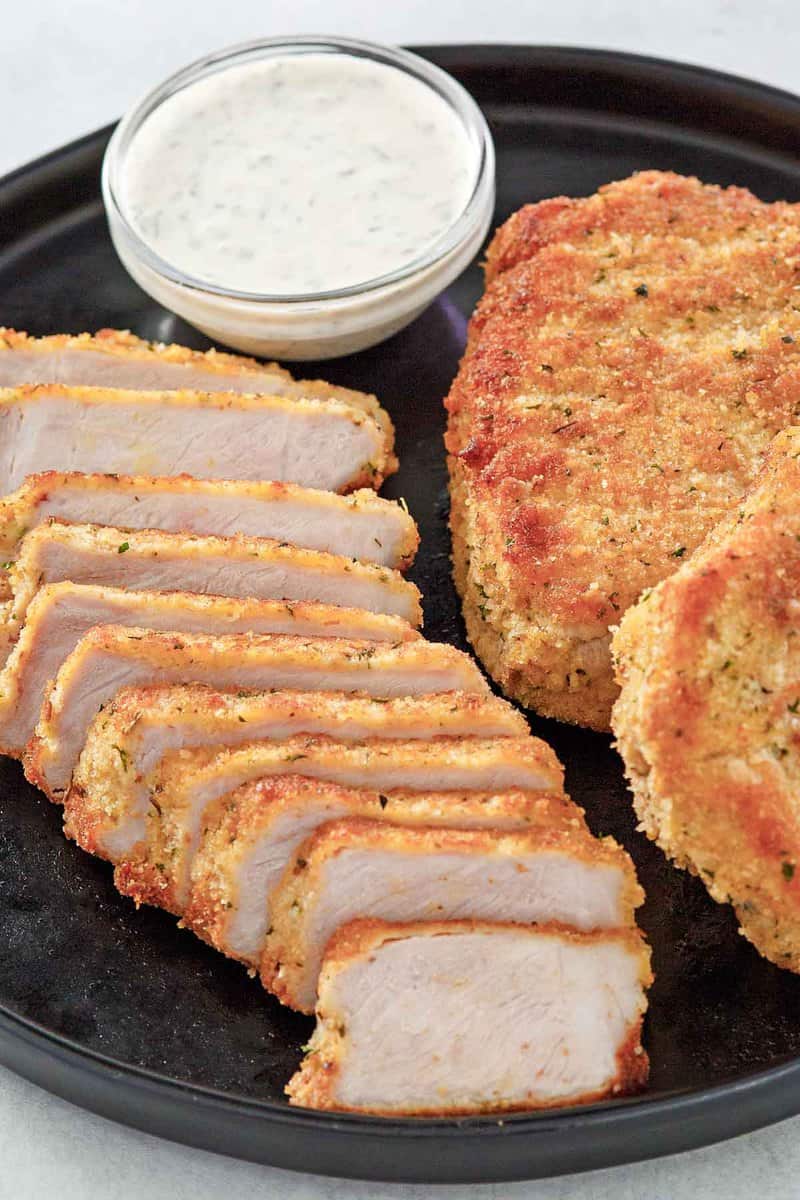 This post contains affiliate links. As an Amazon Associate, I earn from qualifying purchases.
What is Pork Milanese?
It is tender pieces of pork breaded and fried to crispy perfection. It is served with a creamy sauce made with fresh lemon, mascarpone cheese, and capers.
Why This is the Best Recipe Pork Chop Milanese
This pork milanese recipe is so flavorful. Not only is this pork chop milanese dinner amazing, it is paired with a wonderfully refreshing caper and lemon sauce, the best pork milanese sauce.
While the process of making this recipe is fairly traditional, the combination of the seasonings used and the delicious pork lemon caper sauce is what makes this recipe amazing!
You will get the most perfectly fried piece of pork and have the best sauce to serve it with. You can dip the pork in the sauce or drizzle it on top.
What Makes this Pork Milanese Recipe Different?
It's the refreshing lemon caper sauce! It has so many different flavor profiles that go into it. It's what makes this pork chop lemon caper sauce to die for.
The pork milanese itself and delicious, but when you pair it with a creamy sauce filled with lemon zest, parsley, mascarpone, capers, and even more seasoning you cannot go wrong.
If you plan on preparing this recipe for friends, be prepared to share the recipe because your friends will love you for it.
Recipe Ingredients
Here is a list of all of the ingredients you will need to make these fantastic pork chops along with the delicious lemon caper sauce. Make sure you have everything, you don't want to miss out on the flavor of this dish.
Ingredient Substitutions
I'll admit, I do not always have mascarpone cheese in the fridge. However, I do always keep a block of cream cheese handy and it will work as a great substitute for mascarpone.
If you are wanting to make this recipe a little healthier, you can substitute the mayonnaise for plain Greek yogurt. Note this will change the flavor of the caper sauce slightly.
When you do not have fresh parsley you can use a teaspoon of dried parsley in a pinch.
If you want these pork chops to be super crispy you could bread the pork cutlets with breadcrumbs or even panko crumbs.
Should You Use Boneless or Bone-in Pork Chops?
This is more of a personal preference. You can use both, but for ease, I tend to use boneless pork chops. However, that does not mean that bone-in pork chops wouldn't be delicious too.
How To Make Pork Milanese
Begin by making the sauce in a medium mixing bowl and combining together the mascarpone and mayonnaise.
Once those are combined, slowly add in the milk while continuing to mix the ingredients.
Now that the base is set, add in the drained and chopped capers, lemon zest, chopped parsley, salt, and ground pepper.
Mix all of the ingredients together and then set it aside for later.
To make the pork milanese, start by combining the flour, salt, and pepper in a shallow bowl.
In another shallow bowl add 2 eggs and beat them until they are broken and combined.
Now in the last shallow dish but the breadcrumbs.
Prepare the pork loins by seasoning them with salt and pepper on each side.
Then, dip the prepared pork loins in the flour, making sure each side is coated.
After the flour dip both sides of the pork in the egg and lastly the breadcrumbs.
Repeat the breading steps for each pork loin.
Now place the vegetable oil in a skillet and heat it over medium heat.
Once the oil is hot, add the breaded pork to the pan and cook them on each side for about 4 to 5 minutes or until they are golden brown and cooked through.
Then move them to the serving platter and serve them with the lemon caper sauce.
Recipe Variations
The nice thing about this recipe is you can season the pork as much or as little as you want!
If you want to add even more flavor to the pork chops, consider adding a teaspoon of lemon pepper seasoning to the flour.
Another fun thing would be to top the pork chops with a little shredded parmesan or mozzarella cheese. Put them in the broiler for 1 to 2 minutes until the cheese is melted for an added savory flavor and texture.
How to Serve Pork Milanese
Once the pork is done frying, serve it immediately with the lemon caper sauce and enjoy with your favorite sides.
What Goes Well With Pork Milanese?
For this pork recipe, you can really serve it with so many things! Here is a list of a few of my favorite side dishes to serve with it.
How to Store Pork Milanese
When the pork has cooled down, place it in an airtight container and store it in the fridge for up to 5 days.
How to Freeze Pork Chop Milanese
Make sure the pork chops are completely cool before you freeze them. Then place them in a freezer-safe ziptop bag. Store them in the freezer for up to 3 months.
How to Reheat Pork Chop Milanese
The best way to reheat breaded pork chops would either be in the oven at 350°F until it is heated through.
If you have an air fryer, try it at 350°F for 6 to 7 minutes and then check to see if it is heated through. It will also depend on the thickness of the pork chop.
Your last option would be the microwave, but you will compromise the delicious crispy breading. I suggest trying the oven or air fryer method first!
Favorite Pork Chop Recipes
Popular Main Dish Recipes
Check out more of my easy pork recipes and the best recipes for dinner here on CopyKat!
Ingredients
Creamy Caper Sauce
2/3

cup

mascarpone cheese

3

tablespoons

mayonnaise

1/4

cup

milk

1/4

cup

capers

drained and chopped

zest of 1 lemon

1

tablespoon

fresh chopped flat-leaf parsley

1/4

teaspoon

salt

1/4

teaspoon

freshly ground black pepper
Pork Milanese
3/4

cup

all-purpose flour

1/2

teaspoon

salt

plus extra

1/2

teaspoon

black pepper

plus extra

2

eggs

1

cup

seasoned Italian bread crumbs

3

tablespoons

vegetable oil

6

pork loin chops

1 pound
Instructions
Creamy Caper Sauce
Combine the mascarpone and mayonnaise in a medium bowl.

Slowly add the milk, stirring as you go, until all the milk is incorporated.

Add the remaining sauce ingredients.

Stir to combine, and set aside.
Pork Milanese
Combine the flour, 1/2 teaspoon salt, and 1/2 teaspoon pepper in a shallow dish and stir.

Crack the eggs into another shallow dish and beat until combined.

Place the breadcrumbs in a third shallow dish.

Season the pork with salt and pepper.

One at a time, dip each pork chop in the flour, then the eggs, and then the bread crumbs.

Warm the vegetable oil in a large skillet over medium heat.

When the oil is hot, place the breaded pork in the pan.

Cook until golden and cooked through, about 4 to 5 minutes per side.

Transfer the pork to a serving platter with the sauce alongside.
Nutrition
Calories:
751
kcal
|
Carbohydrates:
41
g
|
Protein:
37
g
|
Fat:
47
g
|
Saturated Fat:
24
g
|
Cholesterol:
201
mg
|
Sodium:
1320
mg
|
Potassium:
567
mg
|
Fiber:
2
g
|
Sugar:
2
g
|
Vitamin A:
825
IU
|
Vitamin C:
3.9
mg
|
Calcium:
153
mg
|
Iron:
3.8
mg