Rosemary Chicken is an extraordinary dish to make any night of the week. Tender chicken breasts coated with fresh rosemary, Dijon mustard, and Parmesan cheese makes for a tasty dinner.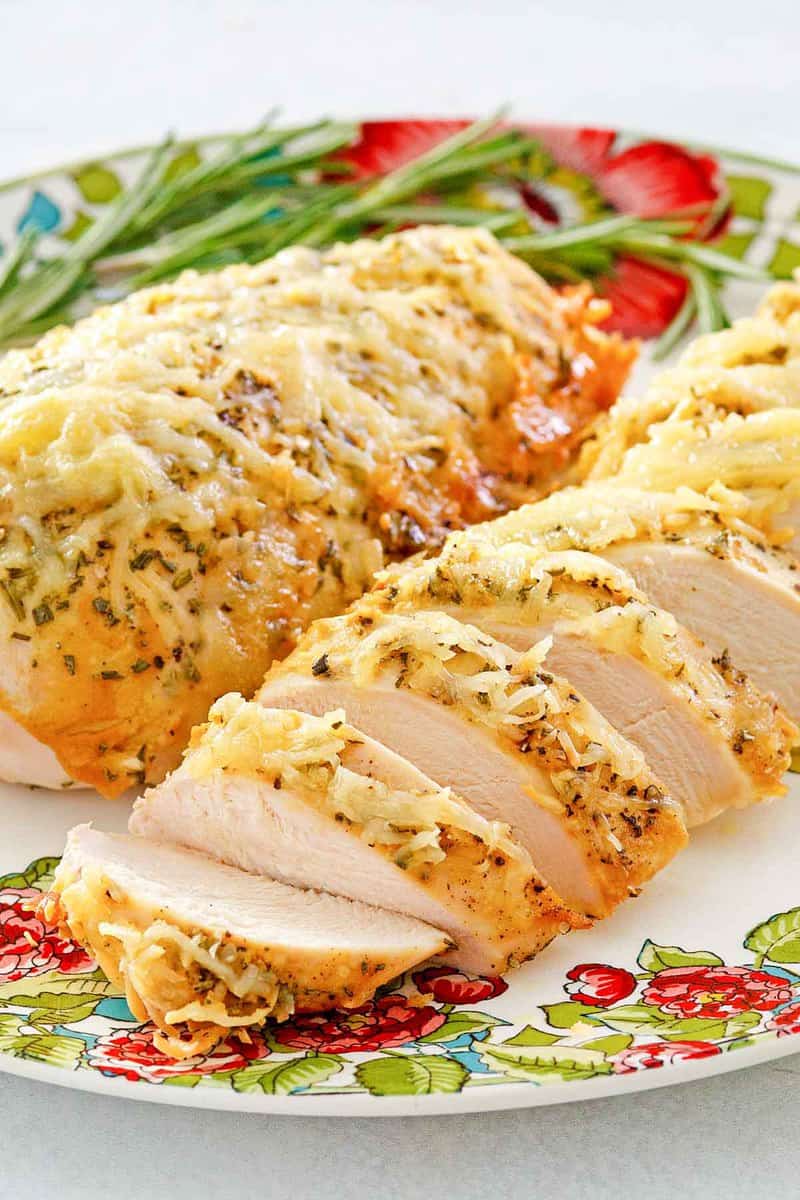 This post contains affiliate links. As an Amazon Associate, I earn from qualifying purchases.
Baked Rosemary Chicken
This baked rosemary chicken recipe is an easy-to-make chicken dinner that practically cooks on its own because you pop everything into a baking dish and let it take care of itself. Make your ordinary chicken breasts special any night of the week with this chicken and fresh rosemary recipe.
Why This Is the Best Rosemary Chicken Recipe
Can we ever have too many easy ways to make chicken taste good? The answer is obvious, and this rosemary roasted chicken definitely falls into the easy dinner category. This recipe gives you tender, moist, flavorful chicken, is sure to get rave reviews, and is perfect for a busy weeknight.
When you're trying to get food on the table on a busy weeknight, the last thing you want is a complicated recipe with too many ingredients and steps. This is a quick and easy chicken dinner, all cooked in one skillet.
Rosemary roasted chicken has a rich flavor that doesn't need a sauce or marinade to create, and you can pair it with any side you want for any occasion.
Rosemary chicken is a very healthy dish. It's low in calories, low-fat, gluten-free, low carb, and keto friendly.
Recipe Ingredients
This just might be your new favorite chicken dinner recipe, especially if you have a full schedule. When planning an easy dinner, a long shopping list is out. Here's all you need:
Boneless skinless chicken breasts
Salt
Ground black pepper
Dijon mustard
Garlic powder
Fresh rosemary
Shredded Parmesan cheese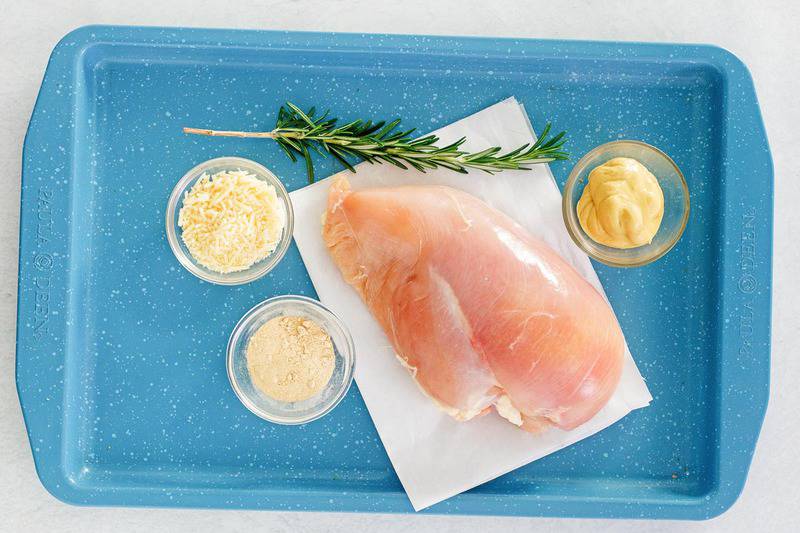 Baked Rosemary Chicken Breast – Ingredient Substitutions
Rosemary is an ideal herb for cooking chicken. However, if you don't happen to have any rosemary in your kitchen or you want to experiment with different flavors, there are options that can help offset its absence, including:
Thyme
Savory
Marjoram
Sage
Oregano
Basil
Tarragon
Caraway seeds
Feta cheese works really well if you don't want to use Parmesan.
If you are cooking for vegan eaters, you can substitute vegan chicken for the real thing. And, of course, use vegan cheese. Note that Dijon mustard may not be vegan. Find out more about vegan Dijon mustard.
How to Make Rosemary Chicken
These are the simple steps to make baked rosemary chicken breast:
Place the chicken breasts in a greased 9 x 13-inch baking dish.
Season the chicken with salt and pepper.
In a small bowl, combine the mustard, garlic powder, and rosemary.
Spread the mustard mixture on the chicken breasts.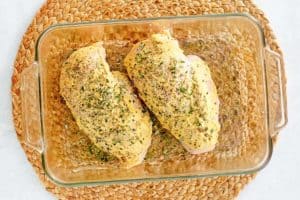 Sprinkle Parmesan cheese on top.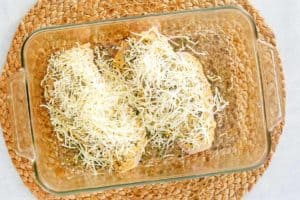 Bake at 350°F for 45 minutes or until juices run clear and the chicken is done (has an internal temperature of 165°F). Time will vary depending on the size of the chicken breasts.
Serve and enjoy!
Air Fryer Rosemary Chicken
Here are the steps to make this recipe in an air fryer:
Prepare the chicken with the steps 1-5 above except use a baking dish that fits your air fryer basket or tray.
Preheat your air fryer to 380°F.
Cook the chicken for 20 minutes or until cooked through. Time will vary based on the size of the chicken breasts.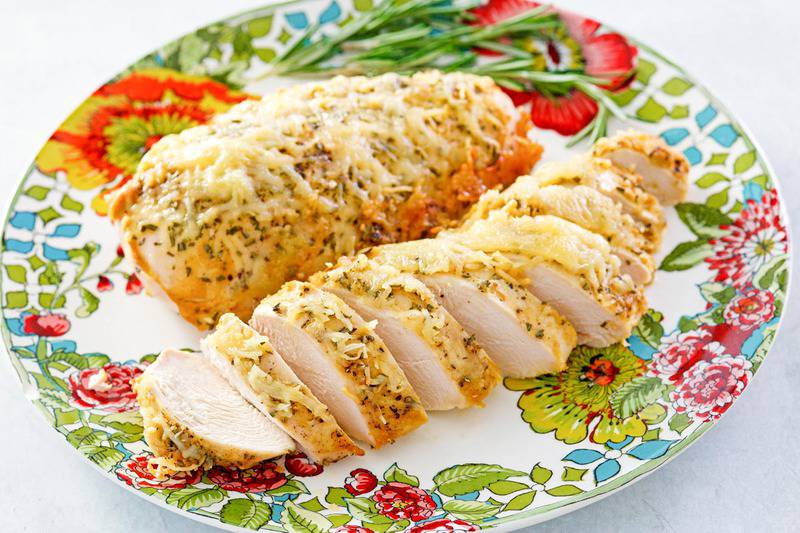 Recipe Variations for Rosemary Chicken Breast
While this rosemary chicken in oven recipe is wonderful as is, you should feel free to customize it to your tastes. Here are a few ideas:
Chicken: Instead of baked rosemary chicken breasts, you could make rosemary chicken thighs. Keep in mind that thighs need a longer cooking time.
Lemon: Sprinkle in some lemon juice to make rosemary lemon chicken or season the chicken with salt and lemon pepper seasoning.
Vegetables: Add 1-2 cups of vegetables to the baking dish – asparagus, cherry tomatoes, green beans, mushrooms, zucchini.
Flavorings: Add other flavors to the sauce, e.g., pine nuts, sliced kalamata olives, sun-dried tomatoes.
Wine: Add about 1/3 cup of white wine for some additional flavor.
Southwestern Twist: Substitute cilantro for rosemary and limes for lemons.
5 Tips for the Perfect Rosemary Baked Chicken
It's best to choose chicken breasts that are approximately the same size, so they cook at the same rate. If your chicken breasts are significantly larger or smaller than 4 to 5 ounces, you may need to adjust your cooking time.
If chicken breasts are sliced thinly, they will cook more quickly and evenly and won't dry out. You can purchase "thin-sliced" breasts at most grocery stores. You can also cut thicker breasts in half through the middle, making each piece two.
To combat dry chicken, pour some 99% fat-free chicken broth into the bottom of the baking dish – just enough to cover.
Check to see if your chicken is done by cutting into a breast; there should be no pink inside, and the juices should run clear. Alternatively, you can use a thermometer inserted into the thickest part of the breast. If it registers at least 165°F, your chicken is done.
The flavor of fresh rosemary is superior to the dried version. That being said, if you need to substitute dried rosemary, the ratio is 1 teaspoon of dried rosemary for every tablespoon of fresh rosemary.
How to Serve Baked Rosemary Chicken
This roasted rosemary chicken recipe makes a tasty dinner. And, don't forget to spoon some of the rosemary pan sauce over your side dish selections or mop it up with some crusty bread – very satisfying. It's worth making some extra sauce!
Use lemon slices to dress up your dish to look really pretty for guests before serving. Just slice up some fresh lemon and heat in a warm pan.
What Goes Well With Rosemary Chicken Breast
For a tasty, simple meal, pair this baked rosemary chicken with a simple salad or vegetables such as:
How to Store, Freeze, and Reheat Rosemary Chicken
It's not wise to leave cooked meat out for longer than 2 hours.
Store: Place leftovers in an airtight container or wrap them in plastic wrap or aluminum foil. Store them in the refrigerator. Leftovers will be good in the fridge for up to 3 days.
Freeze: Freeze roasted rosemary chicken in an airtight container for up to 4 months.
Reheat: To prevent dry chicken, place the chicken in a baking dish and pour a little chicken broth into the dish. Place it in a 350-degree oven for 15 minutes or until the chicken heated through.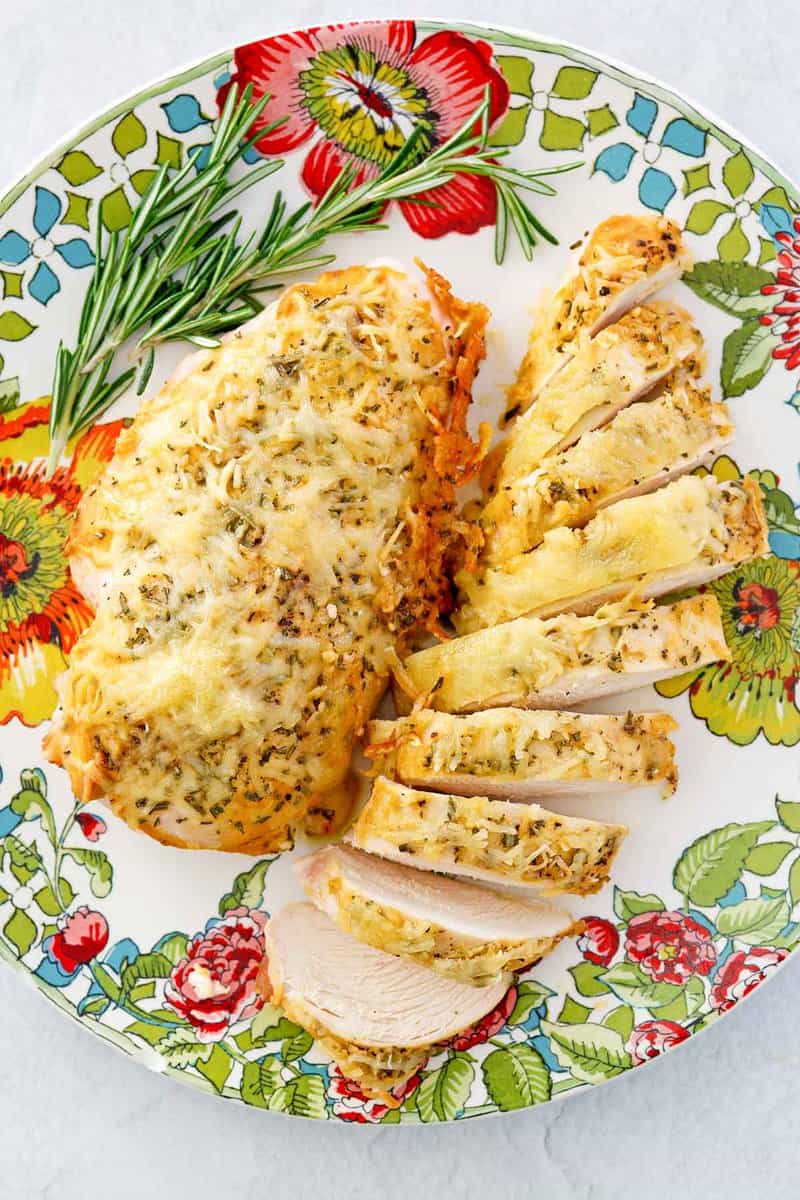 Popular Chicken Breast Recipes
Favorite Low Carb Recipes
Check out more of my easy chicken breast recipes and the best dinner recipes here on CopyKat!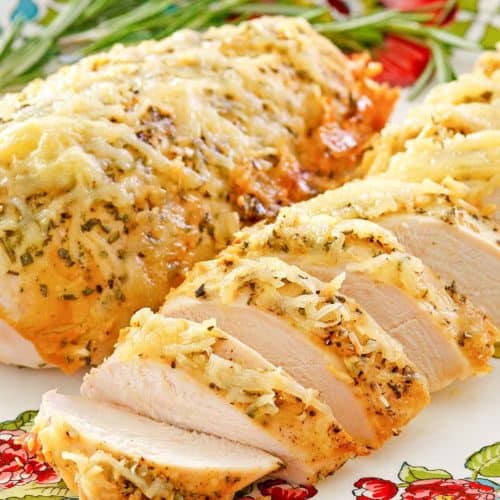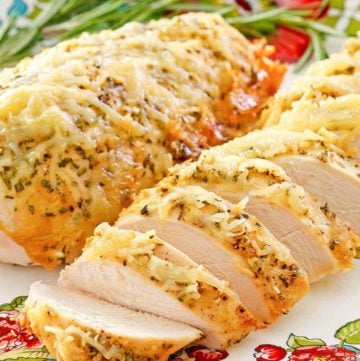 Ingredients
2

pounds

boneless

skinless chicken breasts

2

tablespoons

Dijon mustard

1/2

teaspoon

garlic powder

2

tablespoons

minced fresh rosemary or 2 teaspoons crushed dried rosemary

1/2

cup

Parmesan cheese

salt and pepper to taste
Instructions
Preheat the oven to 350°F.

Place the chicken in a greased 9×13-inch baking dish.

Combine the mustard, garlic powder, and rosemary.

Spread the mixture over the chicken.

Top with cheese.

Bake for 45 minutes or until the juices run clear.
Notes
Baking time can vary depending on the size of the chicken breasts.
Nutrition
Calories:
211
kcal
|
Carbohydrates:
1
g
|
Protein:
35
g
|
Fat:
6
g
|
Saturated Fat:
2
g
|
Cholesterol:
102
mg
|
Sodium:
366
mg
|
Potassium:
580
mg
|
Fiber:
0
g
|
Sugar:
0
g
|
Vitamin A:
130
IU
|
Vitamin C:
2.2
mg
|
Calcium:
118
mg
|
Iron:
0.9
mg