You may have wondered how you can make pizza dough at home. I bet you have your favorite pizza recipe you have been dying to make. It is a lot of fun to make homemade pizzas from scratch and it isn't difficult to do at all. Armed with a food processor or a good pair of hands and you can make wonderful pizza dough.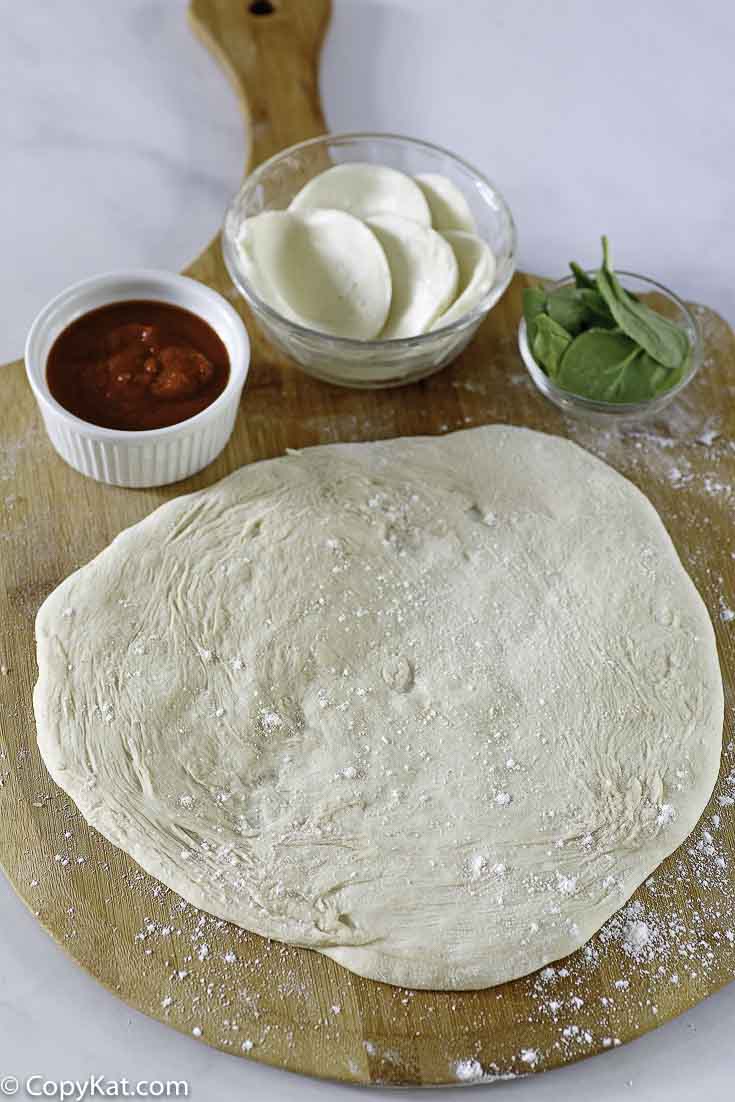 Homemade Pizza Dough
I think one of the largest misconceptions about making your pizza dough from scratch is that it is difficult to do. It really isn't difficult at all. If you have a refrigerator on hand, which we all do, you can make this ahead of time and pull it out when you are ready to make your own pizzas.
I have always hated the pizza dough you can get in a can, it plain tastes weird, making food from your kitchen is always better than buying something that is pre-made.
I personally really like to replace pre-packaged and processed foods with homemade alternatives. You can save a lot of money by doing this. You also know exactly what is in your food, so you don't have to worry about ingredients that you have no idea what they are.
How to Make Homemade Pizza Dough
Pizza dough is so easy to make. Once you have your dough made you have three options for when you want to use the pizza dough. You can use it immediately, you can use it within a couple of days, or you can freeze it for later.
Personally I love storing the dough in the refrigerator for a couple of days. I had a pizza party recently and we grilled up all sorts of pizzas. I didn't want to have to work a lot on the day of the party so I made my dough ahead of time. So right before the party I just needed to slice up a few ingredients and we were able to enjoy making up pizzas.
Using Pizza Dough Later
So after you have prepared your dough you can store it to use later. You can either freeze your pizza dough, or you can put it in the refrigerator.
Which method should you choose? It depends when you are going to prepare your pizzas. If you are doing to use your dough within 3 days the refrigerator should be fine. If you want to use is later, you can freeze your dough for up to a month.
Refrigerate Pizza Dough
Once the dough has been kneaded simply place in a large sealable plastic container with a lid that has been sprayed with some non-stick spray. You will need to let the dough warm-up for about 15 minutes before using it. The longer you leave the dough on the container, it will expand, you may need to punch down the dough. Some pizza parlors think this slow rise process is where the dough really gets the flavor.
Freeze Pizza Dough
Divide out the dough into the desired portions, this recipe will make three medium-sized pizzas and place the dough into a zip-top bag that has been sprayed with non-stick spray. Seal bag, and freeze for up to a month. You will need to allow the dough to thaw for 30 minutes before using.
Additional Pizza Dough Making Tips
Try to use bread flour, it will give you a more chewy and crispy crust. You can use regular all-purpose flour, too, but if you happen to have bread flour on hand use this instead for better results.
To really get your dough to stretch out well while rolling it out, let it rest a couple of times. This will let the dough relax and then you can continue to stretch it out even more.
Fingertips and hands do a better job in rolling out your dough than a rolling pin. If you use a rolling pin, the dough may become tough, if you process it too much. Ideally, touch the dough as little as possible when stretching it out.
Resist the urge to add extra flour in the dough when working with the dough. It is ok if your dough is sticky.
Cooking Instructions
Now after you choose your toppings, you will simply bake your topped pizza with your favorite ingredients. You will place it into a 400-degree oven and bake for 13 to 17 minutes.
Homemade Pizza Dough Questions and Answers
I get a lot of questions. Let me answer them.
Do I have to use yeast?
Yes, you must use yeast. Do not use baking soda, or baking powder, it will not make pizza dough.
I am going to freeze the pizza dough, do I need to let it rise first?
No, knead it for about 30 seconds, then wrap it and freeze the pizza dough.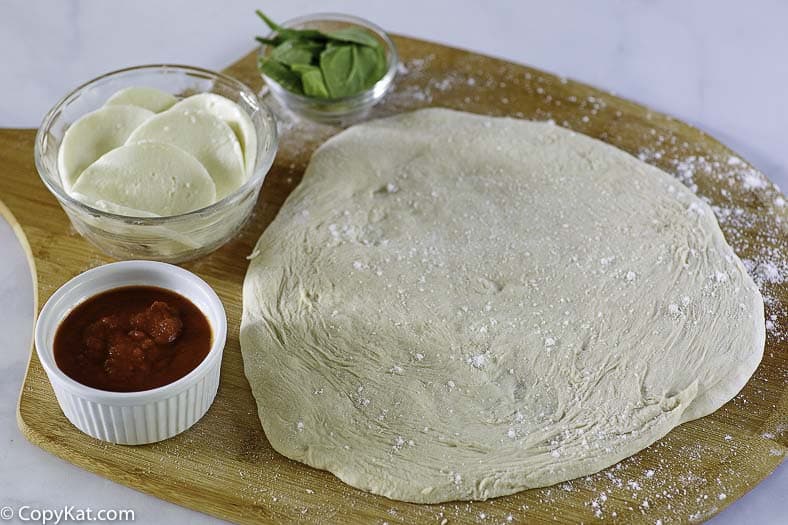 Now that you have made the best pizza crust ever, let's try some delicious pizza recipes
Easy Homemade Yeast Bread Recipes
Be sure to check out more of the best bread recipes and homemade Italian food.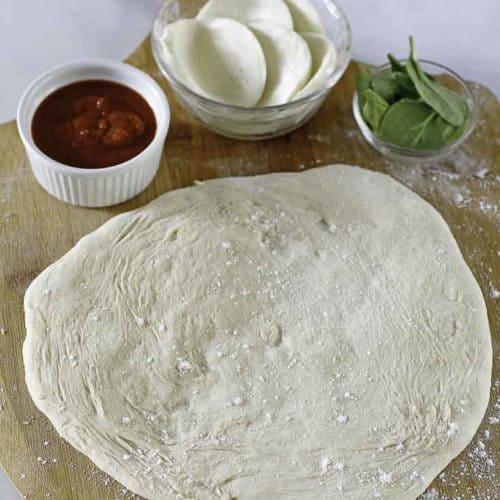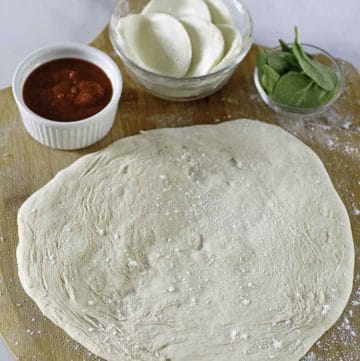 Ingredients
1/2

cup

warm water

1 1/8

teaspoon

active yeast

1 package of instant yeast

1 1/4

cups

water

2

tablespoons

olive oil

4

cups

bread flour

22 ounces bread flour plus more for working the dough

1 1/2

teaspoons

salt

non-stick spray
Instructions
Place the 1/2 cup of warm water and yeast together in a medium bowl and whisk together briefly. Allow the yeast enough time to bubble up and become active, this should take a few minutes.

If the yeast is inactive, you may need to replace the yeast and try again. Add room temperature water and oil to the yeast mixture and stir to combine. Into a food processor bowl pour in flour and salt, pulse to combine. Add yeast, olive oil, and water through the tube of the food processor and process.

The dough will form into a ball. Process until the dough is smooth and elastic. The dough will be sticky if you are going to use the dough immediately or within a few days place into a bowl that has been sprayed with non-stick spray, cover dough with plastic wrap. Let rise until the dough has doubled in size, this may take up to 2 hours.

If you are going to freeze the dough you will need to turn the dough onto a floured surface and knead for about 30 seconds before preparing the dough for the freezer and then wrap it tightly for the freezer to use later.

You will need to let it rise when you remove frozen dough from the freezer. Again, You do not need to let the dough rise before placing into the freezer. It can rise after you remove it from the freezer.
Cooking Instructions
Now after you choose your toppings, you will simply bake your topped pizza with your favorite ingredients, and you will place it into a 400-degree oven and bake for 13 to 17 minutes.
Nutrition
Calories:
1048
kcal
|
Carbohydrates:
184
g
|
Protein:
32
g
|
Fat:
18
g
|
Saturated Fat:
2
g
|
Cholesterol:
0
mg
|
Sodium:
1763
mg
|
Potassium:
314
mg
|
Fiber:
7
g
|
Sugar:
0
g
|
Calcium:
38
mg
|
Iron:
2.4
mg