Thanksgiving Pizza is the perfect way to use up leftovers from your Thanksgiving feast. This pizza combines stuffing, gravy, onions, mozzarella cheese, chopped turkey, and cranberry sauce.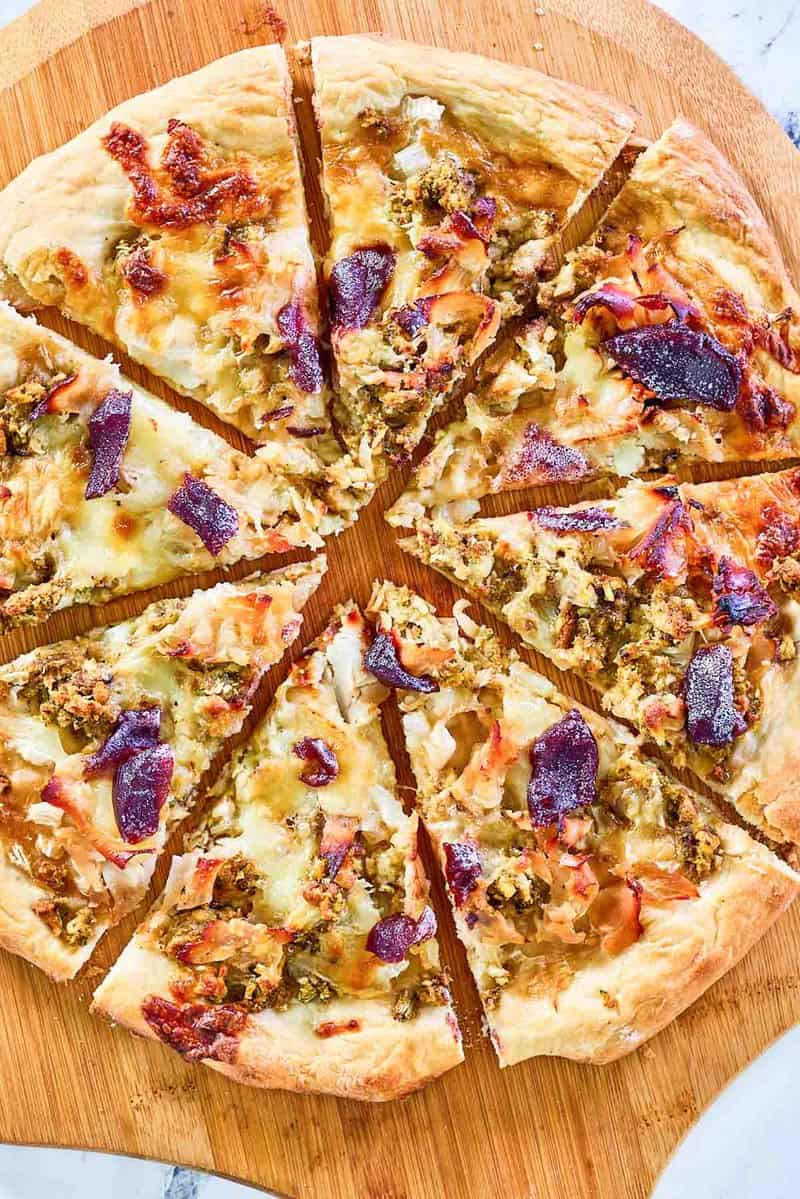 This post contains affiliate links. As an Amazon Associate, I earn from qualifying purchases.
Leftover Thanksgiving Pizza
Are you wondering what to do with all those Thanksgiving leftovers? Well, why not make a pizza instead of the usual roast turkey sandwiches with sliced turkey breast. Thanksgiving Pizza is a perfect and unusual way to use up those leftovers from your Thanksgiving celebrations. This pizza combines chopped turkey, onions, stuffing, gravy, and mozzarella cheese, and is topped off with cranberry sauce.
You might think that you only like very conventional pizza and that this pizza is just for fun. However, if broccoli, barbecue sauce, and pineapple can all end up on pizza, why not turkey and stuffing?
Why This Thanksgiving Recipe Is One You Want to Try
Everyone enjoys Thanksgiving sandwiches made with leftover turkey and stuffing, but it's possible to get a bit tired of them. So why not transform the same flavors into something new and more exciting?
Thanksgiving turkey pizza is a great way to use Thanksgiving Day leftovers and to give thanks for leftovers! When you combine pizza dough with leftover gobbler, stuffing, gravy, cheese, and even leftover cranberry sauce, you end with a pie that says "thankful" in a whole new way!
The gravy is a nice substitute for tomato sauce and helps to make this leftover Thanksgiving pizza very savory. The added touch of tart and sweet cranberry sauce makes for a pizza that's not only different, but that will also become a family favorite.
Who knows, they may even start requesting pizza for Thanksgiving!
Thanksgiving Pizza Recipe Ingredients
This Thanksgiving turkey pizza is a fantastic way to use up those leftovers, and it tastes delicious! Here are your basic ingredients:
Pizza dough
Turkey
Stuffing
Gravy
Onions
Cheese
Jellied cranberry sauce
Don't have any leftover gravy? No problem! Use a gravy mix such as a McCormick Turkey Gravy packet. Simply mix it up according to the package directions.
You can use store-bought or homemade pizza crust for this recipe.
How to Make a Leftover Thanksgiving Pizza
This Thanksgiving pizza recipe is holiday comfort food that's easy to make. Here are the simple steps:
Roll out the pizza dough on a floured surface and transfer it to a pizza pan.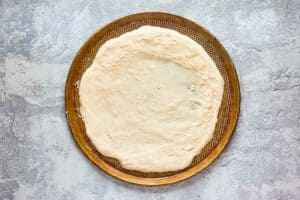 Ladle the gravy over the pizza dough.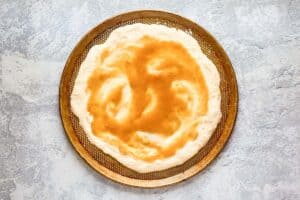 Add the onions and chopped turkey.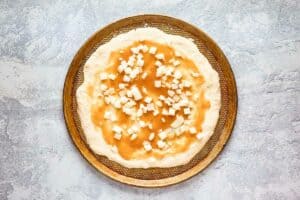 Top with crumbled pieces of stuffing and cheese.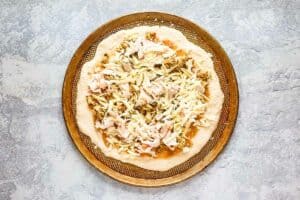 Bake for 15 to 17 minutes at 425°F.
Remove the pizza from the oven and add the cranberry sauce.
Recipe Variations
The great thing about creating a Thanksgiving pizza is that you can include whatever leftovers you have from your holiday festivities.
Got some leftover ham? Just dice it up and sprinkle it on.
Bacon makes everything better including pizza.
Add mashed potatoes, sweet potatoes, or veggies like creamed corn, cooked carrots, shredded brussels sprouts, spinach, or squash. However, be careful with mashed potatoes, as you don't want a pizza that's too soggy.
Add some herbs for extra flavor. Fresh sage and thyme are great ones to use.
Don't have any leftover turkey (really?) Try some rotisserie chicken.
Cheese is a must for any pizza, and a leftover Thanksgiving pizza is no exception. This recipe calls for mozzarella but you can substitute some other kind of cheese, and you may even have some leftover cubes from a Thanksgiving cheese plate. Goat cheese, Swiss cheese, and Cheddar cheese pair great with the turkey.
What to Serve With Your Thanksgiving Leftover Pizza
A slice or two of this delicious Thanksgiving pizza will fill you up. So pair it with a simple green salad or an unfussy vegetable dish such as steamed green beans or air fryer carrots.
How to Store Leftover Pizza
Leftover pizza can be stored in an airtight container in the fridge for up to 3 days. Reheat in a toaster oven or regular oven at 350°F for 5 to 10 minutes until heated through.
You can also freeze leftover pizza for up to 2 months. Wrap your pizza slices tightly in plastic wrap first and then with aluminum foil.
Favorite Pizza Recipes
Popular Turkey Recipes
Check out more of my easy dinner recipes and the best Thanksgiving recipes on CopyKat!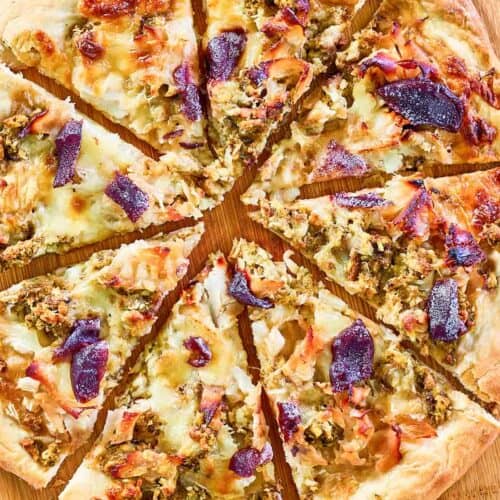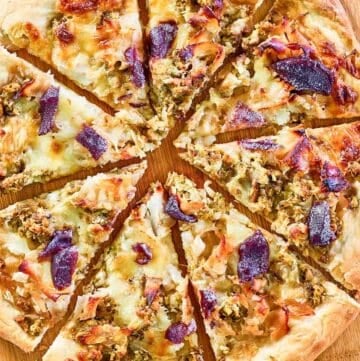 Ingredients
1

pound

pizza dough

1

cup

turkey gravy or chicken gravy

2

tablespoons

chopped onions

3/4

cup

prepared stuffing

leftover or from a box

1

cup

chopped turkey

1

cup

mozzarella cheese

2

tablespoons

jellied cranberry sauce
Instructions
Preheat the oven to 425°F and spray a pizza pan with non-stick spray.

Roll out the pizza dough on the pan.

Ladle the gravy over the pizza dough and sprinkle with onions.

Add the stuffing and chopped turkey to the pizza, and top with the cheese.

Bake the pizza for approximately 15 to 17 minutes, or until the cheese is golden brown.

Remove the pizza from oven, and add the jelled cranberry sauce in small portions over the pizza.
Nutrition
Calories:
502
kcal
|
Carbohydrates:
69
g
|
Protein:
22
g
|
Fat:
15
g
|
Saturated Fat:
6
g
|
Cholesterol:
40
mg
|
Sodium:
1475
mg
|
Potassium:
104
mg
|
Fiber:
2
g
|
Sugar:
12
g
|
Vitamin A:
320
IU
|
Vitamin C:
0.3
mg
|
Calcium:
156
mg
|
Iron:
3.8
mg