Have you ever wondered how to make crazy bread? You are in luck. Years ago in college, I fell in love with Little Caesar's Crazy Bread. This delicious butter and garlic flavored bread is a treat. The Crazy Bread is even better when you make it with this copycat recipe.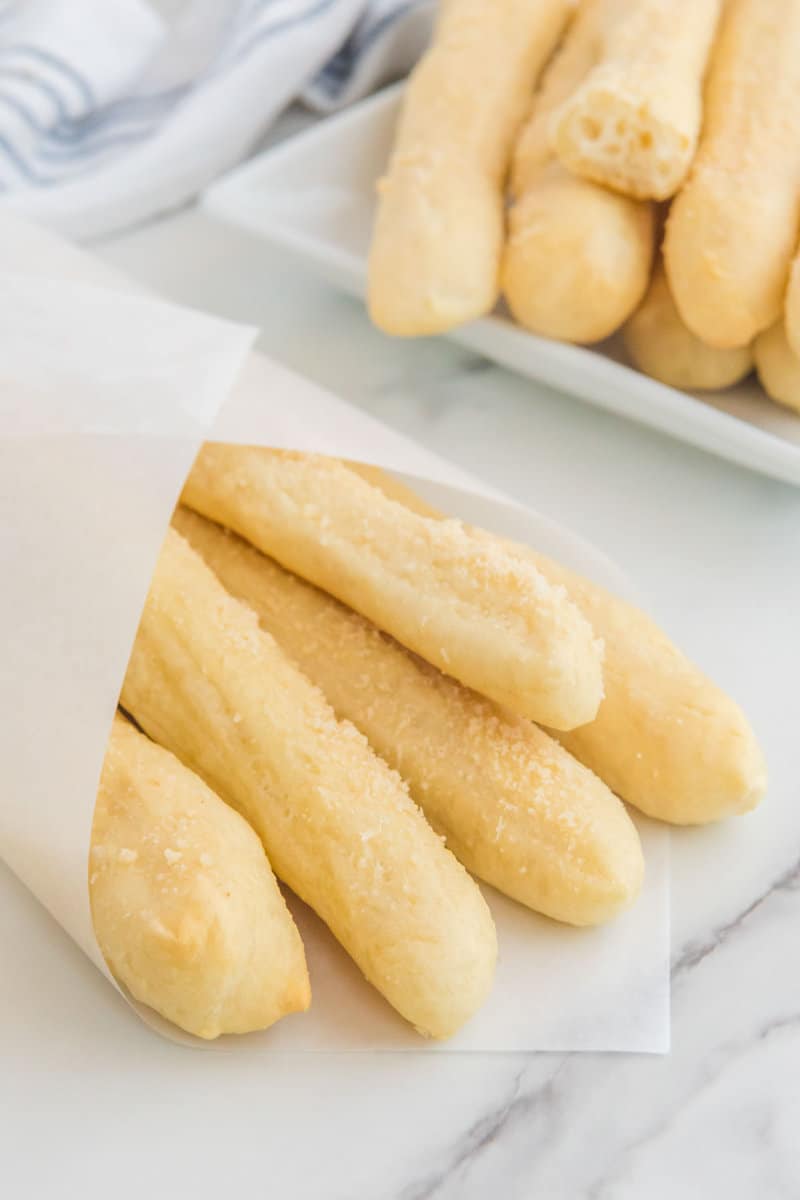 This post contains affiliate links. As an Amazon Associate, I earn from qualifying purchases.
What Makes Little Caesar's Crazy Bread so Good?
Almost every pizza place sells its own version of garlic breadsticks, but it's the Crazy Bread Little Caesars serves that a lot of people crave. Maybe it's the chewy, slightly greasy dough or the heavy hit of garlic and the coating of crispy Parmesan cheese.
Whatever the reason, there is nothing quite like Little Caesars Crazy Bread.
Why This Is the Recipe You Should Try for Homemade Crazy Bread
Nothing tastes better than fresh, straight out of the oven Little Caesars' garlic bread, but if you can't get to a Little Caesars restaurant, you can always try making this Crazy Bread recipe at home.
Baking these breadsticks may not be as easy as picking up an order, but the extra effort is well worth it when you can customize the flavor to get the perfect breadsticks for your palette.
What Is Crazy Bread?
Crazy Bread is the name of the breadsticks sold at Little Caesars' pizza restaurants. Fans of Crazy Bread love the side's garlic butter and Parmesan topping.
If you have never had this freshly baked bread topped with the flavors of butter and garlic, then sprinkled with Parmesan cheese, you are missing out on one of the best side dishes to have come out of a pizza place.
These are served with their Crazy sauce, but you can eat this fluffy breadstick plain or with your favorite marinara. Whenever I have ordered pizza here, I have always ordered some of their crazy bread.
Crazy Bread (Little Caesars Copycat)
We will start this recipe with a basic bread dough that you can use your food processor to help you put it together. This recipe also works well with a mixer, or even by hand.
Crazy Bread Recipe Ingredients
You only need a few simple ingredients to make crazy bread:
Instant yeast
Water
Olive oil
Bread flour
Salt
Butter
Garlic salt
Parmesan cheese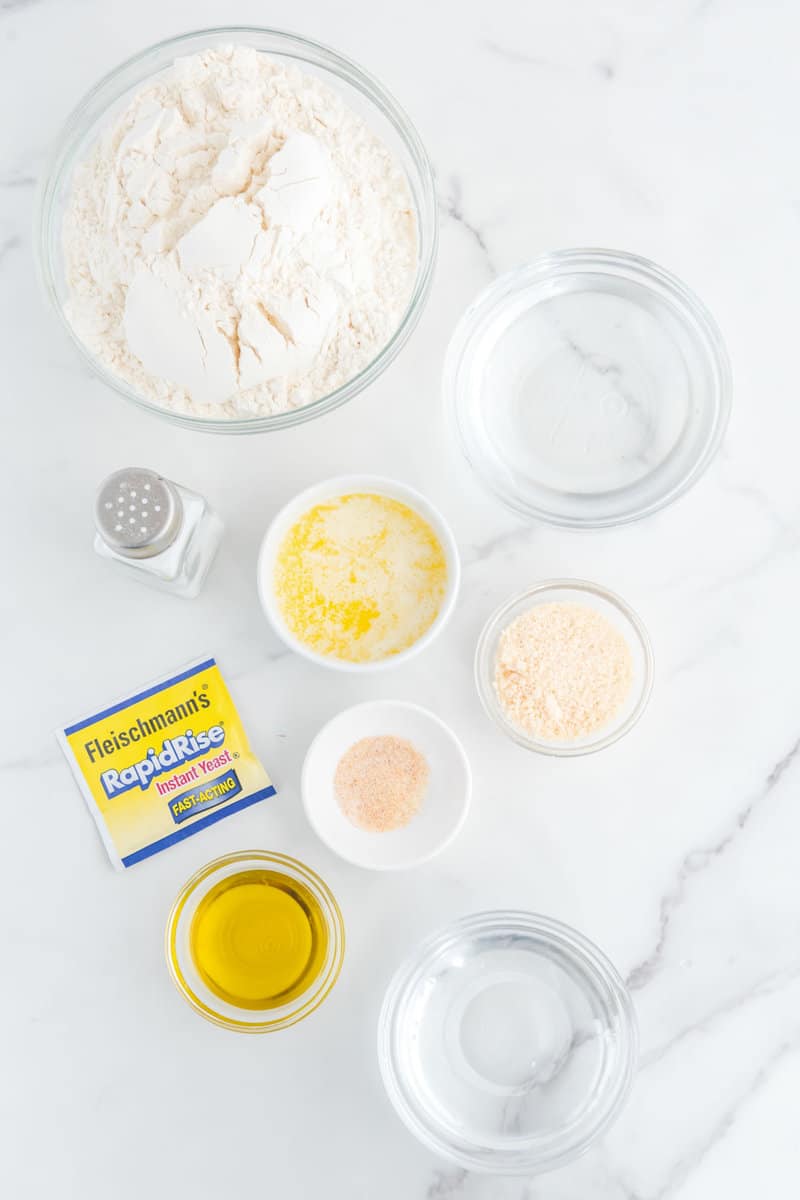 Ingredient Notes
Unlike the restaurant, we will use real butter for this recipe. I bet you will find it makes the crazy bread even a little bit better. You could also make this recipe with a can of pizza dough if you desire.
For this recipe, I like to use yeast that I buy in bulk. I find it when you buy a pound of yeast it costs a lot less than buying individual packages of yeast at the store. I have found yeast at big-box stores such as Costco, Sam's, or even Amazon.com.
How to Make Crazy Bread
Here are the steps for making this copycat Little Caesar's Crazy Bread recipe:
Proof the yeast in warm water. Add oil and more warm water.
Place flour and salt in a food processor and pulse to combine. You could use a dough hook if you are using a stand mixer.
With the processor running, add yeast, olive oil, and water through the top tube. Process until the dough forms and is smooth and elastic.
Place the dough ball in a greased bowl. Cover the dough and let it rise until doubled.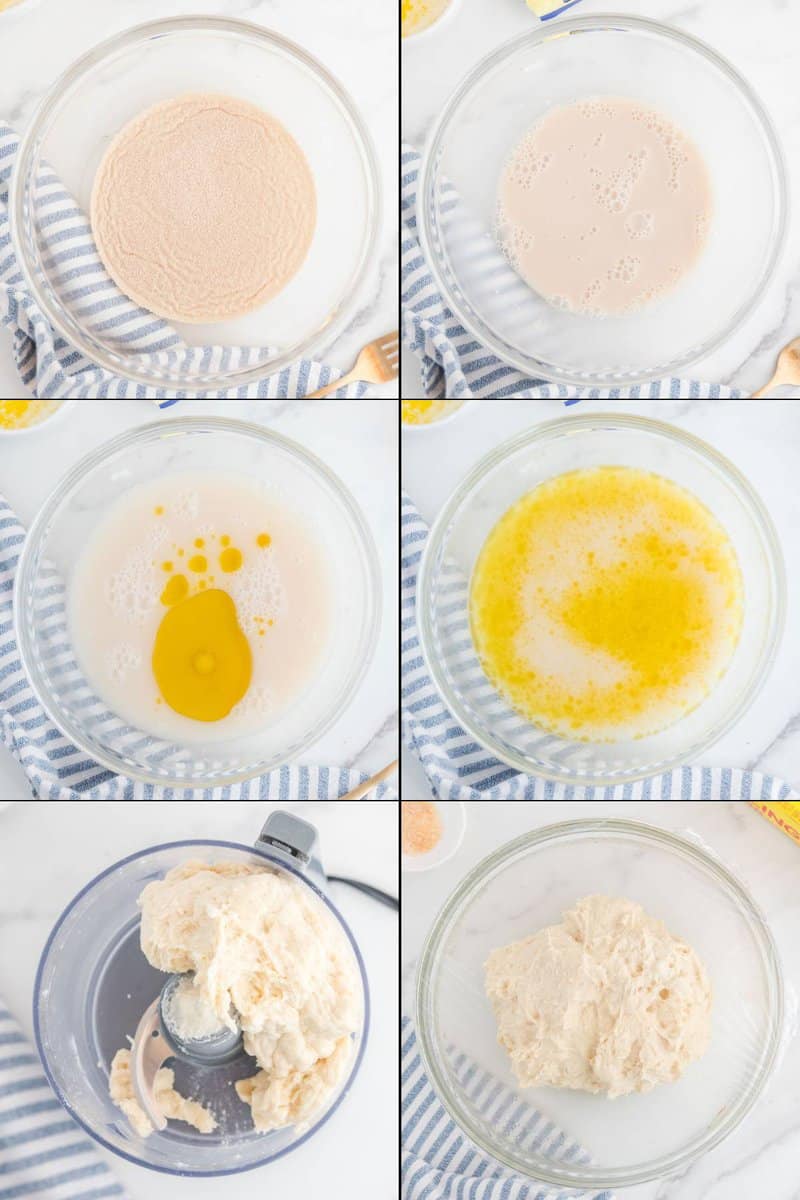 On a floured surface, pat out the dough into a rectangle. Cut the dough in half then into strips, you may want to use a pizza cutter to make the slices even.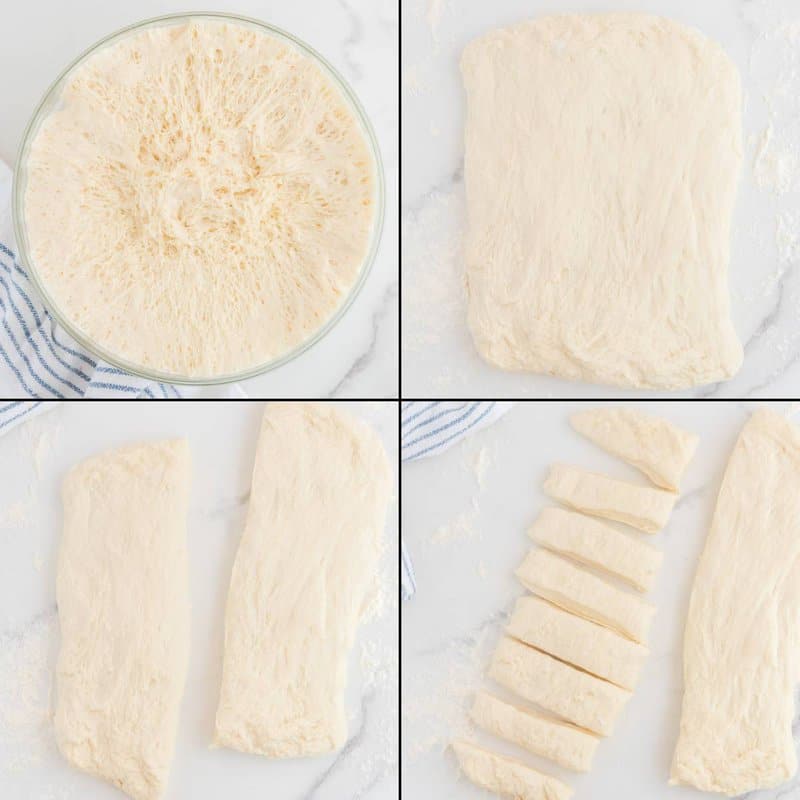 Coat a baking sheet with non-stick spray and place the strips on it.
Bake at 375°F for 18 minutes or until the breadsticks become golden brown.
Combine melted butter and garlic salt. Brush the garlic butter mixture over the breadsticks. Sprinkle Parmesan cheese over the breadsticks.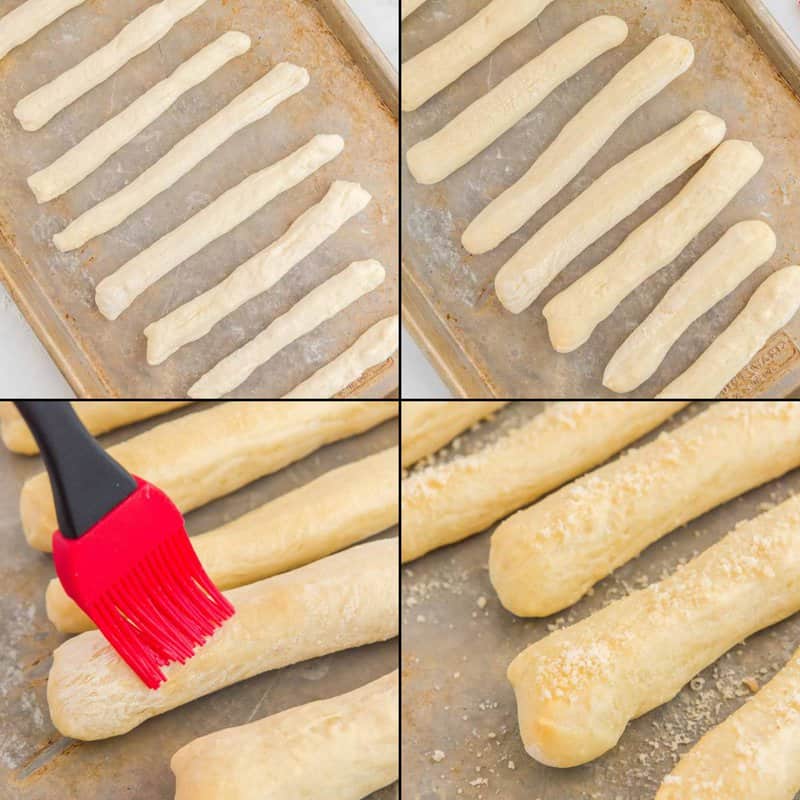 What to Serve with This Crazy Bread Recipe
Little Caesars bundles their breadsticks with Crazy Sauce, a spiced-up version of the restaurant's marinara sauce. In addition to Crazy Sauce, customers can purchase other dips at Little Caesars, including:
Cheezy Jalapeno Caesar Dip
Buffalo Ranch Caesar Dip
Ranch Caesar Dip
Butter Garlic Caesar Dip
You can keep it classic and stick to pairing your copycat Crazy Bread with one of the options above, or you can go a bit wild with these other ideas:
Roast Shallot Chutney
Bacon Jam
Brown Gravy
Mango Chutney
Pizza Sauce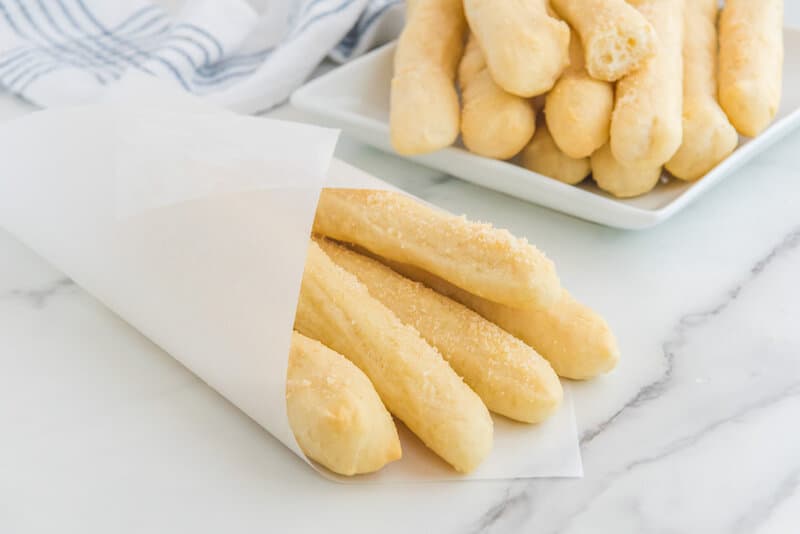 How to Store, Freeze, and Reheat Little Caesar Garlic Bread
Crazy Bread is best fresh, but you can keep any leftovers in a paper bag on the counter overnight.
If you are going to make this Little Caesars Crazy Bread recipe, you might as well double up and keep some extra in the freezer for later. You can freeze the breadsticks by wrapping them individually in parchment paper and putting them in a larger container for up to three months.
If you plan to freeze the Crazy Bread from the start, it's best to bake the breadsticks without the buttery coating and add it later when you reheat the bread.
To reheat:
Let the Crazy Bread thaw in the fridge. Meanwhile, you can make a new butter, garlic, and cheese coating, if desired.
Put the thawed breadsticks on a parchment-lined baking tray and pop in a 350-degree Fahrenheit oven until hot, about 8 to 10 minutes for cold Crazy Bread and 3 to 4 minutes for room temperature breadsticks. Turn the breadsticks over midway through the baking time.
Little Caesars Breadsticks FAQs
Why Do They Call It Crazy Bread?
This classic menu item first appeared on Little Casaers' menu way back in 1982 as Crazy Crust, but later changed the name. In a 2009 article, the company claimed that it was the first pizza chain to sell a "side bread item".
As for why Little Caesars decided to call it "crazy" in the first place? Well, the company tweeted in 2013 they named it after the guy who created it, "Crazy" Brett.
More legend than fact? Who knows, and when Crazy Bread tastes this good, who really cares?
Does Little Caesars Crazy Bread Have Cheese?
Little Caesars sold Stuffed Crazy Bread with mozzarella cheese inside, but many locations no longer carry it. However, Italian Cheese Bread is a standard menu item that caters to cheese lovers.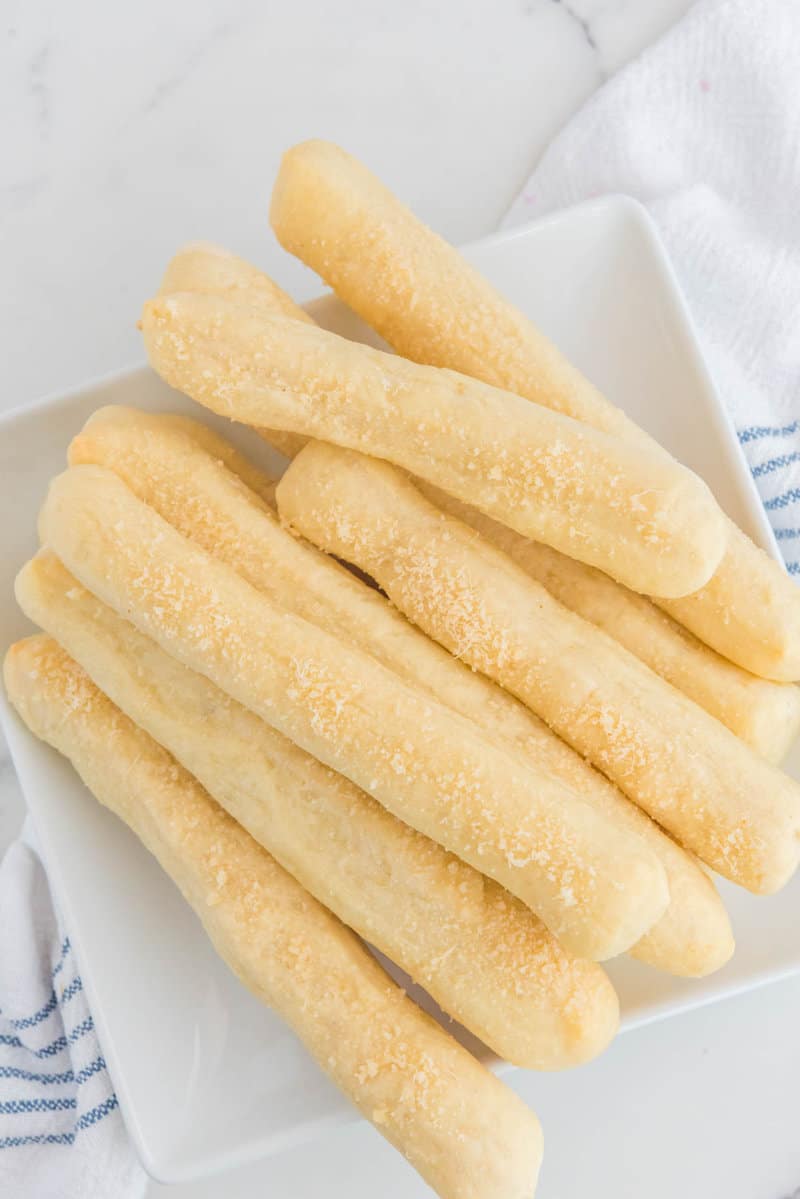 Love Other Pizza Favorites? Try These Recipes
Do you have leftover bread? Make these recipes
Be sure to check out more of my easy bread recipes and the best copycat restaurant recipes.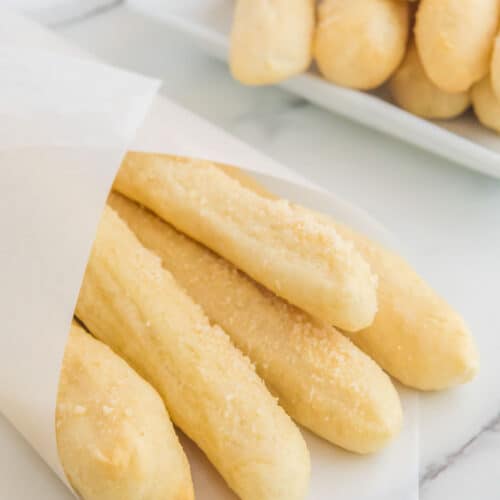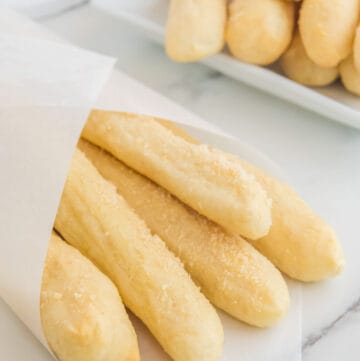 Ingredients
1/2

cup

warm water

~100° to 110°F

2 1/2

teaspoons

instant yeast

1 package

1 1/4

cups

water

2

tablespoons

olive oil

4

cups (22 ounces)

bread flour

plus more for working the dough

1 1/2

teaspoons

salt

3

tablespoons

butter

melted

1/2

teaspoon

garlic salt

3

tablespoons

grated Parmesan cheese
Instructions
Place 1/2 cup of warm water and yeast in a medium bowl and whisk together briefly. Allow the yeast enough time to bubble up and become active. This should take a few minutes. If the yeast is inactive, you may need to replace the yeast and try again.

Add room temperature water and oil to the yeast mixture, and stir to combine.

Place the flour and salt in a food processor, and pulse to combine.

Add the yeast mixture through the tube of the food processor and process. The dough will form into a ball. Process until the dough is smooth and elastic.

Place the dough in a bowl that has been sprayed with non-stick spray, and cover with plastic wrap. Let the dough rise until doubled in size, up to 2 hours.

Preheat the oven to 375°F.

Gently pat out the dough on a floured surface into a rectangular shape.

Cut the dough into two equal portions down the middle. Then make about 8 cuts horizontally across the dough.

Roll each portion of dough into a breadstick.

Spray a baking sheet with non-stick spray and place the dough strips onto the baking sheet.

Bake for about 18 minutes or until the breadsticks become golden.

Mix the melted butter and the garlic salt.

Brush the garlic sauce over the breadsticks and sprinkle Parmesan cheese on top.
Nutrition
Calories:
420
kcal
|
Carbohydrates:
65
g
|
Protein:
11
g
|
Fat:
12
g
|
Saturated Fat:
4
g
|
Cholesterol:
16
mg
|
Sodium:
873
mg
|
Potassium:
136
mg
|
Fiber:
3
g
|
Sugar:
0
g
|
Vitamin A:
195
IU
|
Calcium:
44
mg
|
Iron:
4
mg