Key Lime Pie with meringue is a classic dessert and with a fluffy topping. This creamy pie has the perfect balance of sweet and tart. It's great for potlucks, holidays, and special occasions.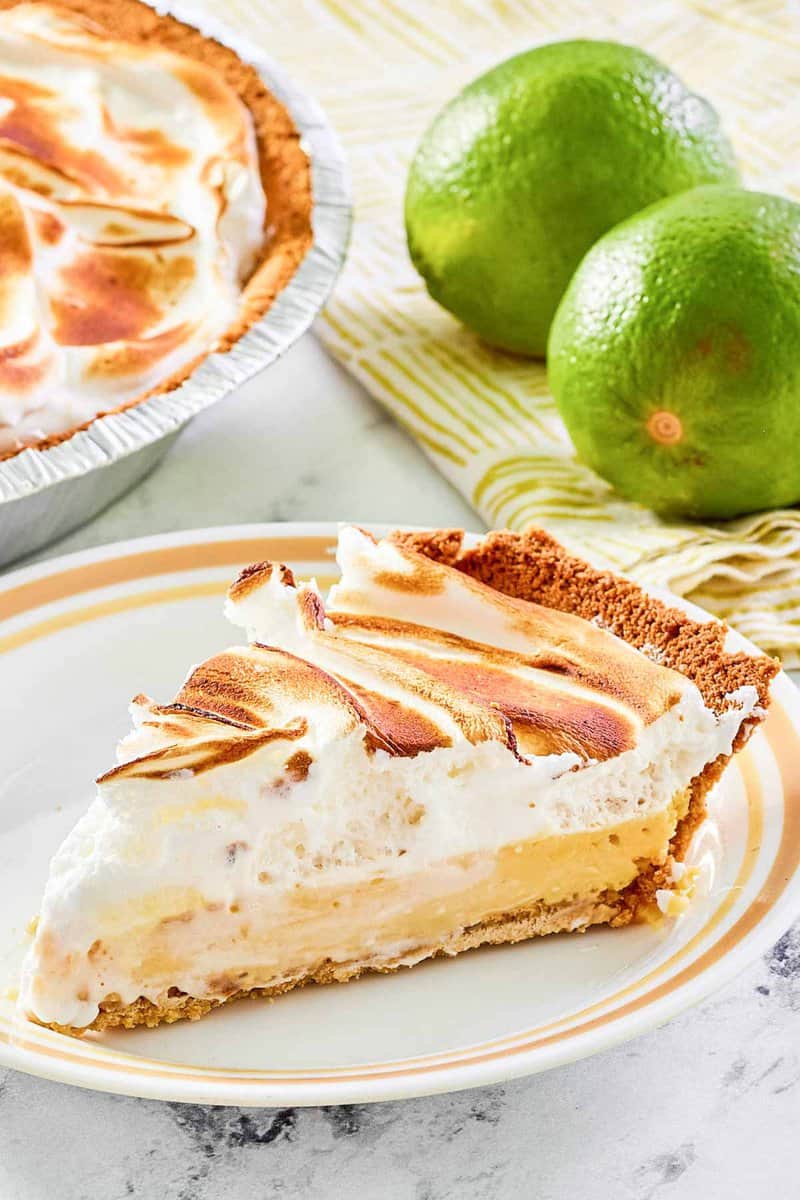 This post contains affiliate links. As an Amazon Associate, I earn from qualifying purchases.
Key Lime Meringue Pie
Key lime pie is so popular and deservedly so! Its sweet and tangy tastes mingle together for a unique flavor. Key lime pie is associated with the Florida Keys, but you can use regular fresh limes instead if you don't have key limes available.
In any event, the sweet meringue topping perfectly balances the tartness of the citrus.
Why You Should Try This Key Lime Meringue Pie Recipe
Key lime pie tastes wonderful but is made even more delicious with a fluffy meringue topping. This key lime pie recipe with meringue gives you a to-die-for dessert that's perfect for any occasion.
If you want a go-to summer dessert, this key lime meringue pie recipe could be all you need.
Key Lime Meringue Pie – Ingredients You Will Need
The classic key lime pie base is topped with delicious toasted meringue and uses easy-to-find ingredients:
Graham cracker crust
Sweetened condensed milk
Eggs
Key lime juice
Cream of tartar
Vanilla extract
Superfine sugar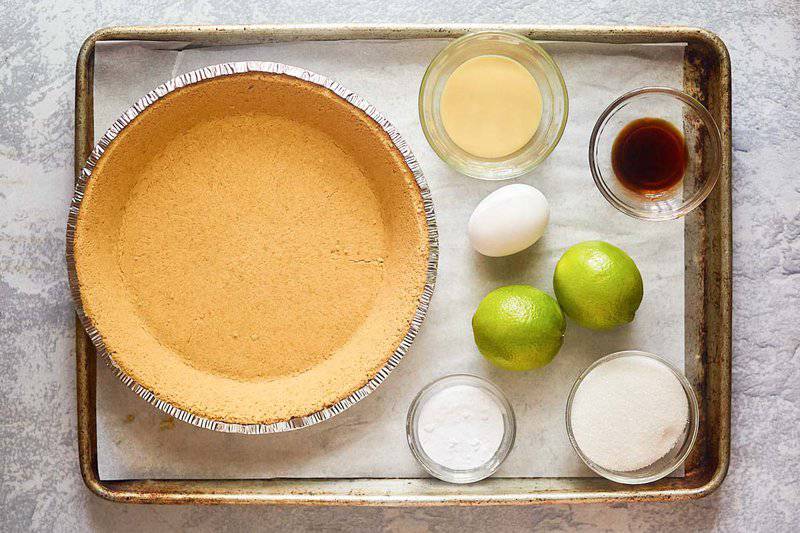 What Are Key Limes?
Persian limes are the most common limes available. Key limes are much smaller (about 1.5 inches in diameter) and have a much more intense flavor.
You can labor away at juicing each key lime required for this recipe, but you can also buy concentrated key lime juice such as Nellie and Joe's Key West Lime Juice.
To have fresh key lime juice throughout the year, squeeze the limes while they're in season, freeze the juice in ice cube trays, and store the cubes in freezer bags.
You can use regular limes, but your pie won't be quite as tart. Using concentrated key lime juice, you can also make this key lime pie with meringue topping.
How to Make This Key Lime Pie With Meringue Recipe
This key lime pie recipe with meringue is so easy to make you'll be impressed with the results no matter your baking skill level. Here are the steps in brief:
To make the key lime pie base:
Place the condensed milk, egg yolks, and lime juice in a bowl. Stir or whisk to combine until smooth.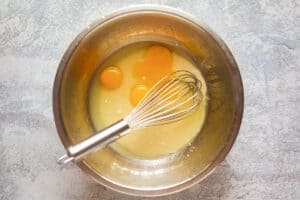 Pour the mixture into the pie crust.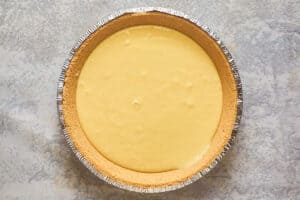 To make the meringue topping for key lime pie: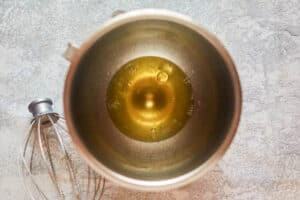 Beat the egg whites until frothy.
Gradually add the sugar and beat until stiff peaks form.
Add the cream of tartar and vanilla extract.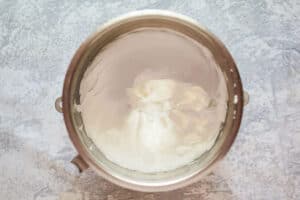 Spoon the meringue over the pie filling.
Bake for 10 to 15 minutes or until the meringue is lightly browned. Cool the pie on a wire rack.
Tips for Making a Meringue Topping for Key Lime Pie
A perfect meringue is all in the egg whites. Make sure your eggs are fresh and be careful when separating them – even a tiny bit of yolk can keep peaks from forming properly.
For the lightest and fluffiest meringue, allow the egg whites to come to room temperature – they will whip up more easily.
Whisk the egg whites in a bowl that's both clean and dry. Even a small amount of oily residue in the bowl will prevent your whites from whisking properly.
Over-whipping can change the texture. Be sure to whisk them just to the point that they stand in stiff peaks, no more. Your peaks are firm when you can lift your beater or whisk out of the egg whites with the peak remaining erect and not bending over.
If you overbeat your egg whites, the foam will collapse and become grainy and watery.
Beat the sugar into the egg whites gradually until the sugar is completely dissolved. If the sugar does not dissolve properly, you'll get little amber-colored drops on top of the meringue. That's fine concerning taste, but just not what you are going for!
Seal your pie with the meringue by wiping your meringue-covered spoon along the edge of the pie crust. This makes the meringue "grab" onto the pie crust so it won't shrink away from it.
Keep an eye on your key lime meringue pie while baking, and keep it away from drafts when taking it out of the oven. A sudden breeze could shrink your meringue.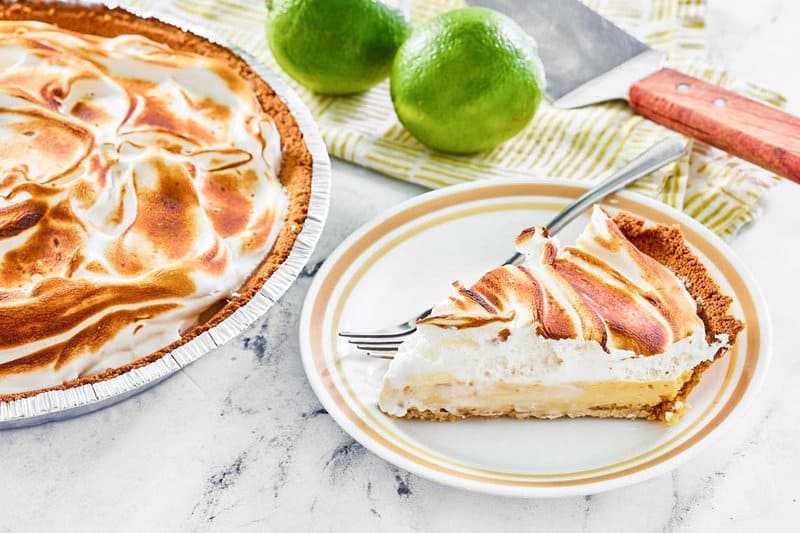 Recipe Variations
Topping: If you choose not to make meringue, a key lime pie with whipped cream topping would also be delicious!
Crust: You can also opt to make your homemade graham crust. You can also vary the crust to give you a different flavor. If you like salty, use crushed pretzels or choose a sweet taste with shortbread crumbs.
Homemade Graham Cracker Crust
Make your own homemade graham cracker crust. It's just so much more buttery than ready-made!!!
Graham Cracker Crust Ingredients
2 cups graham cracker crumbs
6 tablespoons butter, melted
1 tablespoon brown sugar
1/2 teaspoon salt
How to Make Graham Cracker Crust
Mix together the graham cracker crumbs, brown sugar, and salt.
Fold in the butter to form moist crumbs.
Press into a 9-inch pie plate, pinch the sides for an even crust, and refrigerate until ready to use.
Pre-baking a graham cracker crust isn't usually necessary, but if you want an extra crisp crust, bake it at 375°F for 7 to 10 minutes until the crust has darkened and set. Remove it from the oven and allow it to cool.
What to Serve With Key Lime Meringue Pie
Kay lime pie with meringue topping is a dessert that will be perfect with any number of main dishes. A variety of drinks will also complement this key lime pie with meringue. Here are a few suggestions:
How to Store Key Lime Pie
If you made a pie with the meringue topping and you have leftovers, insert toothpicks to keep plastic wrap off the meringue. Cover loosely with plastic wrap and store it in the refrigerator for up to 3 days.
A key lime pie can also be frozen but without the meringue topping. A meringue or whipped cream topping will not freeze well. When thawed, this type of topping will become watery and unappetizing. So, if you want to plan ahead and freeze your pie, don't add your topping until you are ready to eat it.
Favorite Pie Recipes
Popular Citrus Desserts
Check out more of my easy pie recipes and the best dessert recipes on CopyKat!
Many thanks to the viewer who sent in this key lime pie with meringue recipe.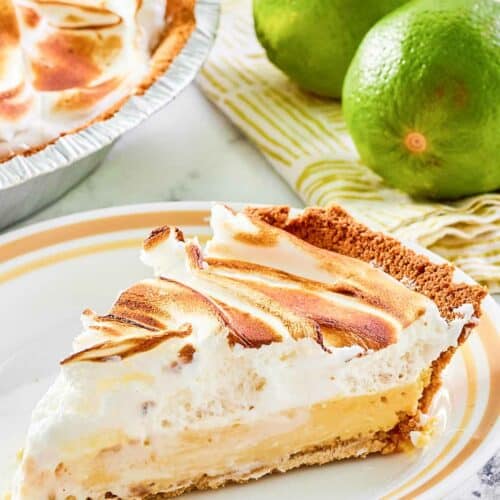 Ingredients
14

ounces

sweetened condensed milk

3

egg yolks

1/2

cup

fresh key lime juice

1

graham cracker crust

3

egg whites

at room temperature

1/4

teaspoon

cream of tartar

1/2

teaspoon

vanilla extract

6

tablespoons

superfine sugar
Instructions
Preheat your oven to 350 degrees.

Beat the first three ingredients together until thick and smooth. Pour mixture into pie crust.

In a large, clean, and dry mixing bowl, beat the egg whites on medium-high speed until frothy.

Gradually add the sugar, one tablespoon at a time, and beat the egg whites until stiff peaks form.

Add the cream of tartar and vanilla extract and beat until just combined.

Spoon the meringue onto the top of the pie filling, spread it evenly over the entire surface, and seal the edges against the pie dish.

Bake for 10 to 15 minutes at 350 degrees or until the meringue is golden brown.

Allow the pie to cool completely before slicing and serving.
Notes
To have fresh key lime juice all throughout the year, squeeze them while they're in season, freeze the juice in ice cube trays, and store the cubes in freezer bags.
Nutrition
Calories:
323
kcal
|
Carbohydrates:
48
g
|
Protein:
7
g
|
Fat:
11
g
|
Saturated Fat:
5
g
|
Cholesterol:
90
mg
|
Sodium:
172
mg
|
Potassium:
263
mg
|
Fiber:
0
g
|
Sugar:
36
g
|
Vitamin A:
235
IU
|
Vitamin C:
5.9
mg
|
Calcium:
156
mg
|
Iron:
0.8
mg