Reese's Peanut Butter Pie made with creamy peanut butter, chocolate peanut butter cups, and Oreo chocolate cookie crust is a luscious dessert and great for any occasion.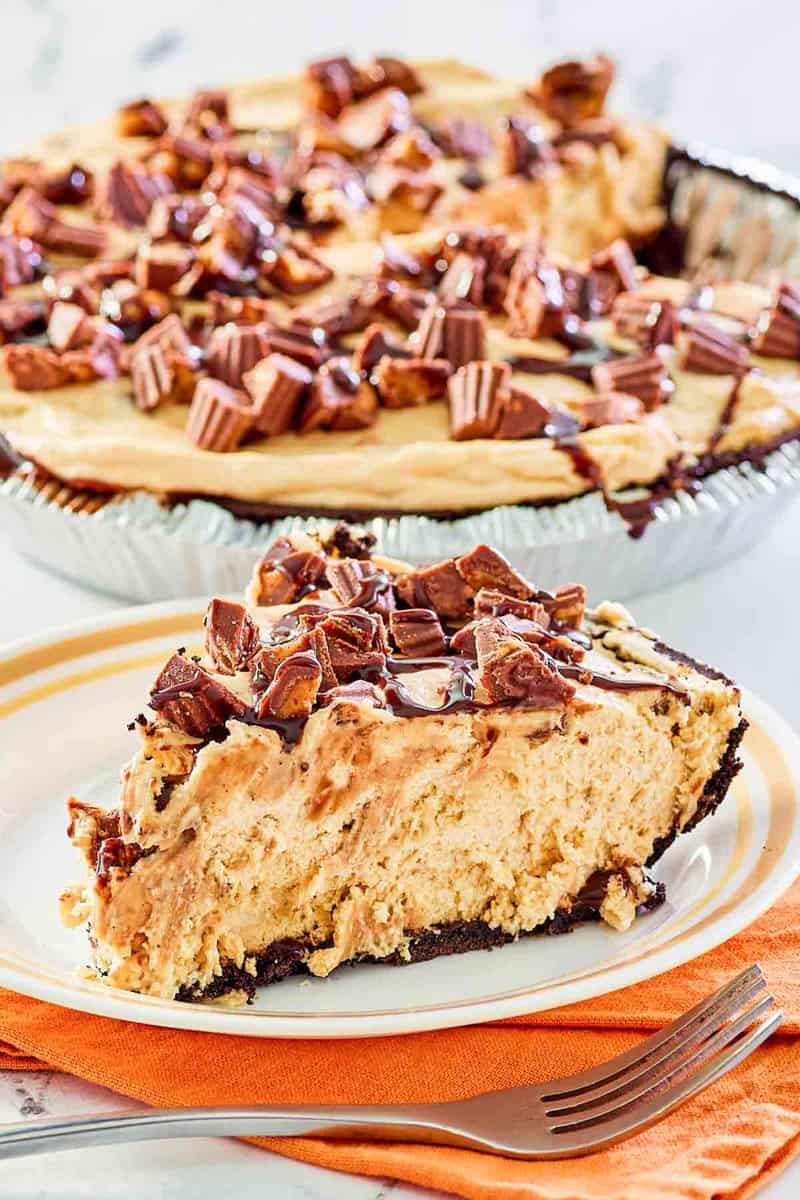 This post contains affiliate links. As an Amazon Associate, I earn from qualifying purchases.
What Makes This Reese's Peanut Butter Pie The Perfect Peanut Butter Lover's Dessert?
Kids have been begging their parents to buy Reese's Butter Cups for generations. The famous candy has a bit of everything you want in a snack. The crunchy sweet shell with hints of bitterness envelops a smooth, salty-sweet creamy peanut butter filling. Yum!
This Reese's Peanut Butter Cup Pie captures everything we love about the classic snack in pie form.
Why You Should Try This Recipe for Reese's Peanut Butter Pie
It doesn't get any easier than putting together a no-bake pie. This recipe is straightforward enough for beginners but so delicious that it will become a family favorite.
Don't skip this one if you are not a fan of peanut butter. There are several non-peanut butter alternatives in the recipe variations section below.
Ingredients For Reese's Pie
For Reese's Peanut Butter Cup Pie, you'll need:
Whipping cream
Cream cheese
Powdered sugar
Half & half
Vanilla extract
Peanut butter
Premade crumb crust
Hot fudge
Reese's Peanut Butter Cups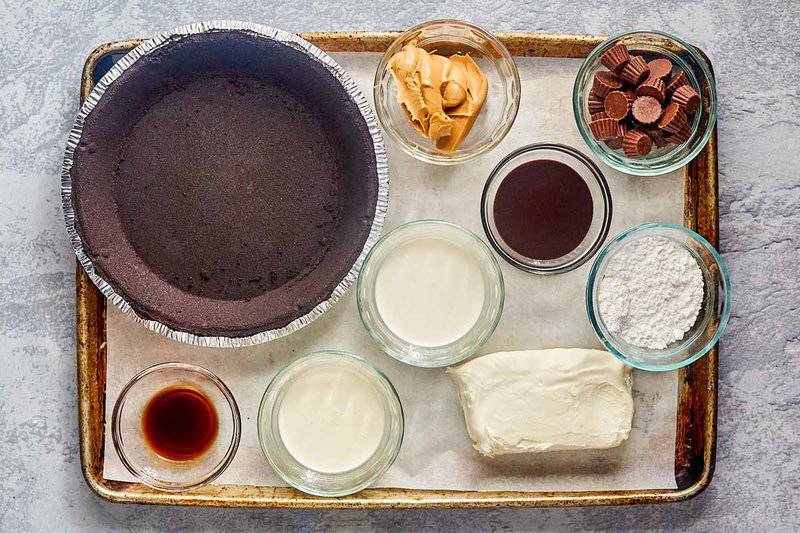 Ingredient Notes
For the best results from this recipe, use Reese's or a standard brand of creamy peanut butter, such as Jif or Skippy, that contains sugar.
The filling fits a 9-inch pie shell perfectly. This recipe will work well with a graham cracker pie crust, chocolate wafer crumb crust, or Oreo crust.
How To Make a Reese's Peanut Butter Pie
To assemble Reese's Cup Pie:
Place the bowl for your stand mixer in the freezer for at least an hour. Chilling the bowl will give the pie filling a denser texture. If you don't have a stand mixer, chill a large metal mixing bowl instead.
While waiting for the bowl to get cold, warm the hot fudge in the microwave using 15-second bursts just until the hot fudge softens. Spread a thin layer of hot fudge on the bottom and sides of the crumb pie shell and allow it to set.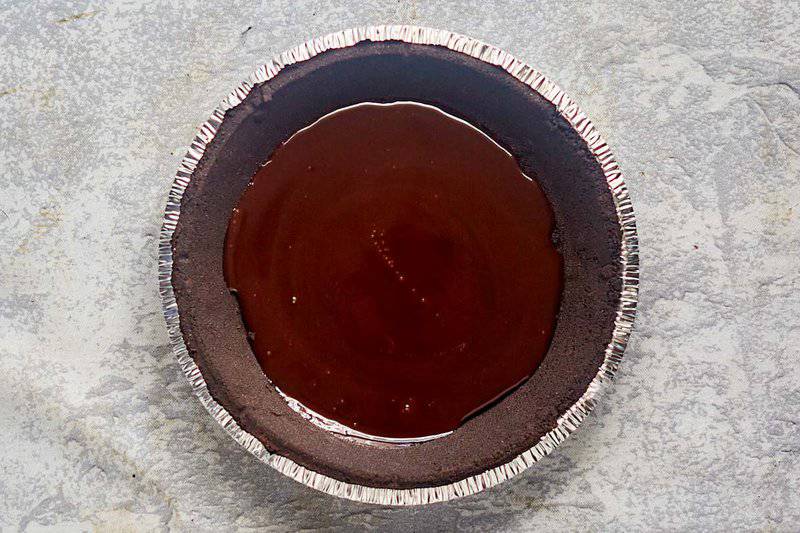 Rough chop the peanut butter cups with a sharp knife and reserve them for later.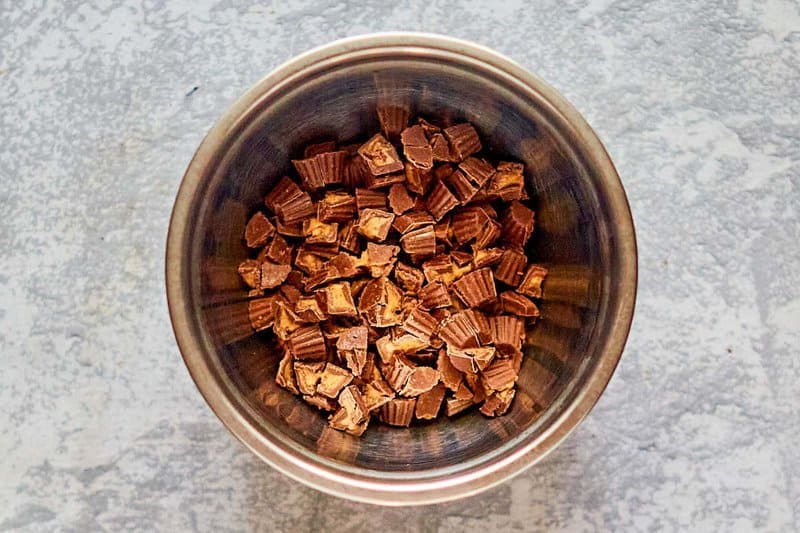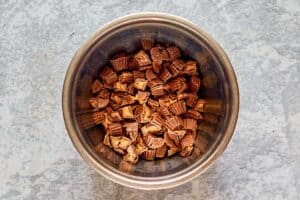 Remove the chilled bowl from the freezer.
Pour the whipping cream into the chilled bowl. Start mixing with a balloon whisk attachment on medium-low speed. Slowly ramp up the speed to medium-high until the whipping cream reaches stiff peaks.
Use a rubber spatula to transfer the whipped cream to another bowl.
Replace the balloon whisk attachment with a paddle attachment and start mixing the cream cheese, peanut butter, powdered sugar, half & half, and vanilla extract. Start on medium-low speed, and slowly increase the speed to medium-high. Continue to mix until the filling is light and airy.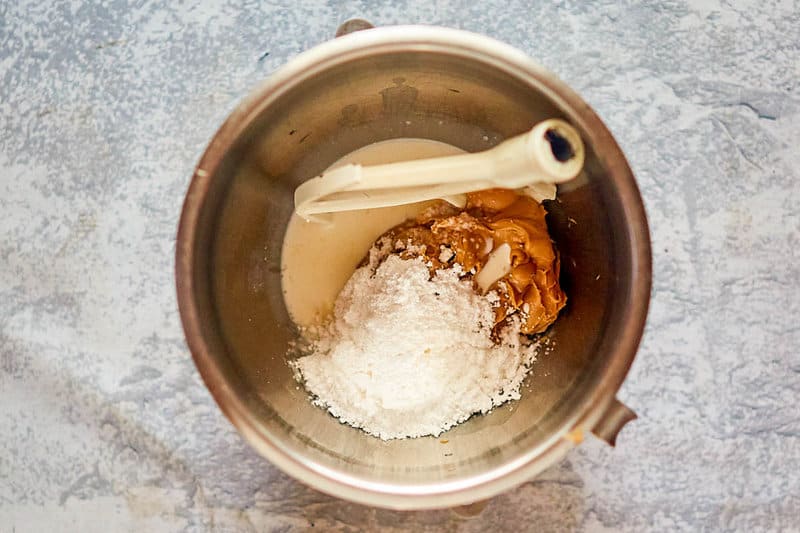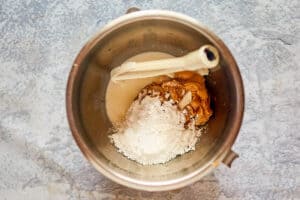 Use the rubber spatula to gently fold in a third of the whipped cream at a time.
After fully incorporating the whipped cream with the rest of the pie filling, gently mix in about a cup of the chopped peanut butter cups.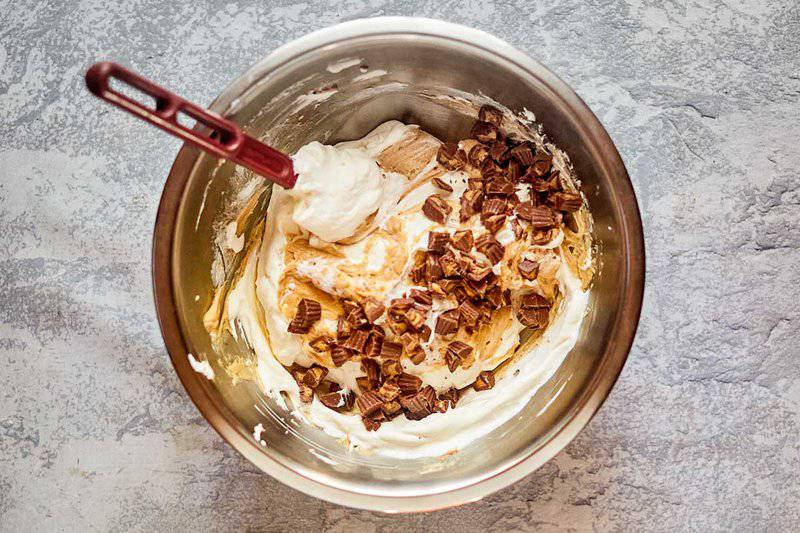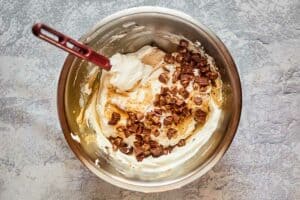 Scrape the pie filling into the cookie crumb crust. Tap the pie tin on the counter a few times to remove any bubbles and flatten out the surface.
Warm the hot fudge in the microwave. Drizzle the hot fudge on top of the pie and sprinkle the remaining chopped peanut butter cups on top.
Cover the pie with plastic wrap or put it in a pie saver and refrigerate for at least six hours before serving.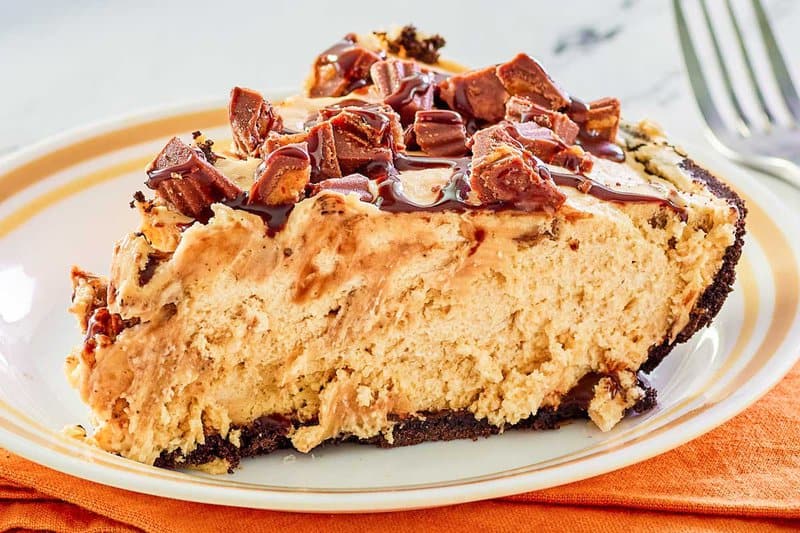 What To Serve This With?
A huge glass of ice-cold milk goes great with this pie, but a milky coffee or tea would not be out of place.
Recipe Variations
There are lots of ways to customize this Reese's peanut butter pie recipe. Here are a few suggestions:
Change the candy you use. If you don't like peanut butter, use the same basic recipe with a few substitutions. Try:

Heath Bar Pie. Swap out the peanut butter for a cup of extra cream cheese and use chopped Heath bars instead of peanut butter cups in the recipe.
Skor Bar Pie. Replace the peanut butter with an equal amount of cream cheese, and use chopped Skor bar pieces instead of the peanut butter cups.
Kit Kat Bar Pie. Use cookie butter as a 1:1 replacement for the peanut butter, and switch the peanut butter cups for chopped Kit Kats.

Experiment with the crust. Try blind-baking for an even extra crunchy crust. Making a Reese's Peanut Butter Pie with graham cracker crust would also be incredibly delicious.
Use a different brand of peanut butter cups. Trader Joe's Dark Chocolate Peanut Butter Cups are highly recommended.
How To Store This Pie
Keep this pie and any leftovers in an airtight container in the fridge, or you can try freezing it for longer storage.
To freeze:
Cut the pie into slices and wrap each in plastic and aluminum foil.
Store the pieces of pie in a freezer-safe container.
Let the frozen slices of Reese's Cup Pie thaw in the fridge, or serve them directly from the freezer for a refreshing treat.
How Long Does This Pie Last?
A refrigerated pie can last up to five days, but frozen slices are good for up to a month or two.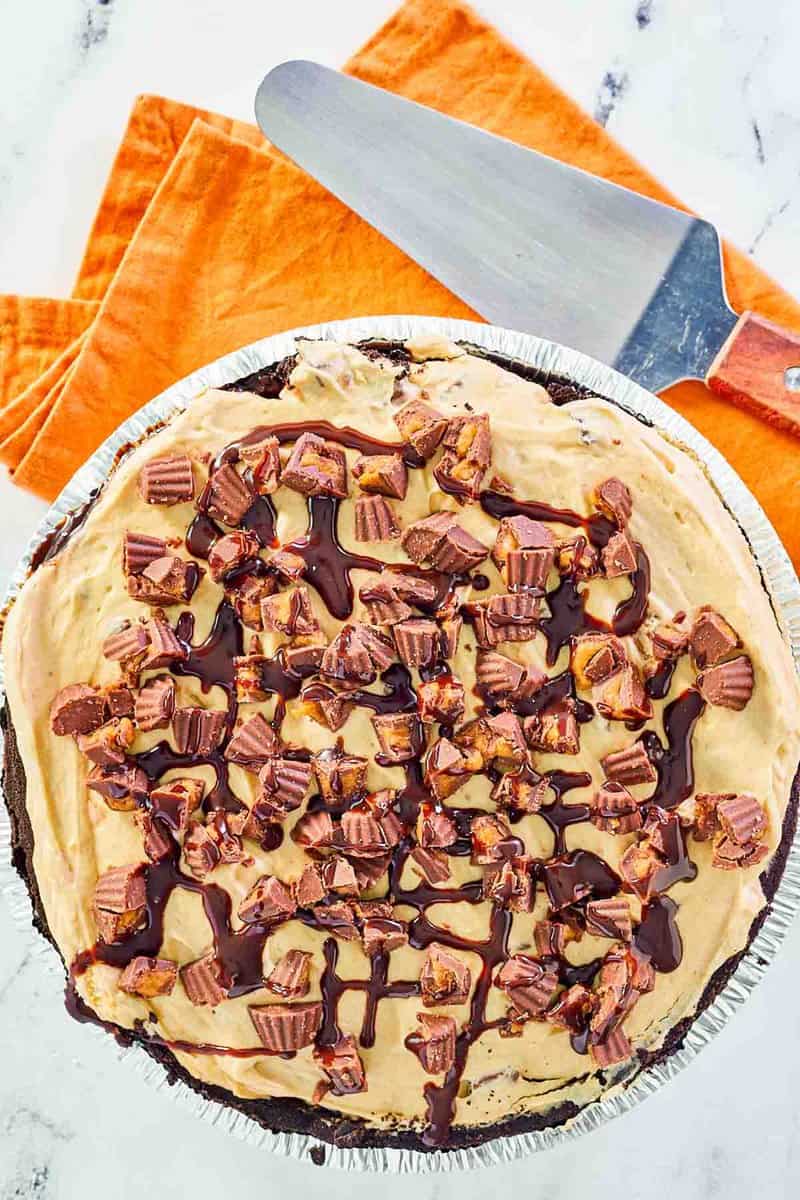 More Reese's Recipes
Favorite Pie Recipes
Check out more of my easy pie recipes and the best dessert recipes on CopyKat!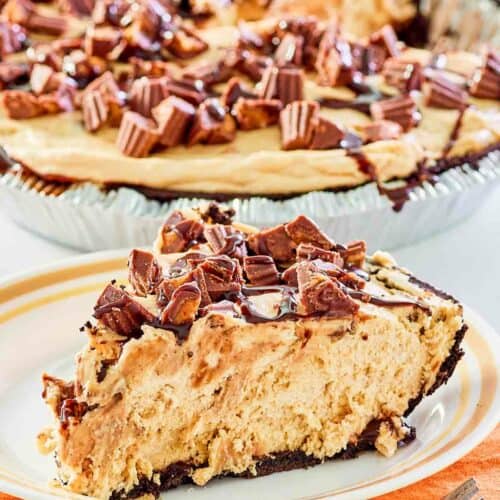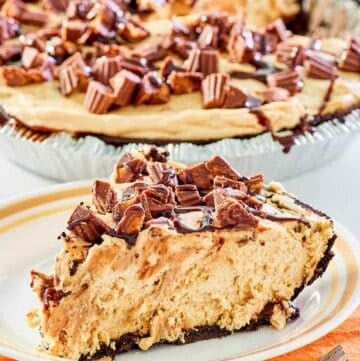 Ingredients
1/2

cup

+ 2 tablespoons hot fudge

divided use

1

9-inch

premade chocolate cookie crust or graham cracker crust

1 1/2

cups

whipping cream

2

ounces

cream cheese

1

cup

sifted powdered sugar

1/3

cup

half and half

1

teaspoon

vanilla

1

cup

peanut butter

1 1/2

cups

chopped Reese's miniature peanut butter cups

divided use
Instructions
In the freezer, chill a mixing bowl and the beaters of an electric

mixer

.

Heat the hot fudge in the microwave or by placing it in a bowl of very warm water. When the hot fudge has softened, spread 1/2 cup of it into the bottom of the cookie crust.

In the chilled bowl, whip the cream until very stiff using the chilled beaters.

In a separate bowl, use the electric mixer to combine the cream cheese, sugar, half and half, vanilla, and peanut butter.

Fold 1/3 of the whipped cream into the peanut butter mixture. Then fold in the remaining whipped cream and 1 cup of the chopped peanut butter cups.

Spoon the mixture into the pie crust and top with the remaining chopped peanut butter cups. Drizzle 1 to 2 tablespoons of hot fudge over the pie.

Keep the pie refrigerated until you are ready to serve and return any leftovers to the refrigerator.
Nutrition
Calories:
811
kcal
|
Carbohydrates:
70
g
|
Protein:
16
g
|
Fat:
55
g
|
Saturated Fat:
22
g
|
Polyunsaturated Fat:
8
g
|
Monounsaturated Fat:
21
g
|
Trans Fat:
0.3
g
|
Cholesterol:
65
mg
|
Sodium:
464
mg
|
Potassium:
499
mg
|
Fiber:
4
g
|
Sugar:
54
g
|
Vitamin A:
817
IU
|
Vitamin C:
1
mg
|
Calcium:
116
mg
|
Iron:
2
mg