The Palm Steak a la Stone is a sirloin steak with a special sauce flavored with onions, pimientos, butter, and fresh parsley.
Few restaurants serve better steaks than the legendary steakhouse, The Palm. First opened during the Roaring 20s in New York City, today The Palm is a chain with restaurants across the US and even internationally. While there is no denying well-prepared, quality steak is the main reason for its success, unique dishes like The Palm Steak a la Stone also play an important part in its popularity. The Palm's serves Steak a la Stone with a pimento and onion butter sauce that you need to try!
We Need to Have a Serious Talk About the Steak You're Buying
If you are going to go through all the trouble of cooking a sirloin steak recipe at home, you might as well give yourself the best chance of serving something spectacular by buying the right piece of meat.
There are eight different beef grades, but you will find only three in most supermarkets. These are Prime, Choice, and Select. People consider Prime to be the best quality meat because it has the ideal amount of fat distributed throughout the cut. But it comes at a high price point. On the other hand, meat with a Select grade is the least expensive, but it is also the leanest. Remember, fat is flavor when it comes to beef, so choosing a Select cut can cause you to end up with a dry and flavors dinner. Purchasing Choice-grade meat is where you get the most bang for your buck. Choice-grade meat has a decent amount of fat to give it a rich flavor, it just may not be distributed evenly throughout the cut, but it is significantly better for your budget.
Although the government inspects all meat to ensure it meets health and safety standards, not all meat must receive a grading. In fact, producers must pay to have their meat graded, and not all of them, especially smaller operations, sell graded beef. Therefore, if you don't see any grade on a beef cut, you shouldn't assume it is inferior, especially if you are buying it directly from the people who raised the meat.
How to Cook a Sirloin Steak Like a Pro
Steakhouses have commercial-quality infrared broilers that can instantly reach 1000 degrees or more and cook their steaks quickly and evenly while allowing the meat to develop a wonderful crust. Unfortunately, you probably only have the broiler that came with your oven, which will struggle to reach 600 degrees. That is okay. You can still cook a pretty amazing steak at home if you follow these hints.
Let your steaks come to room temperature. Take them out of the fridge at least 10 minutes before cooking.
Move the oven rack to the top position and preheat on the Broil setting.
Blot the sirloin until it is dry. The drier, the better if you want a good crust on your steak.
Season the meat well on both sides using coarse ground pepper and kosher salt.
Put the steaks on an aluminum foil-lined broiler pan and into the oven. The surface of the meat should be between 3 – 4 inches from the top cooking element.
For medium-rare, cook a 3/4-inch sirloin steak for approximately 5 minutes on the first side and then carefully flip and cook for an additional 4 minutes on the other side.
Tips For Preparing this Easy Steak Recipe
Let the sirloin rest for about 5 minutes before cutting. Waiting allows the juices to reabsorb into the meat.
Serve with your favorite steakhouse sides. Try Creamed Corn or a Twice-Baked Potato.
Discover what we have been cooking lately by friending us on Facebook.
Ingredients
Here's a list of what you need:
Onion
Whole pimiento peppers
Butter
Olive oil
Sirloin Steak
Toast
Fresh parsley
How to Make Palm Steak a la Stone
In a frying pan, sauté onion and pimientos in butter and olive oil for 3 minutes.
Broil the steak until desired doneness.
Slice steak at an angle.
Place toast on a plate and top with sliced steak.
Spread onions and pimientos on top.
Pour melted butter and parsley over onions and pimientos.
Why not bring out the fancy dishes and enjoy a steak night at home? We give you the recipes that taste just like they came from a steakhouse.
Favorite Steak Recipes
Popular Beef Recipes
Check out more of my easy beef recipes and the best fine dining copycat recipes here on CopyKat!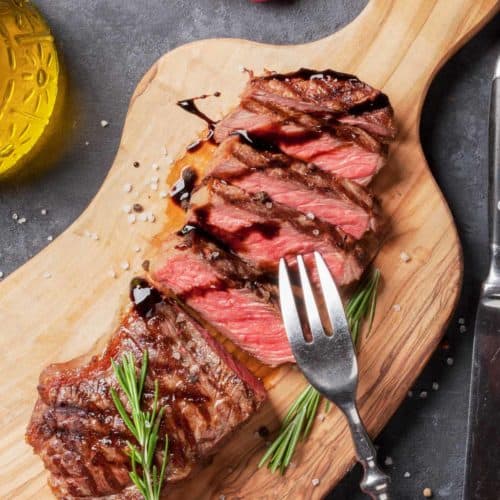 Ingredients
4

large

onion slices

2

whole

pimientos

butter

olive oil

16

ounces

sirloin steak

2

slices

toast

melted butter

fresh parsley
Instructions
In a frying pan, sauté onion and whole pimientos in butter and a touch of olive oil. Sauté for 3 minutes. Put aside while you broil the steak.

Broil the steak to your desired doneness.

When it is done, slice the steak at an angle and place on top toast.

Spread onions and pimientos on top.

Pour melted butter and parsley over onions and pimientos.
Nutrition
Calories:
444
kcal
|
Carbohydrates:
31
g
|
Protein:
53
g
|
Fat:
11
g
|
Saturated Fat:
4
g
|
Cholesterol:
138
mg
|
Sodium:
156
mg
|
Potassium:
1317
mg
|
Fiber:
6
g
|
Sugar:
14
g
|
Vitamin A:
1750
IU
|
Vitamin C:
78.2
mg
|
Calcium:
133
mg
|
Iron:
5.4
mg